When you buy through our links, we may earn an affiliate commission. Learn more »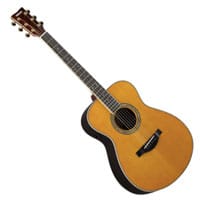 Do you ever wonder if you can improve your playing?
Not with skills but with gears?
Funny thing:
It is totally possible with Yamaha LS-TA.
The TransAcoustic feature will exponentially improve your music effortlessly.
Oh, and spoiler: It's really addicting to play.
Let's start!
PROS
All-solid + Mature music (ARE technology)
Looks astonishing
Excellent Craftsmanship
Perfect for any kind of player
Resists warping and convenient neck
Stays in tune
More comfortable for people with a smaller body frame
Easily change the battery + 10 hours life
TransAcoustic (chorus and reverb effect)
Excellent investment
CONS
Susceptible to environmental changes
Not available for left-handed guitarists
No cutaway
The action is a little bit high
The pickup system could be better
Smaller body means smaller sound
How Does the TransAcoustic Work?
I've explained this on my other review, so I'm gonna keep it short here.
If you'd like to know more, you can check this link.
Basically, Yamaha has developed a technology to mimic the chorus and reverb effect.
Here's the kicker:
You can use those effects even without plugging it into something!
The controls are also simple:
Just three knobs to adjust the chorus and reverb. There's also the TA switch, which can also be used as a volume when plugged in.
Who is it for?
This concert guitar is most fitting for:
People with smaller body structures, since they'll feel more comfortable. (Based on experience)
Also, some guitarists simply like smaller guitars.
That being said, there are still some factors that make it not ideal for some people.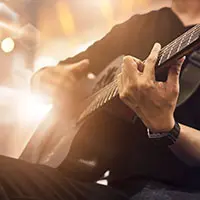 For example, this is not available for cutaways and for the left-handed.
Yamaha LS TA's price may also be a bit much for a beginner's budget.
In any case, here are some options you might like:
Yamaha's Flagship + TransAcoustic
The L-Series is one of Yamaha's flagship guitars. In other words, it belongs to the best of the best.
Here's why:
My favorite feature in a guitar is its materials or tonewoods used. Different types have advantages over the other regardless of the price.
For a more premium sound, solid guitars are the way to go. Of course, Yamaha LS TA has an all-solid build.
More importantly:
The tonewood of this guitar has already been aged through ARE technology.
With that said, the quality of Yamaha LS TA has been improved drastically compared to other guitars.
This particular version is the smaller scale of Yamaha LL TA. So, if you have a petite body frame, you're on the right track.
It's also featured as a brown sunburst and vintage tint. With that, you'd have 2 options to choose based on your liking. Either way, they both look fantastic.
Built to Sound Excellent
Yamaha, as per usual, has excellent craftsmanship with LS TA.
Assembled with solid Engelmann Spruce and solid Rosewood. 
It also has the L-Series' modified non-scalloped bracing. It doesn't just help with stability but also improves the tonal quality by a lot!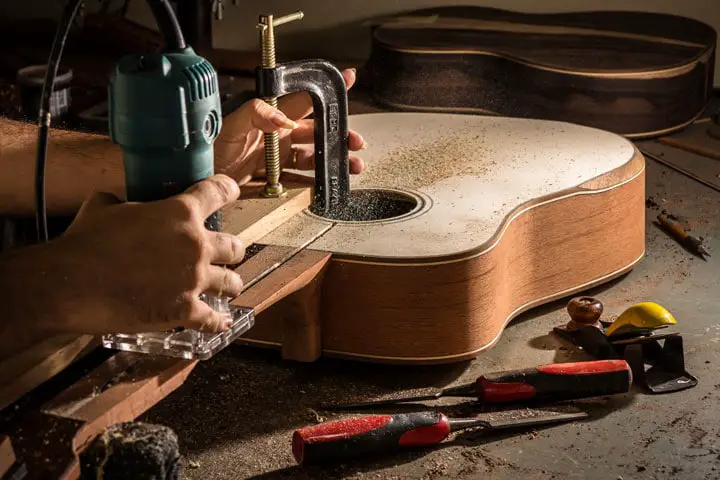 We've already established the tonal quality of this guitar is impressive, right?
Here's the kicker:
After all the factors, there's still one more beyond that. That's the ARE technology.
With the ARE technology, the tonewood's sound quality improves exponentially.
Here's why:
I'm sure you know by now that aged guitars have insanely better quality. Yamaha's technology does that but at a much faster rate.
Hence, this guitar, in particular, has a mature sound that everybody loves.
Now:
There are the gloss finish and transparent pickguard. With this feature, it brings out the beauty of the traditional design more.
One downside of an all-solid build though:
I wouldn't recommend it as a travel guitar. It's not precisely "strong" when it comes to humidity or temperature changes, so there's that.
How does the Yamaha LSTA sound?
See your buying options at Amazon →
Do you want the effect of an "acoustic environment" and "12 string guitar"? Lucky you, the Yamaha LS-TA Guitar has that kind of delightful effect, or rather the TransAcoustic feature.
I'm sure you already know this, but I'm gonna specify it either way. Concert guitars have smaller sound than a dreadnought. But that doesn't mean it's not worth it.
Smaller guitars have their own pros, as well. Some people, including me, like the sound it makes. The bass is reduced, but it has crisp mids and highs.
Size aside, the materials used are top-notch when it comes to tonal quality.
All-solid build means a remarkable projection and sustain.
Along with Yamaha LL-TA, LS TA has an ARE technology as well. So, you can expect a drastic difference between other guitars when you use this.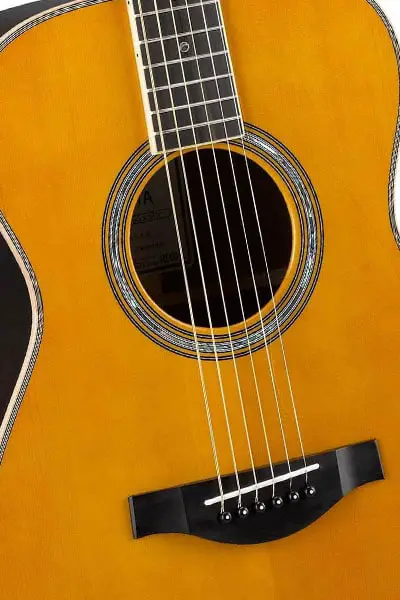 The bracing also adds to the tonal quality. With the modified non-scalloped bracing, the lows are more pronounced.
To put it simply:
Even with a concert body, the Yamaha LS TA has a well-balanced, mature sound that you'll love.
A Feature You'll Admire: TransAcoustic
The electronics include the TransAcoustic feature plus the pickup.
The first one is, without a doubt, amazing.
Here's the kicker:
The electronics embedded are "guitar-friendly." Yamaha made sure not to poke big or too many holes that will ruin the "acoustic" sound.
So that's a big thumbs up to Yamaha.
The battery is also easy to change. It has a battery life of approximately 10 hours when using the TransAcoustic feature.
Here's a bummer though:
The TA series use Passive System + SRT Piezo Pickup. Honestly, it's not the best. Yamaha could have had added a better pickup.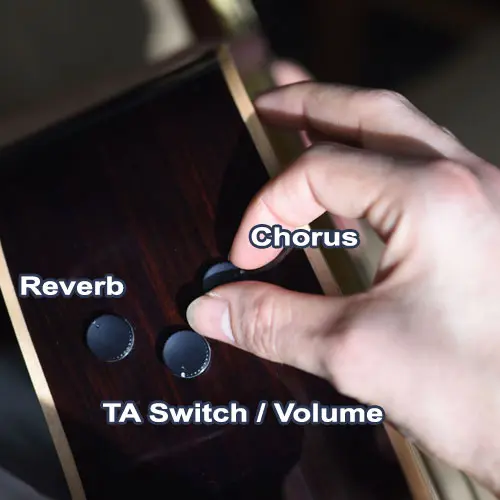 In any case:
Yamaha LS TA's TransAcoustic feature is unique. You can't find it on other guitars.
Excellent Neck Feel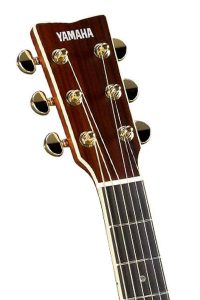 As one of Yamaha's flagship series, you can rest assured that this one is comfortable.
It features a Mahogany and Rosewood 5ply neck added with a double-action adjustable rod. With this, the neck is undoubtedly robust, stable and it resists warping.
Here's more:
It features a straighter neck taper;
Matte neck finish; and
Rolled fingerboard edges;
With this convenient neck plus the exciting TransAcoustic feature: 
You might end up playing all day.
Yamaha LS-TA vs. LL-TA
Between the two, there's not much of a difference.
Mainly it's their body type. LS TA has a concert while the Yamaha LL-TA has a traditional western.
In terms of comfort, LS TA wins. Of course, anyone can get used to the size of the dreadnought. 
Though it'd be so much better to have a guitar that's already comfortable from the getgo.
The concert guitar still has a well-balanced tone. Although it's not as strong, or as loud as the dreadnought.
In the end, it will depend on whichever is suitable for you.
Do you find the concert more comfortable?
Or do you like the stronger sound of a dreadnought?
Yamaha LS-TA vs. FG-TA vs. FS-TA
| | | |
| --- | --- | --- |
| LS-TA | FG-TA | FS-TA |
| Concert | Traditional Western | Concert |
| Solid Engelmann Spruce A.R.E. | Solid Spruce | Solid Spruce |
| Solid Rosewood | Mahogany | Mahogany |
| 25 9/16 inches (650 mm) | 25 9/16 inches (650 mm) | 25 inches (634 mm) |
| Mahogany + Rosewood 5ply | Nato | Nato |
| Ebony | Rosewood | Rosewood |
| Die-Cast Gold(TM29G) | Die-Cast Chrome(TM29T) | Die-Cast Chrome(TM29T) |
| Maple + Black | Cream | Cream |
| Abalone + Black + White | Black + White | Black + White |
The FG series is also one of Yamaha's best guitar lines.
Oh, and fun fact: This particular series has been around for over 40 years.
Here's the kicker:
The FG series are actually budget-friendly guitars. But their quality is not cheap.
The Yamaha FG TA and FS TA will provide you with warm tones and great mid and low ranges.
The Yamaha LS TA has an all-solid build while the other two only have the top as solid.
Funny thing though:
It's actually not ideal to bring an all-solid guitar for travel. So, if you plan on getting the LS TA as a travel guitar? I suggest against it.
It's not accurately resistant to environmental changes. 
On the other hand, FG TA and FS TA would be more suitable for that.
To add:
The FG TA offers one more color, which is black. There's also a ruby red available for the FS TA.
This may be a more budget version, but the quality is still high-end. 
So, if you plan to spend a little less but still have the same TransAcoustic feature: The Yamaha FG-TA or FS TA may be the better choice for you.
If you still doubt the awesomeness of TransAcoustic, then a visual confirmation may be more suitable.
Technical Specifications
Is Yamaha LS-TA Guitar worth it?
Indeed the TransAcoustic features are amazing. It is like having portable special effects you can easily use. Therefore, Yamaha LS-TA is indeed a fantastic guitar.
Enjoy? Share with your friends!