When you buy through our links, we may earn an affiliate commission. Learn more »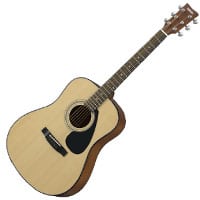 Finding an affordable guitar with unrivaled quality is not easy.
Here's the deal:
Most cheap guitars aren't worth it, but what if I tell you, there's a budget guitar with adequate quality!
To put it briefly, if you want to spend your money wisely, you'll love the Yamaha F325D.
Let's start, shall we?
PROS
Excellent first guitar
It won't break your wallet
2 colors to choose
Stays in tune
Adequate action
Not susceptible to humidity changes
Comes as a bundle (case, strings, tuners, picks, lessons)
CONS
Not offered for left-handed people
The package may provide little protection
It doesn't age well
Not the best quality, but given the price, it holds more value and quality than other affordable guitars.
Are you a beginner?
Maybe a professional looking for a practice guitar?
If you're one of those, you're on the right track.
This guitar is excellent for beginners alike. 
It's not too expensive, which is perfect for people just starting, and the quality is more than enough.
One more thing: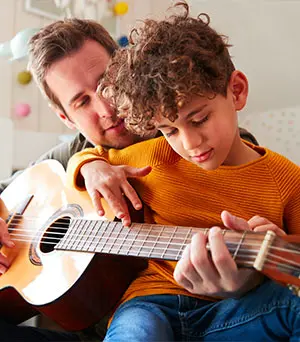 Just because it is ideal for beginners, it doesn't mean that this guitar isn't for advanced players.
It has a marvelous traditional design which is attractive even for seasoned guitarists.
My F325D is already "old," but honestly? It doesn't look old to me. It still looks great with its classical aesthetics.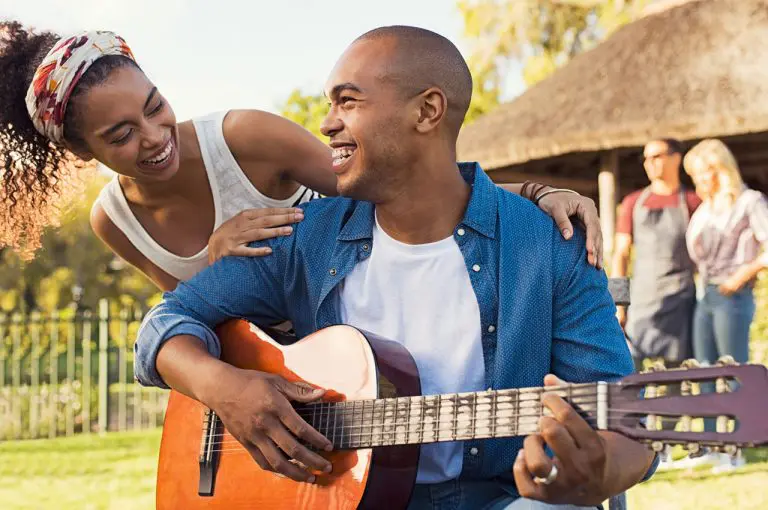 On the other hand, if you're looking for a gig guitar…
(Gig guitar, that sounds funny) anyways,
…the Yamaha F325D is not ideal.
Also, this guitar doesn't have a cutaway. If you're planning to play songs with higher notes, it'll be better to find a beginner guitar with a cutaway.
Luckily, below are some alternative beginner guitars for you.
I also have best beginner guitars, and best budget guitars if you're planning on checking other guitars.
Yamaha F325D Acoustic Guitar Review
Here's the deal:
Just because F325D is cheap doesn't mean they also have inferior quality. 
The F series of Yamaha focuses on affordable prices but with fantastic quality and tone. 
Yamaha ensures that these guitars will live up to the Yamaha acoustic. These budget ones have fantastic craftsmanship, the same as the premium guitars.
You can also get the Yamaha F325D as a Gigmaker Package, or a Hard Case Bundle.
The Gigmaker standard package includes the following:
Case;
Tuner;
Strings;
Strap; and
Free Lessons DVD
It's everything a beginner needs when starting. Besides, the FREE lessons have tips on tuning, chords, scales, and more.
On the other hand:
The Hard-Case bundle has the same inclusions: case, tuner, strings, strap, and free lessons.
The only difference is the case and the lessons. This bundle has an additional book for its teachings.
Also, it has Gator Cases Hard-Shell Wood Case, which is more ideal for traveling. It'll surely protect your guitar more.
Now:
They're both great deals, it will just depend on your preference.
If you bring your guitar anywhere, the latter choice would be better.
Unfortunately, the Yamaha F325D doesn't have a left-handed version.
It's also offered in two colors: natural and tobacco sunburst.
Natural color is perfect for people who like the traditional look. 
If you like something more colorful and something that says, "rock on," the sunburst will definitely suit you.
Legendary Quality of Yamaha
Yamaha's F325D has a dreadnought body featuring a laminated spruce top and meranti back and sides. It has a glossy finish giving it an outstanding traditional look.
Besides, the glossy finish is more natural to clean than matte.
You must be wondering:
If this guitar is affordable, which in turn uses low-cost materials, does that mean the quality is also cheap?
The answer is NO.
Yamaha makes sure that they don't compromise the quality of their affordable guitars.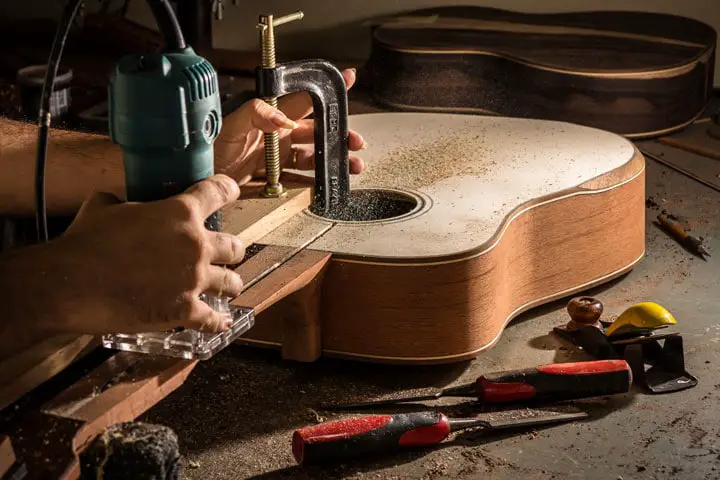 Meranti is the Filipino "mahogany," or a low-cost timber. But, it's sturdy enough as a tonewood.
This guitar is specially made to be durable and stable.
I can most definitely vouch for that!
I've been using this as a practice guitar for so long now, and the quality is surprisingly still impressive!
Note that:
This guitar has laminated tonewoods. Which means, it won't age well. The quality of this guitar will decrease over time, compared to the solid ones.
Here are the specific dimensions of the F325D:
Body Length: 20 3/16″
Body Width: 15 3/4″
Total Length: 40 5/8″
In layman's term, the size of this dreadnought guitar is perfect for any type of player.
On the other note, the layered tonewoods also have a benefit other than being affordable.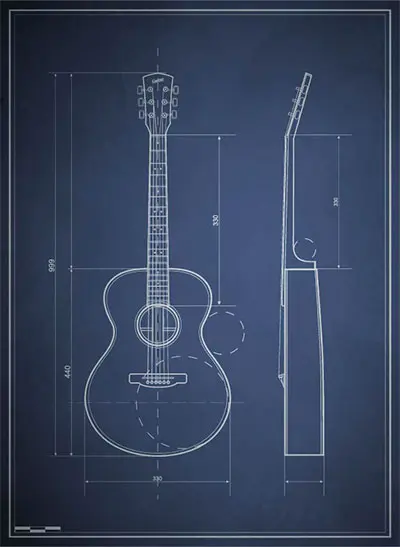 On the positive side:
This guitar isn't sensitive to humidity changes. Thanks to its laminated tonewoods. With that said, you can quickly bring this for your camping or road trips without worrying.
Rich, Deep, Folk-like Resonances
See your buying options at Amazon →
The Yamaha F325D is a perfect guitar for beginners on a budget. For an affordable price, it offers the amazing quality of Yamaha acoustics.
Now, to the fun part:
The layered Spruce tonewood gives the guitar a bright and resonant tonality. 
It's partner, meranti (back and sides), pronounces the midrange more and gives some brightness in the high notes.
Since it's a laminated tonewood, it will have a less resonant sound than that of a solid one. 
Here's the kicker though:
In Yamaha's case, they fixed the less resonant sound with the bracing of the guitar. The design helps bring out more resonance and volume to the guitar.
One other thing that's usually missed is the nut and saddle. It's one of the factors for the sound quality, it's not big, but it's still a factor.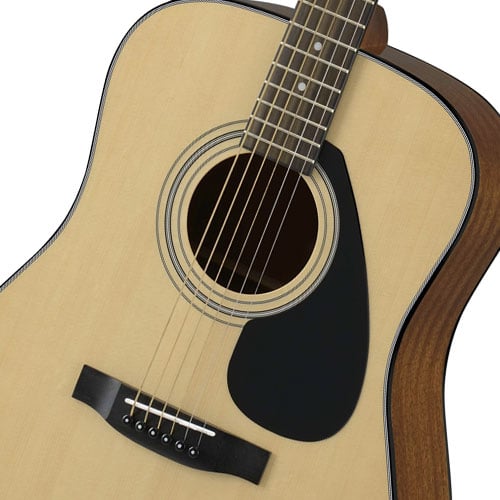 Yamaha F325D sports urea for the nut and saddle. It's one of the cheap materials, but it gives off a friendly vibe and adds subtle quality to the sound.
Overall, this guitar offers a folk-like tonality with clear and resonant sounds.
Comfortable Neck for You to Play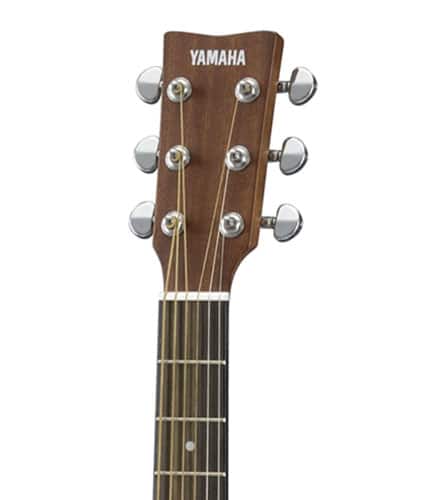 The neck highlights a rosewood fingerboard, with a narrow nato neck. 
It also features a matte finish. Compared to a glossy neck, the neck of the Yamaha F325D is smoother. 
It's so much easier to shift from fret to fret.
Speaking of frets, it has a total of 20 frets with a scale of 25.5 inches. With this, it will give you a more extensive range when playing.
By the way, have you noticed it?
The headstock of this guitar has a concave design on top.
It's not something radical, but I like it. It makes the guitar more appealing and a beautiful combination with die-cast chrome tuning machines.
With these tuning machines, you don't have to worry about going out of tune.
Furthermore, the action of this guitar is perfect. You won't have to put too much pressure when fretting the strings.
If you're a beginner, the low action is a massive plus for you. Fretting high action guitars will tire you quickly compared to lower action ones.
Yamaha F325D vs. FG800 vs. FG700s
Other than the price, the main difference between the three is the solid top and looks.
The latter two look brighter, literally. FG800 and FG700s also have a tortoise pickguard, which makes them more appealing to the eyes.
Also, The FG800 and FG700s have solid Spruce.
Which means:
The latter two have better projection and resonance.
It has better quality overall.
In the long run, FG800 and FG700s still wins. They have solid tonewoods, so they will age well. The longer you have them, the better quality they'll possess.
Unfortunately, FG700s has been discontinued.
One more awesome thing about FG800:
It features a non-scalloped Newly Developed Scalloped Bracing. 
This is actually a new technology that the Yamaha team developed.
With this, the FG800 maintains the durability of the top board. It also brings more of the natural acoustic sound.
Winner: Yamaha FG800
Note:
Neither of these three has a left-handed version, but there is a Yamaha FG820 for lefties.
Yamaha F325D vs. Epiphone DR-100
They are both excellent guitars for beginners. Although, there's always a winner and a loser, yin and yang, and good and bad.
In this case, the DR-100 loses.
One crucial factor of guitars is a comfort. Unfortunately, Epiphone DR-100 isn't that comfortable.
The aforementioned doesn't have rolled-edges, so it'll be painful to move around the neck.
On the other hand, the F325D is more friendly with its soft-edges narrow neck. Which makes it more ideal for you.
Winner: Yamaha F325D
Yamaha F325D vs. F310p vs. F335
I'm gonna make this short.
Amongst these three, F325D holds way more value for the money.
The Yamaha F310p is a package, but it's more expensive than buying the bundle for the F325D.
The Yamaha F335 is almost the same as F325D. In terms of comfort and sound quality, they are toe-to-toe.
For the sake of this comparison, the F335 wins on one thing. It has better-looking aesthetics.
The gold die-cast tuners are stunning, especially with the tobacco brown sunburst version. Of course, it also helps the guitar to stay in tune.
Unfortunately, F335 doesn't come as a bandle, or just with a case.
Winner: Yamaha F325D
Yamaha F325D vs. FD01S
The clear winner is the solid guitar, which is the Yamaha FD01S. 
Sure, it might be more expensive, but it holds more quality.
The aforementioned has a more significant volume and superior projection. 
It offers a bright, clear, and crisp sound perfect for everyone.
Just like the Yamaha F325D, it is also offered as a package.
The Gigmaker Deluxe Acoustic Guitar Package includes a gig bag, tuner, strap, replacement strings, picks, and instructional DVDs.
It's aesthetics and playability are also premium-like.
More importantly:
It includes a lifetime warranty to lessen your worries!
Remember that:
Solid-top guitars tend to improve quality over time.
Winner: Yamaha FD01S
Technical Specifications
Is Yamaha F325D worth it?
In my years of practicing with this guitar, I conclude that this is an excellent guitar to start.
Here's the deal:
As a beginner, you don't need to spend that much since you're only just starting.
The Yamaha F325D is, without a doubt, one of the best starter guitars out there.
It has the right action, appealing aesthetics, great sound, and, most importantly, affordable for almost anyone at all.
Enjoy? Share with your friends!