When you buy through our links, we may earn an affiliate commission. Learn more »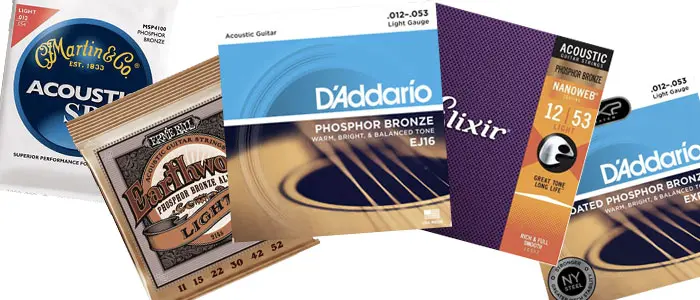 Many factors impact the sound and playability of a guitar, such as tonewoods, shape, strings, etc. Perhaps the easiest one you can change is the strings and looking for the best acoustic guitar strings is one step to improve your playing.
The right string choice proves to be more crucial on an acoustic guitar since you won't use pedals or an amplifier with it.
Acoustic Guitar Strings Buying Guide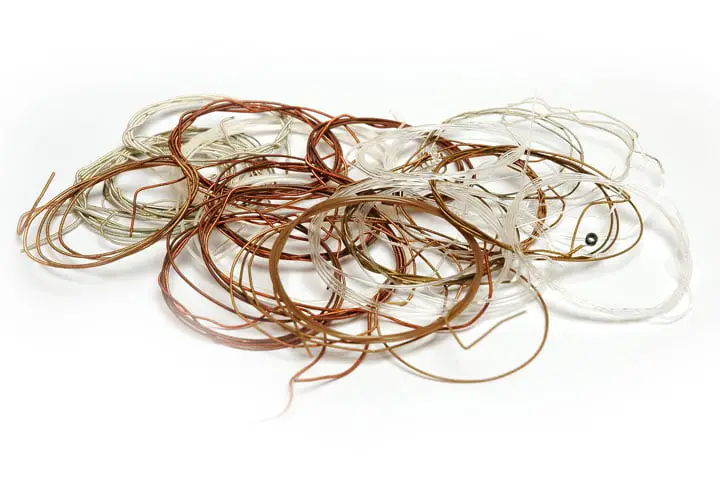 It's more than about slapping a new set of strings on an older guitar or a brand new one. When choosing strings for your acoustic guitar, you need to consider many aspects of the strings:
Gauge;
Material;
Durability;
Type of music.
If you're new to playing guitar, you may not be familiar with some of those terms. Let's take gauge first.
Best String Gauge For Acoustic Guitar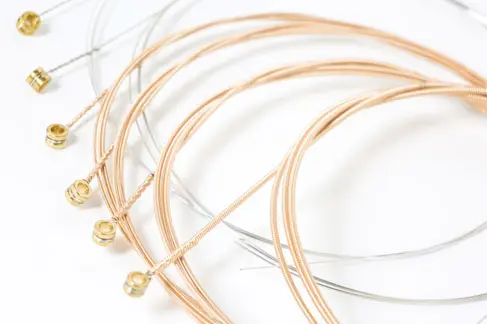 String gauge refers to the thickness of the strings. There are five main gauge categories:
Extra light;
Light;
Medium;
Heavy;
Custom.
Each gauge produces a different sound and tone. Some are easier to play than others.
Most beginning guitar players find extra light or light gauge strings the easiest to play. They're simpler to fret and work best for learning string bending and best string gauge for fingerstyle.
Lighter gauges emphasize the guitar's higher treble tones and produce less sustain. They're not as loud and produce more fret buzz than others. The lighter strings work best on small body guitars and vintage guitars.
The medium and heavy gauge strings work better for hard strumming but are tougher to play. They tend to work better for experienced players because they are harder to fret and not as easy to string bend.
Heavier gauges emphasize the guitar's lower bass tones and produce more sustain and a louder response. They work best on larger model guitars and newer guitars.
Whether you play blues, country, jazz, pop, rock or any other style also impacts your string choices.
A lighter gauge works better for bright pop, while a heavier gauge produces the darker sound for hard rock.
Guitar String Materials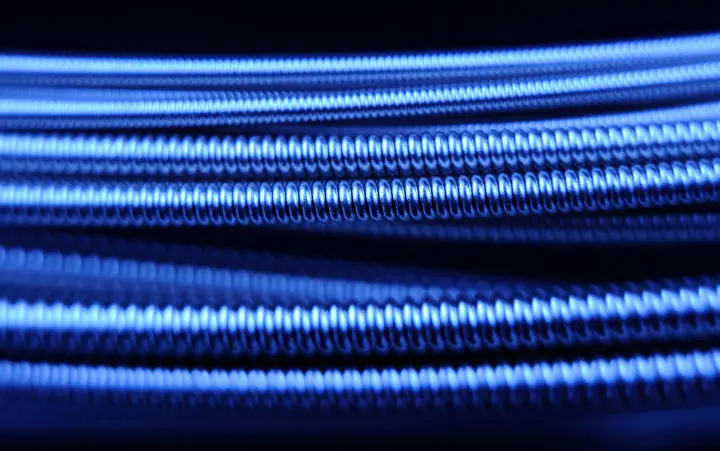 There is a diverse choice of materials from which strings are crafted. The common choices include bronze, brass, copper, silver and silk and steel.
Within the bronze strings selection, you'll find 80/20 bronze and phosphor bronze. The former provides a bright, clear tone, while the latter provides a darker, warm tone.
Copper provides a better metal for tone preservation. Some strings use an alloy, a mixture of multiple metals or metal with another element.
The core of silk and steel strings is steel, but the lower strings have copper wrap wire, nylon or silk encasing the steel. These provide a mellow tone and work well for fingerpicking.
Durability
The 80/20s wear out relatively quickly, while the phosphor strings last longer.
Purchasing coated strings extends the string life since the polymer coating prevents wear and tear. It also helps keep dirt and oil buildup from collecting on your string grooves.
The coating subtly affects the tone though. It reduces overall volume and cuts some high-end frequencies.
Recommended Guitar Strings
A massive number of guitar string choices exists, but I've narrowed it down to a short list of best acoustic guitar strings based on the gauge, material, and durability of the strings.
D'Addario EJ16 Phosphor Bronze Acoustic Guitar Strings
The US firm D'Addario introduced its phosphor bronze acoustic strings in 1974. These strings offer comfort during play and long-lasting tone. They are suitable for both stage performances and studio recording.
EJ16's provide a bright, warm tone with a long sustain due to the corrosion resistant phosphor bronze wire encasing the hexagonal, high-carbon steel core.
D'Addario offers these strings in six different gauges to suit a diverse set of needs and music styles.
Elixir Strings 80/20 Bronze Nanoweb Coated Strings
Another US firm, Elixir consistently improves on its strings by conducting player surveys and integrating the players' advice into its design.
It crafts its acoustic Nanoweb guitar strings of 80 percent copper and 20 percent zinc with bronze wrap wire. They produce a bright and crisp tone known for its vibrancy.
Although they're coated, players comment they feel and play like uncoated strings. The coating used prevents corrosion to extend the tone life of the strings. That means they last longer than others.
Ernie Ball Earthwood Light Phosphor Bronze Acoustic String Set
These mostly copper acoustic strings from Ernie Ball provide a clear, expressive sound known for a mellow tone.
If you previously used Super Slinky Acoustic Strings from Ernie Ball, these are the same strings. The company re-branded them. They're still made in the US and comprised of 92 percent copper, rounded out with 7.7 percent tin and 0.3 percent phosphorus wire. They are wrapped around a hexagonal steel core wire.
D'Addario EXP16 with NY Steel Phosphor Bronze Acoustic Guitar Strings
D'Addario lands a second set of its strings in the top five list. These are really comfortable to play and last a long time. They produce a bright, warm tone with an epic sustain.
EXP16's use high carbon steel which lends these strings both pitch stability and strength. These strings last about four times as long as others. Their performance stems from a precision drawn micro-coated wrap wire wound with steel.
Martin SP Acoustic Guitar Strings (MSP 4100PK3) Phosphor Bronze 92/8
Martin designed its MSP4100 Phosphor Bronze Light Acoustic Guitar Strings for daily use. They're also designed for professional use, in the recording studio, and in live performance.
Crafted from 92/8 composition alloy, the phosphor bronze provides a clear, long-lasting tone. This string set produces a full, deep bass and bright, bouncy tone from the treble strings.
These offer a core wire of high-tensile strength core wire encased in a high-quality wrap wire.
Over to you
All things considered, Martin SP Acoustic Guitar Strings (MSP 4100) win the best acoustic guitar strings for their long-lasting performance, high-quality construction, and superior tone.
While they are a favorite among professional musicians, they also prove a great choice for beginners. That's because they come in six different gauge sizes so the new player can choose an extra light or light gauge for easier learning.
As you develop as a guitarist, you can continue to use the same strings but of a higher gauge.
These Martin strings will see you through your development as a guitarist. You can use them for both live performances and for studio recording.
This lets you use the same guitar in both environments without needing to re-string it. You can easily replicate the acoustic tones achieved in your favorite blues club in the studio.
Their alloy composition produces a booming bass on the lower registers and bright treble tones on the higher registers.
The Martins last longer. They're simply easier for all level of guitarists to play. It's the superior tone that really makes them the right choice for any level musician though.
Enjoy? Share with your friends!