When you buy through our links, we may earn an affiliate commission. Learn more »
Have you ever wondered…
"Is there any way to spice up my guitar music?"
Here's a secret:
You can quickly and effortlessly improve your playing with…
Drum roll, please…
With the help of Yamaha FG-TA.
You don't believe me? Read more, and we shall see.
PROS
Affordable
Awesome TransAcoustic effects
Solid top
Convenient neck
Adequate action
Stays in tune
Great for travel
10 hours of battery life + can quickly change batteries
Three cool designs (vintage tint, brown sunburst, black)
Excellent investment
CONS
Not the best pickup
Not available for left-handed guitarists
No cutaway
Highs are not articulated
Who is it For?
I'd say this guitar is for everybody, but that would be a lie.
If you're looking for the following:
Then I'm afraid this guitar is not for you.
On the bright side, here are some alternatives you should check out.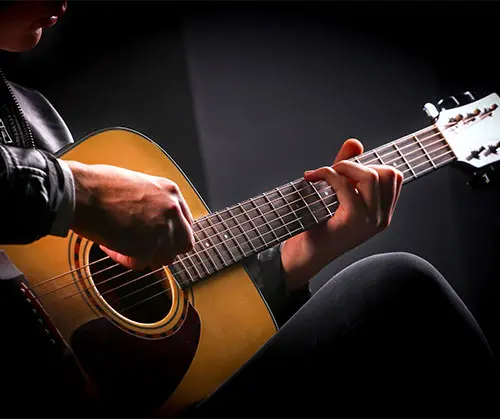 Yamaha FG-TA Guitar Review
This particular TransAcoustic is from the FG series. I'm not sure if you know, but it's one of Yamaha's famous set.
Beginners and advanced guitarists love the FG guitars.
By the way, the FG-TA is based explicitly on Yamaha FG820.
Here's the deal:
The FG820 is a great sounding guitar. No doubt about that.
Otherwise, why would Yamaha base a TransAcoustic on FG820 if it doesn't even sell? Am I right?
In fact, the FG series are affordable but not cheap when it comes to quality. The same goes for the FG-TA, of course.
With its low price, you can experience marvelous music to be played by you.
Now:
Here's a sneak peek for the legendary TransAcoustic.
Yamaha FG-TA TransAcoustic Demo
See your buying options at Amazon →
An affordable guitar that's been leveled up a lot of times. If you want to try something new, you might want to get the Yamaha FG TA.
Even beginners would notice that magnificent difference.
Basically, there are two special effects added to the TA guitars. Given the outcome, chorus and reverb are indeed special.
To put it simply:
It's like having a magical guitar!
On the side note:
It is offered in three colors: vintage tint, brown sunburst, and black.
The VT (vintage tint) and BS (brown sunburst) is the standard color of the TA series.
On the other hand, black is unique amongst the TransAcoustic guitars. It is solely for the FG-TA.
A unique color for a bizarre guitar. Impressive, don't you think?
Unfortunately, the case isn't included, so you might have to buy that separately.
This guitar sports an Elixir NANOWEB 80/20 Bronze Light for the strings. Honestly, it's not that bad.
Here's the thing:
Strings are often overlooked as a factor for the overall quality of the guitar.
If you want far better strings, I'd suggest the D'Addario EJ16 Phosphor strings. It has a brighter tone, longer sustain, and it'll last you longer.
1. New Scalloped Bracing for an Enduring Body of Yamaha FGTA
The Yamaha FG-TA features a solid Spruce top and laminated Mahogany for its back and sides.
These two tonewoods are one of the common and best combinations, especially in the affordable range.
Spruce has a lightweight and durable personality, which you'll find comfortable.
Having laminated back and sides is also a great thing. Not just for the budget, of course.
For example, layered tonewoods are better for travel. They have more resistance when it comes to environmental changes.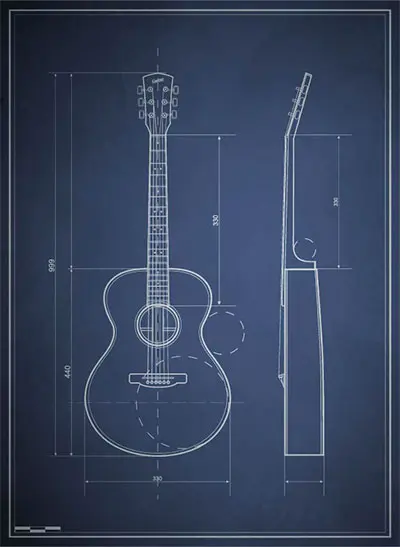 On the other hand, solid ones have better resonance and projection.
Here's the kicker:
Since the FG-TA has both layered and solid parts, this guitar is excellent.
Compared to all-solid builds:
This guitar has adequate resonance and projection. That's kind of a bummer soundwise.
More importantly, it can better withstand the humidity and temperature changes.
Here's more:
The bracing of this guitar is unlike any other. Yamaha developed a new scalloped bracing, which further improves the durability and tonal quality.
Hence, it's one of the most versatile builds for a guitar.
Now that we've established this guitar's durability let's talk about the aesthetics.
Yamaha FG-TA features a glossy finish with three different colors:
Vintage tint
Brown sunburst
Black
The glossy black finish is unique to FG-TA in the TransAcoustic series. It's like a unique trait of a person, or in this case, the guitar.
The vintage tint is more like traditional looks. While the brown sunburst has the "lit" vibe, literally (design and vibe).
2. Bright Powerful Sound of FG
Even without the TransAcoustic effects, the sound quality of FG is fantastic. If you own an FG guitar, I think you already know what I mean.
The combination of Mahogany and Spruce generates a bright, warm, and powerful tones. It has crisp and robust fundamentals.
Yamaha's R&D division developed a new type of scalloped bracing.
Here's the thing:
Unlike the traditional bracing, the newly developed scalloped bracing has more value to it. It produces a louder and stronger sound.
Furthermore, it's low to mid-range is more pronounced. Yamaha was able to do that without compromising the guitar's stability. Impressive, don't you think?
In conclusion:
The tonal quality of the Yamaha FG TA is off the charts. You'll find it's warm sound soothing to your and everyone's ears.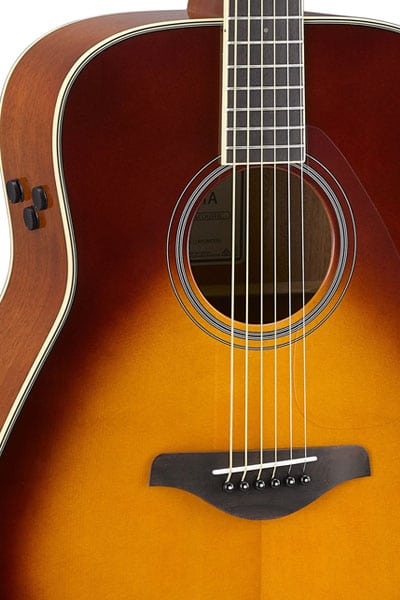 Even the highs aren't as emphasized, it's still great. Nevertheless, this guitar delivers a well-balanced tone!
And for the TransAcoustic to be an additional feature? The sound quality improves exponentially!
3. TransAcoustic Effects (Chorus and Reverb)
Have you ever tried to play in a hall?
Or at least to an acoustic-friendly environment?
Or have you ever tried a 12-string guitar? 
Don't you think those effects are just so cool?
Now:
Imagine having those in your guitar! 
Hence the TransAcoustic enters the race.
Basically, TransAcoustic mimics the reverb (room and hall) and chorus effect. All of this so that you can improve your music effortlessly.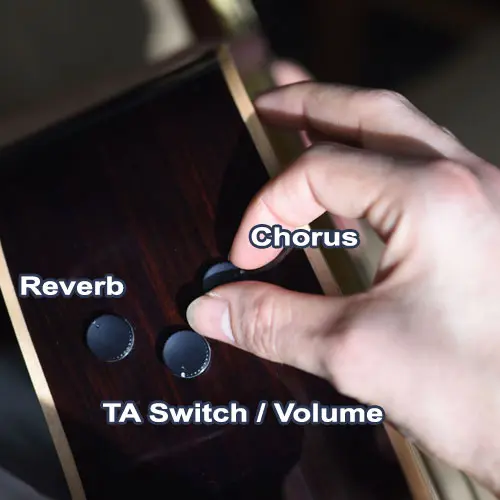 Here's a manual if you'd like to learn more about System70 TransAcoustic.
Unfortunately, there's still a dark side to this guitar. To be more specific, it is the guitar's pickup.
It's a piezo pickup. It's great but not the best.
To put it simply, it doesn't really bring out the acoustic sound when you plug it in.
On the bright side:
You can use the TA effects even without plugging it in!
In fact, even with all the electronics embedded, the sound is still natural.
Yamaha made sure to have fewer and smaller holes as much as possible in retaining the acoustic sound. The battery is even easy to change!
4. Play All Day With Its Comfortable Playability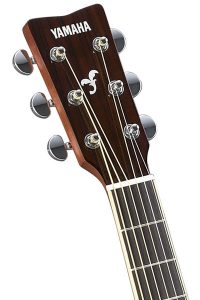 The Yamaha FG TA features a nato neck and rosewood fingerboard.
Nato is just like substitute mahogany. It sounds and feels great and a much affordable price. 
Rosewood is the most common material used as a fretboard. It has a comfortable feel and warm, mellow sound.
What's more:
It has a matte finish for the neck. Hence it's a really comfortable neck to play with. 
With this, you can easily fret a chord and move around the neck!
Furthermore, it has 14 frets available for more tonal options. It's 25.56 inches of scale provides a rich, robust sound, which is such a fitting personality for this guitar.
Even the action is decent!
Just a side note:
The Yamaha FG-TA has a light string gauge as default. With it, its tension should be comfortable for everyone.
5. Fun and Addicting to Play
I don't know whether I've convinced you that TransAcoustic is fantastic. But here's a fun impression video that might just convey what I wanted to say…
Pictures are worth a thousand words, and since this is a video, I guess that's worth a million words?
That should be more than enough to prove my point, don't you think?
Yamaha FG-TA vs. LL-TA
| | | |
| --- | --- | --- |
| | FG-TA | LL-TA |
| Body | Traditional Western | Traditional Western |
| Top | Solid Spruce | Solid Engelmann Spruce A.R.E. |
| Back & Sides | Mahogany | Solid Rosewood |
| Scale Length | 25 9/16 inches (650 mm) | 25 9/16 inches (650 mm) |
| Neck | Nato | Mahogany + Rosewood 5ply |
| Fingerboard & Bridge | Rosewood | Ebony |
| Tuners | Die-Cast Chrome(TM29T) | Die-Cast Gold(TM29G) |
| Body Binding | Cream | Maple + Black |
| Soundhole Inlay | Black + White | Abalone + Black + White |
These two guitars are based on different series. One is on the budget side FG series, and the other is the flagship L series.
They have remarkable characteristics I'll give them that.
Price aside, the Yamaha LL TA is premium, literally high-quality. You'd be paying for something that's an incredibly awesome guitar.
For starters, the LL TA has an all-solid build plus its already aged using ARE technology. With that alone, this guitar's sound quality is the clear winner between the two.
More interestingly:
It has Mahogany and rosewood (5ply) for its neck and a double-action truss rod. With it, your guitar can avoid warping.
For my verdict:
Sure LL TA wins on many levels. But it's also more expensive than the Yamaha FG TA. They are both significant investment, no doubt.
I guess, in the end, it'll depend on what it's for?
If you plan on bringing it everywhere, the FG TA is the way to go. It's way more suitable for travel, and it's more affordable.
If it's for your home practice or studio, you might want to get the Yamaha LL TA. Although it's a little more expensive than the latter.
You can read about the full review of Yamaha LL-TA here.
Yamaha FG-TA vs. FS-TA
Surprisingly, the difference between the two is not just the size. Even the scale length is distinctive.
I said surprisingly because between LL TA and LS TA, their scale length is different. Moving on…
I won't be saying one is better than the other. I'd rather say that some aspect wins over the other and vice versa. 
There's just so much factor to consider. It'll still be your decision. What fits you best or what you like best.
Even if that's the case, I'll still try my best to guide you to the best guitar that will suit you.
The very first distinction is size. Size means comfort and sound. (Maybe a little bit on the looks?)
If you have a below-average body size: You might want to try the concert size FS TA. 
Although some people (with smaller body frames) can get used to a dreadnought. The problem is it takes time. 
So, if you're a beginner with a small body, the Yamaha FS TA might be the better choice for you.
For the sound:
Dreadnought has a relatively bigger sound and better resonance. On the other hand, the smaller concert guitar will have a humbler projection.
Although both of them can still fill the room with soothing music.
In fact, I personally like the sound of a concert guitar!
So which one do you fancy? 
A smaller guitar that's more comfortable but has a more minor sound? 
Or a bigger guitar that has a more prominent volume but maybe a bit uncomfortable?
Technical Specifications
Is Yamaha FG-TA worth it?
The Yamaha FG series is definitely one of the best and one of my favorites. It's one of the affordable series with impressive quality.
I mean, it's hard to find a cheap guitar that isn't "cheap".
To add:
There is no doubt that the TransAcoustic feature is insanely mesmerizing.
Oh, and by the way:
You might get addicted to this guitar. 
Your loved one might scold you: "Hey! You've been playing all day! Can't you spare some time for me?"
I'm just kidding!
But seriously though, when you play the TransAcoustic, you'll get hooked just like most people, and I did!
Therefore:
Yamaha FG TA will definitely help you spice up your music! Effortlessly!
Enjoy? Share with your friends!