When you buy through our links, we may earn an affiliate commission. Learn more »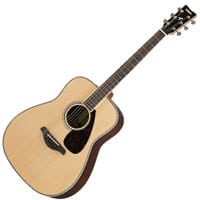 The Yamaha FG830 Acoustic Guitar is one of those "beyond expectations" you'll encounter. Here's what I mean:
Price usually correlates with quality, right? Well, this is one of the few cases that prove that wrong. 
For now, let's see if this guitar is actually worth it.
PROS
Midrange budget guitar

Solid top for better volume
An acoustic-electric version is available
Beautiful overtones
Excellent sustain
Traditional design
It comes with an adjustable truss rod
CONS
The FGX830C's electronics could be better
Nut and saddle are cheap
Nato is just "okay"
The Yamaha FG830 is for beginners or intermediate guitar players. Besides, it's still within the affordable range. However, if you're looking for an advanced guitar, this isn't that. It's still on the average level.
Suppose you're looking for a higher-level guitar than this; there are numerous other options. There's the Martin 00028ec, Martin D-13e, or perhaps Yamaha's one-of-a-kind TransAcoustic guitars.
Also, you might want to check out a concert version of this—Yamaha FS830 or Yamaha FSX830C.
Yamaha FG830 Guitar Review
It's not "news" that the FG series has been around for so long already and still famous. It's popular for this particular reason: affordable with premium quality.
For starters, its overall build quality is top-notch. It's durable enough that the guitar will last for years and years. One variable to thank is the newly developed scalloped bracing.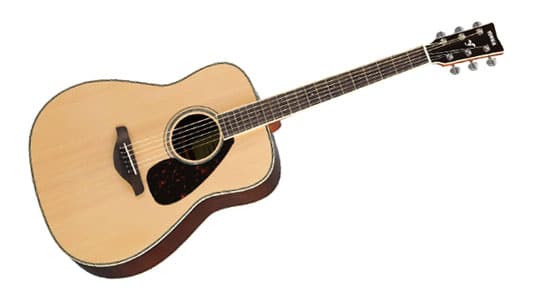 The Yamaha FG830's top features solid spruce, which is light, yet its sound is robust. Its back and sides highlight a rosewood that gives the guitar a warm tone.
Here's the deal:
The FG series are almost identical—from afar, it's indistinguishable. On a closer look, however, the Yamaha 830 acoustic guitar has a more premium feel and aesthetics than its sibling, FG800. 
For instance, the binding is cream instead of black, which separates it from cheaper guitars. Moreover, the rosette looks more attractive, too, featuring an Abalone with Black and White inlay.
Sound Quality
Here's a video demo from KraftMusic:
See your buying options at Amazon →
The Yamaha FG830 is an affordable acoustic guitar from the ever-famous FG series. It has a solid spruce top and rosewood back and sides. Moreover, it has a fantastic tonal quality that can go toe-to-toe with more expensive guitars. Besides, it's offered in 3 appealing colors: Natural, Tobacco Brown Sunburst, and Autumn Sunburst.
One way to describe the sound quality is to compare it with another guitar, and that's what we'll do. Let's compare it with the more budget-friendly Yamaha FG800.
Here's the deal:
Considering that they're from the same series, the sound quality is actually almost similar. There's only a subtle difference you'll notice.
First, the FG830 Yamaha Guitar projects a fuller tone compared to the FG800. Its bass is also more emphasized. And most importantly, it's a lot clearer whether it's plucked or strummed.
Other factors, such as sustain, overtone, and volume, are naturally a lot better than other cheaper guitars. In fact, it's tenfolds better than Fender's more expensive model, Malibu.
Playability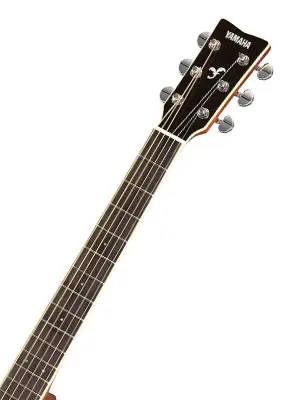 This instrument highlights a rosewood fingerboard and bridge, whereas the neck has a nato tonewood. Moreover, the neck finish is matte, which makes it easier to move around the neck.
Here's more:
Its die-cast chrome tuners allow the guitar to stay in tune. If you ask me, that's a major winning factor for beginners. Nothing is more annoying than re-tuning every hour, right?
Here's the catch:
The nut and saddle could be better. Despite t his, its overall quality is still off the charts. I mean, let's not forget, the Yamaha FG830 is still in the affordable range.
By the way, there's also a cutaway acoustic-electric version if that's what you're looking for.
Technical Specifications
Is Yamaha FG830 worth it?
Overall, the Yamaha FG830 is an excellent guitar. Considering its tonal quality in a budget-friendly range, you'll be getting more than what you'll pay for. In the end, you can never go wrong with a Yamaha acoustic guitar. 
Enjoy? Share with your friends!