When you buy through our links, we may earn an affiliate commission. Learn more »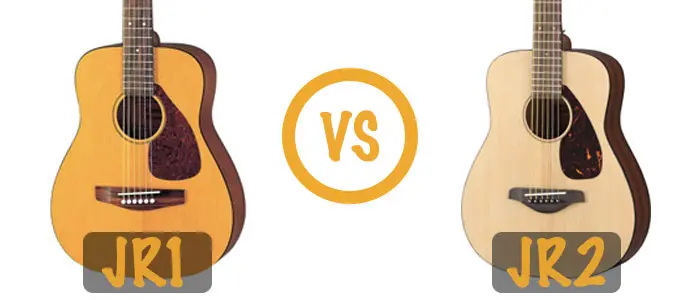 The Yamaha FG Junior is one of the Best Small Guitars (especially for kids). With its compact size, it's also an excellent travel guitar. 
Here's the thing:
It's no secret that these variants, Yamaha JR1 and Yamaha JR2, are based on the ever famous FG / FGX series. Given the reputation of the said series, these smaller versions shouldn't disappoint, right? 
Spoiler alert: it's a guitar that delivers.
Consequently, if this guitar is a gift to a kid, I highly recommend it. The Yamaha FG Junior is far superior to those silly guitar toys that can't even make a decent note.
Now, let's start with the good and the bad.
PROS
Budget-friendly
Includes gig bag
Compact size (easy for travel)
Decent sound quality
Excellent Yamaha craftsmanship
Comfortable to play
Stays in tune
CONS
If you're not used to small-sized versions, this ¾ scale guitar may not be for you. For a full-size version, check out the Yamaha FG800 Guitar.
Not as loud as a dreadnought
Is Yamaha JR1 Acoustic Guitar Good?
For a cheap guitar, the Yamaha JR1 is a great instrument. In fact, it's better than many full-sized guitars in its price range. That's thanks to Yamaha's reliable craftsmanship.
Here's the thing:
The Yamaha JR1 Mini Folk Guitar is crafted with a Spruce top and Meranti back and sides. Considering its dimensions, it has a boxy sound yet bright tone that's pleasant to the ears. Also, it has an attractive natural gloss finish.
In addition, it has an exceptionally comfortable nato neck with a matte finish, perfect for anyone that's just starting out.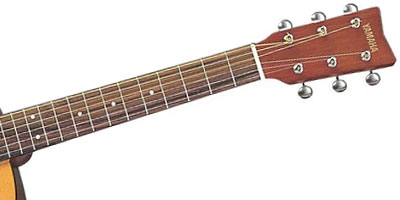 As if that's not enough:
The Yamaha FG Junior has 20 frets connected at the 14th fret, allowing you to reach the high notes just like a full-sized version. Furthermore, its tuning machines are reliable, so you don't have to worry about going out of tune while practicing.
Consequently, compared to cheaper quality guitars with plastic nuts and saddle, the Yamaha FG Junior Acoustic Guitar features a urea material. It's not a big deal for beginners. However, urea subtly improves the overall tonal quality of the guitar, so that's still a win.
On top of all that:
The Yamaha JR1 already includes a gig bag, which makes it easier to carry around. Better yet? You can get this guitar as a bundle with a stand so you can also display it at home when not practicing.
How does the Yamaha JR2 compare to JR1?
Similar to the JR1, the Yamaha JR2 also has a laminated Spruce top. Although, for the back and sides, it is built with a Mahogany pattern (ultra-thin film). This version is more durable to phrase differently, making it a better option as a travel guitar.
Here's more:
This depends on your preference, but Yamaha JR2's traditional design looks more appealing. On the other hand, if you want vibrant aesthetics for your guitar, there's the Yamaha JR2TBS.
Now, let's talk about the most essential factor: sound quality.
The Yamaha FG JR2 has a better sound quality compared to the Yamaha JR1. It has a louder projection (more pronounced) with robust bass, lovely overtones, and longer sustains. Most importantly, its dynamic range is so much better!
Apart from these two, the Yamaha APXT2 Guitar is also worth checking out. For now, here's a video demo from Acoustic Letter of the said guitars.
See your buying options at Amazon →
The Yamaha FG Junior is a fantastic ¾ scale acoustic guitar. Thanks to its small size, it's especially ideal for kids aged 5-14. For adults, it's also a great choice as a travel guitar. More importantly, it's affordable, yet it highlights a terrific quality.
Yamaha JR1 vs. JR2
| | | |
| --- | --- | --- |
| | Yamaha JR1 | Yamaha JR2 |
| Top | Laminated Spruce | Laminated Spruce |
| Back | Meranti | Mahogany Pattern UTF (Ultra Thin Film) |
| Sides | Meranti | Mahogany Pattern UTF (Ultra Thin Film) |
| Finish | Gloss | Gloss |
| Fingerboard | Rosewood | Rosewood |
| Tuners | Covered Chrome | Covered Chrome |
Technically speaking, there's not much difference between the Yamaha JR1 vs. JR2. Even the prices aren't that far from each other. However, as I have mentioned, the sound quality of the JR2 is better.
As for looks, I also prefer the color of the JR2. Not to mention, it's also available on a Tobacco Sunburst finish.
With all that said…
Winner: Yamaha JR2 Acoustic Guitar.
Technical Specifications
Is Yamaha FG Junior worth it?
For any of these reasons: gift for your kid, your travel guitar, or if you simply prefer small-sized guitars, the Yamaha FG Junior Acoustic Guitar is undoubtedly worth it. More importantly, it's such an excellent bang for your buck since it's so affordable and it already includes a gig bag.
FAQs
Enjoy? Share with your friends!