When you buy through our links, we may earn an affiliate commission. Learn more »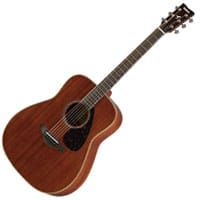 The Yamaha FG850 is a unique variant of the all-time favorite FG series. By unique, I mean it's the only acoustic guitar with an all-mahogany build.
Naturally, it's just as excellent as its siblings. However, it's the least popular compared to the Yamaha FG800 and Yamaha FG830.
I suppose the reason for that is the price. You see, the guitars mentioned above are certainly more budget-friendly.
So, the question is, what makes it better than the rest of the FG series? 
Let's find out.
PROS
Top-notch quality, effortlessly one of the best
Midrange budget
Solid top for better projection
Traditional all-mahogany design
Warm personality
Crisp tones
It comes with an adjustable truss rod
CONS
Nut and saddle are cheap

Nato is just "okay"
High tones could be better
Given its price, I don't recommend it for beginners. Unless, of course, you have the budget. If not, you can check out this list for the best cheap guitars. 
Sadly, if you're looking for an acoustic-electric one, this isn't that one. You might want to check the best acoustic-electric guitars instead.
Yamaha FG-850 Guitar Review
The Yamaha FG850 has, undoubtedly, an excellent design. The apparent reason that you simply cannot miss is the all-mahogany aesthetics—just like the Fender CD-60s. Although, in terms of looks, I dig the Yamaha better.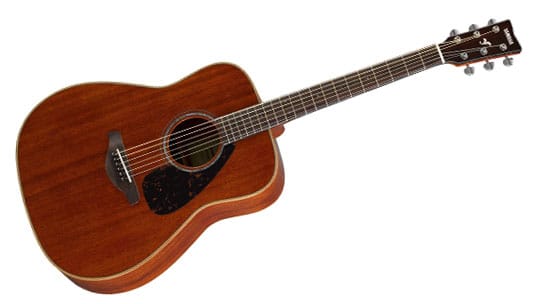 This guitar highlights a nice-looking wood binding around the guitar. Moreover, it has a black binding with a bit of white outline around the fingerboard and headstock, giving it a unique look than its siblings.
The FG850 also features the traditional tortoise shell pickguard combined with a premium-looking abalone inlay.
Here's more:
It has a solid mahogany top and mahogany back and sides. Just like the rest of the FG series, it has the newly developed scalloped bracing. I've said this numerous times in my reviews, but here's the short version: it improves the low and midrange tones.
Speaking of tones, let's move on with the guitar's sound quality.
How does the Yamaha FG 850 sound?
Here's a video demo from KraftMusic:
See your buying options at Amazon →
The Yamaha FG850 Acoustic Guitar is the eldest sibling in the FG series. Better yet? It's also the only model (out of 5) that features an all-mahogany build giving it a more unique tonal quality than the rest. That holds true with the guitar's one-of-a-kind aesthetics too!
Thanks to the mahogany tonewoods, it projects a warmer tone compared to its siblings. I did mention this a while ago, but its lows and mids are also emphasized (more than the FG800 and FG830).
Better yet:
It provides a clear tone, making it excellent for fingerstyle players. Overall, its overtones, volume, sustains are at the "fantastic" level.
The only issue for this guitar (probably) is the missing electronics. If you want to plug this into an amplifier, well, you can't. For an acoustic-electric Yamaha guitar, check out their top-notch Yamaha LL-TA instead.
Playability
Just like any Yamaha guitars, it has excellent playability. 
To begin with, the Yamaha FG850 Acoustic Guitar has an eastern mahogany neck, rosewood fingerboard, and bridge. Thanks to its neck's matte finish, it's a lot easier to move around the guitar than a glossy one.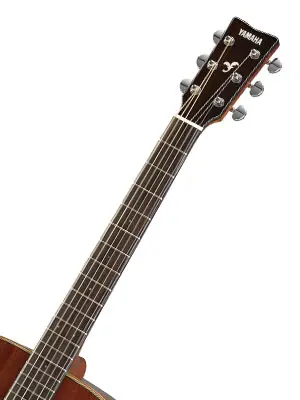 Moreover, this instrument has die-cast tuners, just like all of the FG series. Simply because these are reliable hardware that makes sure your guitar stays in tune. 
Best of all:
The FG 850 has an adjustable truss rod. In other words, if the neck of the guitar curves because of environmental reasons you can't control, you'd be able to fix it yourself.
Here's the catch:
The nut and saddle are on the cheap side. Don't get me wrong, it still has an excellent overall quality, but given its price range? I would expect a better nut and saddle.
Technical Specifications
Is Yamaha FG850 worth it?
To answer the question earlier, the "better" quality is only subtle. In other words, you can never go wrong with any of the FG series, as long as it's within your budget.
With all that said:
For intermediate to advanced players looking for a new acoustic guitar, I highly recommend the Yamaha FG850. It's still within the midrange budget, yet it has premium-like tonal and build quality.
Enjoy? Share with your friends!