When you buy through our links, we may earn an affiliate commission. Learn more »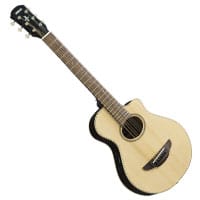 The Yamaha APXT2 is the brand's best mini travel guitar. If you must know, it's based on the "used-to-be" famous Yamaha APX500.
Used to be because this guitar isn't that new anymore. In fact, this review is technically years late, but hey,  it's better late than never. Am I right? 
Here's the deal:
When it was released, it was one of the best mini guitars out there. And today, 5+ years later? That's actually still true!
Without further ado, let's see if this guitar is a good fit for you.
PROS
Midrange budget
Small, perfect as a travel guitar or for kids
Cutaway
Comfortable neck
Excellent high tones
Sounds awesome when plugged in
Inclues a gig bag
CONS
Not a recent product
Not ideal for people with large hands
Boxy sound, yet loud projection
Surprisingly so, the Yamaha APXT2 is for anyone. Whether you're on a budget or not, this may just work for you. 
However, considering that it's a small-scale guitar, it's not exactly ideal for someone who has big hands. If that's the case, you may want to consider full-size guitars such as Yamaha FG800, Yamaha F325D, or Martin D13e.
On the flip side, let's see if this guitar will be perfect for you.
Yamaha APXT2 Guitar Review
For an adult, it may look a bit awkward and cute (somewhere in between). This is because it's a small guitar.
Here's the deal:
Compact guitars have their own share of pros and cons. For instance, they are excellent for travel, great for kids or beginners. The disadvantage, however, is the sound.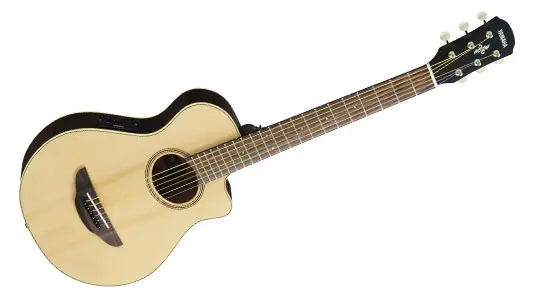 Luckily for us, the Yamaha APXT2 is not like the rest. I'll talk more about it in the sound quality section. For now, let's talk about the looks.
There are four finishes, namely, Natural, Black, Dark Red Burst, and Old Violin Burst. Moreover, the white binding around the body emphasizes the color, making it aesthetically pleasing. There's also the unique oval soundhole of Yamaha, adding extra points to the looks.
Personally, I like the natural look on this acoustic-electric guitar. 
That's not even the best part:
There's also an excellent variant: Yamaha APXT2EW. These guitars use uncommon woods that makes them sound oddly incredible and look astonishing.
To top it all off:
The build quality of this guitar is top-notch. I mean, it's Yamaha we're talking about. So, compared to cheap guitars, this will last you a lot longer, and it'll be a money-well-spent.
Sound Quality
To tell you the truth, I wasn't expecting much from a small guitar. The Yamaha APXT2, on the other hand, subdued that expectation. 
Here's the thing:
It may not be as crisp as its full-size cousins such as Yamaha FG-TA—but for a small-scale guitar? It sounds magnificent. To put it into perspective, it features a loud projection with an emphasis on highs.
See your buying options at Amazon →
The Yamaha APXT2 is a 3/4 small-scale guitar of the brand's "former" best-selling acoustic-electric guitar, Yamaha APX500. With its off-the-charts ART pickup, it can even be used for live gigs. When plugged in, the APXT2 has an exceptional full sound contrary to compact guitars' usual boxy quality.
For the best part?
It sounds a lot better when it's plugged in—good enough that you can even use it for live sessions.
Simply put, it will have a round-er and more precise sound. Furthermore, with the ART Pickup, your guitar will further be responsive and expressive. Also, you can customize the volume and tone, giving you more tonal options.
Playability
For kids, this small-size will be a perfect fit. In fact, it looks like a toy which will probably encourage them more to pick up the guitar and practice.
Luckily for adults, the neck will be just as comfortable. The frets are just the suitable distances that make chording a lot easy.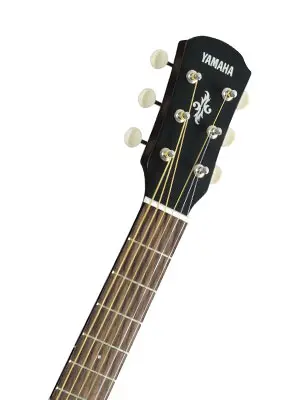 The neck size and its matte finish also add up to the playability. Basically, the overall neck design makes it easy to switch from fret to fret, chord to chord—whether you're a beginner or not.
Moreover, it has a built-in tuner. By having so, you don't have to buy a separate one. Talk about a great deal, right? Just kidding, that's not really the point. The actual benefit of this is you can easily tune your guitar whenever and wherever.
Technical Specifications
Is Yamaha APXT2 Guitar worth it?
If you're looking for a small guitar with excellent quality, Yamaha APXT2 should be on your shortlist. I mean, it's one of the few that didn't sacrifice sound quality over comfort.
Enjoy? Share with your friends!