When you buy through our links, we may earn an affiliate commission. Learn more »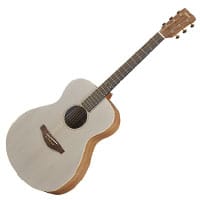 I'm sure you'll agree when I say, learning the ways of the guitar is entertaining.
Here's the deal:
Yamaha recently released a new gorgeous guitar. It's a fantastic guitar you'll want to pick up everyday!
In a nutshell, if you're a beginner looking for your first instrument to get inspired with, you'll love the new Yamaha Storia Series!
Let's dive in!
PROS
Astonishing classy designs
Three options to choose from
Excellent for beginners
Lightweight
Comfortable neck
Rounded edges
Low action
Smaller body
Plug n' play
Ages well
CONS
No pickguard, which makes it not ideal for flat pickers
The electronics could be better
Minor sound than a dreadnought
Not offered for left-handed players
Are you after the looks?
Comfort?
Or sound quality?
Whichever is your preference, the Yamaha Storia has it all!
Yamaha made this series, especially for beginners. 
Now:
That doesn't mean that it's not for seasoned guitarists. Technically, this is still an excellent guitar for everyone to enjoy.
Sadly:
If you're a flat picker, I'm afraid this guitar is not for you.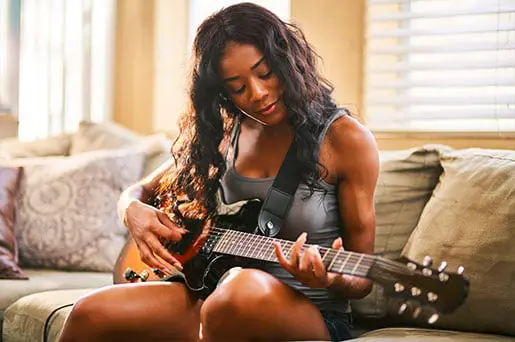 You see, this guitar may have an elegant look, but it doesn't have any pickguard. When you use a pick, this guitar can be easily scratched.
Take note:
The Storia series features a concert body. In other words, it won't have the same "full" sound as dreadnought guitars. 
If you're looking for more prominent guitars, I have some alternative suggestions below.
Luckily for you, I also have some other list for the best guitars under $1000, best budget guitars, and best beginner guitars.
Storia, a Unique Guitar Just Like You
Yamaha recently released two new series of acoustic guitars:
FG/FS Red label Series
Storia Series
This article is a Yamaha Storia guitar review, so let's do that.
There are three guitars in this series: namely Storia I, Storia II, and Storia III. 
They are the same, but they are also different. Contradicting idea, but you'll soon learn what I mean.
For now, here's what I can say:
They are all fantastic guitars, no doubt about that.
Let's start with the first reason to love Storia.
1. Free add-on: Fourchords Guitar Karaoke
Assuming that you'll buy this beautiful guitar, you'll also have 30 days full access to the Guitar Karaoke App.
You might be wondering what this is:
This application is like karaoke, but with guitars in mind. 
Also, you can sing most of your favorite songs!
You can use this app to learn how to play or merely a play-sing-along with friends. It has excellent features that'll make learning fun and easy!
A great addition to Storia, right? 
2. Stunning Unique Aesthetics
When you hold, nay–see!
When you see a Storia guitar, the first thing you'll notice is its design. 
It looks elegant, and I love it. 
Considering that I'm a minimalist, my opinion with its aesthetics may be biased. It has a minimalist design, after all. 
Simple yet majestic.
Now:
Biased opinion aside, I think you'll still love the stunning design of Storia. Minimalist or not, this guitar looks elegant. 
One proof would be its gold accent, particularly the tuners and pins. 
Besides, the Open Gear Champagne-Gold doesn't only enhance the aesthetics, but it also helps the guitar to stay in tune.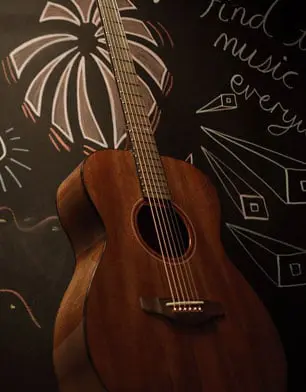 Furthermore, there are three amazing choices:
Off-white (Storia 1)
Natural Mahogany (Storia 2)
Chocolate brown (Storia 3)
Sure enough, one of these will fit your personality.
One more unique thing about this series is their interior finish. I honestly have never seen a guitar with an interior finish.
Unexpectedly:
It's a simple design that actually packs a punch!
For the Storia I with off-white top, it is combined with a light blue interior. This color contrast gives off a lively and modern vibe.
The Storia II, natural mahogany, features an ultramarine interior. This color combination feels warm to the eyes.
Storia III's chocolate brown exterior blends well with wine red color. A classy dark-colored guitar that will be relaxing and stimulating to your environment.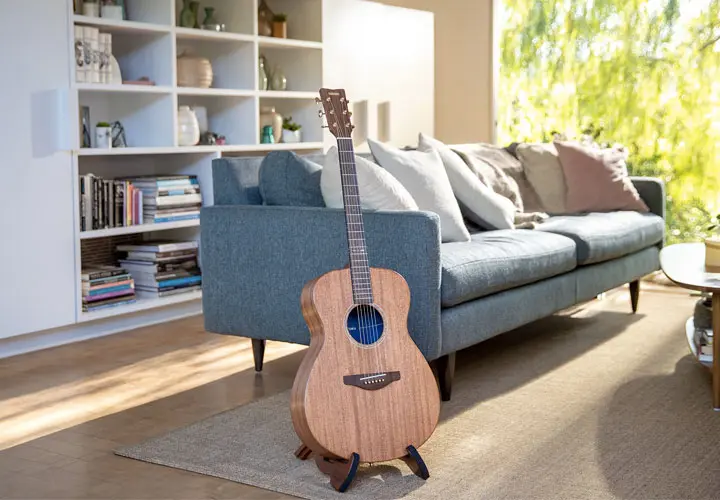 One more thing to add:
The Storia series can also be an INTERACTIVE elegant decoration to your home. A "decoration" that you can pick up and play.
It's also a great gift if you have a collector friend. Maybe he or she still doesn't have a uniquely designed guitar!
Moreover, they are crafted carefully with attention to detail.
Simply put:
Yamaha made these guitars with love.
If you want to invite music into your life, or you want to express your creativity, Storia is without a doubt, the perfect choice.
3. Extremely Comfortable Playability
Have you played any guitar before?
If so, this is an excellent choice. 
Here's the kicker:
Yamaha created the Storia series with first-timers in mind.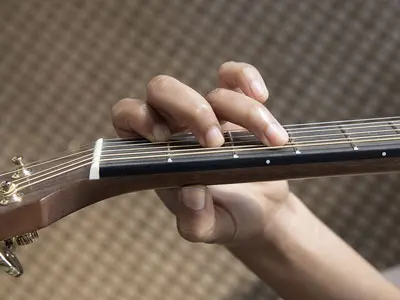 It has a convenient nato neck with a walnut fingerboard. With the rounded edge and narrow neck, it's relatively easy to grip.
It has a comfortable action, so you won't have to use too much pressure when fretting. 
This series highlights a semi-gloss finish neck making it easy to move from chords to chords.
It's not just the neck that's convenient, the body is also comfortable. 
The Storia series all feature a concert type body. It's smaller than the dreadnought, so it's also lighter to carry around. 
It's also perfect for people with smaller body frames. 
I mean, it's not fun to play the guitar if you can barely rich the strings, right?
Now:
With those features in mind, this is an excellent practice guitar, especially if you're just starting. 
Considering that you don't have to exert too much effort when playing, you will have a more extended practice time!
4. Responsive Tone (Yamaha Storia 1 vs. Storia 2 vs. Storia 3)
See your buying options at Amazon →
Yamaha Storia Series is an upgraded version, one-of-a-kind statement piece, of traditional acoustic guitars. It will certainly add more color and sound to your wonderful life.
Here's the catch:
Even if they have a concert body, they have a beautiful resonant projection. Maybe one thing to thank is its light bracing as well.
Although, dreadnought guitars surely have the full-er sound than concert guitars.
These guitars' main difference is the materials used and finishes added.
| | | | |
| --- | --- | --- | --- |
| | Storia 1 | Storia 2 | Storia 3 |
| Top | Solid Spruce | Solid Mahogany | Solid Mahogany |
| Top Color | Off-white | Natural Mahogany | Chocolate Brown |
| Interior Color | Light blue | Ultramarine | Wine Red |
| Finish | Semi-gloss | Semi-gloss | Gloss |
| Rosette | Mahogany and Ivory Inlay | Abalone and Ivory Inlay | Black, wine red, and ivory inlay |
Yamaha Storia I
The Yamaha Storia 1 features a solid Spruce top, mahogany back and sides, and semi-gloss finish. This combination gives it vibrant tones.
It emphasizes its off-white top color and light blue interior color. 
It also highlights an ivory body binding and mahogany+ivory rosette inlay providing it a tidy look. 
Its clean, contemporary aesthetics are captivating either playing or merely sitting in a room.
Yamaha Storia II
Featuring a solid Mahogany body and semi-gloss finish, the Yamaha Storia 2 produces warm, vibrant tones, and robust midranges.
Its natural colors will be in coordination with your style.
Moreover, it has an ultramarine interior color and abalone+ivory rosette inlay. It is a one-of-a-kind aesthetic for a guitar!
Yamaha Storia III
Thanks to the solid Mahogany body of the Yamaha Storia 3, it creates warm and balanced tones.
Just like Storia II, its midrange has a robust earthy tonality.
Storia III features a chocolate brown top, wine red interior, and black+wine red+ivory rosette inlay.
With the addition of the glossy finish, this stunning guitar gives you a dark yet radiant look — definitely an excellent addition for your background.
5. It improves over time
Take note:
They all have a solid top, which can mean one awesome thing.
It ages great.
If you don't know what it means, here's the explanation:
Other than solid guitars having an excellent projection and perfect durability, they are also loved for one more thing. 
That's the improvement of quality over time.
In simple terms, it ages well.
So, the longer you have it, the better quality it'll have. An exceptional investment, don't you think?
6. Plug n' Play Electronics
This is the last, and definitely NOT the least of the reasons to love Yamaha Storia.
One more great addition to an already fantastic guitar is its Yamaha passive under-saddle pickup.
If you want to have a louder sound to play for an audience or a recording, you can simply plug it in.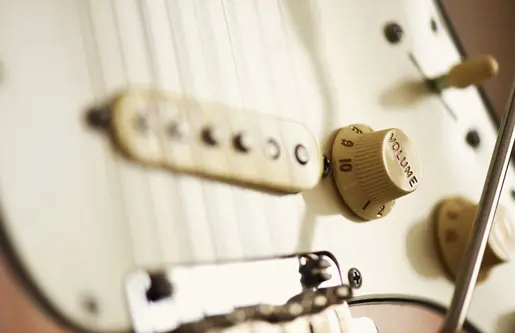 Sadly:
This pickup isn't technically the best but good enough for beginners. It doesn't have any tone control, literally just a plug and play. 
It also doesn't give a natural acoustic tone. 
A mic will be a better choice if you plan on playing on a gig.
Yamaha has already been around since 1887. With more than 130 years of experience, their skill in the guitar industry is definitely wholesome. Even with a new product, we can already trust that it'll be excellent. 
Technical Specifications
Is Yamaha Storia Series worth it?
In this review, I can say that without a doubt, the design of this guitar is 10 out of 10. But that's not the only important part.
You might be wondering:
Does it only offer looks?
Of course not! Let's talk about the sound. 
Overall, the sound is impressive, even with its concert body. 
I mean, Yamaha doesn't disappoint when it comes to quality, but the Yamaha Storia is off the charts!
The playability is incredible, as well. It has everything needed for perfect playability, rolled edges, slim neck, and low action.
Yamaha is really looking out for beginners in the guitar world.
Enjoy? Share with your friends!