When you buy through our links, we may earn an affiliate commission. Learn more »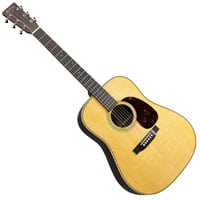 Martin HD28 Guitar is part of Martin's standard series. It happens to be one of the popular guitars too!
Here's the deal:
To state the obvious, it's no question that Martin is one of the leading brands in acoustic guitars. Simply put, you'll be paying for actual quality instead of the "name."
Furthermore, a lot of famous musicians are using (or have used) a Martin Guitar. To name a few in the contemporary era, there's Ed Sheeran and Lewis Capaldi.
Here's more:
The Martin HD28 is extremely similar to the slightly cheaper Martin D28—which I'll compare later. 
For now, let's start by conversing about the guitar's pros and cons.
PROS
Top-notch quality, effortlessly one of the best
Exceptional handmade craftsmanship with high-end materials
First-class sounding instrument
Scalloped bracing for more volume and bass
Traditional design with herringbone aesthetics
Great playability
Includes a hardshell case
Limited lifetime warranty
CONS
Premium guitar with a lavish price tag
For the reason that it's pricey, the Martin HD28 is more ideal for advanced players. 
On the other hand, I don't recommend this instrument to beginners. You see, I usually advise novices to test the waters before buying an expensive guitar. If that's the case, you might want to check out the best beginner guitars first.
Martin HD28 Guitar Review
According to Martin Guitar, "​​Every Standard Series guitar passes through the hands of master luthiers with centuries of collective experience."
That statement implies that Martin HD28 is, without a doubt, built with excellent craftsmanship. Every nook and corner of the guitar is made with professionalism instead of a mindless robot/machine.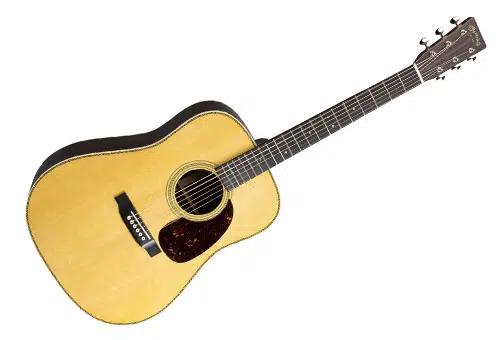 Here's more:
The HD28 highlights a solid wood build, so it only gets better as time goes by—just like a finely aged wine.
In terms of aesthetics, it has that timeless traditional design with a vintage finish. It also features a bold herringbone inlay with an extra touch in the aesthetics department.
Moreover, the Martin HD28 hallmarks a diamond and squares long pattern inlays on the neck for a more premium feel. 
Best of all, the guitar has scalloped bracing, which affects the overall sound quality in the best way. Speaking of sound, let's talk about its tonal quality…
Sound Quality
See your buying options at Amazon →
The Martin HD28 Guitar is, to put it in one word, "marvelous." It's an incredible guitar that features solid tonewoods, scalloped forward shifted x bracing, with a scale length of 25.4 inches. And best of all? It has a limited lifetime warranty!
As expected from a premium guitar and brand, the sound quality is top-notch. It's like every tonal quality factor—volume, sustain, dynamics, overtones, etc.—has been dialed to 11.
Another crucial thing to mention is its bass. Essentially, It has a robust bass and projection thanks to the scalloped bracing. Not to mention, it has a crystal clear tone perfect for any type of guitar playing.
Playability
One thing I really like about Martin is that most of their guitars have excellent playability. For instance, the HD28 features a modified low oval high-performance taper making it incredibly comfortable to hold and play.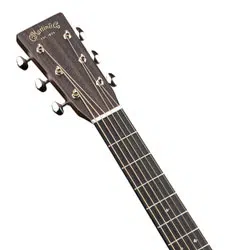 Even the Martin 00028ec with a v-neck shape is surprisingly convenient. I suppose that's kudos to Martin Guitars & Co.
Martin HD 28 vs. Martin D28
The Martin HD28 vs Martin D28 is one of the most challenging comparisons I've made, considering they are so similar.
Anyway, the first disparity is their price.
Here's the thing:
In this day and age, more expensive usually means a better product, right? In guitars, however, that's certainly not the case. 
If anything, this comparison will be a matter of preference, mainly because their prices aren't drastically different. In other words, its cost shouldn't be the most significant determinant.
For now, here's a comparison table to see their dissimilarity side by side.
| | | |
| --- | --- | --- |
| | HD-28 | D28 |
| Brace Shape | Scalloped | Non-scalloped |
| Top Inlay Material | Bold Herringbone | Multi-Stripe |
| Back Purfling/Strip | Zig-Zag | Style 28 |
| Fingerboard Inlay Style | Diamonds and Squares Long Pattern | Style 28 |
| Fingerboard Inlay Material | Abalone | Mother-of-Pearl |
That's all!
Before I continue, listen to this demo by TFOA.
It might be difficult to distinguish if you're a beginner, but the difference is really there. From what I've heard, the bass of Martin HD 28 is more profound. 
You see, apart from the aesthetics, the significant difference is the brace shape. In theory, scalloped bracing will have more volume and bass as the top tonewood will vibrate more. 
For me, I like powerful bass in general, so I'll immediately go for the HD28. And, it fits well with my way of playing, too—fingerpicking.
On the other hand, the Martin D28 is more well-balanced than HD28. So, you might like the D28 more if you're a rhythm guitarist.
In the end, you can never go wrong with either of these two. Both are top-notch, so whichever one you choose will undoubtedly be an excellent partner.
Technical Specifications
Is Martin HD-28 worth it?
With all things considered, Martin HD28 is 100% worth the splurge. I mean, I have nothing but praises for this guitar, "outstanding, off-the-charts, superb, etc."
Even its price tag is understandable—knowing that it's a high-quality guitar that will last you a long time, lifetime perhaps.
Enjoy? Share with your friends!