When you buy through our links, we may earn an affiliate commission. Learn more »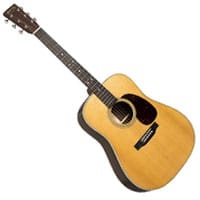 Martin D28 Guitar has been around for almost a century and it's still one of the best guitars of all time! Not to mention, it also belongs to the most popular guitars from the Martin brand.
To be fair, Martin Guitars are truly fantastic when it comes to acoustics. Plus, many musicians have used (and are using) Martin—The Beatles, Johnny Cash, Neil Young, Ed Sheeran, Lewis Capaldi, etc.
Those statements alone prove Martin's authenticity.
Now, let's go back to the review:
The Martin D-28 Guitar has been re-imagined, so it's not outdated per se in the technology department. Essentially, this guitar combines vintage aesthetics with some of the modern innovations for the best overall quality.
The question, however, is whether it is suitable for you? Let's find out.
PROS
Made with high-quality materials
Professional sounding guitar
Excellent handmade craftsmanship
Better projection thanks to forward-shifted bracing
Comfortable neck profile
Several available variations
Well-balanced tone
Includes a hardshell case
Limited lifetime warranty
CONS
Premium guitar with a lavish price tag
Unquestionably, the Martin D28 is perfect for advanced players. 
On the other hand, if you're just testing the waters in the guitar world, I would recommend otherwise. In that case, check out my best guitars for beginners instead.
Martin D28 Guitar Review
As I have mentioned, the D28 reimagines its predecessors. Generally, the old-school design that works well stays; And the significant improvements made by Martin's years of experience are combined to create a fantastic guitar. 
That's also why it features an aging toner giving it that pleasing traditional vintage aesthetics.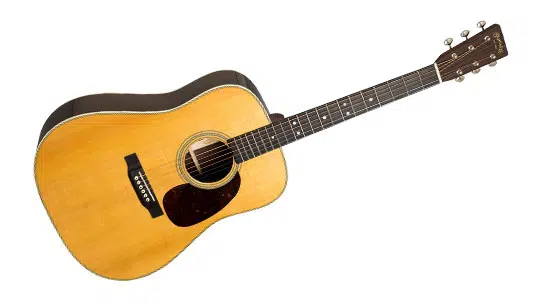 On a different note:
Martin Guitars are well-known for their handmade craftsmanship. Sure, we are now in the technological age where robots are already taking over some factory jobs. For guitars, however, handmade ones are better.
You see, every guitar (same model or not) will differ if it's made by humans. In fact, even some imperfections will provide a winning factor against machine-made ones. In other words, all Martin guitars are exceptionally unique, particularly the top-notch Martin D-28.
Here's more:
It features an all-solid build of Sitka Spruce top and East Indian Rosewood back and sides. These produce an excellent resonance and volume. Additionally, its quality will not deteriorate over time (given that you take good care of it).
Now, let's talk about its tonal quality.
How does the Martin D28 Acoustic Guitar sound?
Here's the deal:
In texts, it'll be hard to imagine sounds, right? So, to help with your decision-making here's a video demo of the Martin D-28 from Alamo Music Center.
See your buying options at Amazon →
The Martin D28 Guitar is one of the best guitars in the market, no doubt. As a matter of fact, the D28 series has been around for more than 86 years, and it's still famous. Its awesomeness simply doesn't want to yield.
I'll state the obvious, the sound quality of the Martin D28 guitar is phenomenal—no question about that.
Now:
The Martin D28 is an excellent rhythm guitar with emphasized treble and midrange. Compared to other premium guitars, it has less bass, but overall it still highlights a superb well-balanced tone. 
Moreover, it produces a clear and crisp sound, which is also perfect for fingerstyle. On top of all that, its sustain, overtones, and dynamics are off the charts! 
Clearly, its sound quality is an excellent 10 out of 10. I'm not saying it's perfect because that will be your preference. What I mean is that the sound quality is definitely exceptional, among the best of the best.
Playability
Just like the majority of Martin guitars, the Martin D28 highlights excellent playability. 
Mainly, it features a modified low oval with a high-performance taper. Both of these are perfect for the majority of playing styles. Not to mention, it's comfortable wherever you are in the neck.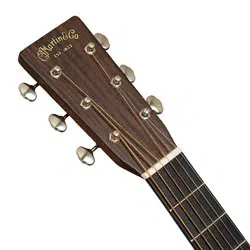 Speaking of the neck, it also hallmarks a satin finish. By having so, shifting from fret to fret will be more straightforward, especially for oily hands.
Martin D28 Modern Deluxe Review (vs. D28 Standard)
Spoiler alert: The Martin D28 Modern Deluxe is slightly better than the standard Martin D28.
The Martin D28 Modern deluxe has a cleaner, warmer, and fuller tone in terms of sound quality. The difference is so subtle, so it's tough to put it in words. Instead, watch this comparison of Chris McKee.
Now, let's talk about the technical stuff:
| | | |
| --- | --- | --- |
| | Martin D28 Standard | Martin D28 Modern Deluxe |
| Price point | $$$$ | $$$$$ |
| Top | Sitka Spruce | Sitka Spruce with VTS |
| Top Color | Aging toner | Clear |
| Brace Shape | Non-scalloped | Scalloped |
| Brace Material | Sitka Spruce | Adirondack Spruce with VTS |
| Neck | Select hardwood | Genuine mahogany |
| Neck Shape | Modified low oval | Vintage Deluxe |
| Binding, heel cap, and end piece | Antique White | European Flamed Maple |
| Back Purfling/Strip | Style 28 | Zig-zag authentic |
| Top inlay material | Multi-stripe | Bold Herringbone |
| Bridge pin | White plastic | Liquidmetal |
| Fingerboard Inlay | Style 28 (mother of pearl) | Diamond and squares long pattern (abalone) |
| Tuning machines | Nickel open gear | Gold open gear |
Those
bolded
are the ones with a clear advantage. The rest are subjective.
The modern deluxe uses all the contemporary technologies available. 
VTS stands for Vintage Tone System. Simply put, it's like an aging process for the spruce top to make it sound even better. It's like a mature guitar with all the wisdom and experience. You don't need to wait for years to get to that superb quality.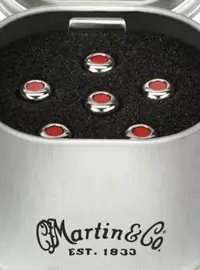 The Liquidmetal is also one of the new innovations applied to the Martin D28 modern deluxe version. In simple terms, it's a zirconium alloy that makes the guitar resonate more fully and improves the volume and sustain.
When it comes to overall quality, modern deluxe is the absolute best. It's technically an updated and premium version of the D28, so there's that. However, it's more expensive than the standard one, so you should consider the budget too.
And the good news?
There are also other variations.
There's the 000-28 with a smaller body, 00-28 for an even smaller one. Finally, there's the D-28E and if you want to plug it in, especially when playing live or recording. On top of those three, there's also Eric Clapton's guitar—Martin 00028ec.
More than those, there's also the similar Martin HD28 (with scalloped bracing) that you may want to check out.
Technical Specifications
Is Martin D-28 worth it?
With all things considered, you can never go wrong with the exceptional Martin D28 Guitar. And more than anything, it'll be a fantastic investment as a lifetime instrument.
Enjoy? Share with your friends!