When you buy through our links, we may earn an affiliate commission. Learn more »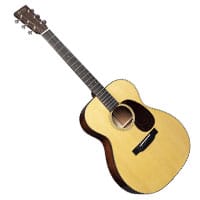 Note: Martin 000-18 is only available as a left-hand guitar at Amazon (at the time I'm writing this). If you're right-handed, you might want to check out Martin D-28 as an alternative.
The Martin 000-18 is a redesigned model, so just like the new version of D-18 or the Martin D-28, this model has become better. Although, it was already excellent to begin with, so that's a significant victory for us.
With that said, I suppose there's no need for a lengthy introduction.
Now, let's kick things off with the pros and cons of Martin 000-18 Guitar.
PROS
Excellent build quality and handmade craftsmanship
Well-balanced mellow tone
Auditorium size for a more comfortable playing
Aesthetically pleasing design
Great playability
Includes a hardshell case
Limited lifetime warranty
CONS
Premium guitar with a lavish price tag
Lower volume compared to Dreadnought
I'll be frank, this instrument is not in the affordable under $1000 guitar range. In other words, the Martin 000-18 is more ideal for guitarists who's way past the beginner phase. 
Even though it's not cheap, it's technically more budget-friendly than the more expensive Standard Series models. So, if you're pondering which one to choose, this acoustic guitar could be it.
Martin 000-18 Guitar Review
At this point,  I'm 99% sure that you already know that Martin's build quality is top-notch, right?
As I have mentioned earlier, this is a redesigned version.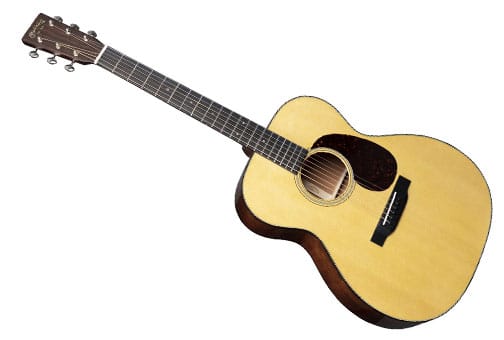 In the case of guitars, it's not; new is always better. Old guitars that are well taken care of may have improved over time. In the case of the Martin 000-18 Redesigned, new happens to be slightly superior. I mean, there's no point in redesigning a product if it is inferior to the previous one right?
To begin with, this acoustic guitar looks more stylish now. It features a Sitka Spruce top with aging toner color, giving it that vintage-inspired look. So, despite being more recent, it'll still have that delightful vintage aesthetic. In addition, with the combination of the tortoise shell binding, it feels a lot more luxurious than the former model. 
On top of all that, its nickel open-geared tuners with butterbean knobs look nice. It may not be the highlight, but it's still a nice touch to the overall design of the guitar.
The whole guitar body build is complemented by the beautiful mahogany back and sides. And of course, this tonewood also appends to the Martin 00018 that professional sound you're going to love.
Speaking of sound, let's talk about its tonal quality.
How does Martin 00018 sound?
See your buying options at Amazon →
The Martin 000-18 Guitar is an excellent instrument that produces a warm and lovely tone. It has a shorter scale of 24.9 inches (632.46 mm) than a Martin Dreadnought model. This allows you to have easier control when bending the strings or playing in general.
Here's the thing:
The Martin 00018 is certainly not as boomy as the dreadnought version. Luckily, that's actually not a bad thing. You see, loudness isn't always the most crucial factor. For instance, the lower volume bodes well with accompaniment such as singing or perhaps a band.
In other words, if you're a singer/songwriter or a band member, this model may just be the one for you.
Additionally, the 000-18 is more balanced than other guitars, so that's a massive point for this instrument. In general, it highlights a more mellow, lightweight type of tonal quality. 
On top of all that, its dynamic range is still excellent—along with overtones and sustains. So, the only thing dialed down is the size and volume, which, then again, is NOT a disadvantage.
Is it comfortable to play?
This Martin Guitar has the triple O size or Auditorium. In other words, it's slightly smaller than a dreadnought model. However, when it comes to playability, the 000-18 is fantastic.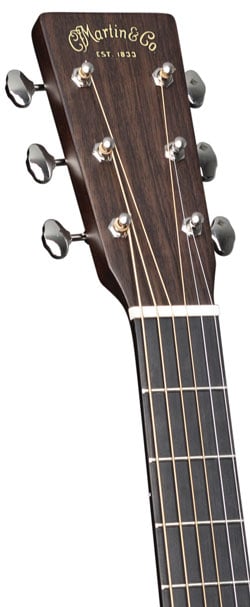 Additionally, this guitar features a shorter scale, so it has less string tension, making it easier to bend. If you're a fingerstyle player, you might find this size to your liking.
Here's more:
Thanks to its short scale, the frets are much closer together, albeit this factor is relative. For instance, I have a small to average body size, so guitars smaller than Dreadnought are comfortable for me. If that's not the case, you may want to check the Dreadnought version, such as Martin D-28 Acoustic Guitar or Martin HD-28.
As for the neck, it hallmarks a modified low oval shape and high-performance taper for maximum comfort. In that case, playing this guitar won't tire you quickly and you can have fun a lot longer.
Technical Specifications
Is Martin 000-18 worth it?
If you're looking for an advanced acoustic guitar more compact than a dreadnought, you should undoubtedly consider the Martin 000-18. It has that beautiful professional Martin sound and quality, which makes it worth every penny.
Enjoy? Share with your friends!