When you buy through our links, we may earn an affiliate commission. Learn more »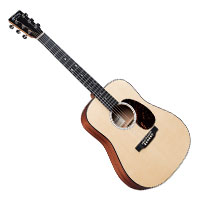 The Martin Dreadnought Junior, aka Martin DJr-10, is a fantastic small guitar, perfect as a companion when traveling.
Spoiler alert: Martin Dreadnought Jr has a surprisingly robust volume despite its size.
By the way, the DJr-10 is an updated version of the previous Dreadnought Junior. In short, Martin Guitars went above and beyond with something that's already awesome.
So, without further ado, let's find out if the Martin DJr-10 Guitar is perfect for you.
PROS
Budget-friendly Martin Guitar
Martin DJr-10 is perfect if you don't feel comfortable with the full-sized version (or for a kid)
Excellent as a travel guitar
Lightweight guitar
First-class "Martin" sounding instrument
Despite its small size, it has a loud volume
Scalloped bracing for more volume and bass
Traditional design with herringbone aesthetics
Top-notch playability
Includes a gig bag
Limited lifetime warranty
CONS
Highs could be better
Electronics (of DJr-10e) isn't that impressive
Martin Dreadnought Junior Guitar Review
As I mentioned, the Martin Dreadnought Jr is excellent as a travel guitar. 
Here's why:
Its compact size makes it easier to store and carry around as it's more lightweight than a full-sized dreadnought. More importantly, when you use the Martin DJr-10 as your travel guitar, you don't have to worry about damaging your more expensive main one.
In fact, it's a more ideal travel guitar than its bigger sibling, Martin D10e.
Besides, since Dreadnought Junior is still a high-quality guitar at an affordable price, you can still play that authentic Martin sound anywhere.
Apart from traveling, it's also great for other reasons:
If you're not comfortable with the full-sized guitar, then the Martin DJr-10 is indeed perfect for you. 
Also, the Martin Dreadnought Junior is undoubtedly one of the next best steps for kids that outgrew their baby guitar.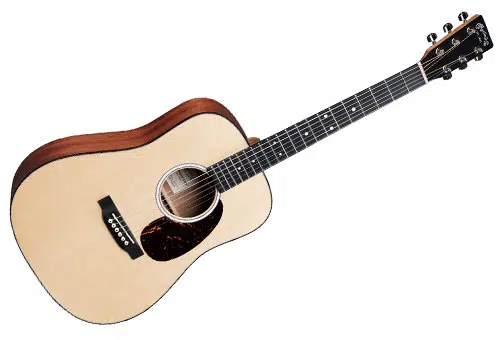 On a different note:
Thanks to the all-solid wood build and scalloped bracing, the instrument has better longevity and overall sound quality.
If you don't know, solid tonewoods get better (sound-wise) the longer you have it, which makes this guitar even more worthwhile.
Design-wise, as usual, Martin is on top of the game. The guitar highlights a lovely traditional Sitka Spruce top and Sapele back and sides. Simply put, it looks more elegant than any of the cheaper guitars.
On the other hand, if you want a break from tradition, you can also get the all-Sapele version. On its own, the Martin DJr-10 Sapele is a magnificent guitar.
Now, let's proceed with the guitar's sound quality.
How does Martin Dreadnought Jr sound?
Thanks to the Sitka Spruce, it projects a brighter, louder, and responsive sound. The Sapele, on the other hand, improves the midrange tones.  
That being said, the jargon above will make more sense when you listen to it. So, before we continue, watch this video demo from Alamo Music Center.
See your buying options at Amazon →
The Martin Dreadnought Junior DJr-10 is a smaller-sized guitar, mainly 15/16 of the full-sized version. Simultaneously, it has a shorter scale of 24 inches (609.6 mm). Now, regardless of its size, it's still an outstanding instrument with robust sound quality. Not to mention, it's absolutely comfortable to play.
Here's the deal:
I was honestly taken aback by the sound quality of Martin Dreadnought Junior. Mainly, I expected a more boxy or lowered volume, just like regular small guitars. But no, not in the least.
I guess that's on me, considering that any Martin guitar isn't regular.
The point is, the Martin Dreadnought Jr has a round and powerful personality making it better than the majority of the small guitars I've listened to. In fact, its sound quality surpasses cheaper dreadnoughts.
Also, compared to the older Martin Dreadnought Junior, the DJr-10 has a more balanced tone. Although, the previous one had a richer timbre.
Overall, Martin DJr-10's sound aspects, such as overtones, sustain, projection, etc., are beyond fantastic.  
Here's the catch:
Fishman Sonitone's electronics are technically improved, but it's not the best yet. In a nutshell, it doesn't fully capture the beautiful acoustic qualities of the guitar. So, if you're going to play plugged in, I suggest using a mic instead.
Is Martin DJr 10 Guitar comfortable to play?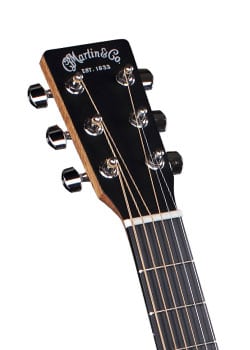 Yes, just like most Martin Guitars, the DJr-10 plays comfortably.
Here's the kicker:
The spacing and the fingerboard width (at the nut) are more substantial than smaller cramped guitars. As a result, it's a lot easier to fret, hold, or simply to play overall. We can also thank its conveniently shaped neck with a hand-rubbed finish for that benefit.
Additionally, even if you're used to a dreadnought, the Martin DJr-10 will still be straightforward. In other words, switching from guitar to guitar won't have a learning curve (especially if you'll get this instrument as a practice/travel guitar).
As if that's not enough:
Its shallow 000 body depth makes it simpler to "hug" the guitar. To put it in perspective, reaching the soundhole can be tricky with giant dreadnoughts. And, your strumming hand, shoulder to be specific, will quickly get fatigued. (At least that's my experience with a full-sized guitar.) 
With the Martin Dreadnought Junior, on the other hand? Not an issue.
And, of course, it stays in tune, so you don't have to worry about tuning while playing.
Martin DJr-10 Variants
Martin Dreadnought Junior Streetmaster Sapele
At the time of writing, the Streetmaster Sapele is the most recent variation of the Martin Dreadnought Junior. In terms of sound, it's charmingly smooth and mellow. Naturally, the design choice is a real knockout.
Martin Dreadnought Junior vs. Taylor GS Mini
In terms of sound, the Martin Dreadnought Junior has a more pronounced bass, whereas the Taylor GS Mini projects more vibrant highs.
Here's the deal:
Sound quality is highly subjective, so it depends on your playing style. Do you like warmer sounds or brighter tones? IMHO, I love the overall sound quality of Martin. Plus, it fits well with my playing style.
Luckily, I can objectively compare these two things:
The Taylor GS Mini features better electronics than the Martin. Thus, if you'll play plugged in often, I highly recommend the Taylor.
On the other hand, Martin Dreadnought Junior feels more comfortable playing since it highlights a better neck design. 
In the end, since they both have strengths in sound aspects, there's no winner or loser. Briefly speaking, they're both excellent.
Technical Specifications
Is Martin Dreadnought Junior worth it?
Suppose you're looking for a smaller guitar that doesn't compromise the sound quality. In that case, the Martin Dreadnought Junior fits the description perfectly. Besides, unlike other Martin guitars, the DJr-10 is still within the budget-friendly range. In that case, that's a double win.
FAQs
What size is a Martin Dreadnought Junior?
The Martin Dreadnought Junior is a 15/16 guitar with a shallow "000" depth and 24 inches (609.6 mm) scale. Essentially, it's between the "baby" sized guitars and regular full-sized dreadnoughts.
Is Martin Dreadnought Junior solid wood?
Yes, it features an all-solid wood build which means better durability and overall sound quality.
Is Martin DJR good?
Yes, in fact, it's so much better than the majority of small guitars.
Enjoy? Share with your friends!