When you buy through our links, we may earn an affiliate commission. Learn more »
Martin has been around for 187 years and counting. In fact, they're still one of the best contenders for acoustic guitars.
Now:
The CEO recently created an entirely new guitar from a unique tonewood, which you might fall in love with!
In short:
If you want to experience something new and awesome, Martin CEO-9 is worth checking out!
There's only 50 of this guitar, so we better be fast!
PROS
Excellent investment
Mango has lovely tonal qualities
Unique aesthetics
Sweet tones, sustains, and overtones
Great volume and projection
Plek'd to perfection
Stays in tune
New Liquidmetal Bridge pins
Environment-friendly
Available for left-handed
Optional electronics
CONS
Limited edition, it might run out soon
It will mature later than regular guitars
V-neck might be uncomfortable
It might be too expensive
No cutaway version
This guitar is one of the expensive ones.
If you're a beginner, this isn't the guitar that I would suggest.
Even if you have a lot of money, it's better to experience beginner guitars first.
If you're an advanced player, then you might love this beauty!
For now, here are my suggestions for beginners: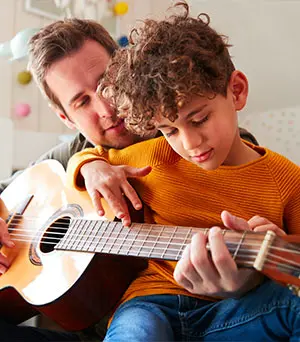 Besides, the design of this guitar is more suited for fingerstyle, flat pickers, and blues.
Curly Mango on a Martin Guitar?
When I traveled to the Philippines, I saw a lot of mango trees. But I never imagined that they can be used as a tonewood.
Even when I saw the Martin CEO-9, I was kind of skeptical.
I told myself:
"It does look awesome and unique, but will it even sound good?"
If you'd like to know the answer, stay tuned, and you're in for a surprise.
This particular guitar is the custom signature of the current CEO of Martin, Chris Martin IV.
It's quite similar to the previous CEO-7, but it's the first one made from a mango tree.
Here's the kicker:
It looks surprisingly stunning and sounds fantastic!
Here's the thing: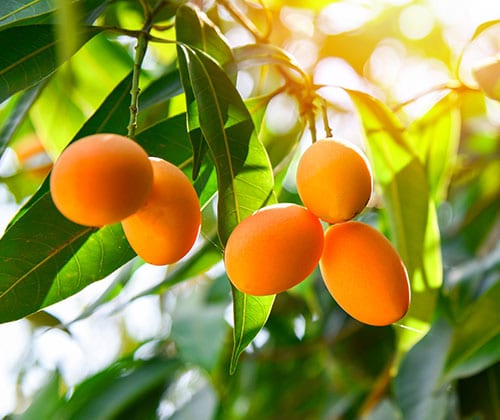 As an environmentalist, I salute the present CEO's commitment. 
Right now, they are carrying out the worldwide environmental conservation and exploring the potential in the alternatives to the traditional tonewoods. 
This is a good thing since the most used tonewood is quickly disappearing. With all the wildfires and illegal deforestation, most of our wood resource is almost gone.
(That and the fact that our planet is in deep trouble.)
Hence, I applaud Martin for doing their part.
Martin CEO-9: A Unique And Beautiful Guitar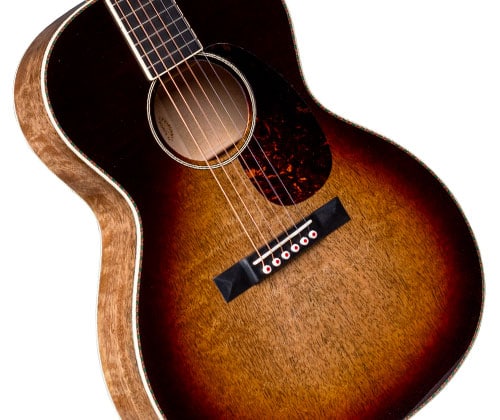 This stunningly gorgeous guitar is based on the company's pre-WWII "Golden Era."
Have you seen a Gibson guitar from the 30s?
If not, the CEO-9 has that kind of personality. 
Interesting, eh?
Here's the thing:
Mango is most definitely a unique material to use in a guitar. Just like its fruits, the end result of the guitar is "sweet" looking.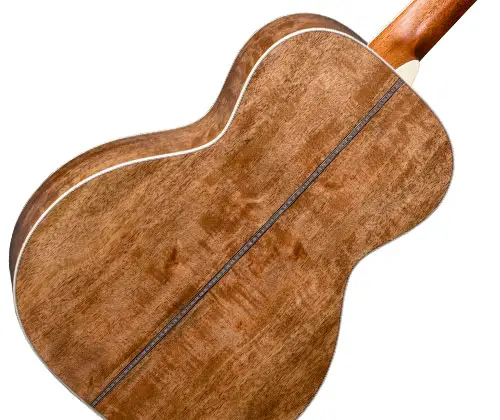 In terms of color, this guitar is somewhere between blonde, beige, and brown.
It has a glossy sunburst finish, which exceptionally blends with the wood's color.
Let's zoom in a little and look at the guitar in a more detailed way.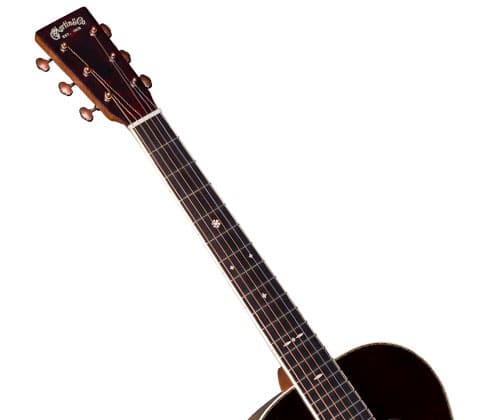 For most of the guitars, the head plate is just the natural color of the wood. The Martin CEO-9, on the other hand, has a more exciting headstock.
For starters, the head plate of this guitar features a faux tortoise design. The open-gear tuners exhibit a vintage copper color.
Both of these perfectly compliments the whole aesthetics of the guitar. 
Mango is actually from tropical islands, wherein it never snows. Which is why having a style 42 snowflake inlay was kind of weird for me.
In the end, it still looks cool on the guitar. And in design, contradiction isn't a bad thing.
A little extra:
The bridge of CEO-9 has pyramids, which is really cool.
Also, this guitar features a Style 30 binding or simply put, it has a multi-color rope binding.
Overall, Martin CEO-9 has a fantastic design enhanced by its well-detailed features.
Of course, this guitar is NOT JUST about the looks.
A Guitar Body Unlike Any Other
Grand Concert is known as 00 in the Martin world. Although, the Martin CEO-9 is not the same as the rest of 00 guitars.
| | | | |
| --- | --- | --- | --- |
| | 00-12 | 00-14 | 00 Sloped Shoulder |
| Total Length | 37.75″ | 38.625″ | 39.5625″ |
| Body Length | 19.625″ | 18.875″ | 19.4375″ |
| Body Width | 14.125″ | 14.3125″ | 14.75″ |
| Body Depth | 4.0625″ | 4.125″ | 4.125″ |
Compared to 00-12, this guitar is a bit shorter, more comprehensive, and has more depth.
But it is more extended and more extensive compared to the 00-14.
Here's the kicker:
The hardness of mango falls somewhere between genuine mahogany and claro walnut.
It's hard to pinpoint its actual quality, but it does have similarities with mahogany, walnut, and koa.
CEO 9 emphasizes a scalloped x-bracing, giving it a lightweight feeling.
For a premium guitar, you can only expect that it's a solid guitar; otherwise, it's not just that worth it.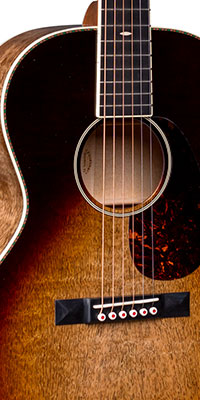 We're lucky that it is. Which means it's an excellent investment.
The only downside is that it doesn't develop as fast as a Spruce.
But, once it does?
The wait is undoubtedly worthwhile.
Sweet Sounding Tonewood
See your buying options at Amazon →
The Martin CEO-9 is the amazing result of a scientific method that took a lot of sweat and effort. It's a new tonewood for Martin, but the end-product is just wonderful.
It sounds sweet, just like how mangoes (should) taste.
Here's  the thing:
Mango isn't usually used as a tonewood, which is why I'm pretty unfamiliar with it. But based on what I hear:
Martin CEO 9 has the personalities of a walnut, koa, and/or mahogany. The sound quality is like throaty and/or round.
Its hardwood top generates a more substantial and warmer sound. Martin's X-bracing also gives it a rich tone, deep bass, and more volume.
These qualities are more enhanced with the mango tonewood.
Overall, it has glimmering overtones, bright trebles, punchy midrange, round bass, and excellent volume.
It's definitely one-of-a-kind!
Fast Fingerwork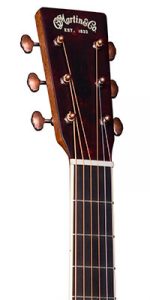 The solid genuine mahogany neck of CEO-9 is a standard tapered v-neck, just like Martin 000-28ec.
Some people might not like it but here's the thing:
If you're not used to it, it will only be uncomfortable for a few days.
Once you get used to it, you'll surely love v-neck guitars.
Surprisingly, this shape is perfect for fast fingerwork. So, if you're a fingerstyle player or a flat picker, you'll love this neck shape.
Here's more:
It has a composite bridge plate with spruce stabilized with thin layers of carbon fiber.
With it, the bridge is unaffected by weather effects and produces an excellent projection.
Bonus:
The bridge plate has been treated with Vintage Tone System. In other words, it's been matured to a point.
Its quality is so much better than regular plates. In fact, because of the way its made plus the pins, the sustain and volume are honed to perfection.
The nut and saddle are made with compensated bone, which is one of the expensive materials for this part.
Theoretically, bone materials are better than plastic since they are denser. In other words, they have better projection and tone.
Let's not forget about the dual-action truss rod. Having this truss rod is excellent for maintaining the guitar's best shape.
This is most especially true if you frequently travel.
NEW! Liquidmetal Bridge Pins
A little extra:
It has Liquidmetal bridge pins, which is also a new exciting thing!
If you buy it individually, it's kind of expensive. But, the quality of this new technology?
Out of this world!
Usually, bridge pins won't have that drastic change on a guitar; this Liquidmetal bridge pins, on the other hand, has noticeable changes.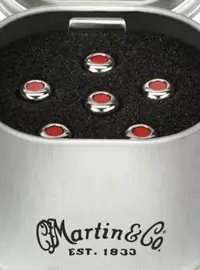 The sustain, clarity, and volume improve dramatically!
Here's more:
Liquidmetal bridge pins have longer "audible" life than standard ones.
Plek Pro fret treatment
This kind of treatment is applied to premium Martin guitars such as CEO-9.
It's a computer-guided delicate process. It levels and dresses the guitar's fret with insane accuracy.
Whether you're playing low or high on the neck, you can rest assured. Why?
Martin CEO-9 will have no loss of sustain, minimized fret buzz and, no fretting out!
Simply put:
All the frets are ensured that every note rings big and bright.
Excellent playability, am I right?
Martin CEO-9 vs. CEO-7
| | | |
| --- | --- | --- |
| | Martin CEO-7 | Martin CEO-9 |
| Top | Adirondack Spruce | Mango |
| Back & Sides | Mahogany | Figured Mango |
| Binding; Endpiece; Heelcap | Grained Ivoroid | Antique White; with multi-stripe |
| Top Inlay | Black Stripe | Style 30 |
| Top Detail | N/A | Figured |
| Bridge Style | Straight Line – Drop in Saddle | Modern Pyramid – Drop in Saddle |
| Pins | Black Plastic | Liquidmetal |
| Back Purfling/Strip | N/A | Zig-Zag with Black Stripe |
| Back & Sides Inlay | Black Stripe | Multi-Stripe |
| Neck Material | Select Hardwood | Genuine Mahogany |
| Fingerboard Inlays | Abalone Old Style 18 | Corian 42 Snowflake |
| Headplate Material | Ebony | Faux Tortoise |
| Logo Style | Script Authentic 1933 Overlay | Stylized Script Inlay |
| Tuning Machines | Golden Age Relic Nickel | Vintage Copper Open Gear |
| Knob | Cream Plastic | Butter Bean |
Thanks to the burst finish, they look a little bit similar. Other than that, not so much.
The new version looks more exotic and attractive thanks to the curly mango. It's intriguing, isn't it?
In fact, CEO-9 is more detailed than CEO-7. And it is most definitely nothing like the CEO-8 and 8.1 which wasn't successful.
Although CEO 7 is much cheaper, CEO 9 has more premium and modern technologies.
Martin CEO-7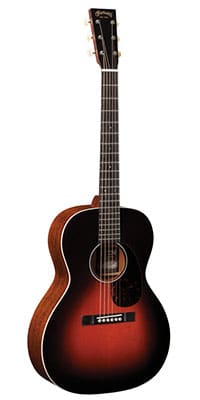 So, simply put:
The newer version has better qualities thanks to the modern advancements of Martin.
Here's the thing:
They both sound great, I cannot deny that. 
If you don't agree, then prove me wrong.
The CEO-7 is brighter, with excellent fundamentals and overtones.
On the other hand, CEO-9 has a fuller warmer tone. It also has a stronger volume and better sustain. 
So, for blues players, sliders, or even fingerstyle players, you'll fall in love with the new version.
For both of these "small" guitars, they sure do pack a punch. They have excellent tone and volume, unlike other smaller guitars.
Winner: Martin CEO-9
Technical Specifications
Is Martin CEO-9 worth it?
The Martin CEO-9 is an experiment for fresh new looks, materials, and technology.
With that said, Chris really did a great job with this one. It has an excellent result, totally got a lot of guitarists interested in this new guitar.
If it got you hooked (just like I did), I suggest you get this soon. It's a limited edition, so it might run out real fast. 
From what I've heard, there's only 50 of this guitar.
Given the price, it will undoubtedly be worth it and an excellent investment for you.
Enjoy? Share with your friends!