When you buy through our links, we may earn an affiliate commission. Learn more »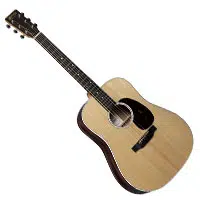 I'm sure you'll agree when I say:
Martin is one of the best guitar brands in the world.
Though some of their excellent guitars are really expensive.
Luckily, they have an affordable guitar that can compete with more expensive ones.
In short: if you want to have that Martin quality for a lower price, you'll love the updated Martin D-13e.
Let's start!
PROS
Affordable quality guitar.
It has exceptional action, not too high and not too low.
Superb playability for most genres.
Excellent Craftsmanship.
Easy to tune and stays in tune + built-in tuner!
It is made of all-solid wood. Hence, it will improve over time.
The brand and guitar are eco-friendly.
The electronics are updated.
Great tone control.
It comes with a Premium Soft Shell Case.
Astounding aesthetics. 
It comes in a left-handed version.
Has a cutaway version (Martin DC-13e).
CONS
Not great for travel: Sensitive to environmental changes.
The pickup could be better.
The neck may feel a bit heavy
From beginner to expert to professional, which level are you?
If you're an advanced player and above, then you'll definitely love this guitar.
Here's the thing:
Martin D13e, indeed, has an affordable price. 
But for a beginner, I wouldn't recommend this, though.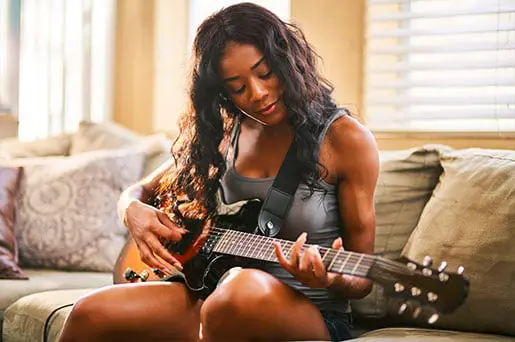 Why?
I've always told newbies to start with something cheaper but adequate quality. To test the waters.
Anyways, if you're a beginner here are some guitars I'd recommend.
Now, let's get started with the reasons as to why you should get the Martin D13e.
1. Martin D-13e Road Series: Best Value Guitars
The previous version of the D13e is the DRSG. Compared to the new one, the latter looks "plain".
No offense to DRSG owners, but when I saw the new road series, Martin really did make some drastic changes. 
The most noticeable is the design, which looks more premium.
Here's the kicker:
Road series is one of the best acoustic guitar series. That's my opinion, at least.
I mean, they're on the midrange price, but their quality?
Top-notch, I  say! Top-notch!
Furthermore, the road series is made in Mexico. I don't really know how to compare it with the ones that are made in the USA.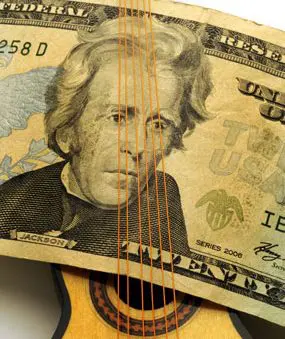 But here's what I know:
The road series, mainly, can definitely compete with other more expensive series that are made in America.
I'm not saying that the other one is lousier than the other. After all, each factory has its own pros and cons. Nothing is perfect. Yin and Yang.
2. Martin D13e Comes With a Soft Case: One Less Thing to Worry About
The case is sturdy and durable, which will totally protect your guitar. No distress when traveling with D13e!
Bonus:
This guitar has already strap buttons installed. So, you can easily add your strap to the guitar.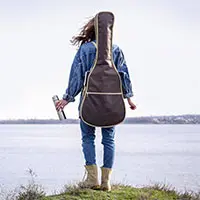 Here's more:
The case has neck support. Apart from better stability for the guitar, you can also remove it as neck support, literally. 
For example, if you'd like to modify something on your guitar; You can use the neck support to hold the guitar upright on the table or workbench.
3. Premium Feel for an Affordable Price
Amongst the road series guitars, this is my favorite. Compared to others, this one has a multi-stripe rosette border and white binding.
It totally stands out.
It also has a glossy finish, which makes it more appealing.
Better yet:
The Martin D13e features a solid Sitka Spruce top and solid Siris for the back and sides.
Sitka Spruce is actually Martin's primary top tonewood. It's of exceptional quality that looks cool, lasts long, lightweight, and robust build.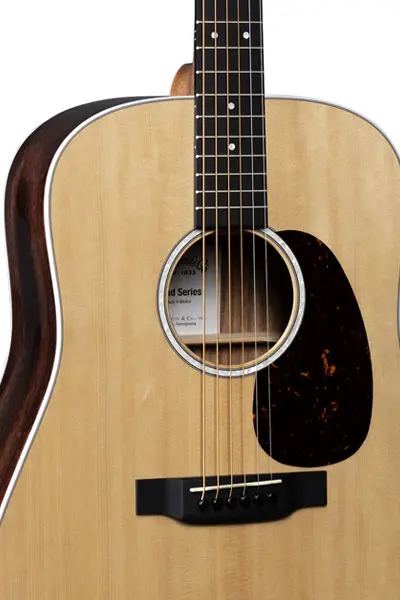 This is actually my first encounter with Siris.
Anyway:
This dreadnought's Siris has a great overtone content.  It is like rosewood, and like mahogany. Somewhere in between.
It also features an X scalloped bracing, which produces a more direct response.
4. Excellent Investment: Martin D-13e Will Improve Over Time
Here's the best part:
The Martin D13e has an all solid wood construction. Simply put, it has a better sound quality than laminated ones.
Better yet:
This guitar is an excellent investment for anyone. If you're an advanced player, then surely you know why that is.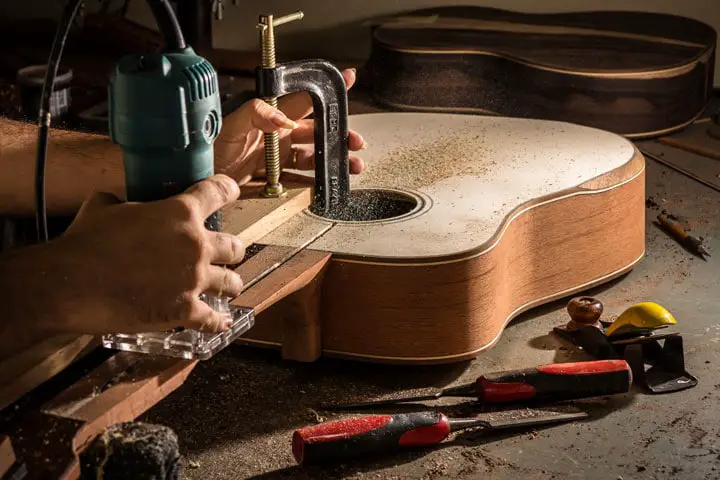 But for the sake of everyone: Solid guitars, even just solid top guitars, will improve over time.
Hence, an excellent purchase for the long run.
On the sad note:
There's a downside for an all-solid build. It's sensitive to environmental changes.
So if you plan on bringing this guitar to faraway places, I'd suggest against it. 
5. High-Quality Sound of Martin's Road Series
See your buying options at Amazon →
The best of the road series but still an affordable price. Once you try it? Martin D13e will definitely leave you in awe.
The sound quality of Martin D13e is definitely 10 out of 10, no doubt.
Here's the thing:
Growing up, I've always thought that the more expensive it is, the better the quality. This guitar proves that wrong.
In its mid-range price, it can go toe-to-toe with other premium or more expensive guitars in terms of sound quality.
Spruce has a vibrant personality, both tone and aesthetics.
Siris, on the other hand, is a substitute for rosewood. Its quality is somewhere between mahogany and rosewood. So, this tonewood produces deep bass.
The combination of Spruce, Siris, and the bracing produces a stronger bass and high treble.
Here's the kicker:
Even though the midrange isn't that focused, yet it still generates a well-balanced, distinct tone.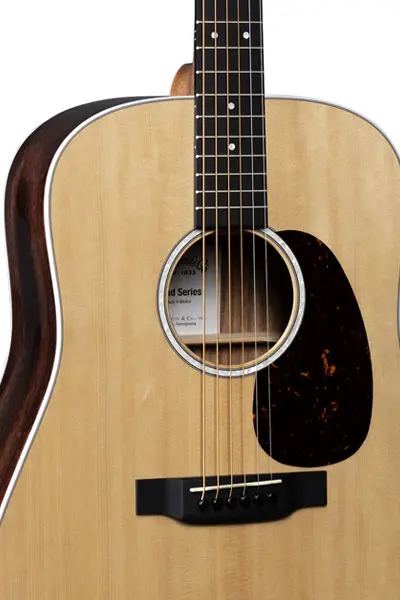 It has a warm and powerful sound.
This kind of sound is perfect for strumming and flat-picking.
Now that I think about it:
Martin D13e's sound quality is what makes it the best choice for this price range.
6. Plug n' Play Electronics (New)
This is one of the highlights of the update. The new Fishman MX-T electronics has a built-in soundhole tuner.
My thoughts on the new electronics are 50-50. You'll know soon enough.
What I like the most is how they embedded the control and tuner. It's within the soundhole so that Martin won't have to poke more holes than necessary.
That's really great because they were able to keep the integrity of the guitar. It still has that acoustic quality even with all the electronics.
Here's more:
The guitar has a built-in tuner.
I mean sure, you can get regular tuners for a few bucks, but there's more to it.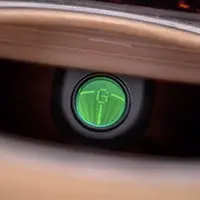 Personally, I'd like to bring less stuff as much as possible. So, this built-in tuner? It's a big YES for me.
On top of that:
The tuner has an excellent feature. That is to mute the audio output when you are tuning. That's a great help when you are on stage, tuning your guitar.
Here's the kicker:
On the previous road series, changing batteries is such a hassle.
But now?
It's much easier! No need to loosen the strings anymore!
Unfortunately:
Fishman MX-T's pickup isn't the best. It's good but not great. I expected more for a price like this.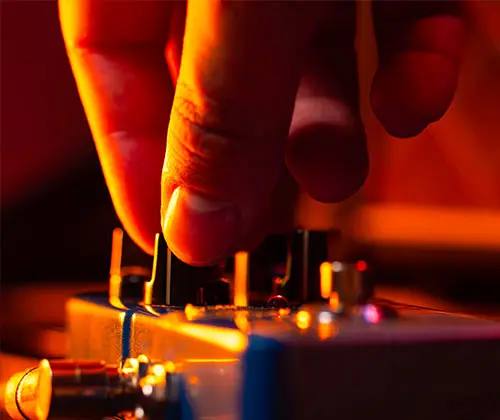 Though considering that the sound quality is off the charts? I guess I can't argue with that.
Better yet:
You can actually improve the audio output on your own.
Using additional pedals or EQ. Say, something like Boss AD-2. Problem solved, right?
7. Excellent Playability for Everyone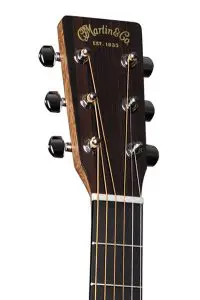 Martin D13e features a hardwood neck with FSC Richlite fingerboard and bridge. 
It has a hand-rubbed neck.
With its hand-rubbed neck, it will be easy for you to move along the neck.
It also features a high-performance taper and performing artist profile. To put it simply, fretting, traditional fingerstyle, or even thumb wrapping will be relatively smooth for you.
Playing rock and roll, jazz, or pretty much anything will be like a simple walk in the park.
8. Cutaway Version: Martin D13e vs DC13e
It has a cutaway version, which will give you more tonal options. A better choice if you want to reach frets higher than 14. 
Usually, on guitars, the difference will only be the cutaway. This one, however, has different back and sides.
While the Martin D13e uses Siris, the Martin DC13e uses Mutenye.
To be honest, I'm new to both of these tonewoods.
Siris has a bright tone similar to rosewood.
On the other hand, Mutenye is comparable to Ovankal. It also has rich bass and emphasized highs.
Better yet:
The midrange is more pronounced than the Siris version.
There's also a disadvantage for a cutaway:
The acoustic guitar produces sound inside the body. Which is why dreadnought has a beautiful volume and projection.
Martin DC-13e Review
So, if you were to cut a portion (cutaway), some of those volumes will diminish. It's only tiny, but there's still the difference.
The DC13e is also more expensive than D13e. In any case, you'd be paying less for something more (in terms of overall value) if you choose DC13e.
Winner: Martin DC-13e
Overall, the cutaway version packs more punch. It has a more balanced-tone and better projection.
Plus, you get to reach higher notes easily for your guitar solos!
Martin DRSG Review (vs. D-13e)
| | | |
| --- | --- | --- |
| | Martin DRSG | Martin D-13e |
| Electronics | Fishman Sonitone | Fishman MX-T |
| Binding | Black | White |
| Top Inlay | N/A | Multi-stripe |
| Pickguard | Black | Tortoise Pattern |
| Rosette | Multi-Stripe | Mother-of-Pearl Pattern with Multi-Stripe |
| Heelcap | Black | White |
| Fingerboard Inlay | White Plastic Dots | Mother-of-Pearl Pattern Dots – 28 Style |
Here's the kicker:
The Martin DRSG and D-13e have pretty much the same materials. I mean, the previous version was already exceptional as it is.
I have no arguments here.
The same with the new road series' guitars, the aesthetics have been drastically improved. 
Martin DRSG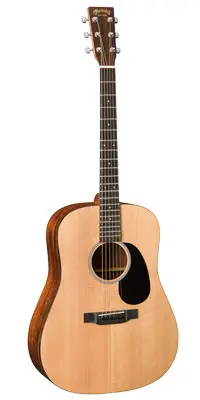 Compared to a plain-looking guitar, it now has a luxurious look and feel. 
In fact, the most noticeable one is the white binding. White borders are unique to the new Martin D-13e amongst the rest of the road series. 
That makes it more appealing than the rest.
If you've noticed, the fingerboard inlays have also been changed to Mother-of-pearl. It looks bigger now. It totally fits with all the new designs.
Overall:
The new Martin D-13e has an improved look that you'll definitely love. It's like puberty hit the DRSG.
Martin D-13e vs. D-10e
| | | |
| --- | --- | --- |
| | Martin D-10e | Martin D-13e |
| Back & Sides | Siris | Sapele |
| Back & Sides Color | Rosewood | Cherry |
| Finish | Gloss | Satin |
| Bridge Pin Dots | None | Black |
| Heel Cap | White | Black |
Since Martin D13e is the best of all the road series, then you know who the winner is. 
Let's start with the main difference: the back and sides tonewood.
Martin D10e uses a Sapele back and sides while D13e uses solid Siris. 
They are both excellent quality, but the Siris packs more punch. The latter has more volume and projection.
If you're also looking for a long term, the all-solid build of D13e is the way to go.
If you're looking for a cheaper road series but still a top-notch quality, you should consider Martin D10e. 
You can read about the full review of Martin D10e here.
It's still an excellent investment since it has a solid top. It would also be fitting for more travel since it's not susceptible to environmental changes.
I mean, the D13e is still a great travel guitar because well, road series. But since it's an all-solid build, I wouldn't recommend it if your travel is really far.
On the other hand, if the overall quality is your main priority, the clear winner is Martin D13e.
Technical Specifications
Is Martin D13e worth it?
Trust me when I say:
Martin D-13e is a phenomenal guitar. And no, I'm not overcompensating.
The appearance and playability of this guitar is off the charts. 
Here's the best part:
It sounds incredible, which will be a great addition to your collection or your band.
For an affordable price, you'll have a premium guitar that has the most desirable looks, quality, and playability!
Enjoy? Share with your friends!