When you buy through our links, we may earn an affiliate commission. Learn more »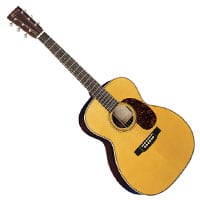 Martin 00028ec is the best amongst the best out there.
It's a bold statement, but at the end of this article, you'll understand what I mean.
Now:
If you're looking for an advanced guitar that is worth every penny, Martin 000-28ec is the one for you.
Let's get started!
PROS
Excellent Investment
Solid build
Long-lasting
World-Class Quality
Comfortable
Perfect for Fingerstyle or Flat picking
Great Action
Mesmerizing Aesthetics
Comes with a gig bag
Two colors to choose from
Stays in tune
CONS
It might take some time to get used to V-neck profile
It is just a so-so for strumming
Machine heads could be better
Does not include a pickup
Doesn't have the boomy bass
No cutaway version
Who Is It For?
I'm not saying this is mainly for Eric's fan only, because obviously, it's for everyone.
But first, let me ask you this:
Are you a beginner, or a professional, or somewhere in between?
If you're a beginner, unfortunately, I wouldn't recommend this buddy.
It's better to test the waters with cheaper instruments. In fact, I have listed 4 beginner options you can choose from.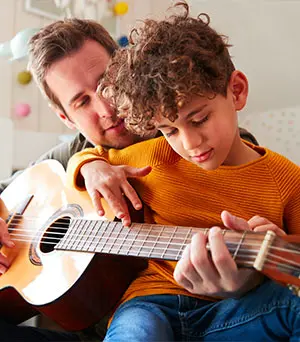 Also, if you yet to have the "advanced skills," you won't be able to bring out this guitar's full potential. But I'm sure you'll get there soon!
For now, here are some guitars you can check out:
Martin 00028ec Acoustic Guitar Review
The Martin 000-28ec is from the custom signature editions of Martin. 
It is based on Eric Clapton's MTV Unplugged performance.
If you must know, this is actually derived on the best-seller of Martin, HD-28, or D-28. The smaller version in particular.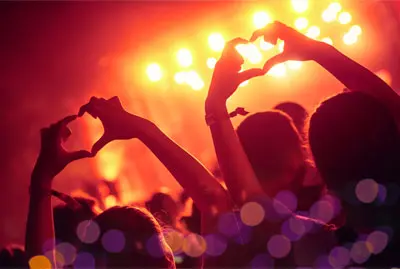 Here are some famous artists who used Martin D-28:
Hank Williams
Neil Young
"King of Rock," Elvis Presley
The Beatles' John Lennon and Paul McCartney
For Eric Clapton, its the Martin 000-28.
Just a sidetrack:
I actually checked his Spotify page. It seems like the most listened track is Cocaine, Wonderful Tonight, Layla, and Tears in Heaven.
I personally like Wonderful Tonight, especially how it's played on the guitar. Just lovely!
How about you? What's your favorite song by him?
Now:
Martin 000-28ec has come a long way. In fact, it was released in 1995. Since then, this guitar has been upgraded time and again.
Don't get me wrong, even those "old" ones will still sound fantastic today.
Better yet:
It is now offered in natural (antique toner) and tobacco sunburst (1935 Sunburst).
Martin 00028ec Sunburst Review
For cheaper guitars, color options have the same price. But this quality guitar begs to differ. The sunburst is more expensive than the natural.
Personally, I really like the sunburst finish. Looks more pleasing and more unique.
For its price, I think it has something to do with how Martin creates the sunburst finish. I mean, it's not a simple spray job, right?
It's a long process, and if you made a mistake, back to square one. If you're using premium wood, that would cost a lot.
Other than the looks, I don't think the color affects the sound. Personally, both of them sound and look incredible!
Bonus:
The 000-28ec comes with a Martin Deluxe Molded Hardshell Case. Also, it has a limited lifetime warranty.
Fewer worries for you, right?
A little more extra:
Although you can't meet Eric Clapton when you buy this guitar, you still have his signature on it!
Martin 00028ec History
Eric Clapton recorded his Unplugged album in 1992. It was for the MTV Unplugged TV series on Bray Studios England.
Fun fact: March of that year, MTV Unplugged with Eric Clapton became the highest-rated show. 
In fact, because of its popularity, they made a part 2 featuring some songs that weren't included in the first part.
Then, that "part 2 album" became Eric's biggest selling album.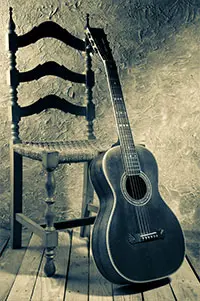 This guitar has been around for about 25 years and counting.
Martin released the first EC custom signature guitar in 1995. The Martin 000-42ec was a limited edition with a total of 461.
The guitar was as impressive as Eric that it was sold out in just a matter of days!
Popular Seller since 1996
In 1996 Martin released the first 000-28ec, which until today remains a popular seller. 
February of 2000, Martin issued a second limited edition of 000-42ec with a total number of 200.
Here's the kicker:
It was immediately sold out.
From that, I can already concur that this is an excellent guitar.
By the way, that was the first time that Martin honored a guitarist with a 2nd limited edition of their guitars.
Brazilian Rosewood
Yet another limited edition was announced by Martin on January 17, 2002. It was the Martin 000-42ECB. The "B" is for Brazilian rosewood, which is no longer available.
So, if you stumbled upon a Martin 000-42ECB? You can assume that it costs a lot.
Hiroshi Fujiwara designed a custom guitar for Eric for his tour in Japan back in 2003. It has black with pearl inlays with EC & HF  (their initials) inscribed at the fretboard.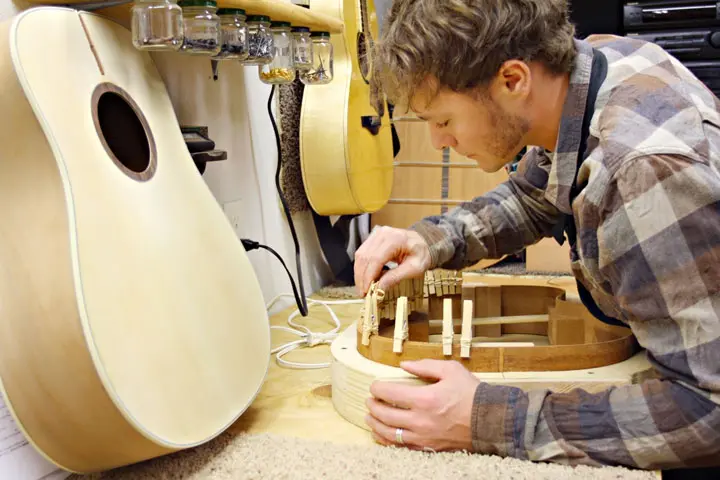 Belleza Nera
In 2005 Martin released another limited edition, which is the fourth limited edition of Eric Clapton series. This limited edition was based on the custom guitar, but instead of their initials, it says, "Belleza Nera."
Eric named the Martin 000-ECHF as Belleza Nera meaning black beauty.
Belleza Bianca
The fifth limited edition was released in March 2006. In collaboration with Eric Clapton and Hiroshi Fujiwara, they made the Martin 000-ECHF Belleza Bianca. 
It is a polished, glossy white body with a bit of black and pearl.
Crossroads
Of course, there was a sixth limited edition that debuted in 2008. 
The new limited edition was Martin 000-42MEC. 
It is made with Carpathian Spruce for top and Madagascar rosewood for its back and sides.
It has a total number of 250 with an interior label that was personally signed by Eric.
Martin 00028ec Crossroads Madagascar Rosewood was released in 2013. It came with inlaid "Crossroads" into the head plate with custom crossroads case and strap.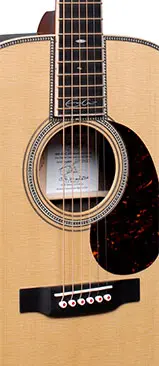 Today
The year of 2019, Martin released another limited edition. The new Martin 00042EC-Z is based on the Crossroads Guitar Festival.
The Z stands for Ziricote, which is exotic wood. It produces a deep, loud sound with stimulating highs.
Another fun fact: The Martin 000-42 guitar Eric used was sold in an auction for $791,500 back in 2004.
Perfect Crossover Guitar (000)
This magnificent 000-14 fret is a must-have for many. 
If you're a fan of Eric Clapton, you'll find it to be right.
The size 000 falls somewhere between concert and dreadnought, close to the grand concert. 
Compared to the grand concert, it is more extensive and may also be more profound.
In terms of sound:
Triple-o produces a significant volume, dynamic range, and well-balanced tones. It also has more treble than a dreadnought.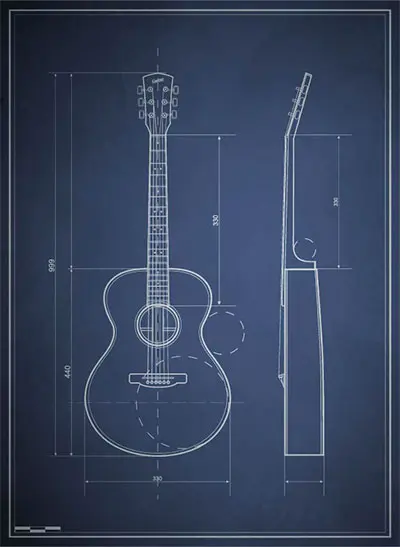 This would be a perfect fit for fingerstyle guitarists. So, if you're one? You're gonna love this!
And for a smaller-size guitar, it has a scale of 24.9 inches and 14 frets. Which means, more tonal options for you!
The only downside is it has less focus on bass compared to a dreadnought.
Though overall, it still has a well-balanced tone and excellent projection.
Martin 00028ec's Superb Craftsmanship
Martin 000-28ec's Superb Craftsmanship
This was my first impression with this guitar:
…
Yes, I was speechless. I took a minute or two to appreciate its beauty.
Here's the thing:
Not one of the materials used is cheap. Nada! Materials and handiwork are all the best of the best.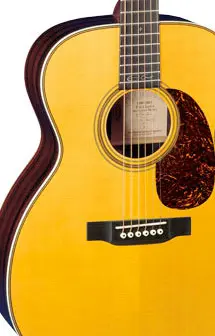 Now:
Let's start from the top (pun intended).
Martin 000-28ec is made with solid Sitka Spruce top and solid East Indian rosewood back and sides.
The spruce tonewood is known for its vibrant character. In fact, most guitars use Spruce as its top material.
The use of rosewood with the 000-14 size is also brilliant. Rosewood's resonant tone creates a well-balanced sound with its small body.
This signature edition features an X-scalloped bracing. Martin invented and proved that this type of bracing creates a richer sound.
So you can expect a beautiful enunciated tone from the Martin 00028ec.
According to Reverb, bone material is probably the best for nut and saddle.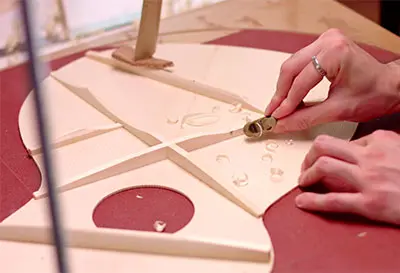 Although nut only affects open strings, the saddle is a different story.
Compared to plastic or ivory, bone is denser. Which means the 000-28ec has better resonance and sustains.
Excellent as a long-term investment
At this point, I'm sure you know what I mean by this.
Though I still want to emphasize this because I always look further in the future.
Anyways:
My first ever guitar was an all-laminate. And now? Boy, was that a wrong decision.
It's not all bad, I mean I learned with it.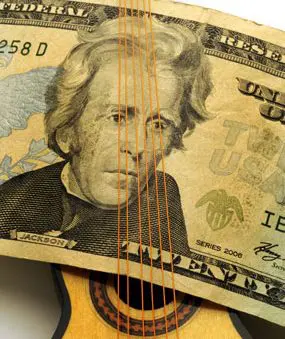 Here's the thing:
I should have bought a guitar with solid wood materials. Solid top, at least.
My first guitar would be in a "better" condition by now.
What I didn't know was that: Solid guitars age well, hence Martin 000-28ec is an excellent investment.
Contradictory to cars which depreciate by the minute, this guitar does the exact opposite. 
Therefore, 000-28ec will have better quality, especially after you've had it for a long time. It will probably be your "apple of the eye" amongst your guitars.
Can you imagine just how much the first generation of Martin 00028ec has aged by now? 
Especially the limited editions 000-42ec. They would probably cost a fortune if auctioned.
It Looks Aesthetically Pleasing
For a premium guitar, you can expect it to look excellent.
The Martin 000-28ec comes in two finishes: sunburst and natural.
The 1935 sunburst is more expensive than the antique toner. 
They both look great, it will just depend on which one you like better.
Better yet:
This guitar's detail is extraordinary.
In terms of their color, both of them have been aged using aging toner.
This gives the Spruce an "old spruce" look that's like an old yellowy warm color.
It also features a glossy finish and tortoise pattern pickguard.
From afar, you can already see that it looks pleasing.
Here's the thing:
When closed up, the details are more profound.
There's that grained Ivoroid binding. Also, there's the beautiful herringbone design for the top inlays and rosette. 
Astonishing as it is, you'd still be the judge of it. Here are some pictures that will prove my point.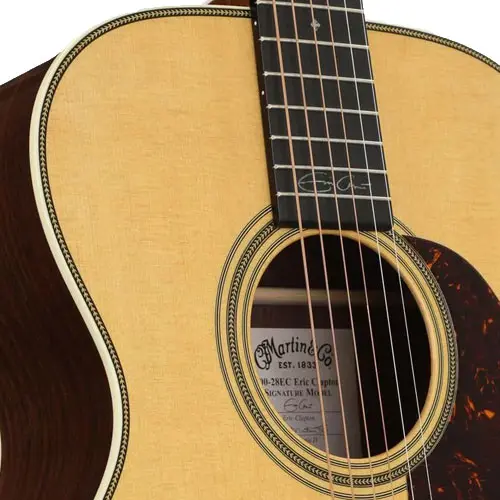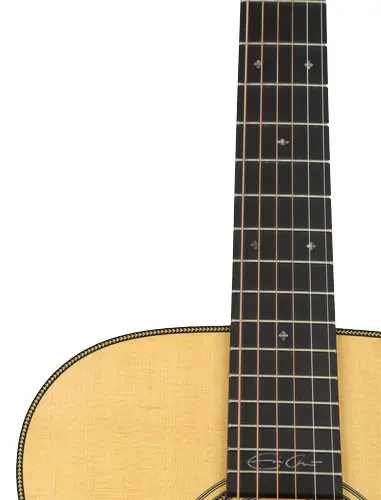 Please note that images can sometimes be deceiving. You will appreciate the design more once you hold it.
Play like Eric Clapton with Martin 00028ec's Iconic Tone
Martin is known for its world-class sound. Of course, Martin 000-28ec has that majestic sound too!
Here's the kicker:
Smaller guitars such as this one have more minor boxy sound. This one, on the other hand, has a powerful sound.
It's still not as strong as a dreadnought, but for a guitar this size? You're in for a surprise!
Describing sound with words is confusing, so here's a video of Acoustic Letter you could listen to:
See your buying options at Amazon →
Martin 000-28ec is a professional guitar fitting for everyone. If you've heard Eric Clapton play, then you probably know how great this guitar would be on your hands.
So what are your thoughts?
Is it something you'd expect from a premium guitar and MORE?
Here is mine:
I always thought a smaller guitar than the dreadnought wouldn't have a rich bass. The Martin 00028ec does not agree with that.
Even though it's not sufficiently emphasized, it still produces a great bass.
The midrange and trebles are remarkable. It's crisp and bright, which makes it perfect for flat pickers and fingerstyle playing.
It has a well-balanced tone despite its smaller size.
000-28ec generates rich overtones and sweet sustains you'll definitely love.
Best of all:
Instead of playing the guitar, it's like Martin 000-28ec serenades you with its beautiful tone.
Surprisingly Comfortable V-neck Profile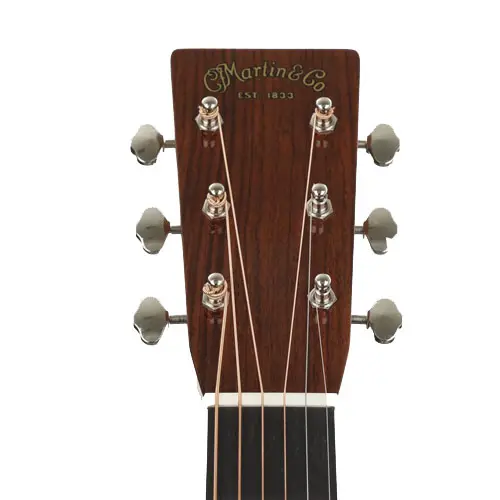 Martin 000-28ec features a genuine mahogany neck with a modified v-neck and standard taper.
I'm more used to the standard and more comfortable C-neck. So I was kind of skeptical about the V-neck profile.
Here's the kicker:
It's totally comfortable to hold and play!
That was really unexpected for me, given that it has v-neck and glossy finish.
Although it might take you some time to get used to the v-neck.
Once you get used to it?
You might never let it go!
This guitar also features an ebony fingerboard and bridge that supplements its excellent aesthetics.
Even finer:
Martin 000-28ec sports a 24.9 inches of the scale length, which makes it easier to fret and bend.
It also has excellent standard action. It's low enough that fretting is relatively easy, and it doesn't make any buzz fret.
The Signature of Clapton is kind of 50-50. Some people might not like it, some might.
As a fan of Eric Clapton:
That's something that I would treasure. If you're also a fan, then we're on the same page!
Martin 00028 vs. 00028ec
| | | |
| --- | --- | --- |
| | Martin 00028 | Martin 00028ec |
| Neck Shape | Modified Low Oval | Modified V |
| Neck Taper | High-Performance Taper | Standard Taper |
| Binding, Heelcap, Endpiece | Antique White | Grave Ivoroid |
| Top Inlay | Bold Herringbone | Fine Herringbone |
| Rosette | Multi-Stripe | Fine Herringbone with Multi-Stripe |
| Back Purfling/Strip | Style 28 | Zig-Zag |
| Neck | Select Hardwood | Genuine Mahogany |
| Neck Finish | Satin | Gloss |
| Fingerboard Inlay | Diamonds and Squares Long Pattern | Diamonds and Squares Long Pattern with Eric Clapton Signature |
| Label | N/A | CFM IV & Eric Clapton Pre-printed Signatures |
Before Martin released a re-imagined version of 000-28, the difference was staggering.
Now:
The update was significant to the point that their tonal quality is almost the same.
Although in terms of aesthetics and playability, they're totally different.
Let's talk about that first:
If you put the guitar side by side (in-person), you'll immediately notice the difference. 
From afar, you'll see that Martin 000-28ec has more crispness in terms of color. It's more like an "aged" Spruce. The EC is brighter than the standard edition.
Furthermore, if you look at the details on 000-28ec carefully, it is more pronounced.
Martin 000-28
For the playability, this will depend on you as a player and what you're used to.
The EC sports a glossy modified V-profile while the standard version has a satin modified low-oval.
For me, I'm used to the low-oval version with satin since it's more comfortable. So, I thought, the 000-28ec is probably uncomfortable.
I've never been more wrong!
You will only feel awkward for a few days with a V-neck. After a few days? You'll also fall in love with how comfortable and fun it is to play.
Even the gloss finish? Surprisingly, it helps a lot.
Now:
The big difference is the neck tonewood. The 000-28 uses a select hardwood while Martin 00028ec features genuine mahogany.
Not only does it affect the playability, but the tonal quality as well. Particularly the sustain. 
To put it simply:
The Martin 00028ec has better sustain and more vibrant overtones.
Here's a video comparison from Acoustic Letter:
Did you notice any difference?
I'm sure you noticed the big difference between the two.
They both have excellent quality, no doubt. Just like real life, there will always be something better (but nothing is perfect).
In comparison, the 000-28ec has better tonal value than the latter. Although, in this case, the strings are one significant factor for that.
So, if you want to spend a little less:
You can get the re-imagined Martin 000-28 and Clapton's choice for strings.
For me, it's still worth getting the Martin 000-28ec, because the aesthetics and playability hold more value.
Bonus:
And if you're a fan of Eric, there's that witty signature with the guitar.
Winner: Martin 00028ec
Martin 000-28ec vs. HD-28
| | | |
| --- | --- | --- |
| | Martin 000-28ec | Martin HD-28 |
| Body Size | 000-14 | Dreadnought-14 |
| Bracing | X-Brace | Forward-Shifted X-Brace |
| Neck Shape | Modified V | Modified Low Oval |
| Neck Taper | Standard Taper | High-Performance Taper |
| Binding, Heelcap, Endpiece | Grave Ivoroid | Antique White |
| Top Inlay | Fine Herringbone | Bold Herringbone |
| Rosette | Fine Herringbone with Multi-Stripe | Multi-Stripe |
| Neck | Genuine Mahogany | Select Hardwood |
| Fingerboard Inlay | Diamonds and Squares Long Pattern with Eric Clapton Signature | Diamonds and Squares Long Pattern |
| Label | CFM IV & Eric Clapton Pre-printed Signatures | N/A |
If your playing style is more on strumming, you might like the HD-28 better.
With the design, without a doubt, 000-28ec is more iconic. It is more intricate with a pleasing appearance.
Although, the HD-28 has another color option, which is the amber tone.
Martin HD-28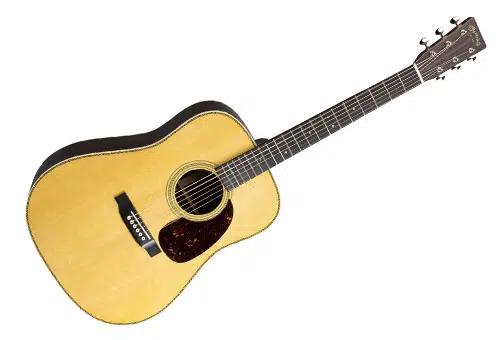 Now:
In terms of sound, it's more distinguishable. Because of the size, the Martin HD-28 produces a fuller voice and louder projection.
The bracing also plays a part.
The Martin 00028ec has a standard x-bracing, so its tone is well-balanced. Compared to the HD-28, which is forward-shifted, giving it a boomy bass.
Tie: Depending on your preference (bassy or balanced)
You can read about the full review of Martin HD-28 here.
Technical Specifications
Is Martin 000-28ec worth it?
If you happen to get Martin 00028ec:
It might ruin other guitars for you. I mean, you'll end up playing it most of the time instead of your other guitars.
Bold statement, but that's true for me and some people.
It's not just the "signature" you'd be getting. It's the guitar's quality that Martin and Eric and time have put into it.
You're totally getting what you paid for and more!
What Next?
You could choose to set it up with a professional luthier if you want to bring out the best of the Martin 000-28ec.
The tuning heads, for example. Of course, it can hold the tune of the guitar, but it can do better.
You can check these excellent tuning machines:
If you haven't done or perfected the art of guitar repair, I suggest you go to a local luthier. We don't wanna mess this majestic guitar,  do we?
Best Strings for Martin 00028ec
For the strings and bridge pins, that is something you could do yourself.
The Martin MEC12 is already as extraordinary as it is.
If you still want to change it, you could check out my top strings for acoustic guitars.
The bridge pins are also plastic and let's be honest, it's not so premium.
You could get some brass bridge pins or bone bridge pins for an upgrade.
Theoretically speaking, it should have better sustain since brass and bone are denser materials.
They're also a great combination with the Martin 000-28ec.
Enjoy? Share with your friends!