When you buy through our links, we may earn an affiliate commission. Learn more »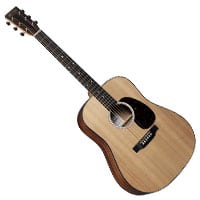 Without a doubt, Martin creates the best guitars on the planet.
In fact, their guitars are still getting better.
Now:
Martin-branded guitars are undoubtedly expensive, but they have a budget guitar you'll definitely love!
In short, if you want to have an affordable yet quality Martin guitar, you'll admire the new Martin D10e.
Let's get started!
PROS
Affordable quality guitar.
It has exceptional action, not too high and not too low.
Excellent Craftsmanship.
Easy to tune and stays in tune.
It is made of solid wood. Hence, it is sturdy, excellent for travel.
The brand and guitar are eco-friendly.
The electronics improved so much.
Great tone control.
It comes with a Premium Soft Shell Case.
Premium feel.
The quality improves over time.
CONS
The neck may feel a bit heavy.
It doesn't have a cutaway.
Pickup could be better.
Note: If you already have the Martin DRS2 or Martin DRS1 and just looking to upgrade, you can skip forward to the new features.
Are you a traveler?
Performer?
Singer/songwriter?
Or someone who plays the guitar in general?
If so, this guitar is most definitely for you. It'll be your best friend on your lifelong musical journey.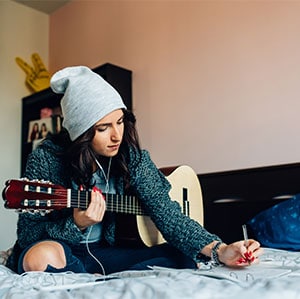 You must be wondering:
How is this my choice if I didn't want to spend "that much"?
Here's the kicker:
You'll be surprised to know that this is actually a low-priced Martin guitar.
Expensive guitars are worth more than 3 grand. Some may even be 5 or 6 digits in terms of the price range.
When I was just starting out, I was honestly surprised at those prices.
Truthfully, this is an excellent guitar for travel, gigs, etc. This is most especially true if you don't want to bring your far more expensive guitar.
I mean, let's face it:
It's terrifying if we damage our luxury guitar.
So, why not bring a cheaper one that still has a premium quality and ready to play with you whenever or wherever?
The D10e is actually my best choice for Best Acoustic Guitars Under $1000, and Best Acoustic-Electric Guitars.
If you still find this expensive, here are some other fantastic affordable guitars you could check out that may fit your budget.
Road Series Review
Martin, for two long centuries, has been known for its top-notch quality guitars and strings. I'm sure most musicians in the world can vouch for their products.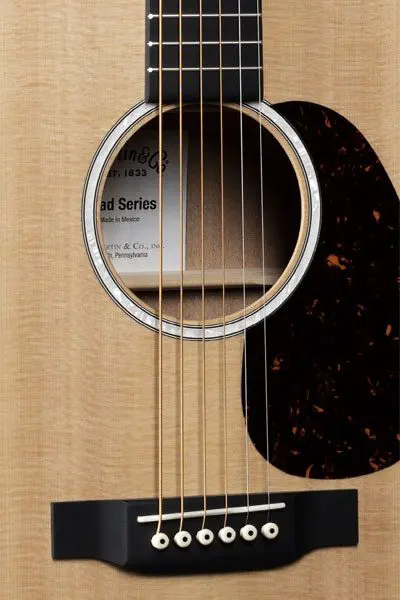 The Road Series D10e has a solid, sturdy build making it more ideal for traveling.
Of course, you'd still need a case for the guitar to be safer. Luckily, the product includes a soft shell case, so that's one less thing to worry about.
Overall, I found that Martin D10e has improved aesthetics, electronics, and the quality of the guitar in general.
Best Travel Acoustic-Electric Guitar
It features Sitka Spruce top, Sapele back and sides, and satin finish. 
For an affordable Dreadnought 14 fret Martin guitar, it is made with durable solid wood generating a majestic sound.
The spruce tonewood gives the guitar a vibrant tonality. Along with the Sapele, it highlights the trebles and has a powerful midrange.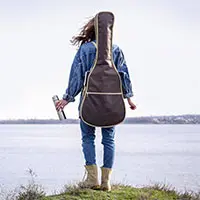 These tonewoods are actually solid, which renders it with a more resonant sound.
Take note:
Solid top guitars are of that quality and is an excellent investment. 
Here's what I mean: 
Solid guitars age well. In other words, the quality of the guitar will only improve as time goes by. 
So, if you're going to buy this guitar, think of it as an investment.
Because sure enough, it'll accompany you for a really long time.
Rest assured that Martin is doing their part in protecting the environment. This is most especially true with their eco-friendly FSC certified fingerboard and bridge.
If you're a left-handed guitarist, Martin D10e has a left-handed version.
Martin D-10e Sitka vs. Sapele top
The D10e has two particular variations based on their old versions:
Martin DRS2 to Martin D-10e-02 (Sitka).
Martin DRS1 to Martin D-10e-01 (Sapele).
This article focuses more on the Sitka Spruce top. 
For now, let's talk on the latter, which is the Sapele top. The main difference is, well, the top tonewood. 
It might only be one distinction, but that wood affects 3 things: 
Price, aesthetics, and sound quality.
Martin D10e Sapele will be cheaper since Sapele is a less expensive material than spruce. It also looks darker with the cherry-like color of the wood. 
If you like a dark, grainy wood look on your guitar, perhaps the Sapele version is your choice.
Lastly, the sound has a subtle difference. Sapele has a mellower tone than spruce. 
On the other hand, spruce has a more definite, brighter tone, and louder projection.
The Phenomenal Martin Sound of D-10e
See your buying options at Amazon →
The Martin D-10e is an affordable Martin guitar that can compete with the rest of the expensive guitars. It's durable enough with amazing sound and enhanced playability waiting to be your partner during your adventures and/or your gig plays.
The tonewood combination gives it a fantastic harmony between the tone, volume, and dynamics, making it on par with far more expensive guitars.
It has a bit of sparkle in the highs, and of course, the bass is highlighted as well, which then creates a warm, balanced tone.
Thanks to its non-scalloped X-bracing, the sound vibrates freely on the top giving it outstanding stability.
Overall, the sound quality is something that will hook you to keep on playing!
7 New Awesome Features
Finally, we've come to the latest updates on this phenomenal guitar. It's not much, but…oh, who am I kidding?
These upgrades are amazing!
There are three main updates from the previous DRS2 and DRS1:
Improved aesthetics, refined electronics, and added built-in tuner.
Let's begin!
Martin D-10e vs. DRS2 vs. DRS1
You can use this table to compare the updated specs of D10e, DRS2, and DRS1.
| | | | |
| --- | --- | --- | --- |
| | Martin D-10e | Martin DRS2 | Martin DRS1 |
| Top Inlay Material | Multi-Stripe | N/A | N/A |
| Rosette | Mother-of-Pearl Pattern with Multi-Stripe | Multi-Stripe | Multi-Stripe |
| Pickguard | Faux Tortoise | Black | Black |
| Fingerboard Inlay Style | Dots – 28 Style Pattern | Dots | Dots |
| Fingerboard Inlay Material | Mother-of-Pearl Pattern | White Plastic | White Plastic |
| Electronics | Fishman MX-T | Fishman Sonitone | Fishman Sonitone |
| Additionals | Built-in tuner | N/A | N/A |
Starting with the aesthetics.
First, are the inlays of the guitar: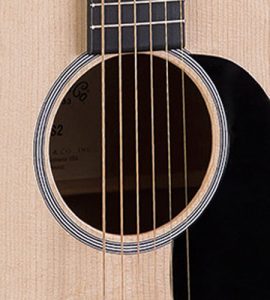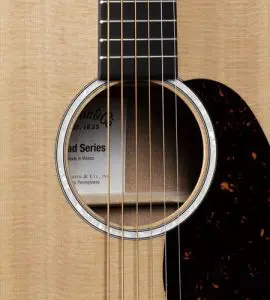 Martin added a multi-stripe inlay to the top of the new guitar. The rosette has been updated too. It now has a striking mother-of-pearl pattern with multi-stripe.
On the previous DRS1 and DRS2, they have a plain-looking pickguard. With the new added faux tortoise fingerboard, it looks more appealing than the earlier models.
If the body has a more luxury feel, the neck should be as well, right?
Martin also updated the style and material for their fingerboard inlay.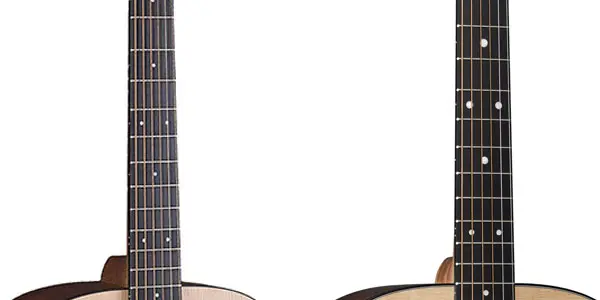 Now, it has a mother-of-pearl 28 style pattern. 
If you've noticed in the picture above, it's also more significant than the previous one.
If you've been keeping count, that was 5 updates already.
Personally, I love these design changes. It gives Martin D10e a more premium feel and a more stunning look.
Moving on to the most essential upgrade:
The two new things to this model and the highlight of the update are the Fishman MX-T electronics and the added with a built-in soundhole tuner. 
Greatly Enhanced Electronics
Honestly, the only thing I disliked about their discontinued DRS2 and DRS1 is the electronics. It had so much room for improvement.
Lucky for us, Martin really listens, just like the saying of restaurants, "customers are always right." 
Before doing any enhancements, they asked the people what they want to improve and voila!
The new Road Series D10e features the Fishman MX-T electronics package with the Sonitone system. 
The electronics include a built-in tuner, which is so easy to use. 
There's only one button, which makes it less daunting for beginners. It's like a simple switch for an on-off, no need for extra unnecessary stuff.
Simply press to start and press again when you're done tuning.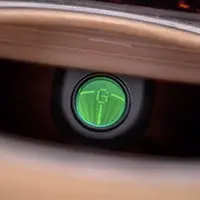 If you're playing on a gig, these tuners also have a mute feature (even without a pedal), so that the audience won't hear you tune before you start rocking. It makes life easier, don't you think?
Aside from the benefits, the tuner looks neat within the soundhole.
Here's more:
The new Fishman MX-T electronics also give you an excellent tone control either on the amp or the guitar itself. 
It has a gradual boost in the bass and treble. In other words, you can effortlessly adjust the tone to your liking!
Excellent Playability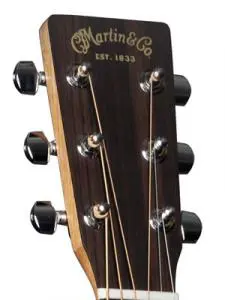 This majestic guitar has incredible playability. Consisting of a slim, high-performance tapered neck. It has the shape of performing artists with a nut width of 1 3/4 inches, perfect for beginners or pros alike.
The neck is hand-rubbed, which makes it easier for you to fret and move around the neck.
The hardware consists of 16 inches of compensated white TUSQ saddle and a white Corian nut. These two hardware plays a significant role in the sound quality. 
The combination of the TUSQ and Corian allows the guitar to deliver bright, rich tones.
The tuning machines are chrome enclosed gear allowing this beauty to stay in tune. Thus, you don't need to worry about going out of tune in the middle of a play.
The action of this guitar is a perfect height for any type of player. It's not too low that there may be buzzing sound, nor too high that it's a little hard for beginners.
Unfortunately, Martin D10e doesn't have a cutaway. Though, some other road series guitars have a cutaway. Here are some variations of them:
Martin D-10e vs. D-12e vs. D-13e
The main difference between these three guitars is their model number…
PSYCH! I'm just messing with you!
Let's carry on:
Even if they are from the same road series, they all have unique characteristics of their own. You can use this table to look up their specific differences.
| | | | |
| --- | --- | --- | --- |
| | D-10e | D-12e | D-13e |
| Back & Sides | Sapele | Sapele | Siris |
| Back & Sides Color | Cherry | Dark Mahogany | Rosewood |
| Finish | Satin | Gloss | Gloss |
| Pickguard | Faux Tortoise | Black | Faux Tortoise |
| Rosette | Mother-of-Pearl Pattern with Multi-Stripe | Stripe-28 | Mother-of-Pearl Pattern with Multi-Stripe |
| Back Purfling/Strip | None | Style 18 | None |
| Bridge Pin Dots | Black | None | None |
| Heel Cap | Black | Black | White |
| Tuning Machines | Chrome Enclosed Gear | Nickel Open Gear | Chrome Enclosed Gear |
| Knob | Small | Butterbean | Small |
Martin D-12e
The Martin D-12e is a new model added to the series. It's also the most unique amongst the rest.
Here's why:
The rosette of this guitar has style 28 multi-stripe. It also has a Style 18 purfling on the back.
Speaking of the back, it also has a dark mahogany color for its back and sides. This gives the D12e a more outstanding look!
Of all the road series, the D10e has the only satin finish, while the rest have a glossy finish. Aesthetics-wise, the glossy finish has a more attractive look.
In the end, it'll still be your preference:
Do you prefer the shiny look or the earthy look?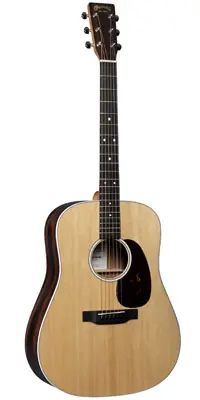 The Martin D-13e has the most astonishing look and premium feel of these three. 
Sure it's more expensive than the rest, but the quality tops them off. So, I'd say that's fair enough for the price.
The design of the D13e is similar to that of the D10e. There are just an additional multi-stripe rosette border and white binding. 
For one aesthetics add-on, this sure stands out the most.
Lastly, D-13e has a siris for its back and sides. Siris share tonal similarities with koa. 
In volume and overtones, it is somewhere in between rosewood and mahogany. It features a clear, balanced tone perfect for an excellent guitar!
PS: If you're looking for a cutaway guitar, D13e is your best bet with its Martin DC13e sibling. Unfortunately, D10e and D12e don't have a cutaway version.
Martin is a well-known brand. They are also recognized as the first brand to build an acoustic guitar in the USA. 
They've been around for 180 years already. Up until now, their mission is to create the most beautiful guitars possible.
I'm sure even if you ask musicians in your town about Martin Guitars, they'll say lovely things about it. No doubt.
Here are some famous artists who use Martin guitars.
Ed Sheeran
David Crosby
Mark Twain
Cobie Caillat
James Valentine of Maroon 5
Of Monsters and Men
Technical Specifications
Is Martin D-10e worth it?
Here's the kicker:
For a Martin guitar this cheap, you might think that it's a rip-off. 
Given myreview, it is most certainly not. 
It is low-priced, but the quality can absolutely compete with other expensive guitars. Just WOW!
It was a great choice even before the update. 
Presently:
Martin drastically improved D10e's electronics. Hence, this guitar is NOW a far more excellent choice for you. 
Whether you're a beginner or a seasoned guitarist, the Martin D10e has many marvelous benefits for you.
It is made with solid tonewoods, so it'll last you a long time and will definitely improve as it ages. Smart investment, right?
You can't find other affordable guitars having a world-class quality. 
Enjoy? Share with your friends!