When you buy through our links, we may earn an affiliate commission. Learn more »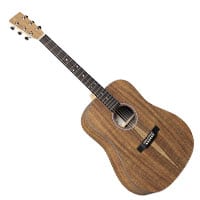 Currently, Martin D-X1E is only available as a left hand version. If you're right handed check out these excellent acoustic guitars as an alternative for this guitar.
I'm sure we can all agree that Martin is one of the best guitar brands on Earth.
Sure, most of their guitars are expensive.
But, here's the thing:
Martin also has budget guitars you'll definitely admire!
In short: if you want to have a majestic Martin guitar, you'll adore their new Martin DX1E or Martin DX2E.
Let's get started!
Note: The currently available version of DX1E at Amazon is the jett black color, so images may not be accurate.
PROS
Affordable Martin guitar
Pleasing sound
Lightweight
Unique Hawaiian feel
Durable
Includes a gig bag
Comfortable to play
DX1E is excellent for travel: not susceptible to humidity and temperature changes
DX2E will improve over time thanks to its solid top
The latter feels more premium
CONS
Not the best tone out there
The sound could be better when plugged in
The DX1E does not include a pickguard: sensitive to scratches from picks
The DX1E will not age well (laminate)
If you're one of these:
Beginner; Advanced Guitarist; Gig Player; You record your own music; Even if you like to play ukulele; Then
This guitar is definitely ideal for you.
Overall, Martin DX1E and DX2E are for everyone to enjoy.
Although some things are more suitable for particular people.
For instance:
If you're planning to play higher notes, precisely 15 fret up, this isn't for you. Only because it doesn't have a cutaway.
Of course, there's also cutaway versions for the X series, but it's not the same as the DX1E or D-X2E.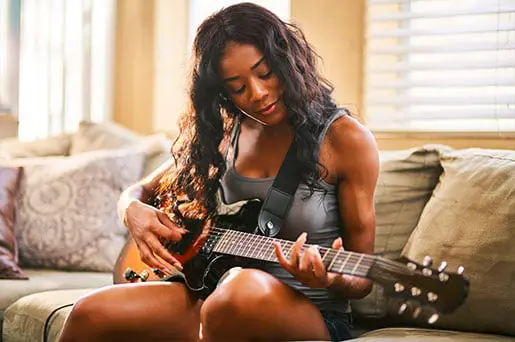 Another thing:
If you're a flat picker, the first one isn't suitable either. DX1E doesn't have a pickguard, so you'll easily damage the guitar.
Fortunately, it's sibling, D-X2E has a pickguard.
Oh, and before I forget:
These two guitars actually have a left-handed version!
So, if you're a leftie, you're in luck!
If you think this isn't for you, here are some of my suggestions
Martin D-X1E – Natural Koa
The first time I've seen Martin DX1E, I thought it was a ukulele like the luna tattoo, without the tattoo.
(I love ukes, so there's that!)
But it's also because of the finish used.
The DX1E uses Koa-patterned wood for the whole body, while DX2E uses a solid Sitka Spruce top.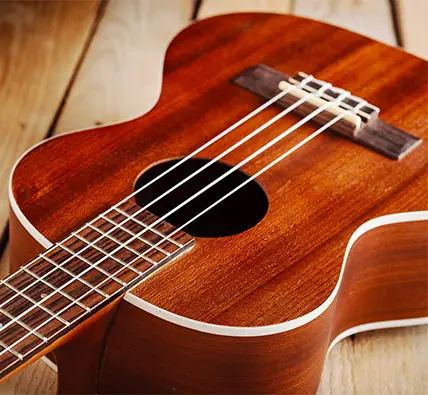 The Koa tonewood gives the guitar a Hawaiian feel. It looks majestic and unique amongst other guitars.
Furthermore, it has updated electronics, which was originally Fishman Sonitone.
Now:
It has the new Fishman MX, which is a huge advancement!
Furthermore:
This guitar includes a gig bag, so that's one less thing to worry about.
Hawaiian Feel
Note that, this guitar belongs to the affordable variety of guitars.
Hence:
It's not accurately made of premium materials. 
Knowing Martin, I'm sure they made sure even the budget guitars are of excellent quality.
Martin DX1E is derived from the previous DXK2AE.
The previous guitar has a more natural wood design than its updated version. It's also Hawaiian Koa, but the newer version feels more Hawaiian.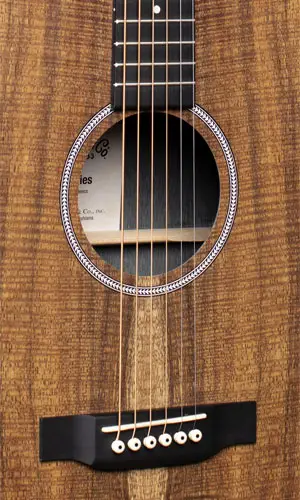 High-pressure laminate (HPL) Koa is the primary material used for this guitar. That is for the top, back, and sides.
HPL has its benefits over solid tops:
Affordable
Not sensitive to humidity changes
Not susceptible to temperature changes
Durable
Due to these advantages, layered guitars are much suited for travel.
Of course, it all depends on you.
If you know for sure that you are cautious, then:
Solid guitars may be more of your type.
Unfortunately, it also has cons:
It doesn't age well
If you accidentally break it, it won't be repaired; or at least it won't be the same as it was
Weaker resonance and volume than solid ones
On the other hand, the Martin DX2E actually has a solid Sitka Spruce top.
So, if you prefer a guitar who's quality improves over time, it's sibling is your better option.
They also look different, but both still carry the Hawaiian feel. In the end, the aesthetics will depend on your preference.
As a ukulele and guitar lover, I really love the DX1E. It has a unique look, and uke feels for me.
If you love the traditional but premium feel, then DX2E is the perfect alternative.
Skip to Martin D-X1E vs. Martin D-X2E
If you're after the unique looks, you might find Yamaha's new series interesting as well. They released Yamaha Storia, which is a majestic looking guitar unlike any other.
Pleasing Sound
See your buying options at Amazon →
A cross-breed from a traditional ukulele design and guitar. An affordable unique looking Martin D-X1E with amazing qualities perfect for everyone.
Spoiler alert:
They have different sound qualities.
Other sibling guitars have subtle differences. These two, on the other hand, are easily audible.
Just like most dreadnoughts, they have a room-filling sound. It highlights a delicate, smooth tone. Also, it has a delightful overtones.
In a nutshell:
The Martin DX2E sounds better than its sister.
Here's why:
Due to its new wood for the fingerboard, bridge, and neck, it has a more balanced tone. Besides, it has better sound transfer and sustains.
Since it sports body, it has a more significant projection and volume.
Improved Electronics
The electronics were updated from Fishman Sonitone to Fishman MX.
The Sonitone has a good pickup, but the new Fishman MX has better.
Here's the thing:
It's an easy plug n' play for beginners.
If you're an advanced player, it also has a control for volume and tone. Placed on the soundhole, you can easily adjust it to your liking.
Plus:
If you prefer playing while plugged in? 
Luck you!
You'll be using the guitar's best capabilities.
Enhanced Playability of Martin​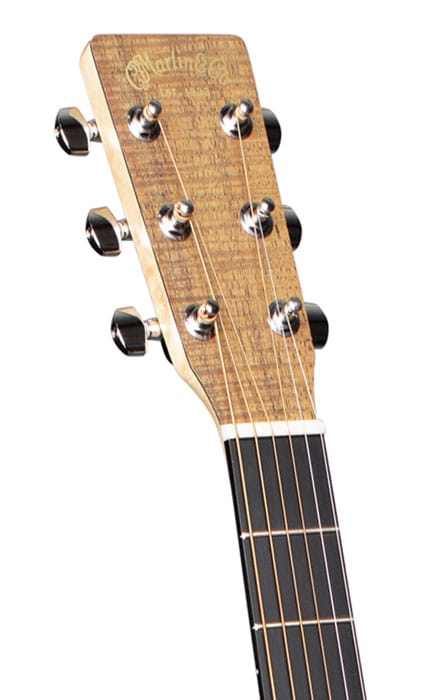 Most of Martin's new guitar has enhanced playability. Of course, it includes the DX1E and DX2E.
The first guitar mentioned features a Natural Birch Laminate and FSC Certified Richlite fingerboard.
It has a hand-rubbed finish, which is excellent for everyone. Compared to a glossy neck, a hand-rubbed neck feels smoother to use.
You can quickly shift from fret to fret, no problem.
The latter features a select hardwood for the neck and Katalox for the fingerboard and bridge.
It also features a hand-rubbed finish for easy playability.
Furthermore:
These 2 guitars feature chrome enclosed gear that will help your guitar to stay in tune. They also highlight 25.4 inches of scale and 14 frets for more tonal possibilities.
Martin D-X1E vs. DXK2AE
| | | |
| --- | --- | --- |
| | D-X1E | DXK2AE |
| Top, Back, & Sides Detail | Figured Koa Pattern | Koa Pattern |
| Fingerboard Inlays | Mother-of-pearl Style 28 Pattern | White plastic dots |
| Electronics | Fishman MX | Fishman Sonitone |
Between the two new guitars, the DX1E has fewer new stuff to talk about.
From its previous DXK2AE, the updated features are only four.
It's only a few, but it doesn't mean it's not great!
The main update is the aesthetics. The new one is lighter in color and looks more astounding.
It's also closer to the Hawaiian feel of a natural Koa.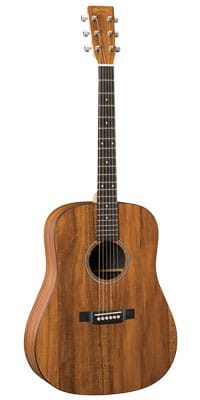 The fingerboard inlays are also more premium-like than regular "dots." The most important is definitely electronics. Its electronics have better pickup and sound output than the previous one.
Unfortunately, Martin DXK2AE has been discontinued now.
Martin D-X2E vs. DX1KAE
| | | |
| --- | --- | --- |
| | D-X2E | DX1KAE |
| Back & Side Detail | Figured Koa Pattern | Koa Pattern |
| Rosette | Mother-of-Pearl Pattern with Multi-Stripe | Multi-Stripe |
| Brace Shape | Scalloped X with Non-Scalloped Tone Bars | Non-Scalloped |
| Bridge | Katalox | FSC Certified Richlite |
| Fingerboard | Katalox | FSC Certified Richlite |
| Fingerboard Inlays | Mother-of-pearl Style 28 Pattern | White plastic dots |
| Electronics | Fishman MX | Fishman Sonitone |
This update is more prominent than DX1E.
From the inlays and patterns alone, the looks are definitely modernized. The updated version, DX2E, feels more luxurious.
Here's the kicker:
More than just the aesthetics, the overall tonality is its primary focus.
The bracing alone gives the sound a better projection and volume.
With the new materials, this guitar highlights a more stable and better sound transfer. Although the DX1KAE is more eco-friendly.
Unfortunately, Martin DXK2AE has been discontinued now.
Martin D-X1E vs. Martin D-X2E
| | | |
| --- | --- | --- |
| | D-X1E | D-X2E |
| Top | HPL Koa | Solid Sitka Spruce |
| Finish Top | Satin | Hand-rubbed |
| Pickguard | None | Faux Tortoise |
| Brace Shape | Scalloped | Scalloped X with Non-Scalloped Tone Bars |
| Rosette | Herringbone Ink | Mother-of-Pearl Pattern with Multi-Stripe |
| Neck | Natural Birch Laminate | Select Hardwood |
| Fingerboard | FSC Certified Richlite | Katalox |
| Bridge | FSC Certified Richlite | Katalox |
Every guitar has pros and cons.
In this case:
Advantages over the other.
It all boils down to your gut.
The Martin DX1E looks more unique. It offers a soothing sound while the other has a strong character.
Moreover:
It is more affordable than the second one.
The latter, however, has better overall quality. The D-S2E is also a more reliable investment in the long run.
They both have excellent playability, which is a perfect factor for beginners.
Technical Specifications
Is Martin D-X1E worth it?
Choosing between Martin DX1E and DX2E is a brain teaser.
There's so much stuff to consider.
Here's the winner for each attribute:
Affordability, Aesthetics, Durability: Martin DX1E
Value, Sound, Comfort: Martin DX2E
Honestly? If you can spend a bit more:
I'd recommend Martin's D-10e.
Without a doubt, Martin D-10e packs more value than these two. Sure they are unique with their Koa tonewood, but the D-10e offers more.
It's also the best investment, even for its affordable price range
Enjoy? Share with your friends!