When you buy through our links, we may earn an affiliate commission. Learn more »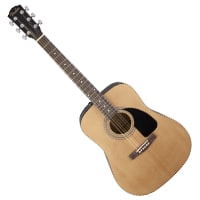 UPDATE: Sadly, Fender FA-100 is unavailable at Amazon. Instead, check out these excellent acoustic guitars or Fender FA-125 as an alternative.
You don't have to spend a fortune on your first guitar.
Although it doesn't mean that you should buy the cheapest one you find.
I'd say something affordable with adequate quality.
Hence, a great value guitar, which I suggest is the Fender FA-100.
In this review, I'll discuss whether this FA-100 budget guitar lives up to the Fender name or not. I'll converse about the quality, sound, and pros and cons of the guitar.
PROS
It has a bag included.
Affordable for anyone.
Excellent for beginners.
It has low action.
The comfortable feel of the neck.
Fender offers a limited lifetime warranty.
CONS
It is not the best sound out there.
Inconsistent tuning.
The bridge and saddle are not good quality.
This guitar is perfect for beginners on a budget looking for their first guitar, but not really for advanced guitarists. Therefore, if you're a beginner, keep on reading for this might be your first guitar.
If you're a seasoned player, this is not for you. Since the sound quality isn't the best compared to far more expensive guitars.
If you want to spend a little more for a better investment, here are some alternatives that I suggest.
Affordable Fender Guitar
Fender is mostly known for their amazing electric guitars. But that doesn't mean that their acoustics can't compete in the guitar race.
Fender has been around since the 1930s. So, you can be well sure that they know what they're doing in the guitar-making industry.
The Fender Alternative or FA-100 is mass-produced in China. In my opinion, if it's not handcrafted, then it's not made with love. But knowing Fender, I'm sure they make sure that their guitars are in excellent condition.
This specific product comes with a bag and a strap. The factory already installed the strap button so, you don't need to fix them. Which means, you only need to put the belt and voila! Get practicing!
Fender also offers a lifetime warranty with this guitar! That's why you can play it to your heart's content, without worrying a thing.
Durable Beginner Guitar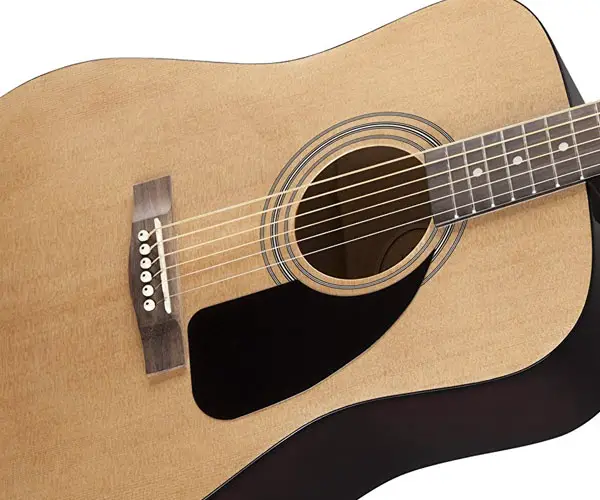 The Fender FA-100 features a laminated spruce top and basswood back and sides. Layered tonewoods don't resonate freely, unlike solid ones, but that doesn't mean they sound awful. 
This particular combination of spruce and basswood produce a warm and pleasing sound.
It has a simple traditional dreadnought design. With the gloss finish, it looks even more enticing.
With the quartersawn X bracing fender added, this guitar's projection, stability, and durability of the guitar doubled.
Crisp and Clear Tone
See your buying options at Amazon →
The Fender FA-100 is an extremely affordable guitar perfect for beginners. Satisfactory playability with a simple design and pleasant sound quality.
The Fender FA-100 has a crisp and clear sound that's excellent for beginners. It also has a warm projection thanks to the tonewoods and the bracing.
The sound of this guitar isn't the best per se. When compared to premium guitars, you might even notice the difference.
For now, that's not what you should worry. For a beginner, you don't have to spend too much on your first guitar.  Not unless you're super-rich, right? 
It's ideal for beginners to test the waters first. In this case, try a cheaper guitar and play your way to the top quality guitars.
Convenient C-shaped neck
Since the FA-100 is perfect for beginners, that means the guitar's neck should be comfortable, right? And, you bet it is!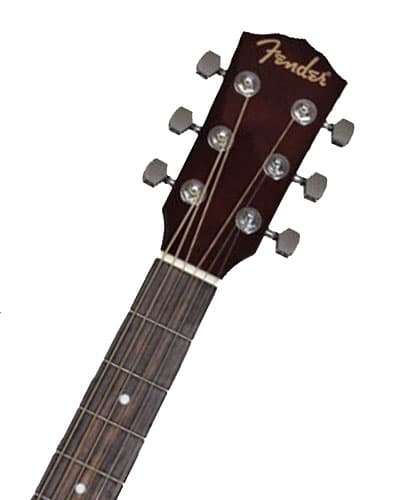 This guitar emphasizes its comfortable feel with the c-shaped maple neck and low action.
The c-shaped neck is exceptionally convenient for starters. It'll be much easier to make a shape and to move from fret to fret.
Also, I highly suggest for beginners to find a guitar with lower action. Lower action has advantages and disadvantages. The disadvantage is that you'll hear a buzzing noise when you decide to go to a higher fret. 
Since you're not yet used to playing the guitar, the benefit is especially for you. With a low action guitar, you don't need to add too much pressure. When practicing, your fingers won't hurt that fast. Thus, you'll learn a lot faster.
This guitar also highlights 20 frets, which will give you a more extensive range. Furthermore, it has a hex adjustable truss rod. So, in the future, if there is a bowing that occurs in your guitar, you can learn to re-adjust it, or in your nearest guitar store.
Is Fender FA-100 worth it?
This guitar may not be the best in terms of sound but for a price like this? You'll be getting more than what you paid for.
I'd say, Fender FA-100 is one of the best value guitars out there. This is particularly true for beginners who are in a budget. 
If you plan on buying this guitar, then you are making the right choice for your first step in your own musical journey.
Enjoy? Share with your friends!