When you buy through our links, we may earn an affiliate commission. Learn more »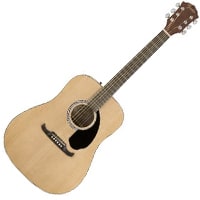 There are so many beginner guitars out there, so many brands, but which one do you pick?
If you're reading this, then you'd come to the right place.
This article is a Fender FA-125 review and FA-125CE as well.
You'll learn about this guitar's build, quality, and pros and cons.
Most importantly, you'll also learn whether the FA-125 is perfect for you or if it's the FA-125CE.
PROS
Affordable
Durable
Comfortable Playability
Excellent for beginners
Stunning Traditional Look
Cutaway (FA-125CE)
Comes as a bundle (FA-125CE)
Built-in tuner (FA-125CE)
CONS
Laminate guitars are not the best investment
Not the best guitar for seasoned guitarists
A cutaway may decrease the fullness of a dreadnought sound. (FA-125CE)
This Fender acoustic is excellent for beginners and advanced players. It's an affordable price, so it's an excellent choice for starters.
I wouldn't suggest this guitar for guitar professionals though. As a practice guitar, this is impressive, but there are other quality guitars on a much expensive range that will fit your personality and level.
Are Fender Acoustic Guitars Any Good?
Fender is one of the known brands when it comes to guitars. They are mostly known for electric guitars and stuff. But, that doesn't mean that their acoustics are awful.
This particular is impressive, considering its low price range. Fender is doing great in the Acoustic race, no doubt.
Acoustic or Acoustic-Electric?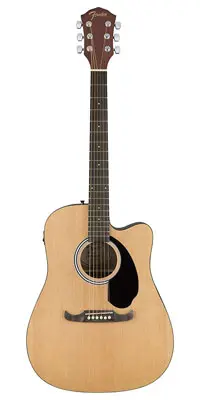 If you buy the Fender FA-125 using this link, it won't be a bundle compared to the CE version.
On the other hand, you can buy the Fender FA-125CE as a bundle. That's also why I recommend this version instead of the former. It may be a little expensive, but you'll be getting more than what you paid.
The bundle includes a gig bag, picks, spare strings, strap, trial for fender play, and Austin bazaar essentials. You'll need all of this if you're starting, most specifically the last two.
Although if you prefer something cheaper, the FA-125 it is. I'll converse more about the pros and cons of each version.
Durable All-Laminate Guitar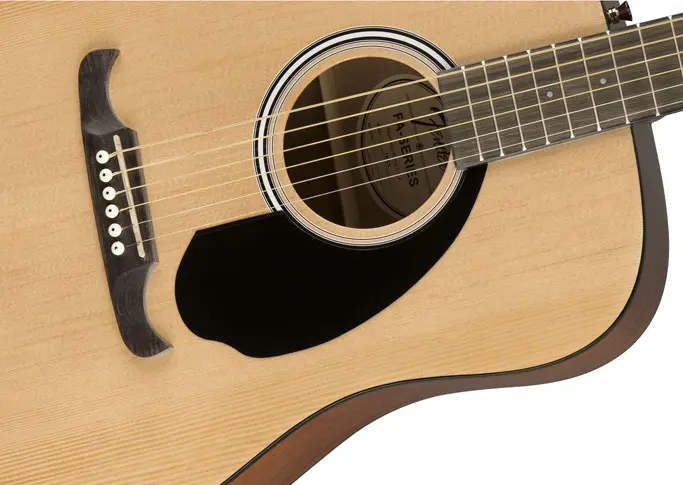 This dreadnought is an all-laminate guitar. It features a spruce top, basswood back and sides, and glossy finish. Thanks to its finish, it has a surprising look even for a traditional design.
Even if laminate woods make the FA-125, it has benefits. 
First of all, laminated tonewoods mean a lower price. They are also more durable and lightweight, which is perfect if you plan on bringing your guitar wherever you go. 
The only downfall for this would be the resonance, and value of the guitar over time. The depth of layered guitars won't be as full as solid ones. Their quality will also not improve, although, in the end, it will depend on how you take care of your guitar.
How does the FA 125 Fender sound?
See your buying options at Amazon →
The Fender FA-125 and FA-125CE are two of the best guitars in the Fender Alternative Series. Acoustic or acoustic-electric version, both are excellent as a beginner budget guitar.
One thing for sure, the FA-125 has a lively tone. With the combination of the spruce and basswood tonewoods, it produces a rich deep voice with low end and warm mids.
Its lovely Viking bridge also provides excellent tonal support.
For the FA-125CE, it has a cutaway. Usually, it'll subtly decrease the fullness of the sound, and sometimes it can't even be distinguished. Its electronics also provide an authentic acoustic voice even when plugged in.
Convenient Neck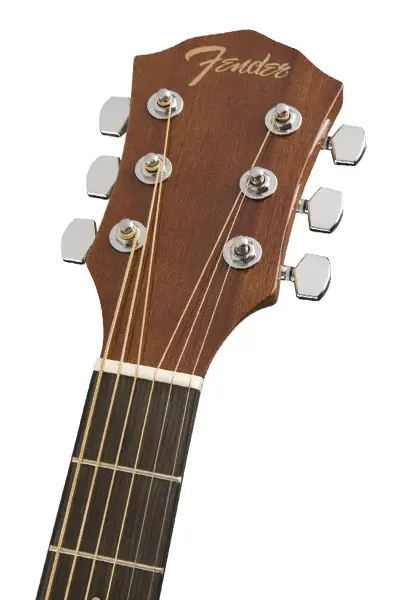 The neck of the FA-125 features a Nato. It has a C-shape and rosewood fingerboard which will give you perfect playability. With the addition of Gloss Urethane for the finish, this sure is an convenient neck.
Thanks to its 3+3 headstock and chrome die-cast tuning machines, your guitar will stay in tune. 
This guitar has 20 frets which will allow you to have more tonal options.
Fender FA125 vs. Fender FA-125CE
The FA-125 and FA-125CE are practically the same, except that the latter will have additional features. 
First, the CE stands for cutaway and electric. So, FA-125CE will be a little bit pricey than the regular one.
Having a cutaway has its perks, though. If you plan on playing songs with high notes, a cutaway guitar is a right choice. With a cutaway, you'll quickly reach 15th fret and up.
Even for beginners, having electronics isn't a bad idea either. You may not use them at first, but sooner or later you'd have to learn them, right? At least with this guitar, you'll have a choice of plugging it in whenever you want.
The Fender FA-125CE highlights Fishman electronics which will give your guitar a pure acoustic tone when you plug it in. It'll also be reliable during your performances thanks to its small footprint pre-amp.
Other than that, it features a built-in tuner. And in my beginner days, having something like this is a huge help. 
Is Fender FA-125 worth it?
In this review, I'd totally recommend the Fender FA-125CE.
The Fender FA-125 may be cheaper, but the FA-125CE packs more value thanks to the bundle available. Even if there's no bundle, the FA-125CE is still the better choice as a result of having great electronics, especially the tuner.
This guitar may be a beginner-level, but this will also be a perfect practice guitar for advanced-level guitarists.
Enjoy? Share with your friends!