When you buy through our links, we may earn an affiliate commission. Learn more »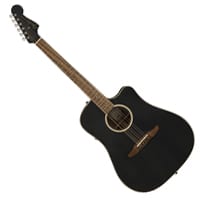 The Fender Redondo is one of the cool-looking guitars. It's like a combination of electric guitars while maintaining the traditional look of an acoustic guitar.
Here's the kicker:
This guitar is part of Fender's famous acoustic lineup, California Series.
So, if you're looking for a new guitar to add to your collection, this instrument might worth checking.
There are actually three Redondo versions. We'll talk about the differences in a bit.
For now, let's find out if it's worth the splurge:
PROS
Unique looking stylish acoustic guitars
The neck shape is perfect for beginners
The bass is excellent
"Special" version is an all-solid build
Solid top for better projection
Comes with a gig bag
Features a pickup/preamp system with tuner
A long-lasting guitar
CONS
The sides are laminated (for player)
Premium feel for premium price point
It produces a bit of a boxy sound
There may be some buzzing
Who is it For?
Before we start, you should know that this guitar isn't cheap. In other words, I don't recommend it to beginners.
Suppose you're a novice, you should check out my choice for the best beginner guitar: Yamaha FG800.
Fender Redondo Review
The Fender is mostly known for their electric guitars and just a little bit on acoustic guitars. However, that doesn't mean their acoustics are irrelevant.
Although it's already 2 years old when I'm writing this, the California series is relatively new. With the Redondo, you can see just how much they've improved.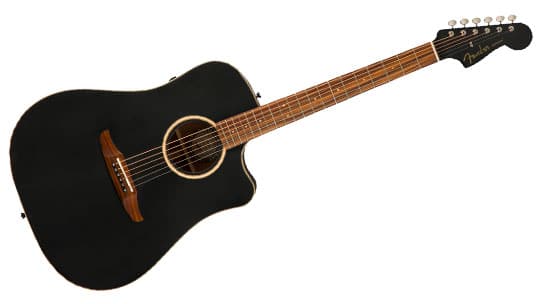 The Redondo features an all-solid build (except for the player version), which means it's built to last. Furthermore, having solid tonewoods will result in better resonance. It also highlights scalloped bracing to allow the top to vibrate more. Additionally, Fender Redondo is the largest body size in the California series.
Here's the best thing:
California series is like a combination of traditional and contemporary design. The modern being that of electric guitars cool look.
You can see that with the available colors and finishes, hot rod red, Cosmic Turquoise, Electric Jade, etc. If looks are your main factor for choosing, the Fender Redondo will undoubtedly appeal to you.
Of course, that's not all there is. Similarly, the headstock is also based on the 6-in-line headstock that electric guitars have. It's kind of unusual to see on an acoustic guitar, but it does look nice.
Sound Quality
See your buying options at Amazon →
The Fender Redondo Special is unique looking acoustic guitar that's looking for rockers to play with. Are you the player it's been waiting for?
To be honest, the sound quality of this guitar is just so-so. For this price, I expected more, so maybe that's on me.
Here's the deal:
It's still a good guitar; you just need to consider the flaws. 
Anyway, the Redondo projects a robust and more resonant sound than its siblings. The bass and highs are well-balanced, giving you a punchy tone. This guitar can handle any playing style you may have.
Here's some good news:
Fender Redondo sounds so much better when plugged in. The tonal quality is clearer and brighter. If you're not going to play "electrically," it can still be a wise choice.
Also, you may hear some buzzing, which is a bit disappointing.
Playability
This guitar features a slim "C" neck profile. As a result, the comfort of the neck is off the charts for the Fender Redondo. Who knows, maybe you can play for half a day without getting tired? (Obviously an exaggeration)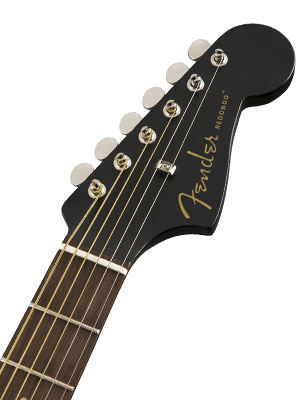 There's also the Pau Ferro fingerboard (walnut for player version) and mahogany neck. By having so, your shifting from chords to chords or frets to frets has never been more effortless. Also, it's far more durable than cheaper guitars.
Finally, the hardware in this guitar is excellent. For starters, with sealed nickel tuning machines, your guitar will stay well in tune. Besides, the Viking bridge also adds up to the cool factor.
Moreover, Fender now uses bone nut and saddle, giving it a better projection.
Electronics
Let us not forget the Fender Redondo is an acoustic-electric guitar. In fact, they actually partnered with Fishman electronics to build the Fender-and-Fishman-designed preamp system.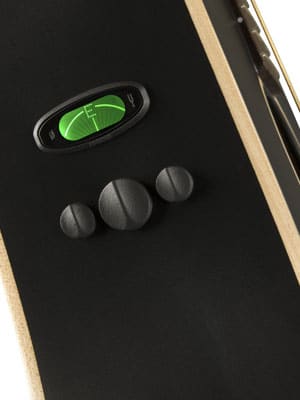 As I have said, this instrument plays better when it's plugged in. One reason could have been their new design. The under-saddle pickups capture the real acoustic sound, which is really awesome.
Here's more:
This system lets you control the volume, bass, treble, and phase controls. Talk about customization! Lastly, it comes with a tuner. So, instead of carrying around a separate tuner, you won't need to anymore.
Fender Redondo Classic vs. Player vs. Special
You can use this table to compare these three versions.
| | | | |
| --- | --- | --- | --- |
| | Classic | Player | Special |
| Price | $$$ | $$ | $$$ |
| Build | All-solid | Solid top | All-solid |
| Bracing | Quartersawn Scalloped "X" | Scalloped "X" | Quartersawn Scalloped "X" |
| Finish | Gloss | Gloss | Satin |
| Fingerboard | Pau Ferro | Walnut | Pau Ferro |
| Electronics | Volume, Bass, Treble, with Tuner and Phase Controls | Volume, Bass, Treble | Volume, Bass, Treble, with Tuner and Phase Controls |
| Colors | Cosmic Turquoise, Hot Rod Red Metallic | Belmont Blue, Candy Apple Red, Electric Jade, Jetty Black, Natural, Slate Satin, Sunburst | Matte Black |
Technical Specifications
Is Fender Redondo worth it?
In the end, I don't recommend the Fender Redondo. It's a great guitar nonetheless. However, its major drawback is such a biggie that you can't just ignore it.
It's not as expressive as other high-quality guitars within this price range. So, if you're looking for a better sounding guitar, you might want to consider Yamaha FG-TA.
Enjoy? Share with your friends!