When you buy through our links, we may earn an affiliate commission. Learn more »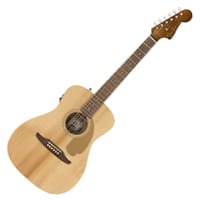 The Fender Malibu Guitar has a really unique look and feels to it. In fact, it's based on the famous California Series.
More than the Malibu, there's also Redondo and Newporter. They all have excellent color selections, but they differ in body size. Consequently, this Player version is the smallest in this series.
Imagine:
You're sitting on the beach, writing a song and holding this particular guitar. Can you picture it? If so, then this guitar might be for you.
Let's dive right into it.
PROS
Stylish acoustic guitars
Comfortable to hold
Better projection with solid top
It sounds better when plugged in
Comes with a preamp system with a tuner
CONS
It doesn't come cheap
The sound quality could be better (especially the bass)
Who is it For?
The Fender Malibu is a bit premium, with exceptional aesthetics. So, if you're on a budget, sadly, this guitar isn't for you. 
If you're looking for a more affordable guitar, check out my Best Affordable Guitars.
Fender Malibu Acoustic Guitar Review
This guitar features a solid Sitka Spruce top and Mahogany back and sides. Added with its Scalloped "X" bracing, it's a pretty sturdy guitar.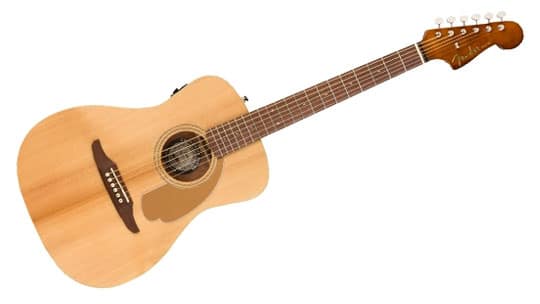 The best part about the Fender Malibu is the vintage-inspired look with unique colors. Surely with 7 available colors, one of them will fit your personality. It's like a break from the traditional "woody" color. 
If we're only talking about the looks, then I highly recommend Fender Malibu. However, this is a guitar, and the most crucial part is how it sounds.
How does the Fender Malibu Acoustic Guitar sound?
With a solid top, it has a better projection than laminated top guitars. However, the overall sound quality isn't that impressive. There's a lot of room for improvement.
In other words, this is not a performance-type guitar. If we disregard the price, then it can be a practice guitar and be perfect for beginners.
See your buying options at Amazon →
The Fender Malibu Guitar is a small yet beautiful-looking guitar. It's one of those guitars that might get you hooked into extended playing. Whether at home or on the beach by the campfire.
Here's the deal:
Playing the Fender Malibu plugged in sounds a lot better. In general, it has a louder volume (and no, not just because it's "amplified"). This is thanks to the high-quality electronics.
Here's what I mean:
Plugged in, it's more expressive. The notes and chords you play are a lot clearer and more vibrant. It's far more sensitive to your strums resulting in excellent dynamics. 
This instrument highlights a Fender-exclusive CD-1 Fishman preamp system. You can control the volume, bass, and treble. Simply put, you can really have a better experience plugged in.
Essentially, using the pickup results in better projection, better bass, even the overtones are more emphasized.
Playability
Here's one other reason why it's ideal for beginners. 
Its mahogany neck has a slim "C" neck shape. With this design, it's a lot comfortable to hold. Easy to move around the neck and won't tire you quickly.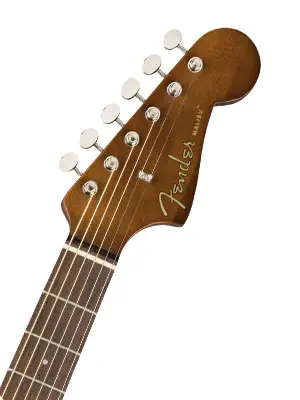 The Fender Malibu also features a walnut fingerboard. This gives it a smooth feel and vibrant tone.
Finally, the sealed nickel tuning head allows your guitar to stay in tune. 
Speaking of which, the included Fishman Electronics has a built-in tuner. When you're just starting out, this is a massive advantage as you don't need to get an extra accessory just to tune your guitar. Plus, with this, tuning will be a piece of cake.
Fender Malibu Classic vs. Player vs. Special
You can use this table to compare these three versions.
| | | |
| --- | --- | --- |
| Malibu Classic | Malibu Player | Malibu Special |
| $$$ | $$ | Out of stock |
| All-solid | Solid top | All-solid |
| Quartersawn Scalloped "X" | Scalloped "X" | Quartersawn Scalloped "X" |
| Gloss | Gloss | Satin |
| Pau Ferro | Walnut | Pau Ferro |
| Volume, Bass, Treble, with Tuner and Phase Controls | Volume, Bass, Treble | Volume, Bass, Treble, with Tuner and Phase Controls |
| Cosmic Turquoise, Hot Rod Red Metallic | Belmont Blue, Candy Apple Red, Electric Jade, Jetty Black, Natural, Slate Satin, Sunburst | Mahogany, Matte Black |
There's also a one-of-a-kind Fender Alkaline Trio Malibu, but it's currently unavailable.
Technical Specifications
Is Fender Malibu Guitar worth it?
Overall, I still don't thoroughly recommend Fender Malibu Acoustic Guitar. It's "okay," but the brand focused more on the looks than its audio. For an acoustic-electric guitar, only the "electric" part is actually at an outstanding level.
There are guitars in the same price range (some are cheaper), which have a more premium-like tonal quality. One example is a Yamaha FG800.
Enjoy? Share with your friends!