When you buy through our links, we may earn an affiliate commission. Learn more »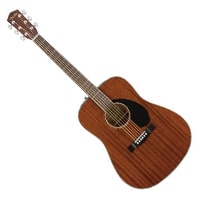 The Fender CD-60s Mahogany Acoustic Guitar belongs to the best beginner guitars to date, and it has been for a long time too.
You see, it's a cheap instrument, yet the quality is quite the contrary—it's top-notch. So, to phrase it differently, you get more than what you pay for with the Fender CD60s.
And of course, that's just the tip of the iceberg, as other numerous factors play a part in what makes Fender CD-60s great!
Oh, it's not just for beginners. If you're an experienced player, this could be an excellent practice guitar you can safely bring anywhere.
So, without further ado, let's move on to its pros and cons.
PROS
Absolutely affordable
Stunning all-mahogany design (it's also available as natural)
Solid top for better overall sound quality
Easy to play neck and low action
Has a dual-action truss rod
Stays in tune
Available as a left-handed guitar
It comes as a bundle (bag, strap, tuners, picks, extra strings)
CONS
There may be some buzzy frets
Not profound bass
Fender CD-60s Acoustic Guitar Review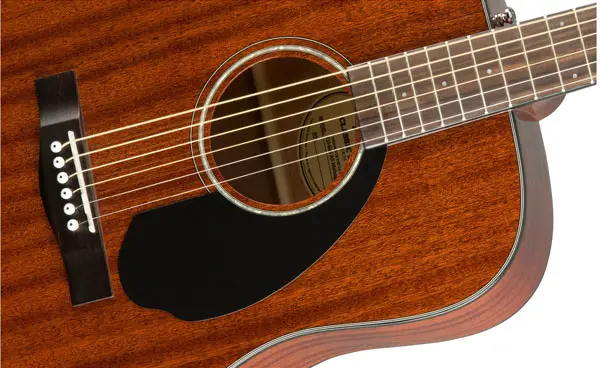 This Fender beauty is ideal for beginners on a budget. "With an affordable price comes great quality." In fact, it can already compete with more expensive guitars like Fender Malibu or Fender Redondo. 
Anyway, the Fender CD-60s comes in two different tops, All-Mahogany and Spruce. The most obvious difference is the color, but that's solely up to you. Personally, I admire the All-mahogany design for its unique quality compared to the standard Spruce top.
Naturally, the sound differs too, but I'll talk more about that in the next section.
Now:
Both of these wood is solid top with quartersawn scalloped x-bracing. This means that your guitar will be more sturdy, therefore, long-lasting. More importantly, it'll only get better as it ages, which is why Fender CD-60s is one of the best beginner guitars. 
Additionally, the glossy finish complements the overall aesthetics of natural Sitka Spruce and Mahogany. As a result, you get a budget-friendly guitar with an appealing design (unlike cheaper ones).
As if that's not enough:
​​It comes in a bundle, too, the guitar itself, strap, tuner, bag, picks, strings, and instructional DVD to get you started. In short, it's a great deal, particularly for beginners alike.
How does the Fender CD-60s sound?
I mentioned this a couple of times, but it won't hurt repeating. For a cheap guitar, its quality is certainly not "cheap."
Take a listen to this:
See your buying options at Amazon →
Fender CD-60s is an entry-level guitar with a sound quality that's simply fantastic. It's available as an All-Mahogany tonewood which looks stunning, and of course, the lovely traditional natural Sitka Spruce. More importantly, it's perfect for beginners thanks to its comfortable, easy-to-play neck.
Thanks to the solid top, it delivers robust volume and phenomenal dynamic range. Likewise, with its quartersawn bracing, the top vibrates more for better projection and resonance.
Overall, the sound quality manifests well-balanced, vibrant tones perfect for any playing style. Additionally, the sustains and overtones are simply something to admire. To phrase it differently, it's whole worlds apart from tacky guitars in this price range.
Here's the thing:
The difference between the Spruce and All-Mahogany build is subtle. Luckily for beginners, it's not really a big deal. Therefore, between the two, the primary deciding factor would be the design. Do you like the traditional Spruce or a more spirited Mahogany?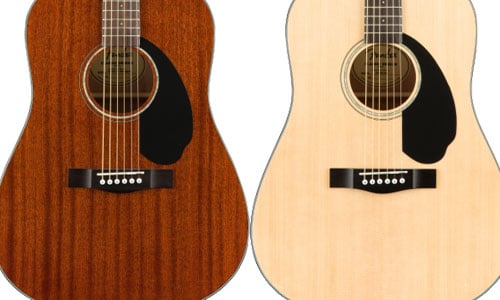 Besides, you can never go wrong with whichever you choose since they're both excellent.
Is the Fender Mahogany Acoustic Guitar comfortable to play?
The Fender Mahogany Acoustic Guitar features a unique "easy to play" neck. Combined with low action and rolled fingerboards, the playability score of this guitar just went through the roof. Essentially, the neck holds absolutely comfortably, so you won't tire yourself quickly. And if you ask me, that's a significant advantage for beginners.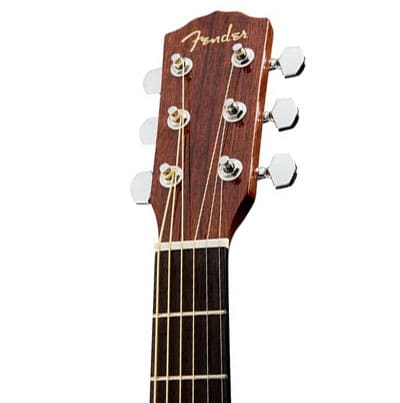 Here's more:
The guitar highlights Chrome Die-cast tuning machines that keep your instrument in tune. And with the included tuner, tuning the guitar will be the least of your worries. 
To sum up, the Fender CD-60s is a totally convenient guitar for beginners!
But wait, let me tell you something:
This instrument has a dreadnought size, so I don't recommend it for kids. For a more proportional guitar, you should read the Best Acoustic Guitar for Kids instead. I listed kid-friendly-sized guitars with beautiful designs they're going to love.
Fender CD-60s Variants
Technical Specifications
Is Fender CD-60s worth it?
If you're looking for an entry-level guitar, then you can't really lose with Fender CD-60s Mahogany Acoustic Guitar. It's a fantastic instrument, and as a bonus, it's still in the affordable range! 
FAQs
Are Fender CD-60s good for beginners?
Yes. And not just good, it's perfect for beginners. It's not so expensive, yet its quality is beyond what you pay for.
Is the Fender CD-60s solid top?
Yes, the Fender CD-60s features a solid Sitka or solid Mahogany top. In fact, the 's' stands for solid.
Is the Fender CD-60S a full-size guitar?
The Fender CD-60s is a full-sized guitar with a scale length of 25.3 inches (643 mm).
Enjoy? Share with your friends!