When you buy through our links, we may earn an affiliate commission. Learn more »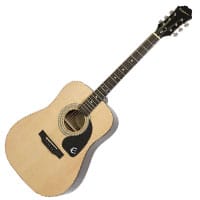 Finding cheap guitars is easy, but finding the best budget guitar with satisfactory quality?
That's another thing. 
The Epiphone DR-100 is one of the best budget guitars out there, but is it the best "value" guitar?
Does it live up to be the best selling acoustic guitar of Epiphone? 
In this article, I'll be talking about the DR-100's build, sound, pros, cons, etc.
I'll discuss whether it's the right one for you, whether you're a beginner or already a pro.
PROS
Extremely affordable
Durable build
Ambidextrous
Versatile (any genre)
Low action
CONS
Neck edges aren't rolled in
Doesn't stay in tune
Tuners aren't the best quality
Not exactly comfortable
Depending on the climate, the neck might become warped
It doesn't age well
This guitar is popular for beginners. Not just because of the price but because of the quality. It's cheap, but the quality is the same as what you'd expect from more expensive Epiphone guitars.
As affordable as this guitar is, it isn't just for beginners. The Epiphone DR-100 is also an excellent backup choice for professionals. It's a great guitar you can bring in your gigs or merely a practice guitar in your home.
Although this guitar is not the best for gigs since it's not acoustic-electric. If you're looking for a guitar you could use for your gigs, you can check out my list on awesome acoustic-electrics.
Best Selling Epiphone Acoustic
Epiphone has been in the guitar business for a long time now, and their brand is even licensed Gibson copies. 
The Epiphone DR-100 is not new but assuming it was released yesterday? It can still beat the crap of other budget guitars out there. 
The DR-100 is one of the best value guitars. It's one of those, "you'd be getting more than what you paid." It's cheap, but the build, sound, and overall quality are fantastic.
If you play country, bluegrass, folk, or even rock, this guitar won't disappoint you. It's versatile enough to be played in any genre.
Furthermore, the DR-100 is the only dreadnought of Epiphone that offers Limited Lifetime Guarantee and Gibson 24/7/365 customer service. 
How does the Epiphone DR100 Acoustic Guitar sound?
See your buying options at Amazon →
The Epiphone DR-100 is an amazing sounding guitar, despite its affordable price. It is perfect for beginners on a budget looking for their first guitar to start their musical journey.
The Epiphone DR-100 has a well-balanced sound thanks to its dreadnought shape. With the tonewoods combination, it also has crisp highs and deep lows. 
For the tonal quality, perhaps the only thing not emphasized is the mid notes. One other problem you might encounter with this guitar is the tuning.
It doesn't have a solid tonewood, which means it has less resonance than other solid top guitars. If you plan to make this your guitar for a long time, it will also be a bad investment. For a reason, layered guitars tend to deteriorate in terms of quality as time pass by.
From what I've heard, Epiphone has a bad reputation when it comes to staying in tune. Of course, that's only applicable to the "budget" level guitars. 
Unfortunately, the DR-100 is one of them. This guitar doesn't stay in tune that much.
Strong-willed Body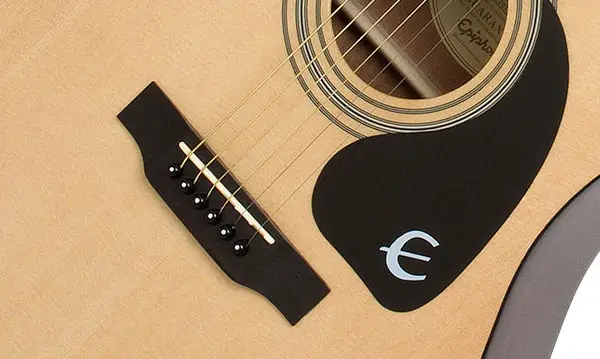 Select spruce top, and mahogany back and sides are the tonewoods that the DR-100 highlight. The spruce tonewood produces a clear sound while the mahogany produces bright tones and together makes a well-balanced harmony.
The guitar features a simple black pickguard with the iconic Epiphone "E." It also has three different colors, namely ebony, natural, and vintage sunburst. More option to fit your personality, am I right?
The spruce tonewood is rich and complex that it will start to breathe whenever you play it. Hence, you have to keep practicing on it to improve its quality further!
Slim-tapered Neck for Comfort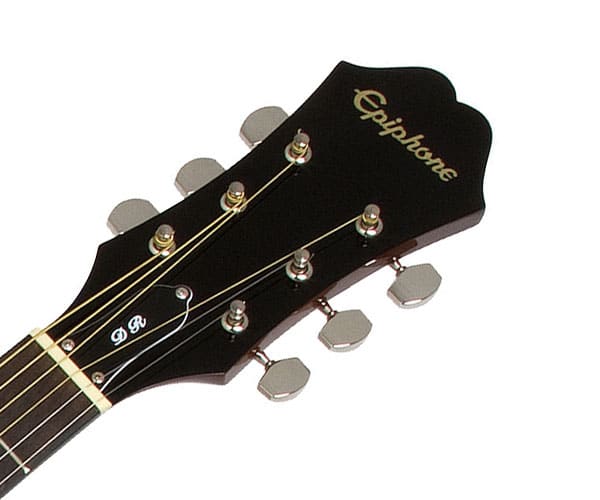 The Okoume neck has a SlimTaper profile with a rosewood fingerboard making it convenient for beginners and performers alike.
It features a sloped dove wing headstock and a die-cast premium tuners for an attractive sight of the head.
It also has a low action with light gauge strings, which is just perfect for beginners. You won't have a hard time practicing with this since you don't have to put too much effort when fretting.
One thing I don't like about the neck though, is that the edges are not rolled in. That means the fret bars are "sharp." Practicing would be painful, especially if you still haven't developed calluses when practicing. Most especially when you're doing barre chords, or doing slides
Is Epiphone DR-100 worth it?
I wouldn't say this is the perfect guitar. Technically, it's a budget guitar so it will surely have flaws.
It has amazing quality for its price — great sound, impressive build, but not an outstanding neck for playability. You might say that I'm overthinking things, but honestly? 
For guitar players, comfort is also significant other than the sound quality. If your fingers get easily fatigued, how can you keep playing?
If you're on a budget, the Epiphone DR-100 is something I'd recommend. The neck edges are something that can be corrected manually but with more effort.
Although, if you're planning to spend a little more for more comfort, still excellent quality, and a good investment, here are some of my suggestions.
Enjoy? Share with your friends!