When you buy through our links, we may earn an affiliate commission. Learn more »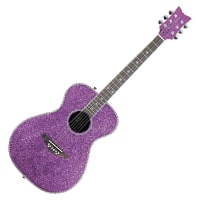 The Daisy Rock Guitar has unique, colorful, beautiful aesthetics like no other. An excellent sample is this Daisy Rock pink glitter pixie guitar. Of course, there are others such as butterfly, star, heart, etc.
For a teenage girl, any Daisy Rock guitar will be an excellent gift.
Sure, their design is their primary selling point, but is that all there is?
Let's find out.
PROS
Looks stunningly unique
Bright tone
The neck shape is excellent for youngsters
Features a piezo electric pickup
Lightweight body
CONS
Not budget-friendly
Headstock is a bit heavy
Daisy Rock Guitar Review
Daisy Rock Guitars are known for their astonishing guitar builds. To be frank, I haven't seen anything like these from a more notorious brand. Hence, it's bizarre.
The guitar I'm reviewing, in particular, has a pink sparkle finish. There's also a star-shaped, heart-shaped, etc. One mostly true thing is that kids are more concerned about looks than quality. In other words, getting her a pink guitar might just be the drive she needs to start her music journey.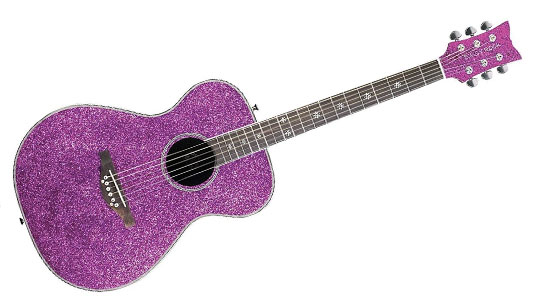 Anyway, it features a lightweight body and a slim and narrow guitar neck. Giving its playability an almost perfect score. If you're a guitar player, you know just how vital neck comfort is, particularly for beginners.
The composite back and sides are a bummer, though. Unlike the usual wood, it's made of plastic. In the world of guitars, this is not a good thing. Technically, it's not a bad thing either.
But get this:
A wood body (laminated or solid) has a better resonance, projection, and tone than a plastic build.
Other parts, such as the electronics and the hardware, are pretty average. Simply put, they perform their job well—like staying in tune, holding the string in place, etc.—so that's still a win.
Sound Quality
I didn't expect much regarding its sound. However, it's surprisingly good. The daisy rock guitar boasts a rich tone and good projection.
You see, one major factor for uninterest is the crappiness of the sound quality. It may be attractive, but if it doesn't even sound right, why bother? Indeed, it's not just amongst kids, even for adults, right?
Luckily, it has a good sound quality. Adequate that your kid won't get bored by its tone. For adults, it can even be a good practice guitar.
On the flip side, don't expect anything extraordinary if you're going to plug it in. It's okay, but it could be better.
Technical Specifications
Is Daisy Rock Guitar worth it?
I'm assuming that this will be a gift for a teenage girl. If that's the case, then I highly recommend it. One of Daisy Rock's goals is to encourage more girls to pick up the guitar.
There are a lot of reviews saying their daughters had excellent feedback when they got the guitar.
On another note, if you want a guitar that's a better value for the money, check out my Best Acoustic Guitar for Kids.
Enjoy? Share with your friends!