When you buy through our links, we may earn an affiliate commission. Learn more »
The Seagull S6 Guitar is one of the most sought out intermediate-level guitars. Needless to say, it's an excellent choice for both intermediate and beginner players alike.
Here's the thing:
This guitar features a unique set of tonewoods compared to the usual Spruce and Mahogany. In other words, the Seagull S6 is a fantastic option if you want one-of-a-kind sound and feel from a guitar.
In fact, some famous artists used (and use) the Seagull S6—one of them is James Blunt.
Now, to get the ball rolling, let's start with its pros and cons.
PROS
Incredible value for a mid-range budget
Well-crafted with high-quality solid wood
Beautiful clear and bright tones
Stays in tune well
Numerous versions
Available as a left-hand guitar
Includes a case (depending on where you'll get it)
Tusq nut and saddle for better quality
Lifetime warranty
CONS
The bass side is not robust
The thicker neck may make playing difficult for those with small hands
Seagull S6 Guitar Review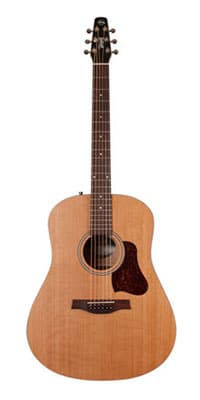 The build quality of this guitar is simply phenomenal. It's handmade in Canada, so it's definitely built with years of experience compared to mass-produced factories. Not to mention, they use high-quality and sustainable materials.
Now:
The S6 has a simple yet refined dreadnought design with a solid cedar and wild cherry wood body. However, due to its solid wood construction, it's a little pricey. 
But wait, let me tell you something:
Because of the solid build, you'd have a much better guitar. More importantly, its quality improves over time, so you could think of it as an investment.
Additionally, they pressure tested the solid top to ensure robust stiffness along with brilliant harmonic vibration. Essentially, this dramatically improves the sound quality of the Seagull S6 Guitar. Combined with the strong yet light Sitka Spruce bracing, the instrument also accentuates top-notch durability.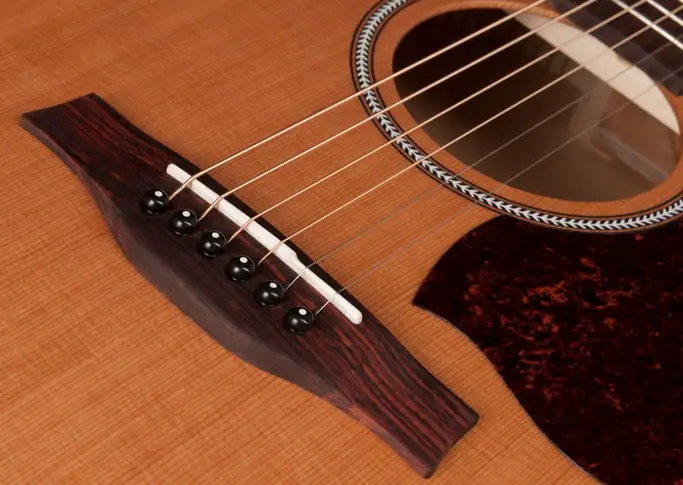 On a slightly different note:
The Seagull S6 Original has a simple semi-gloss lacquer finish. Combined with the peculiar tonewoods, the guitar looks absolutely attractive. 
Here's the thing:
This instrument will likely appeal to you if you love the classic look of an acoustic guitar. On the other hand, if you prefer a flashier design and finish, you should check out its variants instead.
Oh, and by the way, it has a distinctive head design. To be honest, I find it delightful—it's like a nudge to the guitar's, nay, the brand's uniqueness.
How does the Seagull S6 sound?
See your buying options at Amazon →
The Seagull S6 Original Guitar is a perfect intermediate and beginner instrument with a bright, full-bodied sound with 25.5 inches (647.7 mm) scale featuring a solid top. For a midrange budget guitar, it's built with a high level of craftsmanship, just like premium instruments.
Here's the thing:
The S6 Original Guitar features an excellent intonation with bright mids and high tones. Coincidentally, the best quality you'll likely admire is the clarity of each note you pluck or strum (wherever you are on the neck). Needless to say, this is beyond perfect if you're a fingerstyle player or lead guitarist.
Better yet:
The string instrument produces nice sustains and overtones, complementing the overall sound quality of the guitar.
Here's the catch:
The bass isn't that robust compared to other dreadnought guitars. Therefore, if you want a more bassy instrument, you should consider other guitars, such as Martin D13e or Yamaha TransAcoustic Guitar.
Is it comfortable to play?
With a slightly thicker neck, you might find this a bit challenging if you have small hands. Luckily, as a solution, the brand also offers S6 Cedar Original Slim. In short, you can still get the same exceptional guitar, but to a more comfortable degree.
Similarly, they also have Seagull S6 Left-Handed, if that's what you're looking for.
Here's the kicker:
The body boasts a distinct angle, wherein the upper bout is slightly narrower than the lower bout. As a result, you'll have more comfortable playability compared to regular body shapes. 
On a slightly different note:
Despite having a bit of high action, the playability of the Seagull S6 is still terrific overall. You see, the action's height also adds up to the crisp and lovely tones of this guitar. 
In addition, it highlights a TUSQ nut and saddle. Essentially, it further enhances the intonation and playability of the guitar. 
Now:
The Seagull S6 has quality, specially-aligned stock tuning pegs with a smaller than average tapered head. In other words, your guitar will stay in tune well. 
The S6 also highlights a dual-function truss rod that bends in both directions. In short, ​​you don't have to worry about neck bending. 
As if that's not enough:
An electronic-acoustic version of the S6 is also available, excellent for gigging musicians. Check it out in the following section.
Seagull S6 Variants
The Seagull S6 variants have similar specifications as the original with some improvements—with pickup, smaller neck, and different aesthetic choices.
Technical Specifications
Is the Seagull S6 worth it?
The Seagull S6 Original Acoustic Guitar is ideal for beginners or advanced players. It may be a little expensive than other beginner guitars, yet given its overall build, design, and sound quality? You can't really go wrong with the S6.
FAQs
Are Seagull Guitars good?
Yes, 100%. With the Seagull S6 alone, you can see the effort they put in to create a superb quality guitar. Not to mention it's handmade, just like Martin Guitars. In other words, the guitars are undoubtedly better than the mass-produced ones by factories.
Is Seagull S6 electric acoustic?
You can get the Seagull S6 as an acoustic-electric version featuring Godin EPM Quantum IT (Q1T).
Where is Seagull S6 made?
Seagull, which is a sub-brand of Godin Guitars, is Canada-based. Consequently, Seagull Guitars are made with excellent craftsmanship in Quebec, Canada.
What size is the Seagull S6 Guitar?
The Seagull S6 Acoustic Guitar is a dreadnought-size guitar with a scale length of 25.5 inches or 647.7 mm. Fortunately, if you have small hands, you can still get the Slim version for more convenient playability.
Enjoy? Share with your friends!