What's the best way to apply your training?
Playing songs, of course!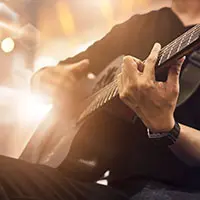 So far, I've listed approximately 25 easy guitar songs you can play along!
Let's play!
As a beginner, it's challenging to find easy guitar songs you could play along.
Usually, popular songs consist of difficult chords or complicated strumming patterns. 
Here's the deal:
If you want to learn the way of guitar, I don't recommend starting with songs.
Although for us, it's quite hard not to try to look for our favourite songs and play, right?
I'm not saying it's a bad thing if you want to start practicing songs right away. Just make sure you also learn the basics of guitar. 
These include terms, how to read chords, how to read tablature, stuff like that. 
Either way, you'd learn this stuff along the way. 
Better yet:
If you know the basics, you sure can play your favorite songs much more comfortable and faster.
So, when practicing the basics, you can do it while playing your favorite songs, making practicing more fun!
The table below all have easy chords, some might have complicated strumming patterns, but you'll get it with practice.
I've added a column for strumming difficulty, ★ for an easy strumming pattern, ★★ medium, and ★★★ hard (intricate and fast) strumming pattern.
Here are some easy guitar songs you could play anytime:
These songs are simple ones. 
Some songs may have a complicated strumming pattern, barre chords, and sometimes even need some beat while strumming.
You'll learn all the complicated stuff later. 
You need to focus on basics if you're a beginner.
Below are some videos of how professional guitar players, well, play.
My favorite is Sungha Jung. 
He's excellent, doing melody and harmony altogether using a fingerstyle technique.
What's more interesting is that he arranges the songs he wants to cover!
Awesome right?
Some artists even have unique ways of playing, such as using the tuning pegs to change the pitch or the note.
Soon enough, you'd be playing like them.
Just keep practicing!
Enjoy? Share with your friends!