There are a lot of songs that require capo. If you don't have one right now, I'll teach you how to make a DIY capo.
Here's the deal:
Capos are just cheap, so this homemade capo should be a temporary fix.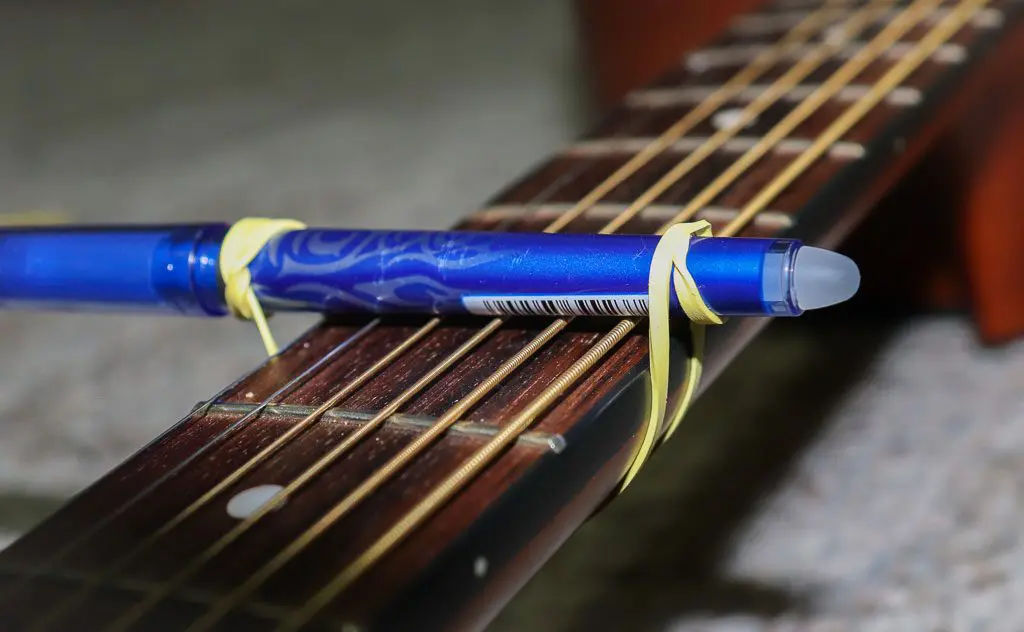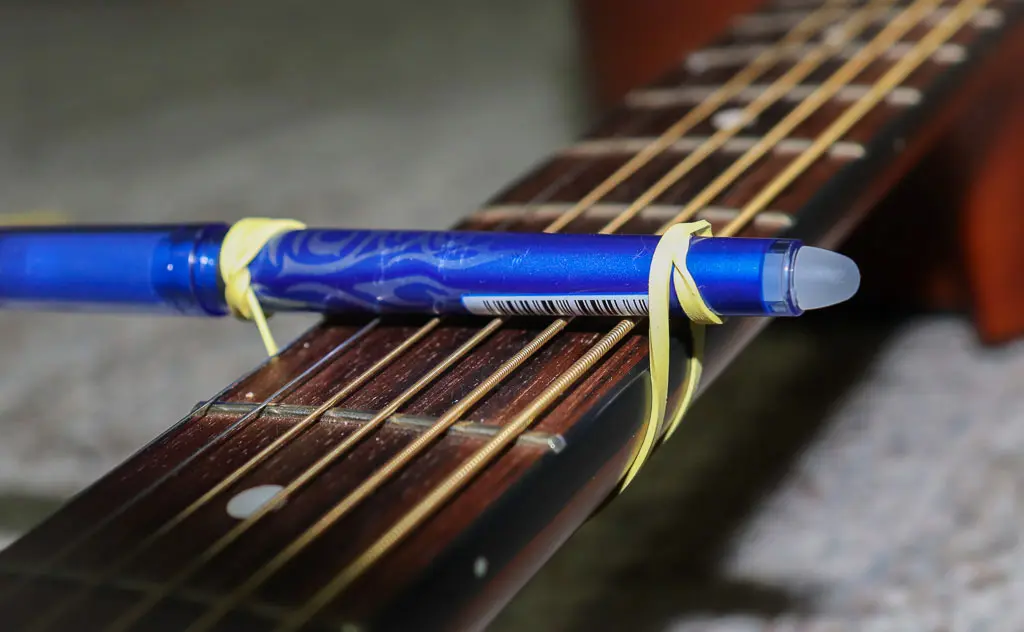 Furthermore, I also listed popular guitar songs that don't require capo.
Funny thing, guitar capos are also called guitar clips or guitar clamps.
DIY Capo: How to make your own makeshift Capo
1. Gather the Materials
Pen, pencil, marker, or anything that is long enough to cover the neck's width.
Rubber band or elastic hairband. Anything stretchy is much better because it will be much easier to tie.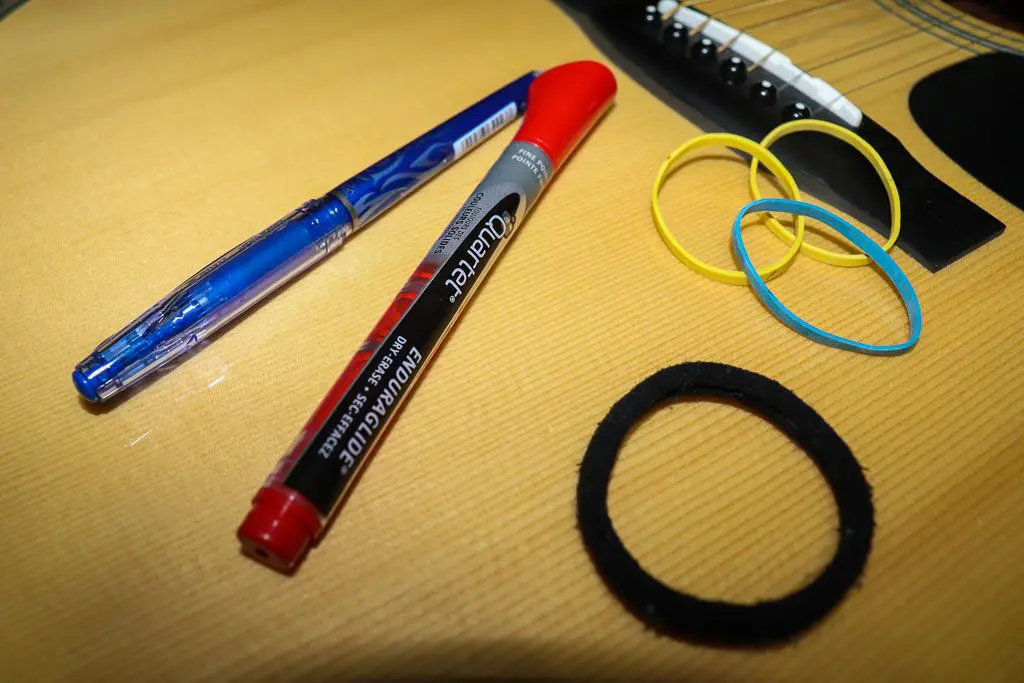 Note: A thicker rubber band is actually better for this job.
2. Align the Pen to Desired Fret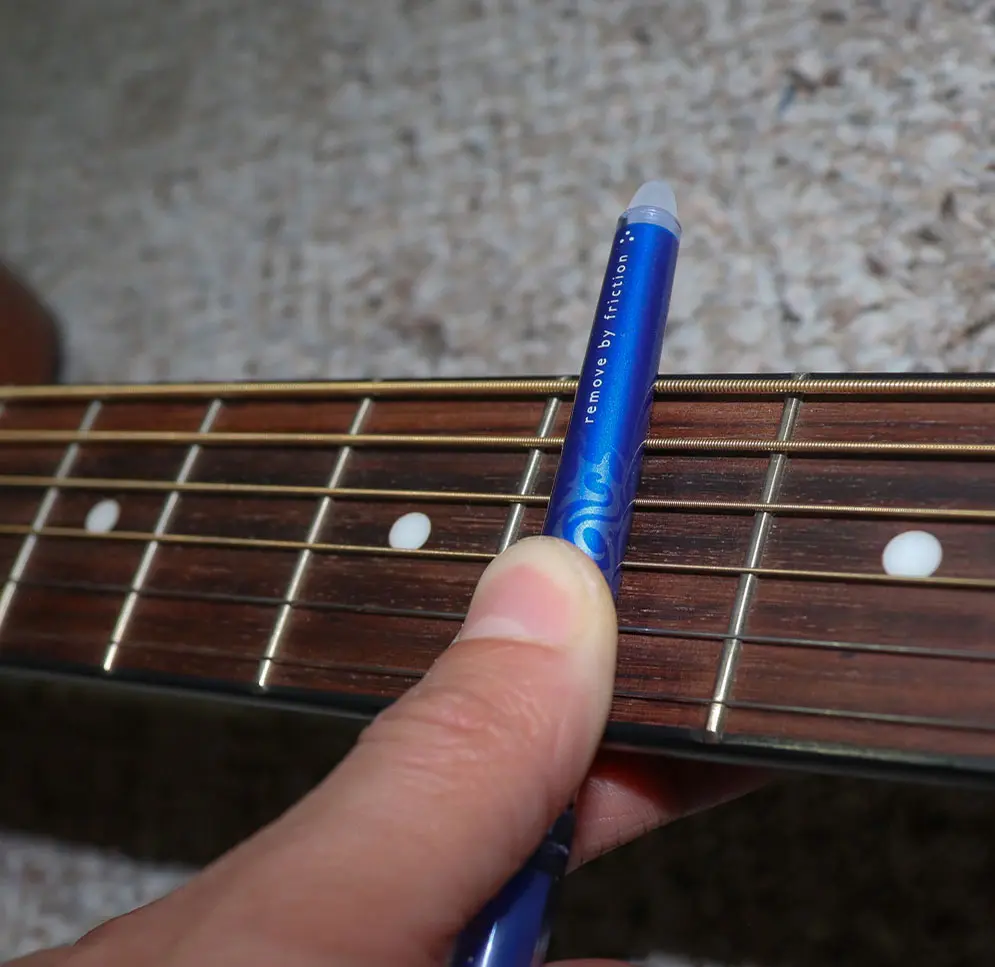 When aligning the pen, make sure it is near the fret. (Fret that is farther from the nut and closer to the body.)
If you do, you can avoid any buzzing sound or ghost strings later on.
3. Connect the Rubber Band to the Homemade Capo
Now:
Hold the pen tightly in its position.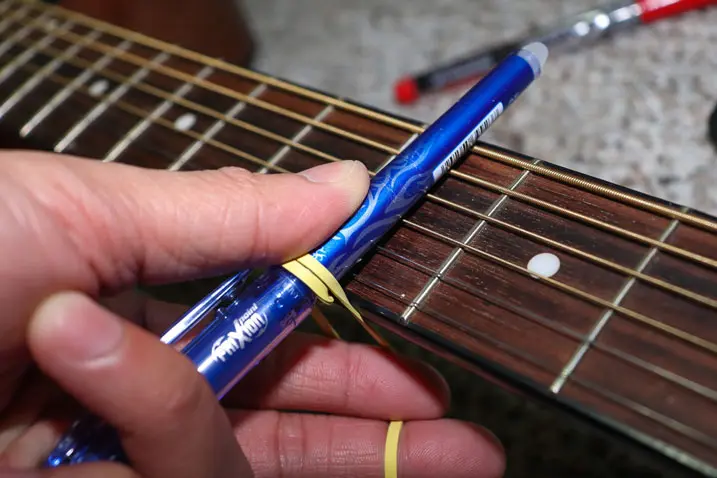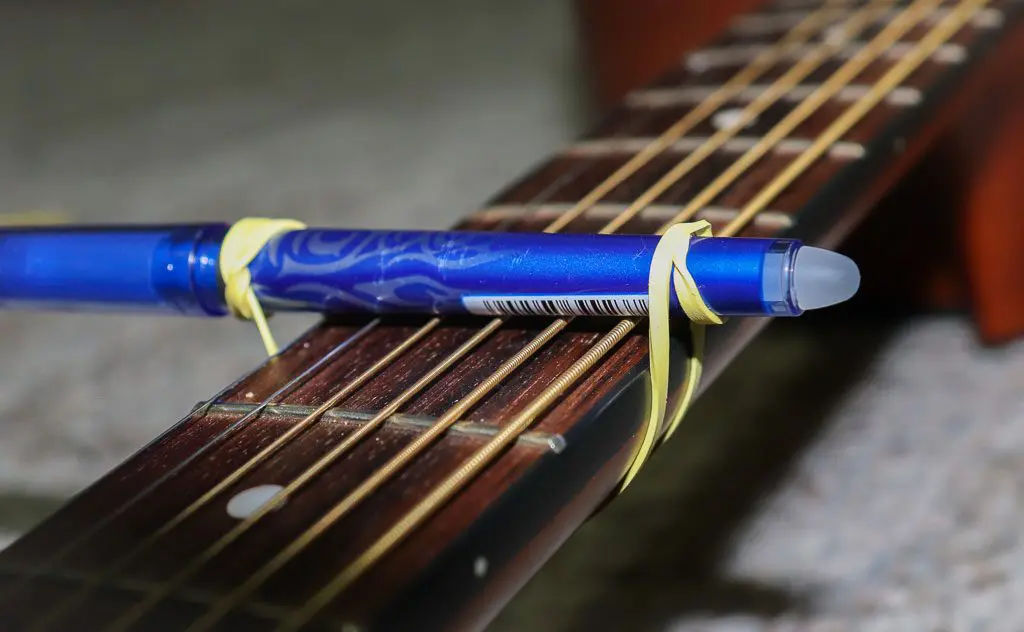 Loop the band around one end of the pen to the other by going around the neck.
Here's the thing:
If it's not tight enough, you can either make another loop using the same rubber band or add some more rubber band(s) to tighten it.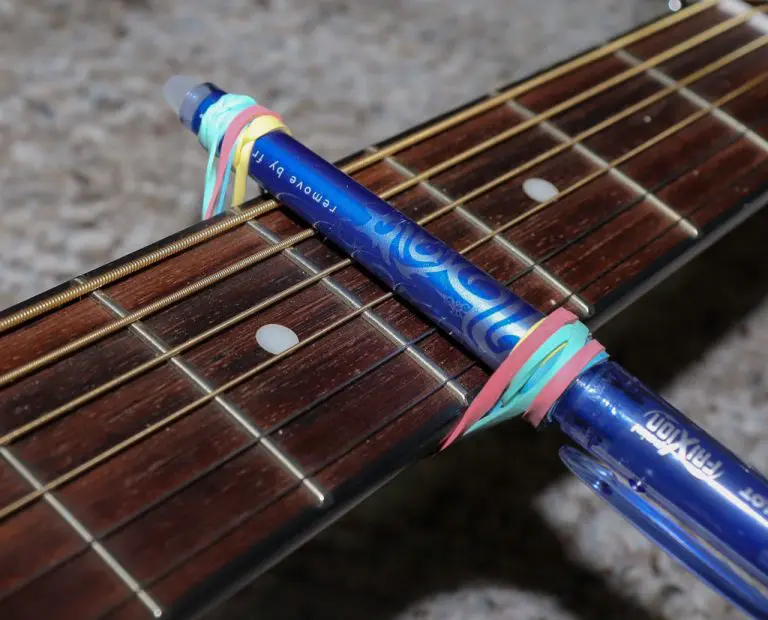 4. Listen Whether it Sounds Nice
Time to test!
Try plucking each string if they sound nice. 
If any of those strings doesn't sound right, the capo is probably not tight enough or placed wrongly. 
You can adjust it by moving the capo closer to the fret.
You can also tighten it by adding another rubber band until you get the desired sound.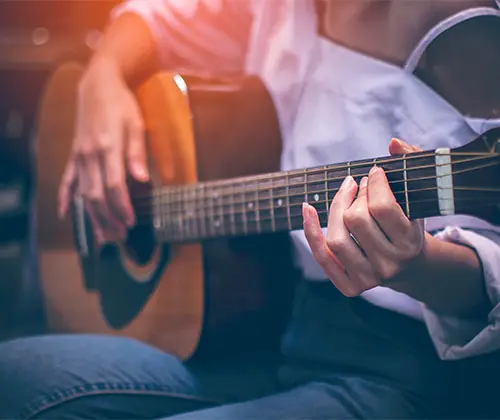 On the other hand, if it still doesn't work, you might want to try a different pen, or perhaps a pencil.
If it sounds incredible already, you can move on to the next step.
5. Start Playing with your DIY capo!
Voila! 
You have a homemade capo!
You can now play your guitar with the songs you want that require capo!
DIY: Ukulele Capo
To be honest, it's just the same thing as a guitar. 
It's only smaller, so it should be easier to make a ukulele capo with the same materials.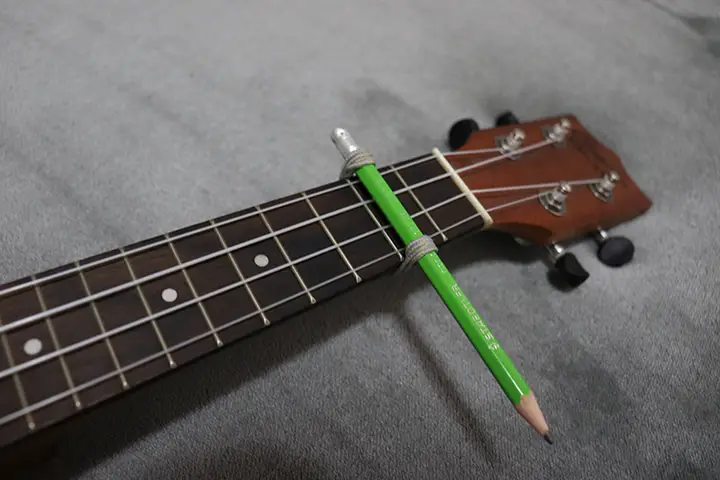 In fact, if you have a guitar capo, you can try it on your ukulele. That will work quite well.
On the other hand, you can't use a ukulele capo on the guitar. Only because it won't fit.
How to Make a Capo Without Rubber Bands
You can also use zip ties, yarn, shoelaces, or even a fishing line (albeit, using nylon will be troublesome). 
Let's start with zip ties:
For this to work, you need two zip ties and two pencils (or pen).
1. Prepare the zip ties or cable ties
Spin it around and slide it into the clasp.
The loop shouldn't be too small, about 1.5 inches in diameter.
Do this for both ties.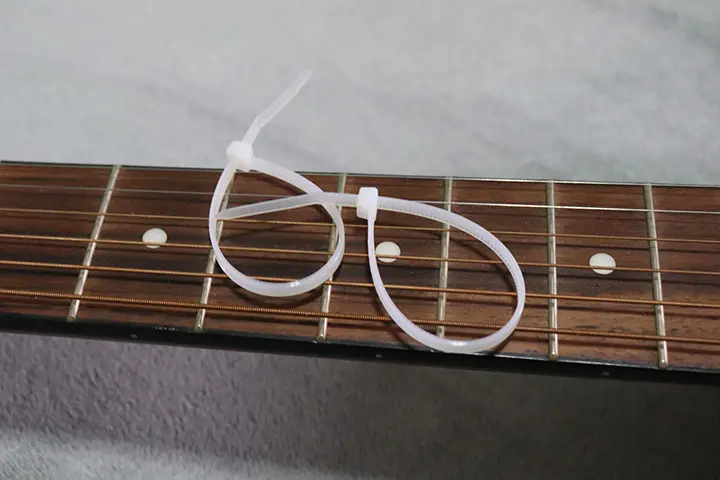 2. Align the pencils to whichever fret you want.
The pencils should be parallel to each other.
The other is behind the neck, while the other is in front of the fretboard.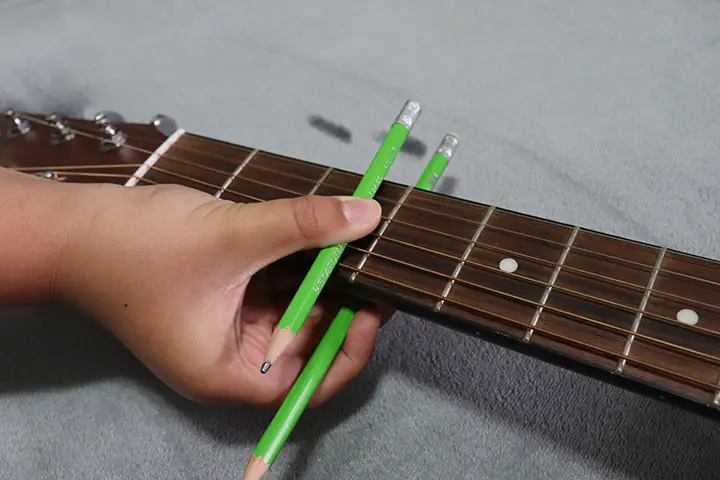 3. Hold the pencils in place with one hand.
Using your other hand, place both the zip ties while encompassing the two pencils.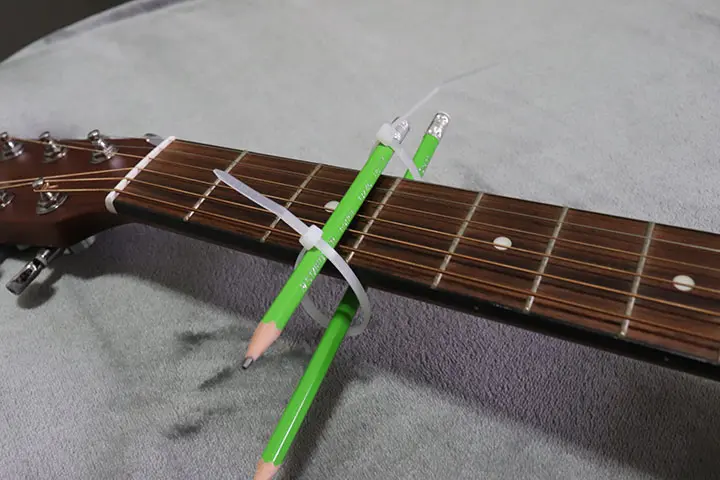 Then, tighten it.
When you tighten it, don't tighten it all the way in one side. Make sure both sides are equal.
Basically, pull a little bit on the right, pull a little bit on the left, pull again on the right, then left, and so on.
If you just pull on one side, it'll practically be impossible to tighten the other zip tie. In other words, you'll have to get a new zip tie.
4. Pluck each string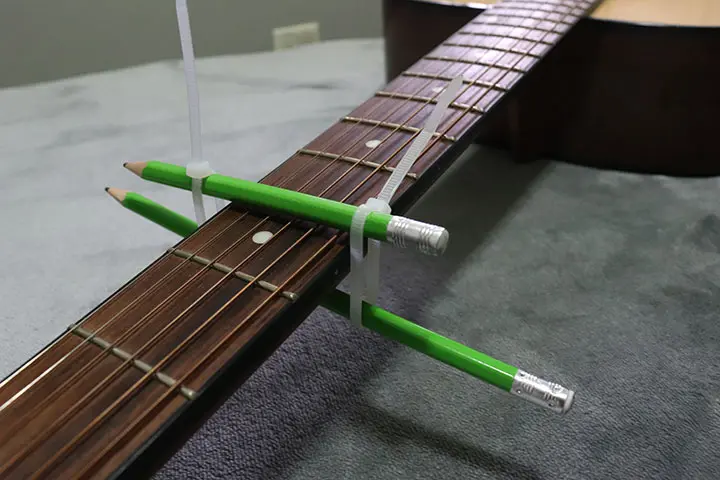 Do they sound good? If so…
Ta-dah! That should do the trick.
If it doesn't sound correct, you might have to secure the zip ties even more to tighten the capo.
For the yarn, shoelaces, or any other string, you just need to make a loop de loop (the same as what we have shown using rubber bands.) 
Since it isn't as flexible as a rubber band, you have to tie it. Make sure it's rigid, because we don't want it to snap, eh?
You can always check if it's tight enough by plucking the strings.
Other than all of these, there is still a capo substitute.
Wait for it…
You can play other songs without capo!
Easy popular guitar songs without capo
Here's the kicker:
You can still play any song that requires capo, without a capo. 
Sounds confusing but hear me out: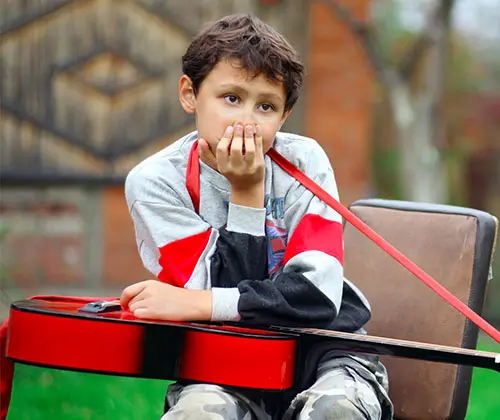 Capos' main purpose is to transpose the key of your guitar, or in simple terms, increasing the pitch.
So if you're not gonna use a capo for a song that requires it, it'll be slightly lower. (Depending on where it is supposed to go.)
If you'll sing along, you'll have to sing a lot lower to match the key that you're in.
You can also learn music theory. Though, that will take a lot of time, it'll be better and faster to make your own guitar capo.
Final Thoughts
You can basically create any DIY capo as long as it's function is the same as a real capo.
Furthermore, you can buy capos that aren't even that expensive and they can surely last you a long time! 
Funny thing worth sharing: I lost like three capos already (silly me).
Do you have your own way of making a homemade capo? Feel free to share with us in the comments below.
Either way, happy strumming 🙂
Enjoy? Share with your friends!