When you buy through our links, we may earn an affiliate commission. Learn more »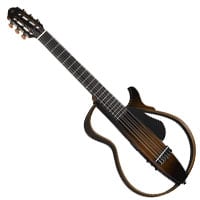 The Yamaha Silent Guitar is an unusual (in a good way) guitar along the TransAcoustic, carbon fiber, Acoustonic, and many more.
Here's the deal:
"Silent" is contradictory in the guitar world, but for this instrument it is an excellent feature. This actually makes it the best practice guitar since you can practice quietly.
Naturally, that's just the tip of the iceberg. There's a lot of other reasons why this guitar is excellent. For one, it has an onboard reverb and chorus effect, so you won't be needing an effects pedal.
Now, let's find out what other great things this instrument has to offer…
Before we start, I just need to clarify this:
In general, there are two variants: steel and nylon. Their overall quality, build, and how they work are pretty similar, so I will be referring to either one in this review.
PROS
Excellent for both practice and live performance
Cutaway design
Fantastic sound quality
Compact design and removable frame for easy traveling
Headphone jack for quiet practice
Includes a built-in tuner
It comes with an adjustable truss rod
The electronics are top-notch, with manual controls and effects
It comes with a bag
CONS
Premium guitar with lavish price tag
Odd placement of the strap button
It's not comfortable for beginners
Ideally, this guitar is for intermediate and experienced acoustic or classical guitar players.
Even though it's technically a practice guitar, I don't thoroughly recommend it to beginners. One issue is its price, not so budget-friendly if you ask me. 
The other is the "feel" of a genuine acoustic, or classical guitar is different from the silent guitar. It's not exactly bad, but some beginners may find it inconvenient.
So, if you're a beginner, check out this best beginner guitars list instead.
Yamaha Silent Guitar Review
The body is certainly different from any guitar that I've tried. It's not new; still, the silent guitar is unique.
Even though it's a hollow body (or a see-through), it still has a bit of weight. It's also compact and slim, making it ideal for people with small to average body size.
The silent guitar feels more of an electric guitar than an acoustic or nylon (except for the strings, obviously). What I mean is the slim body shape is similar to that of an electric guitar.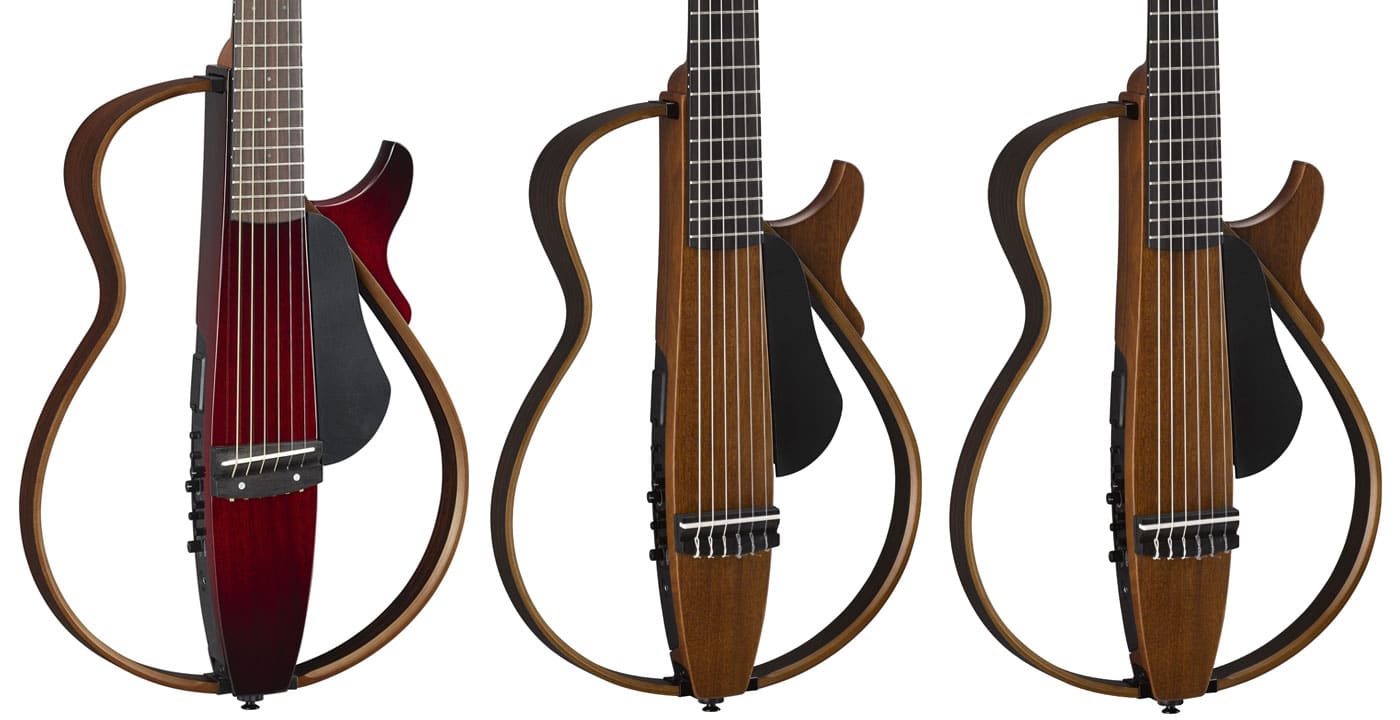 The frame is made of Rosewood and Maple, while the body (centerpiece) is mahogany. I really like the detachable frame since the guitar will be far more compact when traveling.
Speaking of travel, it is ideal for practicing on the road. For a campfire, definitely not. You will be needing an extra amplifier or something, which destroys the idea of "easy to carry." 
For live performances, it'll be alright. Not the best, but good enough.
Here's the deal:
The tonewoods don't have much to offer in terms of the overall sound. For the sound quality, we'll talk about its electronics.
How does the Yamaha SLG200s sound?
Here's a video demo from Yamaha:
See your buying options at Amazon →
The Yamaha Silent Guitar is an excellent practice guitar. Naturally, it's not just for practicing since there are loads of features that come with it. The 4 significant peculiarities are the SRT system, reverb and chorus effect, quiet practice, and unique "skeleton" aesthetics. Better yet, there are 3 variants and 4 distinct colors to choose from.
The SRT-powered system is definitely top-notch. It certainly is not the simple pickup systems from cheap guitars.
My favorite feature of this guitar is you can plug in a headphone to not bother others when practicing. Naturally, this is already a thing for electric guitars since you can just plug in your headphones to the amplifier.
However, for this silent guitar, you can directly plug the headphones into the guitar. So, you can practice wherever.
Now, there are four major things you need to know about its electronics:
1. SRT
In simple terms, it's a pre-recorded sound from a genuine guitar. "Genuine" because this technology aims to reproduce the acoustic or classic sound, including the sustains and decay.
So, when you use this feature, it's as if you're using a real acoustic/nylon guitar. It sounds majestic, crystal clear, and vibrant.
Here's the deal:
There's just one thing I noticed that I don't like. It's not as expressive compared to using the pickup mode. Simply put, its dynamics are not that profound.
But, when you utilize both at the same time? Well, let's just say you're gonna love it.
2. Piezo pickup
The piezo is just on the "okay" level.
Here's what I mean:
It works like any other piezo pickup, but it's not as straightforward as I'd hoped.
The dynamics, luckily, are excellent. This is also true for the sustains. 
Now:
The dynamics were the problem (personally) of the SRT. This is why, if you use both the piezo and SRT (50-50), it will sound excellent. It's clear, precise, expressive, and lively.
The overtones, on the other hand, are not that emphasized.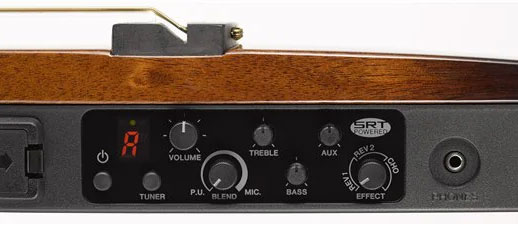 3. Controls
You can control the treble and bass. By manipulating either or both of these, you can play your own sound. Or simply correct the tonal quality of the guitar itself to your liking.
4. Effects
I really love the reverb of the silent guitar. If your room doesn't have an acoustic atmosphere, this will be the answer to that. By using this, it will feel like you're playing in an acoustic recording studio. 
My most straightforward explanation for the chorus effect is the sound of a 12 string guitar. So, you're like playing a 6-string with the majestic tone of a 12 string guitar.
Both of these without any effects pedal, pretty cool, right? Sadly, it's hard to change it while playing.
These effects are also available on my all-time favorite Yamaha TransAcoustic guitar.
By the way,  there's also the AUX input jack which you can use a CD player or an MP3 to let you play along with any external music source. 
Since CD players, or even MP3s, are now obsolete (almost), you can also use your phone if you have the right accessories.
Playability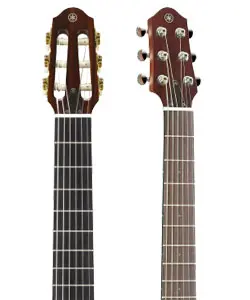 For classical players, it might feel weird at first. However, with time, you'll get used to it. Wait, actually, this is true for anyone since it is indeed an odd guitar.
In any case, the neck feels comfortable to hold, so you won't feel estranged when you play it.
More importantly, it has a built-in tuner, so you no longer need to bring or use an external tuner. 
Better yet? The silent guitar stays in tune, even after hours of playing.
Yamaha Silent Guitar Specs
Is Yamaha Silent Guitar worth it?
It has more to offer than just quiet practice, which is why I totally recommend it. So, suppose you want an extraordinarily unique guitar, mainly for practice or perhaps just about anything. In that case, you should totally consider Yamaha Silent Guitar.
Enjoy? Share with your friends!