When you buy through our links, we may earn an affiliate commission. Learn more »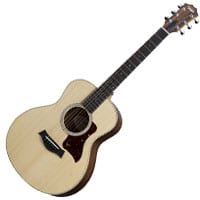 There are a lot of great small guitars, but sometimes their volume will be disappointing.
Luckily, the guitar that I'll be reviewing won't disappoint you.
It's the Taylor GS Mini, the smaller version of Taylor's excellent Grand Symphony Series.
Let me give you a scenario…
All of a sudden, your friend suddenly asked you to go with him/her on a road trip or camping. You have one minute to grab what you need. What do you get? Go!
If you're a musician, you're probably gonna grab some sort of instrument amongst other things right? Guitar is the easiest to carry around. Especially it has a majestic sound when it comes to jamming on a campfire.
That's when the small guitars come in. Less hassle to carry around. Thus, the Taylor GS Mini.
PROS
Lightweight, which would be easy to carry around.
Volume is comparable to regular sized guitars.
It is made of durable materials.
Thin neck, for people with small hands.
It stays in tune.
CONS
Some buzzing may occur.
Electronics are not included.
A bit expensive.
The GS Mini is perfect for people with small hands, kids, or travellers. It's a compact guitar that you can play anywhere. You can play it on your couch if you want it to be a home guitar, but at the same time, it can be your travel companion.
That's right. It's small, so it can easily fit in your car's hood, and it is such a versatile guitar. Most importantly it's also sturdy so wherever you bring it, as long as you take care of it, it'll always be in excellent condition.
Mostly ideal for strummers and flat pickers because, even with a light attack, it still has an amazing clear response.
It can also be an acoustic-electric guitar if you add the ES-Go pickup which is customized just for GS Mini. Hence, if you play on gigs, or record your music, this guitar is also a perfect choice.
Note that, this is a "mini" version, a scaled-down Grand Symphony to be specific. If you're not into small guitars, here are some alternatives you might want to check out.
Tenacious Compact Acoustic-Electric Guitar
As per usual, Taylor creates excellent guitars, one of the best brands if you ask me. One of those guitars, is well you guessed it, Taylor GS Mini.
The award-winning Grand Symphony of Taylor has a scaled-down or "Mini" version. The compact guitar is mostly for comfort to carry during travels or for people with smaller hands.
For minimalists, it may also be to save some space at home. I mean we don't want something too bulky or occupies unnecessary space if it is possible for "that" something to be compact.
That aside, this guitar is like a modern-day versatile parlor guitar. Thanks to the dynamic range of the tonewood, it is suitable for any genre. So, whatever style you are or will be playing, this guitar will not disappoint you.
The electronics that you can install are sold separately. Although it does include a gig bag, which means you won't have to worry about buying a bag to carry it around.
Well-Made Taylor Guitar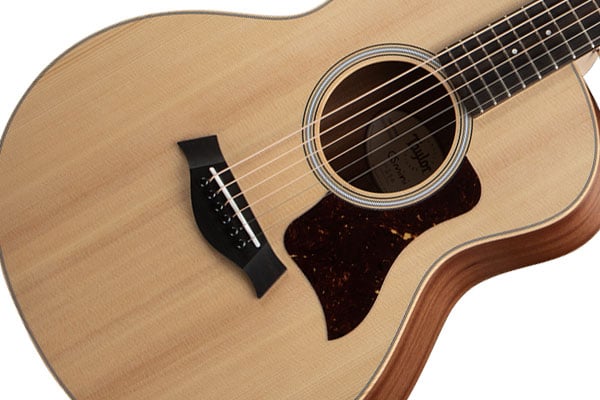 This guitar features a solid Tropical Mahogany top or Spruce, and for the back and sides, it has a layered Sapele. Laminated tonewoods may not be the best, but this one is affordable and durable.
Other than its durability, it also features a satin finish and a tortoise pickguard giving it a gorgeously simple design. 
This model, GS Mini, is based on Taylor's GS. The Grand Symphony is the second biggest body shape introduced by Taylor; Compared to Grand Auditorium, it has a full waist and more significant lower bout. 
It is mostly known for its powerful sound, which is something you can still expect in this mini version.
Huge Voice for a Small Body
See your buying options at Amazon →
The Taylor GS Mini version of the award-winning Grand Symphony of Taylor. It is so compact that you can bring it anywhere and versatile enough that you could even upgrade the guitar to an acoustic-electric to join you in your gigs.
Usually, the sound of a mini guitar is not that big. Sometimes it even has a "boxy" sound. But the Taylor was able to fix that problem.
The solution is their product, GS Mini. Surprisingly, a scaled-down Grand Symphony guitar makes a bigger sound than other smaller guitars.
The GS Mini produces a rich, full quality sound, robust bass, rich tone, and long sustain.
Strummed softly or with a medium attack, the Mini produces a warm, clear tone that slightly favors the midrange but with bright trebles and rich bass.
Add-on Electronics for GS Mini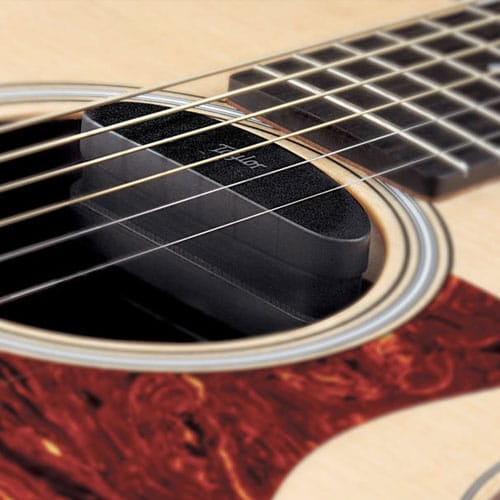 The GS mini can be an acoustic-electric if you add their aftermarket custom easy-to-add ES-Go™ pickup.
This pickup was made especially for the GS mini. It is a passive magnetic soundhole pickup that you can install easily. The guitar already has a pre-fitted connecting bracket, so all you need is a screwdriver, voila!
You can also pair it with a V-cable, which should give you a built-in control for the volume. Awesome right?
Lightweight comfort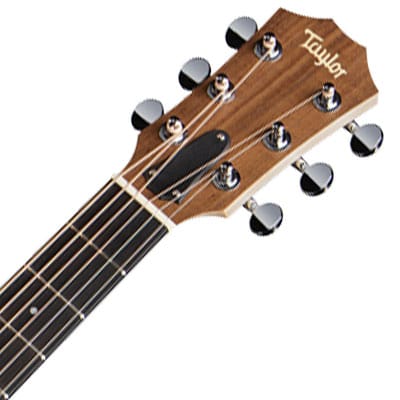 It features a patented Taylor neck and an ebony fingerboard. The neck is thin, having a scale of 23.5 inches and 20 frets, which makes it easy to play for people with small hands. 
Other than the thin neck, it has a low factory-set action making it a perfect choice for beginners. 
For people moving a lot, or travelers per se, this guitar is admirable. It's incredibly portable and lightweight making it easy to bring anywhere without hassle.
It is not just me who think this guitar is great. Others even described it as "small but mighty", and "full of sound". Here are some artists who have loved this guitar as well. 
IS Taylor GS Mini worth it?
If you're looking for a mini guitar that's unlike any other, Taylor GS Mini should be your ideal choice. Compared to other smaller guitars, this guitar doesn't have the problem of a "small" sound contrary to its size.
This instrument may be a small guitar but damn, it sure does pack a punch. Assuming that you are in a budget, this guitar will definitely not disappoint given that it's a Taylor guitar.  For fellow travellers, this is an excellent option especially because you can bring it anywhere without that much hassle. 
Enjoy? Share with your friends!