When you buy through our links, we may earn an affiliate commission. Learn more »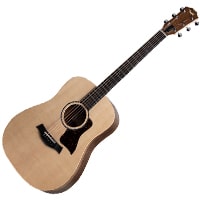 UPDATE: Sadly, Taylor BBT is unavailable at Amazon. Instead, check out these excellent acoustic guitars as an alternative for the Big Baby Taylor.
The usual problem of smaller guitars is their sound.
They have lower projections, and almost impossible to find a little guitar with nearly the same tonality as the dreadnought. 
Lucky for you, the Taylor Big Baby is actually in between small and big guitars. 
Furthermore, this guitar doesn't compromise comfort nor sound quality.
In this review, I will be talking about the bigger version of the Baby Taylor, which is the Big Baby Taylor. After reading this article, you'll find out whether this guitar really doesn't discredit the comfort and or the sound over the other.
PROS
One of the affordable guitars of the famous Taylor
Perfect size for everyone
Lightweight
Durable
No buzzing
Comes with a bag
Premium craftsmanship and materials
Excellent for travel
Ideal for beginners
CONS
More expensive than other beginner guitars
Not exactly the same sound as dreadnought
A bit grainy but no effect toward the sound
This guitar is ideal for flat pickers, fingerstyle players. Strummers will also find this great, but with its crispness in sound, the earlier mentioned will love this more!
If you're looking for something smaller which may or may not have lower sounds, but easier to carry around, here are other options I can suggest.
Also, if you want a guitar that you can plug in, the Big Baby isn't for you. I have a list of acoustic-electric guitars that you might find interesting.
Premium Craftsmanship
This marvelous guitar is made with love or rather excellent craftsmanship at Tecate factory of the reputable Taylor.
I'm sure you already know that Taylor is one of the leading brands in the guitar industry. Therefore, any of their guitars are indeed not half-assed. Even their affordable guitars have a premium feel, especially this Big Baby.
This guitar also comes with a bag. So, if you plan on bringing it for your gigs are simple travels, this will be a massive asset for you. It won't only be less hassle, it'll also protect your guitar from any external hazards.
The perfect size for everyone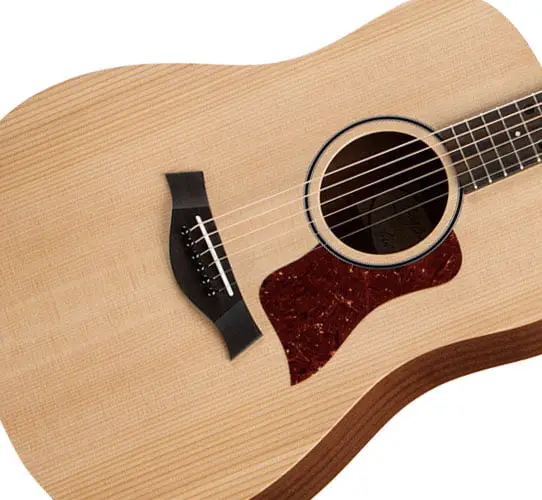 The Big Baby Taylor has a more significant body than a baby guitar and smaller than a dreadnought guitar.  It's something in between which makes it the ideal size for anyone at all. 
In technical terms, it is a 15/16 size guitar. This kind of size resolves these problems:
For baby sizes: Weaker and boxy sound; hard to fret for people with bigger hands;
For dreadnought: Harder to carry around as a travel guitar; Might be too big for people with a smaller frame;
The BBT has a premium construction composed of solid Sitka Spruce top and layered Sapele back and sides. Its solid top gives it a sturdy build and a more prominent resonance. 
Other than that, this solid wood will last you a long time and will only improve its quality over time. Pretty notable investment if you ask me.
The laminated sides and isn't really a disadvantage considering it is a travel guitar. If you must know, layered tonewoods mean it isn't susceptible to temperature or humidity changes. Less thing to worry about right?
It has a beautiful matte finish with single ring rosette and attractive tortoiseshell pickguard. With these features, a simple guitar can turn into something gorgeous!
It is not only the tonewoods that make this guitar sturdy as it is. There's also the X-bracing of a guitar allowing it to be durable and giving it a crisp sound.
It also features a pronounced arch for its back. It's quite similar to an f-hole jazz guitar, but it is pressed rather than carved for rigidity and improved projection of the guitar.
How does the Taylor BBT Guitar sound?
See your buying options at Amazon →
The Taylor Big Baby is a slightly smaller guitar but still has the quality of a dreadnought. It's an amazing guitar that you will surely love. Whatever genre you play, whatever you're gonna use it for, this is perfect for you.
The BBT has a great well-balanced sound. It has an excellent dynamic range and crisp articulation thanks to the combination of solid Sitka and layered Sapele. 
Due to the solid tonewood, it also has a lot of projection and resonance. Producing rich tones which is for flat pickers or fingerstyle players alike.
It has a medium action so you don't have to worry about any buzzing that may occur. 
It doesn't exactly have the same sound as a regular-sized guitar, but close enough to be considered remarkable.
Comfortable Neck of the Big Baby Taylor
This baby, big baby, features a mahogany neck with 25.5 inches scale. It also emphasizes a slim profile and matte finish for its neck for comfortable playing, especially for beginners.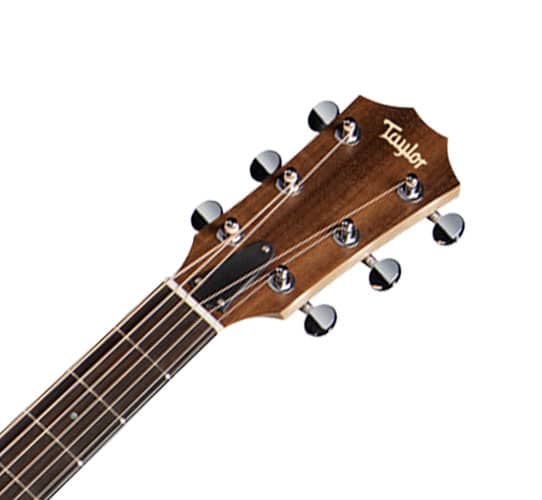 Other than its extremely comfortable neck, there is still the hardware to talk about. It highlights Taylor's first-class chrome die-cast tuner which will help your guitar to stay in tune. 
There's also the Nubone nut which is similar to TUSQ in terms of quality. It also has a Micarta saddle and ebony bridge for more premium character.
Since lower actions tend to have buzzing, you don't have to worry about that in this magnificent Big Baby Taylor. Just as its lightweight size, it holds a medium action. This is perfect for beginners since it is not too hard, and not too soft, just the right amount of challenge. 
A lot of artists love the Taylor guitar. They know that you're not just paying for the "name," but rather for a real quality guitar. 
Here are a few of many other famous artists you might know who use and love Taylor guitars:
Taylor Swift
Dave Matthews
Tony Iommi
Jason Mraz
Zac Brown
Is Taylor BBT Guitar worth it?
The Big Baby Taylor is one of my favorite guitars. It might become your favorite as well once you start playing it.
I, myself, don't have big hands which typically fit dreadnought guitars. I also don't want small guitars. Yes, they are excellent for travels, but most of them have more minor sound.
Which is why I love Taylor Big Baby, it is something in-between. Just the right size for me, and has a fantastic sound!  It's easy to carry around for travels and such.
It's the perfect well-balanced guitar, in terms of sound, comfort, aesthetics, or overall quality.
Enjoy? Share with your friends!