When you buy through our links, we may earn an affiliate commission. Learn more »
Have you seen Ed Sheeran's guitar?
You'll be surprised because I will actually be reviewing the Little Martin LX1E, which is his signature guitar.
In this article, I will talk about the LX1E Little Martin. I'll discuss whether this is ideal for you; If it lives up to the Martin brand; If it's durable enough to be a travel guitar; Pros and cons; etc.
PROS
Big sound despite its size
Easy to carry around
Affordable Martin Guitar
Simple yet classy
Durable
Customizable tone thanks to the pre-amp combo system
CONS
Not ideal for people with big hands
Not the best sound compared to dreadnoughts
The Martin LX1E is ideal for travelers since it's so easy to carry around. No one wants to travel with heavy stuff. At least for me, that's true, which is why I love small guitars.
It's also an excellent choice for people with small hands in general, such as kids. It's a little guitar, which is why it would be easier to move around the neck compared to bigger ones.
Even if you have big hands or fingers, this doesn't mean that LX1E is not the right choice for you. You may not be used to it at first, but you'll get the hang of it.
It's an acoustic-electric, so if you plan on having a guitar to carry around for gigs, this will be perfect for you, just like Ed Sheeran!
It's a small guitar so it won't have a full sound that a dreadnought delivers. If you're looking for a guitar with a bigger sound, this guitar is not for you. Luckily, here are some fantastic alternative guitars you can check.
Does size matter for the Little Martin?
LX1E, the smallest guitar of the Martin. This particular model, LX1E, deserves a special mention. 
This guitar is one of the cheapest guitars of Martin considering its size. Its parlor size doesn't hinder the sound, because surprisingly, it has a big sound.
The Martin Guitars is all made by highly skilled craftspeople. Even with the affordable price of LX1E, it is still composed of sustainable wood certified parts.
Durable Small Travel Guitar
The Martin LX1E features a parlor type body, which makes it unique. Usually, parlor guitars have smaller and boxy sound. But this guitar, in particular, has a big tone.
Note that it doesn't have the booming sound of a dreadnought but still acceptable given that it has a small body. 
It highlights a solid Sitka spruce top which helps in the better resonance of the guitar. It has a warm satin finish giving it a classy simple design.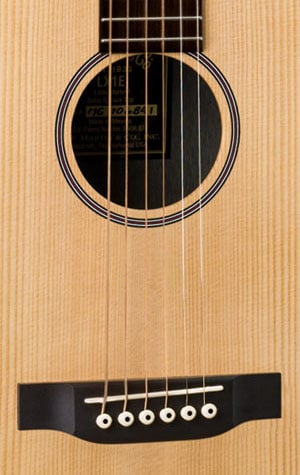 The back and sides are mahogany HPL or high-pressure laminate. This HPL, just like anything in this world, has its good and bad attributes.
HPL is a bunch of paper-like sheets glued and pushed together to create a wood-like substance that's sturdy. It's a good thing to use for budget type guitars since it doesn't cost much.
Let's start with the advantages of HPL. In dry or wet humidities, you won't have to worry about the guitar getting worn out nor warping of the neck which is also HPL. With it, there will be little to no scratches.
The main disadvantage of this is probably the sound. It's a laminate so technically, it won't have the same resonance as the solid ones. Other than that, if you accidentally hit it forcefully in a "weak" part, it will probably shatter, and that will be hard to repair.
Little Guitar with not-so-little sound
See your buying options at Amazon →
The Martin LX1E is the smallest guitar of Martin but not the smallest sound. Easy to carry around and an excellent choice for smaller hands.
This fantastic guitar has a big tone despite its size. It's not necessarily the same as more prominent guitars, but awesome enough to be played.
It projects a bright and dynamic tonality thanks to the tonewoods. It also has a crispy-edged voice with its highs and deep voice with its lows.
Just note that it won't have the same tone as a dreadnought. It is smaller, so the sound won't be precisely the same.
Customizable Tone
The electronics are also high for this guitar. Featuring Fishman Sonitone. It has a pre-amp combo system with built-in tone shaping, volume control, and phase control. 
With its customizable system, this will be an excellent companion on your gigs. It has the advantage of easy to carry around and customizable tones.
The Comfortable Neck of the Little Martin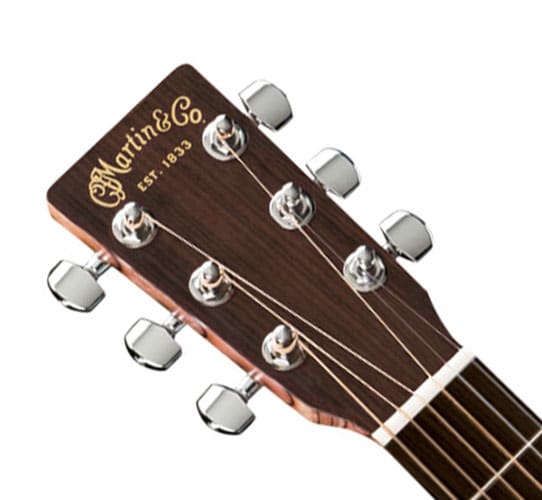 The LX1E Little Martin features a rust birch laminate with a hand-rubbed finish. The neck has a modified low oval shape with standard taper. With these features, moving from fret to fret would be a breeze for you.
It also emphasizes FSC Certified Richlite fingerboard and bridge. A compensated white TUSQ and white Corian nut for better tonality.
Not only does it help with making the guitar stay in tune, but the die-cast tuners also adds to the aesthetics of this classy guitar.
It has 23 inches scale with low action, for more comfortable playing. In other words, this is perfect for kids learning to play!
With its scale, it will have less space to scooch the frets. Thus, it'll be hard for people with big hands to get used to this guitar. Not unless you're a professional player because whatever the size of the guitar, I'm sure it won't be a hinder to you to cast your musical magic.
It may not have the best sound, but a lot of artists actually love it. One of the most popular that you probably know is Ed Sheeran. And if you must know, Ed Sheeran's signature guitar is the LX1E Little Martin. 
As one of his fans, who listens to his acoustic plays, I still find the sound majestic. If he can love this guitar, why can't you?
Here are some other notable artists who play Martin guitar:
Elvis Presley
Paul McCartney
Kurt Cobain
Is Martin LX1E worth it?
Overall, this mighty, I mean this little guitar is incredible. It has a simple design yet classy. With this, it'll be easy to carry around for travels or for gigs.
The Martin LX1E is the perfect choice for you. 
Whether you're a parent looking for a gift to your kid or a guitarist with a small hand. It has terrific sound, given its size, and it is easy to play. Apart from all that, it's an affordable Martin guitar!
Enjoy? Share with your friends!