When you buy through our links, we may earn an affiliate commission. Learn more »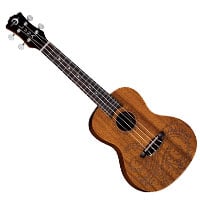 There are lots of ukuleles out there, and picking the best that fits your personality can be daunting.
So many great ones, but some may also be unreliable.
Fortunately, in this luna tattoo concert ukulele review, you'll learn why this is a fantastic uke for you.
If you don't know what to look for, here is a guide you can review before buying.
PROS
Affordable
Beautiful Design
Amazing Sound
Comfortable Neck
Durable
Excellent for beginners
Comes with a travel bag
CONS
Some buzzing may occur
Fret bars might not be rolled down
The Luna Tattoo Concert Ukulele is an excellent gift for aspiring musicians, such as kids or people just starting their musical career.
It's an affordable ukulele which means it's really ideal for beginners. Just because it's excellent for beginners, doesn't say it's not suitable for seasoned players either. For a ukulele this cheap, it's still in the "great" quality class.
If you've played a string instrument before, learning the way of ukulele will be a piece of cake. Though, if you're only starting in the strumming journey, the ukulele is an excellent choice. For the reason that it's easy and it's not so cumbersome to your non-callus fingers.
Having big hands or fingers, you'll have difficulty trying to play this instrument. Perhaps, a tenor ukulele is more fitting for you.
I also have a list of best ukulele of 2020, if you want to check other ukuleles.
Appraisal of Luna Tattoo Concert Ukulele
Luna is a line of comfortable instruments, intending to engage minds, spirits, and talents. The Luna Guitars is a unique brand the focuses on embracing diversity, connecting with the community, and most especially customer-oriented.
"While guitars may all be made of wood and metal, what makes Luna unique is its soul." –Yvonne de Villiers, Co-founder of Luna Guitars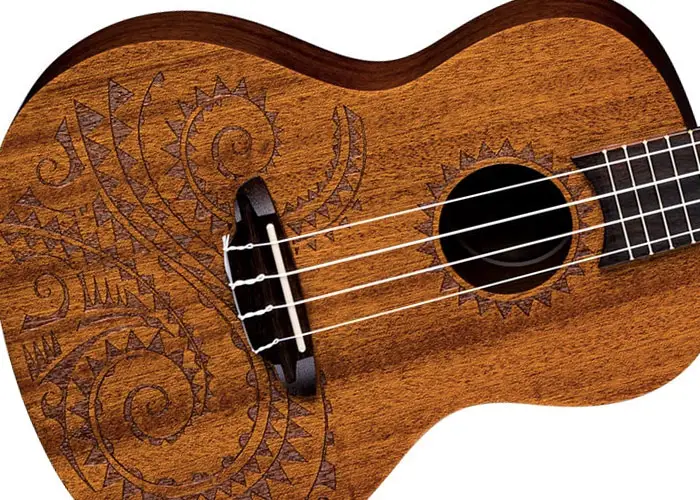 The Luna Tattoo Ukulele has traditional ornamentation of a Hawaiian body. The design has similarities with The Rock, Dwayne Johnson. Although Dwayne's tattoo is from his Samoan Culture, which is technically from the same Polynesian ethnic group as Hawaiians.
Not to stray away from the main topic of my luna tattoo concert ukulele review, but I just thought it's an interesting fact to add. Anyhow, moving on.
This beautiful ukulele includes a travel bag to protect it from any damage that may occur. There's also a spruce version of this which gives it a lighter color, or an acoustic-electric if you plan on paying on gigs or recording your music.
Tattoo Ukulele
The Luna Tattoo Ukulele consists of a laminated mahogany top, back, and sides. It has a monochromatic design, with a black tattoo on the majestic mahogany.
This uke also features an open-pore satin natural finish. The open-pore doesn't just give the ukulele a beautiful look, but it also helps the wood breathe.
Tattoo patterns of the luna tattoo concert ukulele aren't just some random scribble. They are actually geometric shapes and symbols representing the natural island world of Hawaii. When playing this Luna Tattoo, you'll feel the bewilderment of beautiful Hawaii.
With a concert body, this uke is more prominent in terms of size and scale. This is a good thing for people with bigger hands because it'll be more comfortable. Other than that, it'll have a louder projection than a soprano.
Sweet and Mellow Sound

See your buying options at Amazon →
With Luna Tattoo Concert Ukulele's affordable price range, the quality is beyond expectations. A beautiful tattoo ukulele with great sound perfect for sing-alongs.
First off, all ukuleles have a "happy" sound. But, just like all things in life, there's a bad and good sounding ukulele. Of course, the Luna Tattoo Concert Ukulele belongs to the latter.
This beautiful uke generates a sweet and mellow sound. It has deep bass, and a perfect treble giving you a bright sounding combination.
The concert body benefits this uke in a way that it produces a fuller and warmer sound. It also has a louder projection, compared to the soprano.
One more thing, the open pore gives the ukulele a better resonance and offers adequate durability.
Luna's convenient playability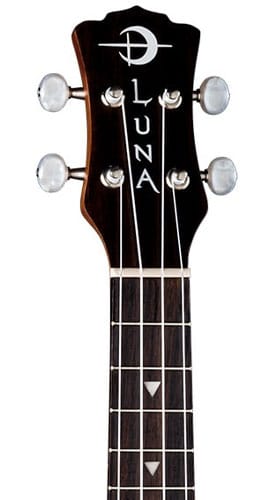 Consists of 18 frets, luna tattoo, has terrific playability. Thanks to its concert body, it has a 15 inches scale which is longer than a soprano. Simply put, it has more space between frets or more space for frets.
Luna Tattoo Uke's C-shaped mahogany neck has a walnut fretboard (and bridge). It also features pearl shark teeth shaped fret markers, appending to its already astonishing look.
It has a comfortable action which would be excellent for beginners. Also, the Pearloid open-gear tuners help the ukulele to stay in tune, no need to worry about getting out of tune in the middle of a song, right?
Take note, since ukuleles have nylon strings, it won't stay in tune at first. You have to keep playing it so that the strings will be stretched out. So, after a few days, tuning won't be much of a problem.
Oh, since I mentioned Dwayne "The Rock" Johnson, here's a fun fact for you. He plays the ukulele! If you recall on his movie, Journey 2: The Mysterious Island, he knows how to get it on.
It would be awesome to see him play this ukulele which somehow matches his tattoo. Just like his signature instrument, don't you think?
Is Luna Tattoo Ukulele worth it?
Ukuleles are fun instruments to play. That's a fact we can't refute.
In this particular Luna Tattoo Concert Ukulele review, I dare say that this is one of the best ukuleles in this price range. You'll never find a uke with excellent quality yet affordable.
Some cheap ukuleles have cheap qualities as well. Of course, that doesn't apply to this tattoo ukulele.
Overall, Luna Tattoo Concert Ukulele is a remarkable instrument perfect for everyone. Whether you're a beginner or advanced, you'll come to love this instrument just like everybody else.
Enjoy? Share with your friends!