When you buy through our links, we may earn an affiliate commission. Learn more »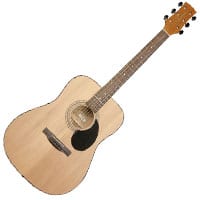 The Jasmine S35 Acoustic Guitar Natural, is without a doubt, one of the most popular beginner guitars.
Better yet?
You can get it as a bundle with a gig bag, tuner, extra strings, etc. In other words, it's indeed a fantastic budget-friendly package deal for beginners.
Wait, before anything else, the Jasmine S35 Guitar isn't competing with high-end guitars. Instead, it's built with beginners in mind. In short, the guitar's goal is to be affordable as much as possible, without compromising the quality. 
With that in mind, let's find out if Jasmine S35 is for you.
PROS
Budget-friendly and great value for its price
Excellent for beginners
Decent sound quality
Comfortable slim neck
Available as sunburst and matte black
Includes beginner bundle, such as extra strings, gig bag, tuner, etc.
CONS
Not made with the great materials
Not a clear, crisp sounding guitar
Jasmine S35 Acoustic Guitar Natural Review
The guitar highlights a Sitka Spruce top with Agathis back and sides. Agathis, in quality, is close enough to that of Mahogany tonewood. The thing is, that doesn't really mean anything if you're a beginner. 
To keep things simple, the Spruce features a lightweight, yet durable personality. As for the sound, the combination of Spruce and Agathis/Mahogany produces a well-balanced tone, but let's talk about that in the next section.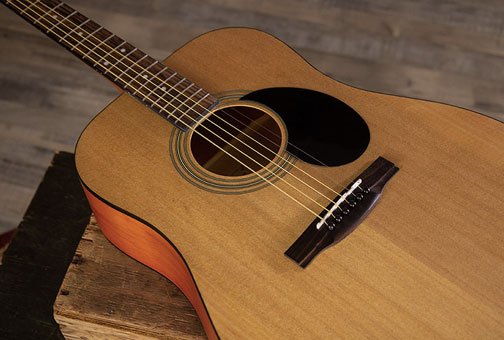 Here's more:
The bracing design of the Jasmine S35 also improves the guitar's durability, and likewise tonal quality. Better yet? This bracing is more than meets the eye. 
You see, compared to other cheaper brands, Jasmine has their own advanced X bracing.  As a result, it improves the overall quality of the guitar, all while still being affordable. That's true with the synthetic bone nut and saddle too!
When it comes to the overall design of the guitar, it's pretty neat. Additionally, you have multiple choices with the instrument's color: sunburst, black, and of course, the traditional/natural. 
Here's the catch:
Considering it's a beginner guitar, it's not really built for the long haul compared to premium guitars such as Martin D28, Yamaha TransAcoustic Guitar, etc. Fortunately, it's still an excellent starter guitar that will help you pass the beginner phase. 
In fact, it's a suitable guitar for my advice to beginners: test the waters first with affordable guitars before getting anything expensive. Therefore, once you learn the basics and like playing, you can treat yourself to a better high-end guitar.
Now, let's proceed with the guitar's sound quality.
How does Jasmine S35 Acoustic Guitar sound?
Listen to this demo of Simplified Guitar:
See your buying options at Amazon →
The Jasmine S35 Acoustic Guitar is a famous, affordable beginner guitar. Plus, it's one of the few cheap guitars that has a decent quality. More importantly, it features Jasmine's very own advanced X bracing pattern for better build and sound quality.
Thanks to the Spruce top, it produces a decent volume. Combined with the advanced bracing pattern of Jasmine, the top's vibration is also better, which then again results in improved tonal quality. 
That being said, it's not the best-sounding guitar out there. For its price, however, the Jasmine S35 is above and beyond. In fact, compared to other guitars in this price range, they are mostly inferior. 
Overall, the Jasmine S35 Guitar highlights decent loudness, well-balanced tones, great dynamics, and delightful sustains. 
Here's the thing:
Suppose you're willing to spend a bit more. In that case, I highly recommend the Yamaha FG800, which is a phenomenal guitar in the affordable range. Or, the midrange budget with clear and lovely tones, Seagull S6 Original.
Is Jasmine S35 comfortable to play?
Since it's a beginner guitar, it should have excellent playability, right? Luckily for us, the answer is YES! 
Now:
The guitar hallmarks the most common size—dreadnought. This isn't the most comfortable body type for kids, so you should get smaller guitars like the Yamaha FG Junior. Luckily, it's cozy enough for adults.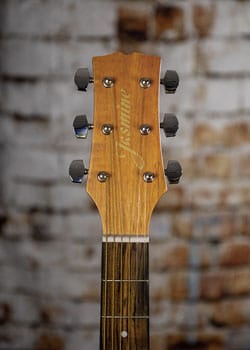 The Jasmine S35 Acoustic Guitar features a slim Nato neck. So, whatever your playing level is, it won't be tedious to hold. Moreover, its decent action prevents any buzzing but is still playable, especially for beginners.
On top of that:
It stays in tune too! Plus, the included tuner makes tuning as simple as it should be. Nevertheless, you can always install a digital tuner app on your smartphone for free!
Technical Specifications
Is Jasmine S35 Acoustic Guitar worth it?
You can never go wrong with Jasmine S35 Acoustic Guitar Natural if you really want to learn. Plus, as I mentioned earlier (which is worth reiterating), it's an absolutely affordable guitar that doesn't compromise quality.
Enjoy? Share with your friends!