When you buy through our links, we may earn an affiliate commission. Learn more »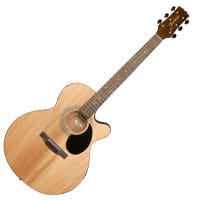 Jasmine S34C is the most affordable acoustic guitar ever of all my guitar recommendations.
In other words, without spending a fortune, you can already get a decent beginner guitar. 
Anything cheaper, and you'll likely end up with a horrible-sounding guitar that can't even get the tuning correct. (That's an exaggeration, although it's true that most cheap guitars are utterly useless.)
So, if you want a budget guitar with still an all right quality (especially sound), you should consider the Jasmine S34C.
With all that said, let's get to it!
PROS
Affordable guitar
Great for beginners
Decent sound quality
Easy to play, slim neck
You can get it as a bundle, including extra strings, gig bag, tuner, etc.
CONS
Tuners could be better
Buzzing on some frets
High action
May require some setup
Jasmine S34C Acoustic Guitar Review
The Jasmine Guitar S34C features a Grand Orchestra Nex body type. For a more specific wording, its size is close to the common guitar type—dreadnought. 
Thus, if you're looking for a kid-friendly size, I recommend a smaller one such as the Yamaha FG Guitar or perhaps the Martin DJr10.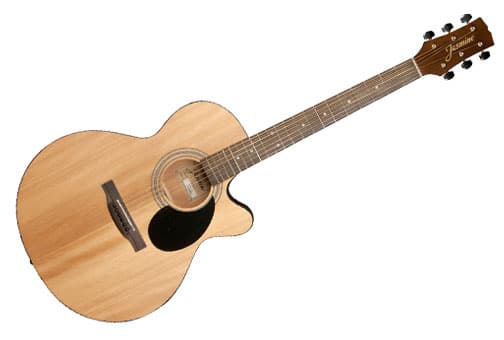 For an adult, on the other hand, this is an excellent size regardless of your playing style.
Now, the guitar highlights a Spruce top and Sapele back and sides. As a result, the Jasmine S34C produces a classic, well-balanced sound quality. But, more on that later.
Here's the real kicker:
It features a unique Advanced "X" bracing pattern. I'm not saying the "X" pattern is unique, but rather the particular design of Jasmine. They developed their own, resulting in a more open and more energetic sound.
That's one of the primary reasons I recommend Jasmine S34C NEX as a beginner guitar. 
Oh, and by the way, this instrument also features a Venetian-style cutaway. Essentially, it's a fantastic-looking cutaway which makes the guitar more appealing. And, of course, the primary purpose is to let you reach higher frets with ease.
How does Jasmine S34C sound?
Before I describe the sound in my own words, listen to this demo of The Guitarist Channel first:
See your buying options at Amazon →
The Jasmine S34C NEX is a great 25.5 inches (648 mm) scale entry-level guitar and one of the "best" cheap guitars. Plus, thanks to the slim neck, this instrument has excellent playability. Furthermore, it has Jasmine's very own advanced X bracing pattern for better build and sound quality.
From what I hear, the Jasmine by Takamine S34C produces a rich and well-balanced sound. 
Compared to other guitars, it has less volume, but then again, it's a good guitar in its own right. Besides, compared to guitars in its price range, the S34C comes out on top.
Here's the best part:
The guitar highlights a nice dynamic range, which is always a major deciding factor. With that alone, I can certainly recommend the Jasmine S34C with confidence. It even has great sustains.
Anyway, here's a pro tip: Change the strings into something more premium. By doing so, the sound quality will drastically improve. Don't worry; guitar strings aren't expensive.
On a different note:
This guitar has some "buzzing" going on. Although, considering it's a budget guitar, that's understandable. Besides, since it only occurs on some frets, this isn't a big deal, especially for beginners. In short, this should be the least of your worries.
Is it comfortable to play?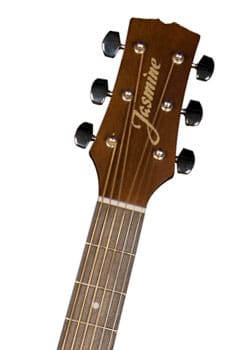 Correct me if I'm wrong, but since the main target of this guitar is beginners, we should expect excellent playability. Right?
Luckily, this one doesn't disappoint.
It has a slim neck with a satin finish for starters, which is simply phenomenal to hold. In other words, fretting and moving around the neck has never been more comfortable. Plus, it's lightweight!
Sadly, there's a catch:
It doesn't stay in tune after an extended duration of playing. So, during long practices, you may have to re-tune it. 
But wait, here's the good news:
In this day and age, tuning isn't a big deal. (At least when practicing.)
You see, you don't even need to buy a separate tuner just to tune your guitar. You can do it all with a simple Google Search or an App! Thus, you can quickly fix it when your guitar goes out of tune.
For performances, however, that's a different story.
Nonetheless, the Jasmine S34C Acoustic Guitar is a budget-friendly beginner guitar, so I wouldn't even consider that a significant problem.
Technical Specifications
Is Jasmine S34C worth it?
The Jasmine S34C Acoustic Guitar is undoubtedly worth it with a budget-friendly price tag and great quality.  Hence, if you're looking for your first guitar to kick off your music journey, this instrument should be on your shortlist.
That said, if you can save up a bit more, you should consider my best beginner guitar—Yamaha FG800.
Enjoy? Share with your friends!