When you buy through our links, we may earn an affiliate commission. Learn more »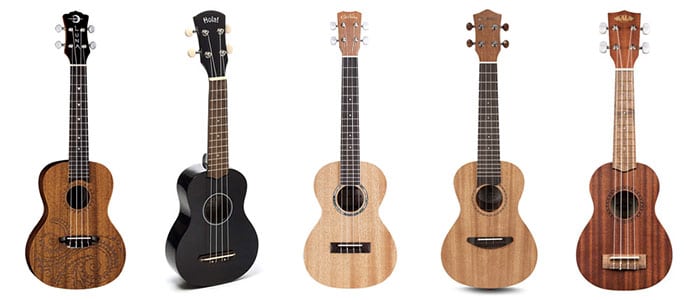 Perhaps you heard someone play a lively instrument and now you're looking for the best ukulele? Without a doubt, the uke sounds so warm but happy, and it is so easy to play. First time I heard one, I was also hooked.
But, how do you choose the right one? What all is there to know? In this article, we'll go in depth on some tips for playing the uke and choosing and buying a ukulele that is best for your needs.
Now that you have a better idea of what a ukulele is, what differentiates them from another, and how to choose a good one for yourself, let's dive right into the reviews of the best ukuleles!
#1 Luna Tattoo Concert Ukulele – Best Overall
Luna produces unique instruments in design and essence. This ukulele exhibits a mahogany flat top, body, and neck, rosewood and walnut fretboard, a walnut bridge, and a satin finish.
It comes with open gear tuners, Aquila strings, and includes a gig bag. The wood is laser etched with a tattoo design and has an open pore finish. This means that the player can feel the design.
This concert ukulele is a long scale version which means there are stable feel and satisfying response. It produces a range blend of the deep bass tone and treble part. This ukulele is suitable for beginners and advanced musicians alike.
Luna produces musical instruments that speak to the soul. With their beautiful designs and the company's morale, this ukulele, which is said to have a soul, is crafted to engage talented minds and spirits.
You can read the full review of Luna Tattoo Concert Ukulele here.
#2 Hola! Music HM-21LB Soprano – Best for Beginners
Complete with Aquila nylon strings and silver geared tuners, this 21-inch ukulele is perfect for a beginner. It produces a warm, pitch-perfect tune that is just excellent for jamming.
As it is topped with a thin layer of paint (different varieties), it speaks to the artistic and colorful musician in more ways than one. The sound is not compromised as it is still crafted from several different kinds of wood. The top, back, and sides are maple, the fingerboard and bridge are rosewood, and the bridge is walnut.
Walnut is fairly common in guitars, while maple is one of the most common woods for crafting ukuleles. Pieces of the fingerboard are also made from walnut, and the neck is made from Nato. Though painted, the natural characteristics of the wood are still present, thereby producing a warm, rich tone.
Some benefits of this ukulele include the aesthetic quality, premium Aquila strings and it will certainly not break your wallet! It has 10 different colors, which will definitely strike your preference.
#3 Cordoba 15TM – Best Tenor Ukulele
This tenor ukulele measures 27.5 inches and is constructed with a mahogany top, back, and sides. In addition, there is a satin finish and premium Aquila strings and cumulatively produces a full, sonorous sound. Finally, this ukulele has an abalone style rosette and ivory body and fingerboard binding.
It comes complete with silver tuners with pearl buttons and is also available in the concert and soprano sizes. The concert size has an edge burst finish and pickup.
Players who are looking for high quality and aesthetically proud ukulele will automatically drift towards this instrument. For instance, the satin finish adds a sleek element, which is not typically found in the average ukulele.
#4 Lohanu (LU-C) Concert Ukulele
Beautifully crafted from Sapele and Mahogany, this concert sized ukulele is perfect for children ages 9 and older, as well as for adults. There is an added touch considering that the bindings are handmade.
The frets are widely spaced for a bigger sound. The top is from Sapele and Mahogany, and the back, sides, and neck are crafted with Rosewood. The chrome die-cast tuning gears create an elegant touch to this ukulele.
The set features an arched back, which means a longer, fuller, and more sustained sound. There are two strap buttons already installed, and all accessories are included: strap, tuner, case, two picks, and a pick holder, plus an extra set of Aquila strings.
The ukulele is said to make NO buzzing noises, even when played at higher frets and will have no tuning problems. Fortunately, the tuner comes with a battery and the ukulele comes with a padded sturdy bag.
In addition, there is an unconditional lifetime warranty for the ukulele and all accessories included. Most importantly, the company offers free online beginner ukulele lessons, and some Hawaiian songs to get started.
#5 Donner Soprano Ukulele Mahogany DUS-1
Unique from other ukuleles, this one has carbon strings from Japan. They are soft and smooth to the touch, which helps to produce a sweeter sound.
Overall, it is crafted out of common ukulele wood, to include a mahogany body and neck, and a rosewood fingerboard. This gives the ukulele a rich, bright, and clear harmony.
The package comes equipped with Donner patented chrome-plated guitar style tuners. In addition, it comes with a ukulele bag, strap, and carbon nylon string and digital clip-on tuner.
This ukulele is great for beginners and advanced professionals alike, partly due to the slim and comfortable neck.
#6 Kala KA-15S Mahogany Soprano
Offering great sound and good playability, this wood crafted ukulele is a joy for both beginners and professionals. The ukulele has a satin finish and geared tuners. It measures to 22 inches in the classic style of guitars.
It was crafted with a mahogany body and neck, and the fingerboard is made out of walnut. The strings are premium Aquila Nylgut strings.
This soprano ukulele would be a great fit for the casual music player, or for more serious ukulele playing. The strings are some of the best, and the wood is both practically and aesthetically qualified.
#7 Concert Deluxe Series by Hola! Music (HM-124MG+)
This 24-inch ukulele is constructed with a walnut and rosewood fingerboard and bridge, mahogany and Nato body and neck, and premium Italian Aquila Nylgut strings.
It includes a padded bag with strap and handles, three locks and a shoulder strap. In addition, there are two free months of live ukulele classes included.
The ukulele features the traditional white ABS binding and beautifully engraved rosette. It is also fretted bound and filed, which protects the fingers while being played for added comfort.
This ukulele also has a bone nut and a compensated saddle, which is made from an ox. The nut and saddle influence the tonal quality. Finally, there is a thin layer of lacquer, which helps protect the ukulele without sacrificing quality and sound.
The benefits of this ukulele are the bone nut and compensated saddle as most ukuleles have nuts and saddles that are made from plastic. The compensated saddle helps in fine-tuning. It also produces a deep, warm sound which is really great for playing along!
#8 Kala MK-B Makala Baritone Ukulele
Designed with an Agathis body, this ukulele features a mahogany neck, rosewood fingerboard and bridge, and satin finish. There are 18 brass frets which allow you to play higher notes.
Complete with the package is a gig bag, clip-on chromatic digital tuner, instructional DVD with tips on how to set up the ukulele and play chords, and a polishing cloth.
This ukulele is suitable for all playing levels from the beginner to intermediate player. Creating a rich, warm sound, this ukulele is impeccable, classic, and practical.
#9 Cordoba Guitars 20CM Ukulele
This ukulele features a solid mahogany top, back, and sides and has a rosewood bridge and fingerboard. It measures 29 inches and is complete with a natural satin finish and Aquila Nylgut concert strings. In addition, the natural wood is a patterned rosette.
The concert size makes it a good choice for both beginners and more advanced players alike. The natural wood and satin finish add to its aesthetic quality. With the frets clearly marked, this ukulele helps orient players as they strum a tune.
This ukulele is solid, well-crafted design and material. The strings are of good quality, and the size makes it ideal for those just starting out. It is a simple ukulele at its best.
#10 Oscar Schmidt OU5 Concert Ukulele
A ukulele, unique with an inlaid Abalone binding and rosette top, is fitted with high-quality Grover tuners. It is concert sized, features a select Hawaiian Koa body, and topped with a gloss finish.
In addition, the neck is crafted from Nyatoh, though has the standard rosewood fingerboard and bridge.
This ukulele is a great buy for players of all skill levels. With the popular and beautiful guitar body, it plays clean and clear sounds that are smooth and rich which is just for jamming sessions!
Things to Look for When Buying a Ukulele
To dispel the myth surrounding the birth of the ukulele, you should probably know that it all began on a small island called Madeira, about 350 miles off the coast of North Africa.
In the 1870s, European migration causes the natives to immigrate to Hawaii. When the ship arrived, Fernandes (a passenger who was strumming tunes on a machete (not the weapon) on board, burst into tune. In no time, the musical bunch became celebrities, and shops started to open, starting with Nunes, Dias, and Santo. (Ukulelemag)
So there you have it, the ideal cross between a guitar and a banjo, brought to Hawaii for the world to come to love.
But what are some things to look for when buying your own ukulele? One of the top things to look for is the tone. A good one will sound focused, happy, bright, and crisp. You will hear this when you give the instrument a strum.
You also want to notice the comfort of playing the instrument. How does it feel to hold? A good uke will be smooth to play, have no rough spots, and the frets should be nicely dressed (for instance, have no sharp edges). After that, the choice is yours.
What are the advantages or benefits of a ukulele as compared to other instruments?
You might be wondering, why the ukulele? For starters, it is rich in cultural history and amazing at producing those beautiful Hawaiian songs.
Some inherent advantages are that there are only four strings. For those overwhelmed by a lack of musical talent, this is a great confidence booster.
Next, the instrument is relatively small and light. If you like to travel and want to dance to your own beat along the way, the ukulele is a great option.
Finally, these instruments are affordable to almost anyone who wants one. Ranging in price from $50 to $500, you can always find a great one that will not break your wallet.
Different Types of Ukulele
There are several things to look for, including size, purpose, and price. Perhaps the biggest difference is to know the size that you want. There are four different sizes: soprano, concert, tenor, and baritone.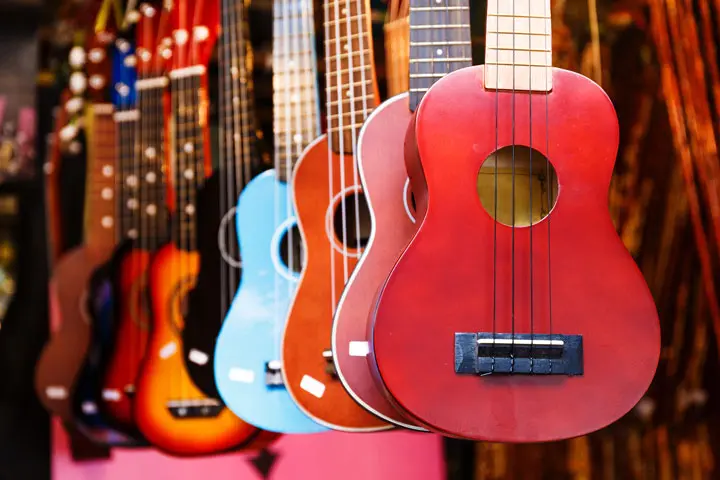 Soprano
The soprano is the smallest, but it is also the most popular size. This is the most common size you see around the internet (or in person). The instrument, which measures 21 inches and 12 to 15 frets, happily produces tunes that are bright and vibrant.
Concert
The next size up is the concert at 23 inches with about 15 to 18 frets. It produces slightly louder and richer notes. Due to the slightly more room, this uke is great for beginners.
Tenor
The tenor ukulele is 26 inches and has 17 to 19 frets. It is good for the stage, as it produces deeper and fuller notes, and projects very well.
Baritone
Finally, you have the baritone, which is the biggest out of all the ukuleles at 29 inches with 18 to 21 frets. This instrument is less suitable for beginners, but ideal for guitarists. While the rest have a tune-up of G-C-E-A, the baritone is the same as the highest four strings of a guitar: D-G-B-E. It produces the deepest and loudest sounds out of all the other ukulele sizes.
Electric Uke or not?
Other things to consider are an electro-acoustic ukulele and either buying used or new. If you want to play on the beach, acoustic is probably all that you need but, if you and your band want to do your live music at the local bar, maybe an electro-acoustic would be more appropriate.
New or Used?
As for buying new, there are several things to keep in mind. First, if you want a relatively cheap one, it is probably best to buy it new. This is because cheap ones typically do not last as long, and you might end up spending more in the long run.
If you want an expensive one, it may be a good idea to find a used one. Just be sure to test it out before you make the purchase. This can be a great way to afford an expensive one while also ensuring that it meets your standards. Always check the return policy.
How much is a ukulele?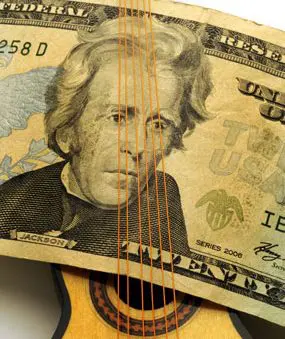 As stated before, ukuleles have a broad range in price, which means huge differences in quality. For instance, laminated versus solid wood, or craftsmanship. There is also a difference between mass production ukes and tiny shop ukes.
Next, higher priced ukuleles might be more technologically advanced, which could cater more to experienced players.
Tonewoods
Overall, the sound of the tunes will be very different depending on the instrument's quality. Generally speaking, solid wood and construction, and sound electronics produce more character, projection, and complexity. The wood may be mahogany, basswood, rosewood, or hardwood, though mahogany is the most popular.
Shapes
Finally, you have a choice of shape and string material. They come as pineapple shaped, boat paddle-shaped, or guitar-shaped.
The pineapple has a rounded back, an original innovation by Hawaiian standards. The boat paddle literally looks like a boat paddle which happens to be the least known.
And then you have the guitar (dreadnought) shape. This is why most people think the ukulele is a mini guitar, which also happens to be the most popular shape of this instrument.
Strings and Fretboard
As for strings and the fretboard, there are two things to keep in mind. The first is that cheaply made ukuleles will make themselves known loud and clear by their cheaper strings.
The fretboard is the point of reference for players. Rosewood typically is a good choice for ensuring a clearly visible and comfortable surface, though when you try out your ukulele, you get to decide.
Why choose a ukulele over other instruments, like the guitar?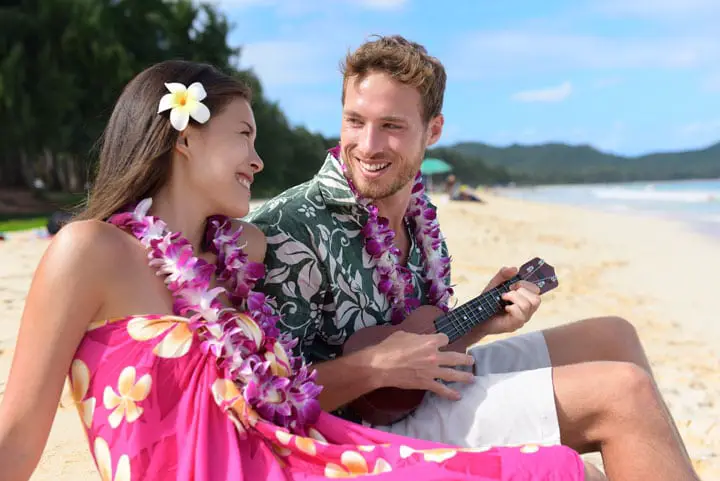 Picking an instrument is always a personal decision. So if your heart and soul has guided you to the ukulele, trust your instincts.
The ukulele is similar to the guitar in design. They both have many of the same parts, including the body, neck, fretboard, headstock, strings, nut, bridge, saddle, and tuners. They can also have electronics.
On the other hand, ukuleles differ in more ways than not. This instrument has four strings and the guitar has six. Therefore, if you like things to be simple, go with the uke. Even the largest ukulele will have fewer frets, as compared to the standard guitar, which has 19 to 24 frets.
Not only is this tiny instrument less complex to play (especially for beginners of stringed instruments), there is also less pressure that needs to be applied to the strings, as compared to the guitar.
If you are looking for a bright and happy music producer, then the ukulele wins over the guitar (though the baritone ukulele is probably an exception). Not to mention, the ukulele is generally more affordable than the guitar.
As you can see, there are so many options when it comes to picking the best ukulele, even for your budget. Once you get clear on the type of ukulele that you want, and your intention for getting one, the rest falls into place. That being said, we have selected a winner from the above products that we reviewed.
The Luna Tattoo Concert Mahogany is affordable in price while offering a quality build and design. It features great wood for musical instruments (mahogany and walnut) and has open gear tuners, which is really great for the acoustic instruments. Beautiful in design without subtracting quality, it speaks to a musician's soul in more ways than one.
Now that you know a bit more, go try a ukulele. It is time to start humming to your own tune!
Enjoy? Share with your friends!