When you buy through our links, we may earn an affiliate commission. Learn more »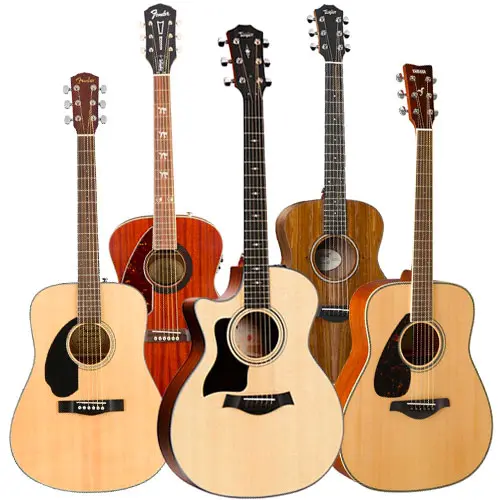 If you're a lefty musician looking for the best left-handed acoustic guitar, you've come to the right place. I created this comprehensive buying guide especially for you.
Sadly, there are far fewer left-handed guitars than right-handed ones. Your options are a little bit narrow, and we'll talk about it in a bit.
We'll also answer the question, "Can a lefty play a right-handed guitar?"
IMHO, being south-pawed is a significant advantage in the world of string instruments. Your left fingers have more things to do than perform strumming and plucking patterns.
More about that in the succeeding sections…
In the meantime, here are the best left-handed acoustic guitars of 2021.
That's the short version of this buying guide. Feel free to click those links to read the full review of each left-handed acoustic guitar. Otherwise, let's take a quick look at these fantastic string instruments.
9 Best Left-Handed Acoustic Guitars
#1 Taylor 314CE – The Best Left-Handed Acoustic Guitar
Before anything else, you gotta know that this guitar is ideal for advanced players. 
For a simple reason: This Taylor left-handed acoustic guitar is way more expensive than entry-level guitars. Don't worry, if you're looking for a cheaper beginner guitar, I also reviewed it here.
Taylor 314ce is a grand auditorium guitar. It's Taylor's own version of the usual dreadnought, with a little twist, of course.
The best part?
The Grand Auditorium is Taylor's most popular body type! The Taylor 314ce features solid tonewoods for its materials. Sitka spruce for the top and Sapele for the back and sides. For an advanced level guitar, it's only expected to have solid tonewoods, right?
What does this mean for you?
Well, this guitar will undoubtedly last you longer. This guitar will age like wine. The older, the better! Of course, you have to take good care of it. It has a slimmer neck and a satin finish. 
As Captain usually says, "I can do this all day." In our case, "I can play this all day." Basically, it has an excellent level of comfort or playability, whatever your playing style may be.
Taylor also used their own V-class bracing. With this type of bracing, the guitar can vibrate more freely, giving it a remarkable sustain.
Furthermore, it features a warm bass, bright highs, and a powerful midrange. If you're a fingerstyle player, you'll surely love this.
Here's more:
The 314ce features an updated pickup made by Taylor! This new ES-2 brings out the best of the guitar.  It also features an adjustable truss rod. So, if you ever encounter a neck warping? You can easily adjust it!
One less "maintenance" to worry about.
#2 Fender CD60s Left Handed Acoustic Guitar – Best Budget
If you can't afford the Taylor, the Fender left-handed acoustic guitar might be your next best choice. The Fender CD-60s is also an excellent beginner guitar, and it's far cheaper. In fact, it's the cheapest guitar on my list.
Now: 
When I say cheap, I don't just vote based on price. I also check the overall quality.
Correct me if I'm wrong, but low-quality items tend to not last long. Simply put, instead of spending less, you might end up paying more. Hence, Fender CD-60s is affordable yet quality guitar.
Here's more:
It highlights a solid spruce top and mahogany back and sides. As I have said, having a solid tonewood for your guitars will be great for the long run. CD-60s also features a glossy natural finish. And If you like the traditional guitar look, you're gonna love this.
Better yet:
This guitar can produce a more substantial volume and excellent midrange. For any playing style, it'll definitely be suitable.
The Fender CD60s boasts its easy-to-play rolled fingerboard edges. This is an excellent feature. In general, it's a fantastic guitar for beginners who are looking for a cheaper alternative.
There's also an all-mahogany version of this. Unfortunately, the left-handed version of that isn't available.
You can read the full review of Fender CD60s Acoustic Guitar here.
#3 Yamaha FG820L Acoustic Guitar – Best for Beginners
It's sibling, Yamaha FG800, is actually my best choice for beginner guitars. You'll see in a minute as to why I chose it.
It's always ideal for beginners to spend less. You need to explore before making a commitment.  And by responsibility, I mean spending thousands of dollars. 
Hence, your beginner guitar should be way less than a thousand. (cha-ching!)
Anyway, let's continue:
The Yamaha FG820L features a solid Spruce top and mahogany back and sides. Yes, that's a solid tonewood for an affordable price. That's gotta be saying a lot, right?
If you don't know, having a solid top guitar means it's gonna last you longer than a laminated guitar.  By the time (given that you're going to take care of it well), its overall quality will be better than the first time you had it.
The looks? One word: Attractive.
You can even say that this Yamaha left-handed acoustic guitar is the most excellent value for its price. It also features a well-balanced tone, excellent projection, and outstanding dynamics. Moreover, the FG series has this newly developed scalloped. 
What does this mean for you?
Well, the top board is more rigid, and it brings out better natural quality.  Last but not least, it has a convenient neck profile. Which should be the number two priority (after budget).
#4 Fender Tim Armstrong Hellcat – Best Acoustic-Electric
Acoustic-electric guitars are excellent if you want to play live. Or if you simply want to produce a more robust sound to surpass that of an acoustic guitar.
If that's what you're looking for, you're gonna love the Fender Tim Armstrong Hellcat.
So, this Fender left handed acoustic guitar has an all-mahogany body with a solid top and laminated back and sides. Its satin finish also brings out its unique, beautiful look.
This concert guitar is excellent for smaller people. I have smaller than average height, so concert guitars are more comfortable for me. 
The sweet-sounding guitar also features a Fishman Isys III pickup with active preamp, tuner, volume, and tone controls. 
If you must know, having an onboard tuner is really helpful. It stays in tune, but it's inevitable for any guitar to not go out of tune after hours and hours of playing.
The tone and volume controls are also super handy. 
Better yet: 
Having a C-shaped maple neck is undoubtedly comfortable for anyone.  The Fender Tim Armstrong Hellcat has a dual-action truss rod. If you don't know why it's a neat feature, I'll explain it quickly.
Guitar necks tend to bend because of environmental factors. So, it's almost sure that you'll encounter this problem. 
How to fix it? Truss rods! Basically, if you have this, you can quickly fix any arching of the neck, any time anywhere.
#5 Taylor GS Mini – Best for Travel
For travel guitars, here are three major factors you should consider:
Size, tonewoods, and truss rod.
Size is pretty obvious, right? Something compact and more comfortable to carry is the best choice for a travel guitar. It should be along the lines of a left-handed mini guitar,  ¾ left-handed guitar.
Of course, this isn't true to all, because smaller guitars have different tonal quality than more prominent guitars.  For me, though, I don't mind the tone of mini guitars. I suppose that will be up to you. 
Do you prefer comfort over sound or the other way around?
The tonewoods will be solid vs. layered (or laminated). Solid is of better quality, that's given. But for a travel guitar, you might not want an all-solid guitar. You see, the environmental variables have an effect on the materials of the guitar, particularly with solid tonewoods.
So, you might want to look for a solid top and layered back and sides for balanced durability and superb sound quality. 
While traveling, you will probably find some neck bending. So you might have to adjust its neck from time to time. That's why a travel guitar needs to have a truss rod.
And the good news?
Taylor GS Mini fits the bill for the best left-handed travel acoustic guitar.  It's a quality guitar featuring a solid spruce top and layered Sapele back and sides. You can also plug it in if you prefer to play plugged in.
Oh, and don't forget about a guitar case!
#6 Natural Wood Guitar – Best For Kids
For this one, it isn't actually a quality guitar. It's still adequate but just a temporary beginner guitar. Ideally, just for the kids to figure out whether they actually want to learn how to play the instrument. It's also a classical or nylon string guitar.
On that note, it'll be much comfortable for kids than steel strings.  This first one (above) is relatively small, really for kids. I'd say youth ages 9 and below. 
Looks are also a significant factor to consider here. I mean, most kids are attracted to colorful things, right? Good thing this 30″ kids guitar is available in natural and pink color.
The next one is a little bigger, more ideal for teens.
It's actually almost similar to a concert guitar.  So, if your kid is REALLY into playing the guitar, you might want to get a better quality smaller guitar, just like the Taylor GS mini.
In fact, I have a list for the best kids guitar that you might want to check out. Anyway, this guitar is available in black, blue, pink, or natural. This will definitely be the choice of your kid, right?
#7 Oscar Schmidt by Washburn OD312CE 12 String – 12-String Guitar
The Washburn OD312CE left handed acoustic guitar is definitely not for beginners.
12 string guitars have wonderful sounds that anyone can get attracted to—this one in particular features a well-balanced tone and clear, crisp tone. 
What else?
Oh, it's intonation is excellent and has a comfortable action. This dreadnought boasts a Spruce top and mahogany back and sides.
Better yet:
The Washburn OD312CE guitar is also an acoustic-electric guitar. The pickup is also surprisingly good. I'm not saying it's the best but for its price? It's good!
#8 Sawtooth Mahogany Series – Best Left-Handed Parlor Guitar
The Sawtooth Mahogany series obviously features a mahogany tonewood for the body. It has a solid top and laminated back and sides. Its satin finish brings out the awesomeness aesthetics of the mahogany.
Parlor guitars are smaller, but it doesn't mean their quality is smaller as well. It has a boxy yet rich sound, ideal for fingerstyle. It also produces a high-end midrange.
Unfortunately, it doesn't have that loud volume nor bass that those dreadnought guitars have.
This can also be a substitute for a concert guitar because it's smaller. If you prefer a smaller guitar, the sawtooth mahogany might just be for you.
Finally:
This guitar has a built-in tuner, which is sure to be handy.  To be honest, the electronics of this guitar isn't the "best," but! It's still good enough. Good enough to be voted as the best left-handed parlor guitar.
#9 Blueridge Contemporary Series BR-40LH
Blueridge may not be as famous as Taylor, Martin, or Yamaha, but it doesn't mean that they don't have any great guitars!
This dreadnought highlights a solid Sitka spruce top and laminated mahogany back and sides. Even though it's not all solid but it still has it's advantages.
For example:
Having all-solid tonewood also means prone to environmental damages. With this Blueridge guitar? Not so much. The Blueridge BR-40 also features forward X-Bracing for adaptability and fullness.
It also offers a comfortable low profile neck, which you will enjoy. I mean, no one wants to play an uncomfortable guitar, eh?
How about the sound?
Well, it gives off a full, round bass with warm overtones and bright intonation.  Simply put, it's incredible for strumming but still versatile for any other playing style you may prefer.
The aesthetic is kind of simple, but that's up for you to decide.
Left-handed vs. right-handed guitar [MUST READ]
A left-handed guitar is literally the flipped version of a "right-handed" guitar. Take a look at this example: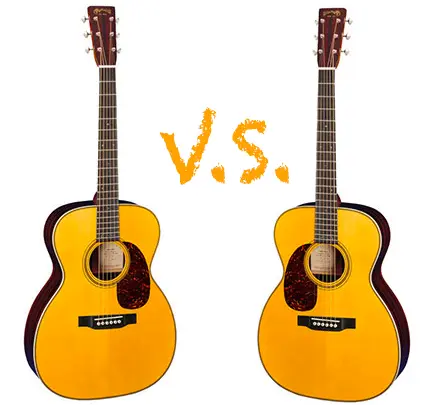 In quality, materials, comfort, it's all the same. 
Note: I will be adding quotation marks with "right-handed" because it's supposed to be universal.
Can a left-handed person play a right-handed guitar?
Unfortunately, there are fewer left-handed guitars than right-handed guitars. In fact, this is true to most instruments.
Here's what I mean:
Musical instruments are supposed to be universal, whatever your hand orientation may be. 
As a right-handed guitarist, I have more trouble with my right hand than my left hand. Basically, even though my dominant hand is my right, my left hand happens to be better on coordination (fretting).
Why is this so?
With musical instruments, we train our hands from scratch (like learning how to walk).
If you're a leftie, indeed, you'll still have trouble with it if you choose either the left-handed or "right-handed" guitar.
More example:
Piano. Have you ever seen a "left-handed" piano? I bet not.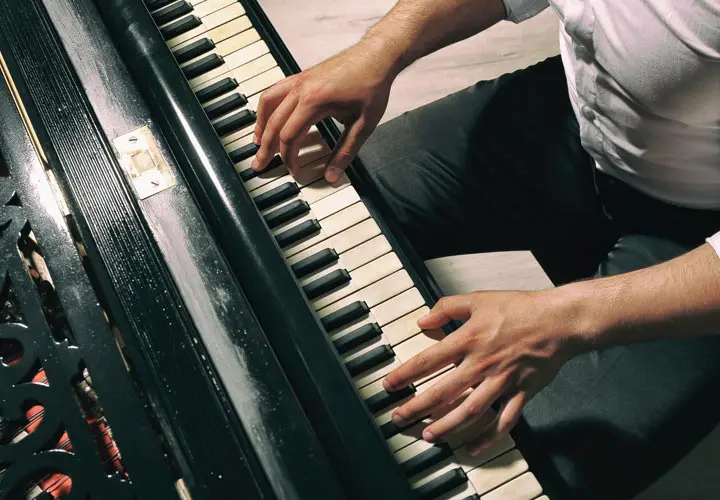 Furthermore, you'd have to practice both hands with harmony AND melody. 
Think about it:
If you've ever tried to learn piano, you will notice that both hands will have trouble following your command. 
The most uncoordinated one won't be your non-dominant hand. You know what will?
Pinky and ring fingers (on both hands) will be cumbersome. 
So, if you're just starting and you're left-handed? You might go look for a "right-handed" guitar, as all instruments are ideally ambidextrous.
Lucky enough, I have curated excellent acoustic guitars you might want to check out:
Can an acoustic guitar be strung left-handed?
In a way, yes, but it's complicated.
If your guitar has a cutaway and pickguard, I'd suggest you not do it. 
Now:
If you plan on restringing your guitar to be left-handed, it isn't as simple as changing the strings.
Other than the strings, you'd have to adjust the nut and saddle of the guitar. You can ask a local luthier to do this too if need be.
If you've noticed, the nut's cavities have different sizes relative to the strings. For this, you can simply remove it, flip it, and put it back.
The saddle, however, is a different story.
It has a particular angle, which means you also have to do the opposite angle of that.
Worse than that?
You might have to get a special bridge altogether. Or you have to file a new pocket with a different angle. 

I hate to break it to you, but it might look weird, affecting the tonal quality. You also have to do it correctly, or the intonation of your guitar will be compromised.
In the end:
Restringing your guitar is more complicated than buying a custom left-handed guitar, or you know, learning the "right-handed" guitar.
Whether you choose to learn left-handed acoustic guitar or right-handed guitar, it's your choice. 
Either way, you have my full support. 
That's why I have this list!
Finally:
I chose the Taylor 314ce as the "best left-handed acoustic guitar," for one primary reason: It's fantastic! I mean, seriously impressive!
In fact, there is a higher quality version of that: Taylor 717e. Unfortunately, it's way more expensive for me. 
If budget isn't a big deal to you, you might want to check that out.
If the 314ce is incredible, the Taylor 717e is like "awesome x 2"!
Enjoy? Share with your friends!