When you buy through our links, we may earn an affiliate commission. Learn more »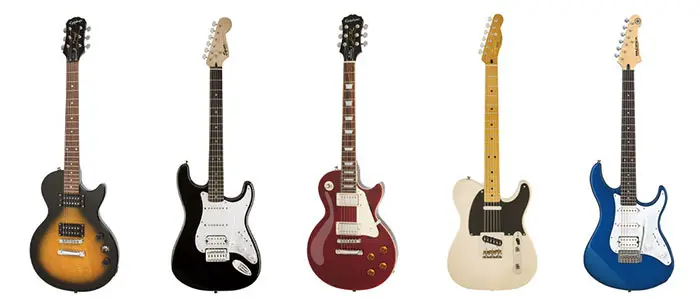 Finding the best electric guitar can sometimes be intimidating, but also exciting.
Although, once you find the perfect guitar to rock the world, you'll probably never let it go.
In this article, we're going to explore several facets of this beautiful instrument.
I'm going to show you some examples of the best guitars so that you can pick one for yourself.
Without further ado, let's dive right into it!
The Best Electric Guitar of 2021
Now that I have covered the important factors, let's jump into the best electric guitar reviews.
#1 Epiphone Les Paul Special II – Best Electric Guitar
This instrument is another Les Paul design from the great folks at Epiphone. This guitar has a lot going for it, especially for someone just getting into the craft.
The Epiphone Les Paul Special II features the Les Paul design that we all know and love. Moreover, it's price tag is affordable enough not to break your bank. This guitar is perfect for the beginner guitarist, or as a quick addition to a veteran guitarist's repertoire.
The Les Paul Special II comes with a host of great features. For the affordable price, it features a mahogany body and neck build. The neck highlights a rosewood fretboard for better playability.
For the rest of the hardware, it sports twin 700T humbucker pickups, a Tune-O-Matic bridge system, and stop bar tailpiece.
The guitar is available in four beautiful color finishes. These colors include Ebony, Cherry, Vintage Sunburst, and Translucent Blue.
If you're looking for a guitar that is light on the wallet but heavy on everything else, look no further. It features a cherished design, insane playability, and great sound. Furthermore, it's low price tag will bring happiness to both you and your wallet!
#2 Yamaha Pacifica Series PAC012 – Best Cheap Electric Guitar
The fine folks at Yamaha have brought us another affordable guitar in a package resembling a Fender Stratocaster. A curved cutaway body, vibrant color schemes, and rich tone at a price you can't believe! The Yamaha Pacifica Series PAC012 make it seem like it should be priced higher.
On this guitar, you'll find a body made of agathis and a maple bolt-on neck. The fretboard is made of sonokeling, and it is equipped with a vintage tremolo and a five-way switching system to bring different flavors to your tone.
This guitar comes in black and red color schemes and is an excellent value for the price. The Pacifica series is well known for being well-suited to various styles. If you want a Strat-style design in an affordable package, this guitar is a must-buy.
#3 Squier by Fender Bullet Stratocaster HSS – Best Beginner Electric Guitar
We all know that Fender is well-known for producing legendary guitars. Additionally, their sub-brand Squier is renowned for producing those same quality guitars at a price. Squier's guitars are perfect for a budget-minded player or merely a beginner.
This Bullet Strat covers all the bases. It makes a massive deal for anyone picking up the electric guitar for the first time.
This majestic guitar emphasizes its 21 medium-jumbo frets with the synchronized tremolo bar. It also features an adjustable truss rod, a polyurethane gloss finish to protect the guitar's beautiful color.
Besides, this Strat has the "HSS" pickup system. With all that said, this guitar will get any beginner rocking.
The HSS pickup system indicates two regular pickups and a bridge humbucker. This feature will add all sorts of tonal possibilities for you to play with via the five-way switching system.
The Squier Bullet Strat is available in two beautiful colors – Brown Sunburst and Butterscotch Blonde. This guitar has an iconic design, beloved by guitarists all through the ages.
Overall, the Squier Bullet Strat is easy on the eyes, on the wallet, but heavy on the playability. With that said, this guitar is a must-buy for beginning guitarists.
#4 Epiphone Les Paul Standard Plustop PRO – Best Electric Guitar Under $1000
We'll begin the list with a guitar whose design is ranked high in the echelons of guitar legends – the Les Paul. Designed by Gibson's "Epiphone" brand, this instrument packs a lot of power and playability of the standard Gibson Les Paul in an affordable package.
Available in four beautiful color schemes (Translucent Blue, Heritage Cherry Sunburst, Honey Burst, and Trans Black) this guitar is a stunning work of art.
It features a mahogany neck and a rosewood fretboard. Tuning is a cinch with the Les Paul Standard Plus-Top Pro's Tune-O-Matic bridge system.
This tuning system makes it easier for your guitar to stay in tune longer, as well as enables the player to adjust the action to make it more comfortable.
Its twin ProBucker humbuckers characterize the tone of this guitar. It uses Grover Machine Heads for its tuning pegs.
This guitar is for the players with a taste for the classic Les Paul design. It will handle any genre of music with ease, the dual humbuckers being marvelous for clean and distorted tones. No matter how long you've been playing, you should consider giving this guitar a try.
#5 Squier by Fender Classic Vibe 50's Hand Telecaster – Best Electric Guitar Under $500
The Telecaster design is one of Fender's oldest. It has been much beloved by players of all genres the world over. Telecasters have a very distinct warm and twangy tone. With this, telecasters are perfect for various styles, including blues, country, and classic rock.
This beautiful guitar comes from our friends at Squier. Fortunately, they made the Telecaster design affordable to anyone, making it an excellent choice for beginners as well!
It comes in that vintage 50's Tele design that many guitar enthusiasts love. The warm tone comes from the two vintage-style single-coil pickups, which are controlled by a three-way tone switching system.
The body features a beautiful solid-wood design, along with a neck and fretboard made of maple. The Tele comes in three attractive color schemes -Butterscotch Blonde, 3-Color Burst, and Antique Burst.
Not only that, but this guitar is truly a throwback to the old days of Telecasters. All in an incredibly affordable package, and complete with that beautiful design that only Squier can deliver at this price.
You'll quickly understand why so many guitarists back in those days adored the Tele so much. Versatility, fantastic playability, and pleasing warm tones emanate from this guitar like a radiant light. Thus, it is a must-buy for any vintage enthusiast.
#6 Guild Starfire V
The next guitar on our list is pure beauty. A semi-hollow body masterpiece, this guitar resembles an Epiphone Dot, a treasured design among guitarists of varying genres and styles.
Available in a stunning cherry red design and lovingly crafted with mahogany and maple, this instrument is truly a beauty to behold. It features an Indian Rosewood fingerboard, a Tune-O-Matic bridge system, and a Guild Vibrato tailpiece.
The guitar gets its warm tones from the dual Guild LB-1 "Little Bucker" neck and bridge pickups.
A signature characteristic of this particular guitar design is the f-holes on either side of the guitar's archtop which allows the sound to "breathe" and resonate.
Brilliant tuning stability to help this guitar keep its tune comes from the Grover Sta-Tite machine heads.
This guitar gets its gorgeous design straight out of the Sixties, and it is an earnest contender for anyone who loves a semi-hollow body instrument. Overall, this guitar is perfect for jazz or blues guitarists.
#7 Epiphone Les Paul 100
Another Les Paul from Epiphone! This guitar features that popular Les Paul style, but with some added flair. Heavy tones for the experienced or beginner guitarist makes this guitar a purchase to consider. It looks very similar to the original Les Paul, like its chrome hardware and pickguard.
The Les Paul 100 comes in two colors – Ebony and Honey Burst. It features a Tune-O-Matic bridge system, rosewood fretboard, and a body and bolt-on neck made of mahogany. Tone and volume knobs keep your levels in check, and the twin humbuckers characterize the tone.
This guitar packs a punch. It gives you an identical design to the original, much loved Gibson Les Paul, but at the affordability and craftsmanship, we have all come to expect from Epiphone.
If you desire an iconic aesthetic at an affordable price and playability that is unmatched, the Les Paul 100 might be right up your alley.
#8 Epiphone SG Special
The biggest names in rock n' roll, including Eric Clapton and Angus Young from AC/DC, have played the Gibson SG.
If you're on the hunt for an affordable guitar with that signature horned design, then the Epiphone SG Special may be the axe you're looking.
This beauty comes in four eye-catching colors (Cherry, Vintage Sunburst, Translucent Blue, and Ebony), and packs a wallop in value and sound. It, like its Les Paul Special II cousin, is affordable for almost any guitarist looking for this traditional design.
It features a maple body and rosewood fretboard. The Tune-O-Matic bridge system powers its tuning, and twin humbuckers again characterize the sound. It has a two-way tone switching system, as well as a killpot.
Altogether, the Epiphone SG Special is a must-have for any rockers looking for the SG style at an affordable price. The guitar legends cherish this guitar for a reason, and it is a highly sought-after design. If you've been playing for a day or a decade, this guitar should be in your arsenal.
#9 Oscar Schmidt OE20
A Les Paul clone in an affordable package and eye-catching design, the Oscar Schmidt OE20QTE brings with its value and playability, along with warm tones in this solid-body beauty. The OE20QTE features that classic single cutaway aesthetic that we all know and love and adds in some chrome die-cast tuning heads for good measure.
The body of this guitar is made of mahogany, with a set neck made of maple. The fretboard is made of rosewood. The bridge is a Tune-O-Matic with a stop bar tailpiece.
The guitar delivers quite the rich tone with its twin humbuckers and is available in a variety of colors that are sure to catch any eye.
The color schemes for this beauty are fourfold – Quilt Tiger Eye, Cherry Burst, Blue, and Vintage Sunburst.
Oscar Schmidt has put quite the package together here with the OE20QTE. Another guitar that would be a great addition to the collection of a seasoned veteran or a complete newbie, this is an ax to consider purchasing.
It is affordable and packs a punch in terms of playability, aesthetics, and value.
#10 Squier Vintage Modified 72 Telecaster Thinline
"Wow," is the first thought that comes to mind when you see this beautiful six-string. With a low price comes some high playability and feature set.
The Tele's body is made of basswood, with a maple neck and maple fretboard. The tuning pegs are made of chrome. It delivers a warm tone courtesy of the Duncan designed wide-range humbucker in the neck position, and a standard bridge pickup.
This Thinline Tele is available in a set of four beautiful colors, including Black, Vintage Blonde, Antique Burst, and Transparent Charcoal. It is truly an eye-catching guitar and is a Tele that commands attention.
The tone that can be achieved from this beautiful instrument can be used in a wide range of genres, from rock and blues to jazz. It could even lend its signature Tele twang to country music.
If you are a Telecaster enthusiast, you might want to look at the Squier Vintage 72.
This beautiful guitar will be the centerpiece of any band and delivers that signature sound that only a Tele can. A highly recommended ax for anyone that loves the classic Telecaster.
How Do I Choose an Electric Guitar?
The answer varies on a few different factors. Note that, it is vital to choose a guitar that is going to be comfortable, affordable, and suits your personality.
You want your guitar to be suited for you so you can stay motivated because learning how to play is such a rewarding thing to do! You want your guitar to reflect who you are, and to be suited to the genres of music you plan on playing with it.
Budget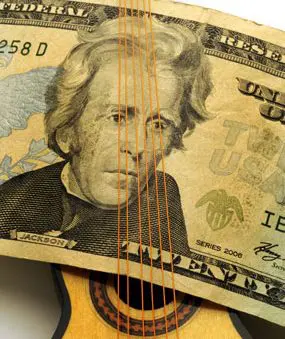 There are great options for lower-budget and beginner guitars from reputed guitar manufacturers namely Fender and Gibson. Not only are these guitars affordable, but they are also great quality.
Squier and Epiphone guitars come in the same models some guitar heroes play, like Stratocasters, Telecasters, Les Pauls, and SG's! You can find a guitar for just about any budget that will keep you motivated!
Electric Guitar Body Types
The body style of your electric guitar is a considerable part of your guitar's unique characteristics. Particular body styles suit particular genres because different body styles can sound slightly different from each other. Apart from that, different body styles can also be aesthetically pleasing to you!
There are three different types, like solid bodies, hollow bodies, and semi-hollow bodies.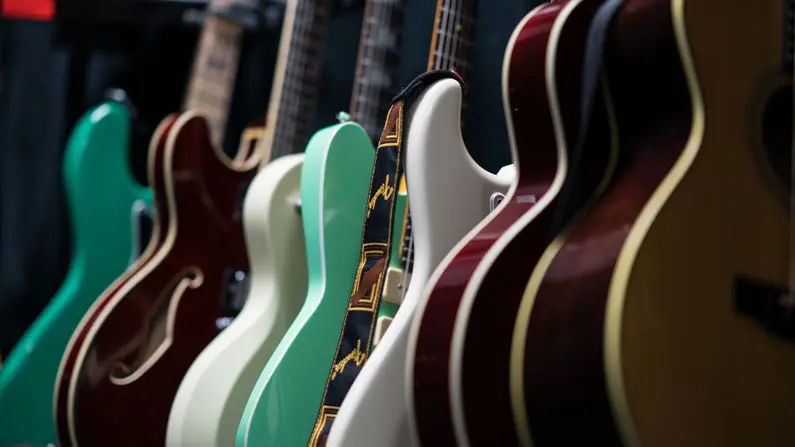 Solid Bodies
Solid bodies are the type you'll usually see in the wild. They can come in all sorts of different styles, from the curves of the Fender Stratocaster to the horned cutouts of the Gibson SG.
They usually have one to three pickups and usually less resonance than a hollow or semi-hollow body instrument. You'll hear solid body guitars in a lot of classic rock, metal, and alternative rock songs.
Hollow and Semi-Hollow Bodies
The hollow body and semi-hollow body guitars offer a lot more resonance to their sound, and they can sound almost like an acoustic guitar at times. In terms of design, you'll usually see an archtop and "f-holes" (the holes that allow the sound to resonate throughout the guitar).
These characteristics of the hollow and semi-hollow family allow the sound to "breathe". With this, it will provide you with a more vibrant, warmer tones and fuller bass response.
Jazz, blues, and folk favor hollow and semi-hollow body guitars, and sometimes country musicians for the warm tones they create.
What are the benefits of an electric guitar over an acoustic?
There are several differences between an acoustic guitar and electric guitar. While an acoustic enables you to pick up and play, an electric allows you to personalize your tone.
You can add effects such as distortion, echo, reverb, etc. With these effects, you can manipulate the tones in any way you can imagine.
You can have all sorts of fun with solos using stuff like tremolo and wah-wah pedals.
Electric guitars give you the ability to be the master of your sound, without limiting you to just one tone. Your imagination only limits the possibilities of sounds and effects you can come up!
Extra Accessories
Of course, with an electric guitar, you need a few more accessories to get yourself up and to go. You'll need an amplifier and cables for your guitar so you can plug it in and get playing!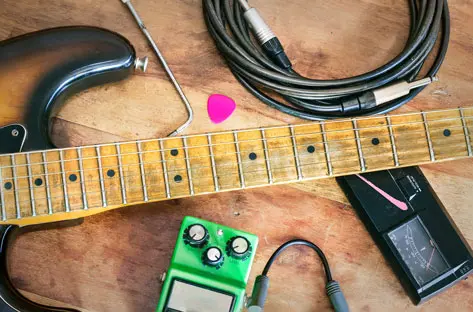 Some extra accessories you might consider getting are:
A tuner (you always want to be in tune!)
A strap, so you can play while standing, and not have to worry about dropping your guitar.
Extra strings (in packs of six in case you break one)
Case to protect your guitar when traveling
A stand, so your guitar can be safely put away when you're not playing
An effects pedal (only if you want added tonality and special effects to make your sound special)
These are just a few things for your guitar to optimize your playing experience!
With all of these guitars to consider, choosing a winner is difficult. When considering a winner for a roundup of guitars as diverse as this, it is crucial to consider several factors, such as design, affordability, tone, and feature sets.
When taking all of these things into consideration, the best electric guitar, not just for a veteran, but also for a beginner, is the Epiphone Les Paul Special II.
Special II provides tremendous value for the money. It delivers that Les Paul feels, sound, and design in a great package. It sounds formidable, it is available in a variety of colors, and it comes from Epiphone, a sub-brand of Gibson.
Epiphone has been a trusted name in affordable guitars for years. Their affordable quality makes a huge difference not only when purchasing a guitar.
With a guitar as beautiful and versatile as the Les Paul Special II, it is easy to want to keep playing and learning more and more.
Guitars are a great way to express yourself, to learn how to make yourself heard through music. Music is humanity's universal language, and learning the guitar is a perfect way to speak to anyone through that language.
Enjoy? Share with your friends!