When you buy through our links, we may earn an affiliate commission. Learn more »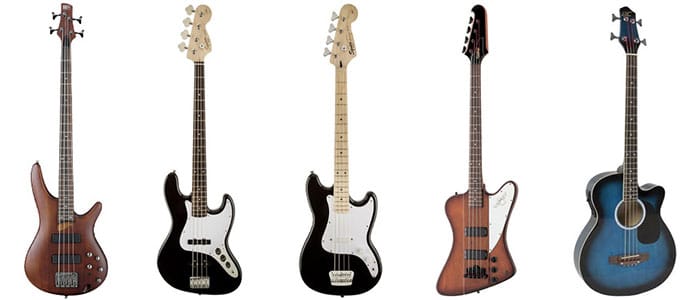 There are many, if not one best bass guitar.
Especially when the "best" depends on your wants and needs.
Whether you're purchasing your first bass guitar or looking to upgrade your instrument, shopping can be an overwhelming process.
We'll help identify what features to scout out when searching for an instrument that is beautiful on both the inside and out. Not only that, but we'll give you our rundown of the top bass guitars of 2021.
Read along to discover our guide to buying a bass guitar or skip ahead to check out the top contenders.
The Best Bass Guitar of 2021
#1 Ibanez SR500 Electric Bass Guitar – Best Bass Guitar
If you are an experienced bass player looking for a simple yet premium-sounding bass, the Ibanez SR500 Soundgear four-string electric bass is a great option.
With its sculpted mahogany body, rosewood fretboard, and abalone fret markers, this bass is definitely a step or two above entry level instruments. Still, it's an affordable option for experienced instrumentalists, as it provides a wide range of tones.
The ultra-thin SR4 neck is manufactured from five pieces of Jatoba and Bubinga wood. It boasts 24 frets and is set on a reliable accu-cast B20 bridge. While compact, the neck makes complicated scales and solos easy to master. Not to mention, its lightweight body helps reduce fatigue during long, intensive sets.
The Ibanez's matte brown mahogany look is brought to life with smooth artistic contours, but the real highlight of this bass guitar is its colorful full-range output.
Not to mention, it has a super fast and nimble neck. Of course, the Ibanez would be nothing without its flexible Bartolini pickups that are designed to generate smooth professional-sounding tones.
Pros
Dynamic four-string guitar
Ultra-thin SR4 5-pc jatoba and Bubinga neck
Accucast bridge
Urethane-coated Mahogany body
Oval fingerboard inlays
Cons
24 frets may be complicated for beginners
Expensive
#2 Squier by Fender Bronco Bass – Best Cheap Bass Guitar
If you're looking for a well-made bass guitar for a first timer, Fender's Squier Bronco bass is a super strong contender. This budget-rate guitar features a solid Agathis body with a high-gloss black polyurethane finish, a stark white pickguard, and lightly stained C-shape maple fretboard.
The guitar is 30 inches in length and boasts 19 medium-jumbo frets, providing a versatile and attractive playing surface.
When it comes to sound quality, the Bronco's single-coil pickup does a great job of producing rich, balanced bass notes. It also has a two-saddle chrome bridge for super precise adjustments.
While the Bronco only features volume and tone controls, the limited settings make it a great guitar for those who are in the early stages of their instrument training.
Young small-handed bass players will find the lightweight body of the Bronco easy to handle. What's more, the vintage-inspired C-shaped neck enables easy fretboard navigation.
Overall, this bass is attractive, comfortable, and built to last. Not to mention, it will leave money in your pocket for a good pair of strings.
Pros
High-gloss polyurethane finish for extra durability
Gorgeous maple fretboard
C-shaped neck
Single-coil pickup
Lightweight and compact
Cons
Well-suited for beginners only
#3 Squier by Fender Affinity Jazz Beginner Electric Bass Guitar – Best Beginner Bass Guitar
Are you looking for a solid midrange electric bass guitar that is well-suited for classic jazz numbers? Fender's Squier Affinity Series five-string electric bass is an all-star guitar for beginners on a budget.
This affordable guitar features an attractive asymmetrical design with a high-gloss black polyurethane finish and two-toned rosewood fingerboard. It also has a vintage-inspired C-shaped neck and 20 frets for unmatched flexibility.
Fender's Squier line is designed to soften the blow to musicians' pockets without cutting corners. As such, it features the bold look and solid sound structure associated with Fender's most iconic bass guitars.
Dual single-coil jazz pickups offer distortion-free clarity with plenty of punch. In fact, customers rave about the 5-string's throaty growl. Just make a few minor adjustments, and you might as well be on track to be the next Pat Metheny.
Years ago, finding an economical five-string jazz bass was a bit of a stumbling block. Now, the Affinity serves as a solid trainer or backup bass that doesn't put sound quality on the back burner.
In fact, unlike starter basses with inferior pickups, the Affinity features completely acceptable and gig-worthy hardware.
Pros
Dynamic 5-string setup for jazz numbers
Beautiful black sunburst colorway with white pickguard
Solid alder body with maple neck
20 medium-jumbo frets with a rosewood fingerboard
Cons
Less durable than some premium Fenders
#4 Epiphone Thunderbird IV Bass Vintage Sunburst – Best Bass Guitar Under $500
If you're looking for an iconic midrange electric bass to take to the stage, you don't want to miss Epiphone's Thunderbird IV electric bass in lovely vintage sunburst stain.
This classic four-string bass boasts a recognizable asymmetrical shape with a stunning vintage-inspired stain, classy black hardware, and a Thunderbird insignia stamped onto the fretboard.
With a solid alder body, expansive bolted maple neck, and luxurious rosewood fretboard with dotted inlays, there's no doubt that this bass is a premium performer.
Looks aside, the Thunderbird offers superior sound quality and versatile playing options. In fact, it features a sizable 34-inch body with dual TB Plus Humbucker pickups with ceramic magnets for smooth tones and generous gains.
It also has several advanced controls, including a die-cast neck volume, bridge volume, master tone, and neck pickup.
Not to mention, the three-point adjustable floating bridge makes it possible for users to fine-tune the strings in all directions. With 20 medium-jumbo frets, it also has a comfortable and easy-to-navigate profile.
The hallmark of the Thunderbird's iconic look maybe its reverse headstock. This stunning element features a bold black color that is mimicked in the outer trim and hardware.
Apart from its sleek look and powerful sound, the Thunderbird is built to last. In fact, it's backed by the company's generous Limited Lifetime Warranty and round-the-clock customer service.
Pros
Vintage-inspired sunburst colorway with black controls
Solid alder body
Bolted maple neck with rosewood fretboard
Dual TB Plus Humbucker pickups
Cons
#5 Best Choice Products 22-Fret Full Size Acoustic Electric Bass Guitar – Best Acoustic-Electric Bass Guitar
Our list wouldn't be complete without a solid acoustic/electric bass, and we couldn't be happier with Best Choice Product's four-string for our choice. This hollow-bodied guitar comes equipped with a four-band EQ-7545R preamp that offers rich, full-range resonance.
Meanwhile, the quality hollow-bodied construction holds up well during dynamic acoustic sessions. Keep in mind that this 22-fret guitar features integrated volume control and four-band control panel.
The Best Choice bass is made from light mahogany panels. It weighs around 5.5 pounds and is 45.5 inches in length. We love its minimalist design and versatile playability.
While we'd like to see some integrated strap hooks, we tied our strap right onto the neck. With a thick coat of black lacquer and firm seams, there's really no need to worry about the neck giving out.
We were blown away by the Best Choice four-string bass guitar's deep resonant tones. It faired well with a generic bass and was fit to play right out of the box. Not only that, but the pegs are smooth and easy to adjust, and it seemed to sustain a tune under even the most taxing playing conditions.
If you're looking for a dynamic acoustic/electric with a glossy colored finish, be sure to check this bargain-rate instrument.
Pros
Affordably priced
Four-band preamp with several controls
Sounds good acoustic and electric
Mahogany body
Deep resonant tones
Cons
Bargain-rate electronic components and pickups
#6 Squier by Fender Vintage SS Modified Special Jaguar Bass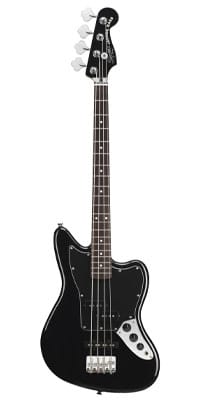 Fender's Squier Line Vintage SS Modified Special Jaguar Bass is a sexy instrument that offers a full spectrum of sound. It boasts a solid Agathis body with a 20-fret C-shaped maple neck, making it well-suited for both beginner and experienced players.
UPDATE:
Unfortunately, Squier by Fender Vintage SS Modified Special Jaguar Bass is currently unavailable. The closest alternative is
Fender Classic Vibe.
What's more, Fender paired a single-coil jazz bass pickup with a split single-coil precision bass pickup to give the SS an exceptional range of tones.
While there's no denying this candy apple red bass guitar is a hot ticket, it's surprisingly affordable too. In fact, the guitar's short scale and limited controls help cut down on costs.
Still, users get full control over the master tone and both pickup volumes, so we'd hardly consider it a compromise. The Jaguar offers a deep resounding growl and crisp tones that you'd be hard pressed to find in another beginner bass.
Apart from its superior sound, the Jaguar offers an accommodating setup. For example, the black four-saddle pickguard fades into a white control panel centered perfectly at the base of the guitar. What's more, the frets are set close together to accommodate small untrained hands.
Overall, this bass guitar has a gentle vibrato and full tonal flexibility that makes it a great choice for all styles of music. Just pair it with your favorite amp and effect pedals and set forth on the magical road to rock and roll history!
Pros
9.5 C-shaped maple neck with inlays
A single coil jazz pickup and split single-coil precision bass
Master tone and dual volume controls
Solid Agathis body
Cons
The small body may not be suited for older children and adults
#7 Ibanez GSRM20 4 String Bass Guitar
If you're not looking to blow your whole paycheck but still want to cash in on booming bass sound, the Ibanez GSRM20 4-string bass is an attractive and highly playable option.
This stunning bass guitar comes in a wide range of colorways, including solid black, brown sunburst, and pearly white.
Rock out like a guitar legend with this solid mahogany body and rosewood fingerboard. The GSRM20 boasts a super compact 28.6-inch scale, making it perfect for children, teens, and frequent travelers.
While this bass has a solid sound foundation, it's hard not to relish its attractive exterior. From chrome hardware to pearl dot inlays, the beauty in this Ibanez isn't just auditory.
Of course, the combination of Dynamic P-Neck PU and J-Bridge pickups give this guitar a musical advantage. Whether you're widdling out first-time scales or working on your own composition, you'll be happy with the Ibanez's sound quality.
We also love the setup of this bass, including the staggered pickups and controls which embrace the instrument's curvy profile.
Despite its low price, the Ibanez boasts the stunning look of a vintage SR series bass, with double cutaways that ooze rock and roll. This bass also offers a tremendously warm sound thanks to its semi-hollow wood construction.
Pros
Dual Ibanez single-coil pickups
Small scale SR construction for a low price
Flexible setup
28.6-inch scale
Mahogany body
Cons
#8 Rogue LX200B
Rogue's Series III LX200B four-string electric bass presents a smooth dual cutaway look. With a solid basswood body, bolted on maple neck, and rosewood fingerboard, this guitar is designed to offer a lifetime of playability.
Of course, it's not without flexibility either. In fact, its high-mass adjustable saddle bridge makes for super easy and reliable adjustments.
The LX200B boasts a J-style humbucker bridge pickup that helps cancel out annoying audio interference. It also features a P-style split coil neck pickup that is well-suited for jazz compositions. The combination makes for well-balanced and dynamic sound.
Meanwhile, the Rogue has four controls, including dual die-cast volume and tone dials. Adjustments are easy, and you'll never find yourself stumbling around with the easy diamond-shaped knob configuration.
Apart from that, the Rogue's rosewood fretboard is smooth and easy to navigate. Not to mention, the combo of glittery cobalt blue stain and black hardware give this bass an unmatched contemporary look. Keep in mind that this guitar comes in a 34-inch scale and boasts 24 frets.
Despite its large stature, it's one of the most affordable options on our list and a solid choice for any newbie musician.
Pros
Contemporary dual cutaway body
Bolt-on neck with rosewood fingerboard
The j-style humbucker bridge pickup
P-style splot coil neck pickup
Cons
#9 Schecter Stiletto Extreme Four-String Bass Guitar
If you're looking to develop an undeniable stage presence, the four-string black cherry Schecter Stiletto flaunts a dramatic look with undeniably rich tones. Its mahogany body and quilted maple top offer a solid and comfortable foundation.
Meanwhile, the Schecter's Diamond Active pickups and bridge offer an unmatched auditory response. What's more, four onboard Schecter tuners give users the flexibility and control they need to perform in a variety of arenas.
This solid-bodied guitar has die-cast metallic hardware that holds a tune for an extended period of time. Not only that, but it has a pearly Vector inlays set in a gorgeous rosewood fingerboard for a super smooth performance.
Paired with the ripple effect of the quilted maple body, this stunning instrument offers an envy-inducing design.
The Stiletto also has a 34-inch scale with 24 extra jumbo frets. With frets spaced generously apart from one another, this guitar may be better suited for experienced players.
Still, it is a great option for players looking to graduate from a "starter" bass. In fact, it offers ample opportunity for musical growth and creativity.
Pros
Vibrant black cherry colorway with mahogany and quilted maple top
Rosewood fingerboard with pearly Vector inlays
Four Schecter tuners
Schecter diamond bass pickups
34-inch scale
Cons
#10 Yamaha TRBX 304
If you're looking for a bold contemporary or even metal bass with an affordable price tag, be sure to check out the four-string Yamaha TRBX 304.
UPDATE: Unfortunately, Yamaha TRBX304 is currently unavailable.
The closest alternative is its sibling: Yamaha TRBX504.
Yamaha's 300 Series bass guitars boast expertly balanced solid mahogany bodies and five-piece maple and mahogany necks. But their real magic lies in their expansive tonal range.
This guitar is developed around super balanced Performance EQ electronics with dial-in tones. Users can alternate between slap, pick, and other preset performance settings. Of course, this instrument also provides a smooth, responsive foundation for all levels of learning and development.
A combination of active and passive pre-amp pickups give musicians the ability to deliver customized sound each and every time. But the convenience factor would be hard to recognize if the instrument itself wasn't so solid and balanced.
What's more, this bass has a metal plate-mounted amp socket for gig-worthy durability. Finally, at just over 12 pounds, the TRBX is lightweight and easy to play.
Pros
38-millimeter nut
YGD M3 pickups with hum cancellation
Five-piece maple and a mahogany laminated body
Preconfigured tonal controls
Cons
Requires a 9-volt battery
Occasional knots in the wood
Buying Guide
Bass guitars are responsible for adding a wide variety of rhythms and melodies to nearly every genre of music. While the instrument itself is surprisingly simple, it is important to understand the basic elements at play before purchasing a bass guitar of your own.
Determine Your Personal Needs
Bass guitars are capable of conjuring up a full range of notes, from deep bass tones to crisp melodic highs. Of course, it takes musicians years of practice before they can attain this level of skill.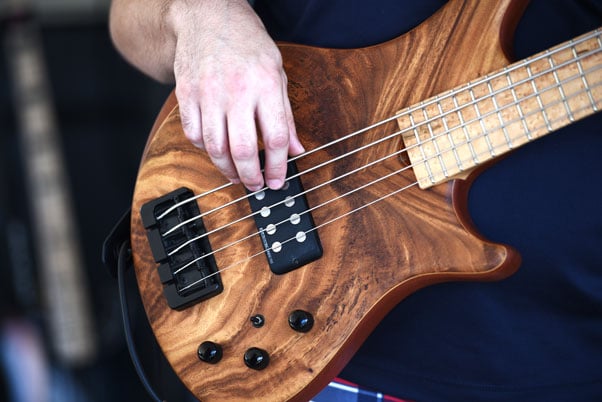 If you're just starting out and unsure of how long you'll utilize your instrument, it's a good idea to purchase an inexpensive "starter" bass.
"Starter" instruments typically feature inferior sound and electronic elements, but their small stature is perfect for building agility and confidence.
If you're a more experienced player, you may wish to purchase a more dynamic model, with better pickups, superior wood, and detailed controls. Of course, the vast majority of musicians will alternate instruments at some point during their career.
How to Choose a Bass Guitar?
If you're new to the bass guitar, it's a good idea to choose an affordable four-string model with a limited number of controls. Many instrument manufacturers make stripped down versions of their most popular models. These serve as great foundations for the early stages of learning the instrument.
Establish a clear-cut budget and expectations to match. Then, have fun by choosing a model that you find to be aesthetically pleasing.
Bass guitars come in countless colors, shapes, and designs. Whether you opt for candy apple red, high-gloss black, or bare wood, you're bound to find a bass guitar that, at the least, makes you feel like a genuine rock star.
What to Look for in a Bass Guitar
Body
Over time, instrument manufacturers have developed a wide variety of bass guitar bodies, often tailoring designs to fit the aesthetic requirements of particular music genres. Electric bass guitars tend to feature solid or, on occasion, semi-hollow bodies made of alder, maple, mahogany, or another tonewood (Andertons).
Their necks are typically made a different wood and either bolted on, driven through, or jointed to the body. The goal is to create stability between these two different pieces, which in turn maximizes the instrument's vibrational output.
What's more, bass guitars come in a variety of scales, with the most popular scale measuring 34-inch. In fact, the first shortened scale electric bass was the 34-inch Fender Precision Bass or P-Bass. Small-scale basses are typically used by beginners as they are easier to navigate. Meanwhile, large-scale basses offer expert-level range.
Wood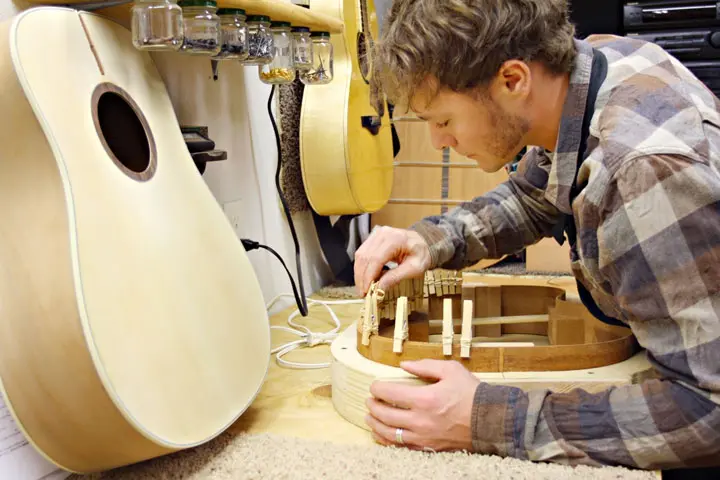 Wood is chosen for more than its visual attributes. In fact, the type of wood used in the construction of bass is actually responsible for its tonal output. For example, alder is known for being balanced and responsive.
Meanwhile, mahogany is known for its warm full-bodied output. What's more, maple is known for it's crisp, bright tones. Manufacturers prefer to use stiff lightweight tonewoods, as they optimize the vibrational output of the guitar.
Of course, musicians also see the wood for its rich aesthetic potential. In fact, many manufacturers rely on specific wood grains to create custom bass guitars. There are dozens of different types of tonewoods (Guitar Bench).
Neck
The neck of a bass guitar consists of several dynamic parts, including the headstock, truss rod, and fret or fingerboard. The fretboard is the thin piece of wood that sits atop of the neck and more often than not features metal bars or decorative inlays known as frets. Fretboards are typically made of high-quality softwood varieties such as rosewood or maple (Study Bass).
The headstock is the upper portion of the bass guitar that holds the tuning pegs, tuners, and strings. It is important to ensure that the tuning machines are easy to use and hold a tune for an elongated period of time.
Finally, bass guitars have an integrated support pole called a truss rod. This unseen element is pivotal in providing support and tension against the powerful and brawny bass strings. Keep in mind that bass guitars may feature four, five, or even more strings.
There are also a number of fretless bass guitars on the market. However, these are best suited for advanced players who can place their fingers by memory. Check out this YouTube video for a detailed comparison of fretted and fretless basses.
Pickups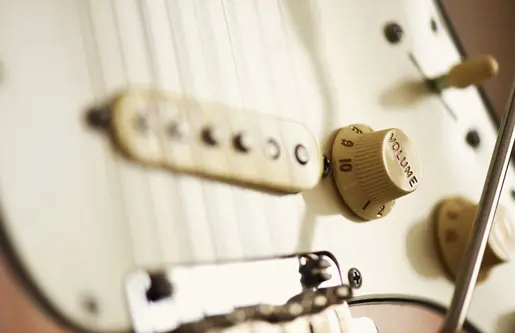 Pickups are the electromagnetic transducers built into the neck or body of the bass. They are designed to register the vibration of the strings and transmit them to an external amplifier. Beginner guitars may only have one pickup, but most guitars have at least two. Dual pickups are set apart from one another so that they can register a wide range of tones (Muzique).
There are two main types of pickups used in bass guitars. These are single-coil and humbucker pickups (The Hub). Single-coil pickups have a coil and magnet which can be used to capture sound. They work similar to antennas.
Meanwhile, humbucker pickups are designed to cancel the hum that is often picked up by bass guitars. As a result, they tend to be deeper and more resonate.
It's also important to consider whether you want a guitar with active or passive pickups. Passive pickups provide warmer, fuller tones, while active pickups are known for being bright and clear.
Bridge
While we discussed where the bass guitar's string end, we haven't discussed where they start. A bridge is the quintessential starting point for strings. Most electric bass guitar bridges are made from solid metal and boast adjustable actions.
A bridge consists of a locked saddle. It may have a screw and separate mechanism for each string or the strings may share a single saddle.
Acoustic Bass Guitars
If you'd prefer to play acoustic bass or don't always have access to an amp, an acoustic or acoustic/electric hybrids is a great choice. These basses rely on a hollow body to project sound without any electric intervention. Some even have built-in preamps.
After looking at a vast number of bass guitars, we are excited to announce that the Ibanez SR500 is the best bass guitar. First off, this guitar has an undeniably gorgeous natural mahogany body with abalone fretboard inlays.
What's more, it features a super fast and easy-to-navigate SR4 five-piece neck. Not to mention, the combination of Bartolini neck and bridge pickups ensure vibrant full-range tones.
While the SR500 is one of the more expensive models on our list, its far from egregious. Whether you're just starting out or headed for bass stardom, be sure to check out this versatile electric four-string.
As always, we hope you enjoyed our rundown of the top bass guitars of 2021! Happy shopping!
Enjoy? Share with your friends!