When you buy through our links, we may earn an affiliate commission. Learn more »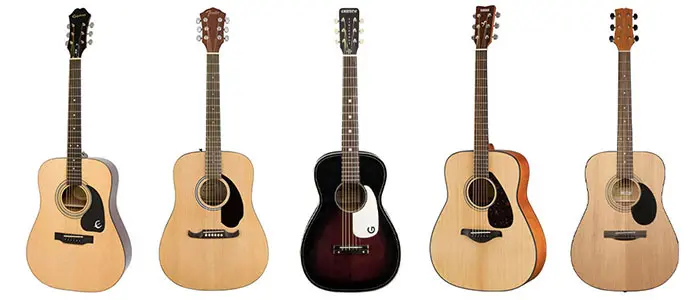 Disclaimer: Amazon changes its pricing constantly. There's no guarantee that the price ranges mentioned in this guide will remain accurate when you read this article.
Are you searching for the best acoustic guitar under $300?
That's precisely my budget when I was starting out. I ended up buying Yamaha F325D, and it's still my strumming buddy up to this very day.
If you're a beginner, you don't really need a $1000 guitar. $200-$300 is a good starting point to score a good starter acoustic guitar.
The only gripe that I have with my Yamaha is it's too hard to press. It requires a significant amount of force to hit the perfect notes. For beginners, I would recommend getting low-action guitars which are easier on the fingers.
If that's not an issue, let me present to you the best acoustic guitars under $300 bucks.
That's the short version of this buying guide. Feel free to click those links to read the full review of each acoustic guitar that will give you the best bang for your buck. Otherwise, let's take a quick look at these amazing string instruments.
Price, aesthetics, tonewoods, and tonal quality are the main ranking factors for this roundup.
10 Best Acoustic Guitars Under $300
#1 Yamaha FG800 – The Best of the Best
The FG series of the Japanese brand Yamaha has been popular for 50 years already. The FG800 has the simple looks of a traditional guitar with a smooth glossy finish.
It is built with a solid spruce top, and nato back and sides. These two tonewoods blend splendidly together producing a loud, warm and sweet sound. Added with Yamaha's newly developed bracing, the tone it plays is well-balanced.
The rosewood bridge and fingerboard makes it really comfy to play. It also has die-cast tuners which will hold the tune even if you play it a lot.
This wonderful dreadnought is highly recommended for beginners, not just for its cheap price but also because of its great tonal quality, pleasant feel and appealing looks.
There's also a cheap Yamaha guitar that might interest you. That's the Yamaha F325D. It's a laminate guitar but still stands to quality.
#2 Epiphone DR-100 Acoustic Guitar
The Epiphone's best seller is best for bluegrass, folk, rock, country and everything in between. This stylish guitar is offered in three different finishes namely, Ebony, Natural, and my favorite, Vintage Sunburst.
Here's why it's one of the best acoustic guitars under $300:
Naturally, this dreadnought has more to offer than just looks. Crafted with Select Spruce top, and Mahogany back and sides it produces a well-balanced tone. Its Rosewood fingerboard and SlimTaper neck shape make it a really good choice for beginners, comfortable and easy to play.
Attractive, comfortable, thick and sweet tone. With these qualities, you could say the guitar itself is a bundle. Instead of seeing it as an expense, you could see it as an investment. Simply because this guitar doesn't depreciate, its quality only gets better as it age.
You can read the full review of Epiphone DR-100 Acoustic Guitar here.
#3 Fender FA-100 Acoustic Guitar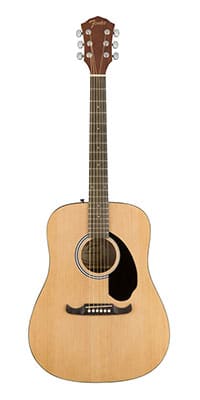 This Full-size dreadnought is popular for beginner guitarists. Cheap, but produces a full and vibrant tone. With its Rosewood bridge and C-shape neck, comfort won't be something you have to worry about.
UPDATE: Unfortunately, Fender FA-100 is currently unavailable. The closest alternative is Fender FA-115.
This good looking guitar is made with a laminated spruce top, and basswood back and sides creating a clear, loud and warm tone. The X bracing makes up for the laminated top, which then generates an awesome and clear projection.
The best feature, in my opinion, is its compensated synthetic
compensated synthetic bone saddle and nut. Most guitars only use plastic, but this isn't "most" guitars. If you're wondering, its for the reason that bones have superb quality compared to the rest.
With this product, you'd actually be able to save some money since it's offered as a bundle. It also has three different color variations to fit your style, namely black, natural, sunburst, and my personal favorite, natural satin.
There's another version of this that's an acoustic-electric with a cutaway. If you want to play on gigs or record your music, Fender FA-125CE might intrigue you.
You can read the full review of Fender FA-100 Acoustic Guitar here.
#4 Jasmine S35 Acoustic Guitar
Jasmine is usually known for its budget guitars with the high overall quality. Quite a contradiction right? You better believe it, because this guitar is actually one of the few.
Composed with a laminated spruce top and laminated agathis back and sides. Surprisingly, even with laminated tonewoods, this guitar produces a big and bold sound. That's thanks to Jasmine's advanced "X" bracing which additionally makes it light but resilient. Furthermore, the satin finish maximizes its resonance.
Because of its convenient slim rosewood neck and fretboard, this guitar is well-suited for beginners or for anyone who has small hands in general. You may have to re-tune it from time to time, but at least you'll be able to practice your hearing skills. Despite that, this guitar is still awesome, cheap price, excellent tone, and decent playability. Thus, you get more than what you paid for!
You can read the full review of Jasmine S35 Acoustic Guitar here.
#5 Gretsch G9500 Flat-top Guitar
"That Great Gretsch Sound". Ever heard of that? That's what professionals usually say when they hear an instrument made by Gretsch. From that, I guess you can concur that their quality is definitely and evidently top-notch!
This particular guitar has a Parlor body style. Compared to an open sounding dreadnought, this is much smaller and has a bit boxy sound.
Due to its small size, a simple strum would actually bring out its full frequency, which is why it's best suited for fingerstyle players.
Built with agathis top, back, and sides, this flat top guitar produces a warm and pleasing tone. For beginners, it's really easy to play thanks to the rosewood fingerboard and its C-shape neck! Moreover, its Semi-gloss finish and Vintage sunburst color make it uniquely beautiful.
I didn't really expect a Gretsch guitar to be this cheap considering its high-end quality. Small in terms of price and size, but I guess you could say that its sound, playability, and looks are ENORMOUSLY epic!
#6 Yamaha APXT2 Acoustic-Electric Guitar
Naturally, if a product is a best seller, you'd try to make different versions to fit every situation possible right? That's the case for Yamaha. This is actually the smaller (3/4) version of Yamaha's best selling electric-acoustic guitar, APX500II.
This handsome looking guitar is crafted with a spruce top, meranti back and sides, and glossy finish. It is incorporated with System 68 Electronics, and ART (Acoustic Resonance Technology) based pickup system. With the combination of these tonewoods and electronics, this beaut generates a natural and dynamic tone.
Here's why it's one of the best acoustic guitars under $300:
If you're a beginner, one of the features you'll totally love is the built-in digital tuner. So, anywhere you go, you could quickly tune your guitar with great accuracy. I kinda' wish I had this guitar before. If I did, my beginner journey would have been a breeze.
With its 3/4 size, this is perfect for travelers, kids, or someone who has cute small hands. If you're worried about the guitar getting messed up when traveling, don't. Simply because this is well-built, so I'm sure it can handle your business.
You can read the full review of Yamaha APXT2 Acoustic-Electric Guitar here.
#7 Yamaha FG830 Acoustic Guitar
The higher-priced version of FG800. If you don't mind spending a little bit more for advanced features, then you should go with FG830.
The same thing with FG800, it has Solid Sitka Spruce Top and gloss finish which gives it a splendid look. The rosewood neck and fingerboard also provides it a pleasant feel. Yamaha also added their new scalloped bracing to FG830, giving it a louder and stronger sound.
The main difference and the remarkable feature would be its unusual combination of rosewood for the back and sides. Thanks to that, this guitar produces rich overtones and has an improved sustain.
You can read the full review of Yamaha FG830 Acoustic Guitar here.
#8 Bristol BD-16 Acoustic Guitar
Exhibiting the traditional sound of the mountains, introducing the Bristol BD-16. It's a quality guitar for an affordable budget. You can rest assured by the notable quality of this guitar given the fact that it is carefully handcrafted by expert artisans.
Made with a spruce top and scalloped bracing, it gives off a deep, full range sound. The strong volume and responsive tone is thanks to the mahogany back and sides of the guitar.
It has a slim mahogany neck which means its really easy to play and best suited for beginners. Its die-cast tuning machines make sure that it stays in tune so that you don't need to keep on worrying about it, especially when playing in a gig.
For an affordable guitar under $300, you'd be getting more than what you paid for. It's got the looks and the personality (sound quality and comfort), what more could you be looking for?
#9 Jasmine S34C Acoustic Cutaway Guitar
Jasmine S34C is almost the same with S35 but with a little more style per se. The stylish Venetian-style cutaway will allow you to reach higher frets, so if you plan on playing songs with high notes this is the right fit for you.
This Grand orchestra-style guitar's sound is so well-balanced thanks to Jasmine's Advanced "X" Bracing. The bracing is slightly shifted forward creating a livelier and more open sound.
Crafted with a spruce top, sapele back and sides, and satin finish. With this mash-up, the resonance is maximized for excellent sound quality. Its slim rosewood neck and fingerboard, combined with that elegant cutaway, this guitar is best fitted for fingerstyle players.
Are you a fingerstyle player? On a budget? If the answer to those questions is yes, then, this guitar is the best choice for you. Cheap but outstanding quality.
#10 Ibanez IJV50 Acoustic Guitar
Ibanez is more popular on the electric side but of course, they won't come last in the acoustics race. This particular IJV50 is probably the most affordable guitar, with adequate quality.
Unexpectedly, it has a solid spruce top. Very unusual for guitars in this price range. The back and sides are made from agathis, same with the neck. It has a natural finish making it durable and attractive at the same time.
This is really excellent for beginners that are literally just starting out. Its affordable and it comes with gig bag and guitar accessories. So, that's like two birds in one stone right?
Despite being the last on this list, it's definitely one of the best acoustic guitars under $300 bucks.
What To Look for in a Cheap Acoustic Guitar?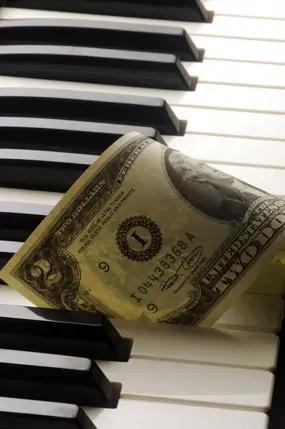 Before jumping into guitar reviews, I'd like to teach you about what you should watch out for on a cheap guitar.
Technically, there are a lot of things you need to consider when buying a guitar. In this case, I'll only converse about the most important things about cheap guitars. Your budget, used or new, laminated or solid, and whether you should go electric or traditional.
If you want, I have a detailed buying guide when choosing an acoustic guitar.
Budget
The budget, of course, still depends on how much you have on your wallet. If you're a beginner, I think the most important thing is to start learning "NOW." Don't let this be the reason why you can't begin to your marvelous musical journey.
Although, in my opinion, the best budget acoustic guitar should be around $200 – $300. It is also the ideal budget for beginners. Some of the high-quality guitars start at this price range.
Often, guitars worth less than this price range may be annoying in nature. Boring looks, dull sound, and difficult to play. It will probably result in players being discouraged and might not even bother to play it at all.
Lucky for you, there are tons of cheap guitars out there that won't break your wallet and still have an impressive quality! Some are listed below as my top budget acoustic guitars.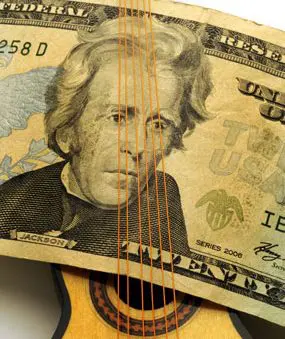 Used Vs. New
Secondhand. Something bad comes to mind? You're not alone.
Pre-owned stuff usually has a bad reputation, for some people at least. Although, for people saving money, it isn't that bad. You should be wary though.
There are people out there selling a nice quality guitar, probably because they want to upgrade. If you are gonna buy in person, here are some things you need to check before buying a used guitar:
Make sure that the neck is straight. To check this, hold down the 1st and 14th fret. Then, check the action or the gap between the frets and strings. If the action is not uniform on both sides, that's a red flag.
Check for any cracks or damages. This could be in the neck, body, or even the paint. If there is any, the guitar was poorly maintained.
Check for any buzzing when fretting notes. If so, the guitar will probably need a fret redress.
If any of those checks out, you should buy the guitar to save some money. Any other stuff can be easily replaced without breaking the bank, such as strings, and tuning machines.
Though more costly than used ones, new guitars are most definitely reliable. The only thing you need to worry about is the features.
New guitars normally have warranties, so, you can easily get it repaired or replaced if things go south.
Clearly, new guitars are more durable. It, being fresh from a factory, not worn out, and still in the box.
Laminated Vs. Solid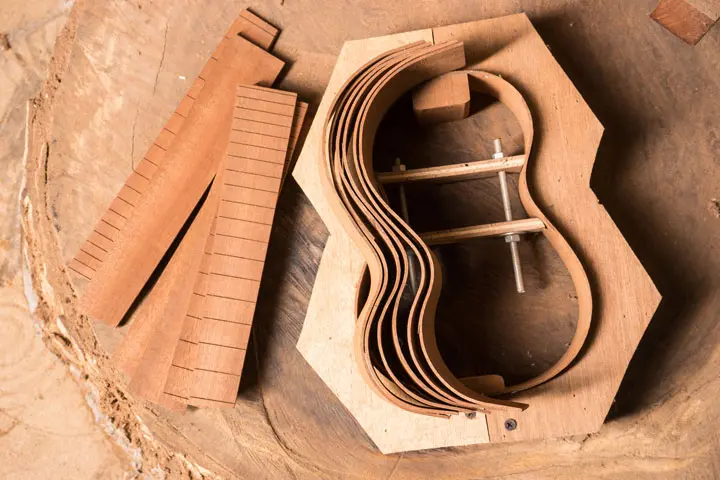 The main difference between the laminated and solid is how they're processed and their end tone.
Majority of the cheap guitars' top is made from laminated woods. Laminated or pressed plywood is multiple thin layers of wood pressed and glued together for stability and strength.
Solid Top is well, you guessed it, solid. Experienced guitarists prefer solid tonewoods for its better sound quality. The only downside for beginners is that this is much more expensive than the laminated.
Obviously, solid has better quality, there's no doubt about that. Laminated woods are only "okay", but if combined with some awesome features, their quality isn't so bad. Furthermore, they're much cheaper than solid ones. Thus, that's a win-win right there!
Acoustic vs. Acoustic-Electric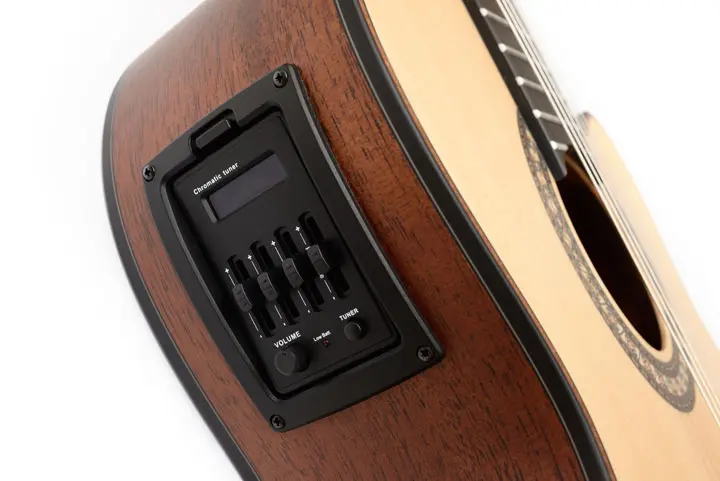 Ironically, this can be answered by a question. Are you gonna play it on a gig or not? If so, then you should go acoustic-electric. On the contrary, if you're gonna play it for a campfire, or for a small group, an acoustic would work.
If you're gonna go with acoustic-electric, you might have to spend a little more than the ideal budget. Sure you can play it without any accessories but there are acoustic-electric guitars that require an amp to provide you with a better sound. Apart from that, the electronics included actually demand you to pay more.
According to some guitarists, the pickup of acoustic-electric makes the sound of the guitar worse. I've actually experienced it firsthand (without an amp) and compared to my regular acoustic, boy was it awful.
Of course, that's not true to all. We can simply say that a few of these acoustic-electric guitars are dependent on an amplifier to be played beautifully. Some acoustic guitars already have a great sound projection which is why I prefer that over acoustic-electric.
With all that said, I really like the Yamaha FG800 as the best acoustic guitar under $300. The sound, playability, and looks are just wow. You may be paying a bit more but it's totally worth it. Honestly, I don't think I need to further promote my case with FG800, because it's like, the guitar speaks for itself!
The final decision is still up to you though.
New or used, cheap or expensive, laminated or solid, it's important to be well-informed so that you won't waste your money and end up with an awful guitar. Which is why I hope that this article was able to help you with your decision making.
Happy Strumming!
Enjoy? Share with your friends!