When you buy through our links, we may earn an affiliate commission. Learn more »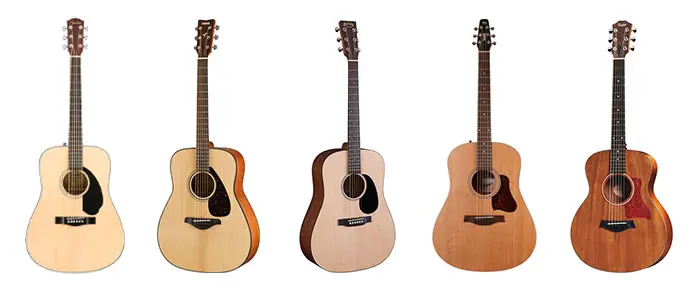 Disclaimer: Amazon changes its pricing constantly. There's no guarantee that the price ranges mentioned in this guide will remain accurate when you read this article.
Are you looking for the best acoustic guitar under $1000?
If you're on the hunt for a good-quality acoustic guitar, a thousand bucks is more than enough. It can afford you an intermediate strumming instrument that you can jam with for a lifetime.
Some brands offer a complete kit at this price range, including an amplifier, guitar bag, set of strings, etc. However, if you're going for a top guitar brand, you're only paying for the guitar itself.
It's not an easy decision to make, but I'm here to help you out.
Without further delay, here are the best acoustic guitars under $1000.
That's the short version of this buying guide. Feel free to click those links to read the full review of each acoustic guitar for under 1000 bucks. Otherwise, let's take a quick look at these fantastic string instruments.
9 Best Acoustic Guitars Under $1000
#1 Martin D-10e – The Best of the Best
#2 Yamaha FG800 – Best Acoustic Guitar for Beginners
#3 Taylor GS Mini – Best Travel Guitar
#4 Fender CD-60S – Best Cheap Acoustic Guitar
#5 Seagull S6 – Best Acoustic Guitar Under $500
#6 Taylor Big Baby (BBTe) Acoustic Guitar
#7 LX1E Little Martin Acoustic Guitar
#8 Yamaha F325D Acoustic Guitar
#9 Fender FA-100 Acoustic Guitar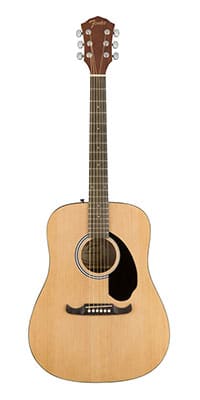 Guitar Buying Guide
Before I get to the reviews, let's take a look at what you should consider before you even make a purchase.
Remember, this will be an instrument that you'll be playing for years. For this reason, you'll want a product that's as fully-featured as possible so that you can derive a lot of good playing sessions from it.
With that in mind, here are a few features that you should consider when you settle on a product:
Number of Frets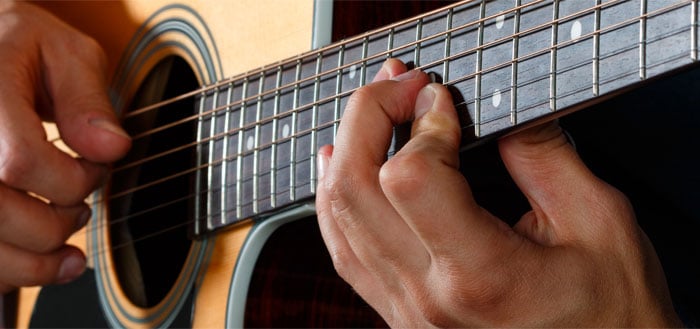 While this is not entirely important with acoustics compared to electrics, having a higher number of frets means that you will have more access to the higher notes. As a result, you'll have a higher range and will have to rely less on bends when you're trying to achieve a higher tonality.
If you are shooting for a warmer sound, you can get away with a 20-fret instrument. Having the versatility that 22 frets or more brings can be very useful too, especially if you are playing multiple genres of music.
Types of String
No matter which type of acoustic guitar you purchase, you can expect two types of strings: nylon and steel. Which of these you pick will depend on the sound that you'd like to output and how you like to play.
Remember, a classical guitar, which nylon strings are specifically for, cannot have steel strings. The tension of the strings can be too much for the neck, and replacing steel strings with nylon strings can be tough due to the ball ends. These ball ends featured on steel strings but doesn't come standard on nylon ones.
For a better understanding of the features of each string type, let's take a look at each:
Steel
If you like a brighter sound that's great for the country and some folk music, then steel strings can be a great option.
With a steel-string guitar, there are more internal braces so that the body of the guitar can withstand the tension that's generated by the heavier strings. As a result, a guitar of this type might feel a little sturdier.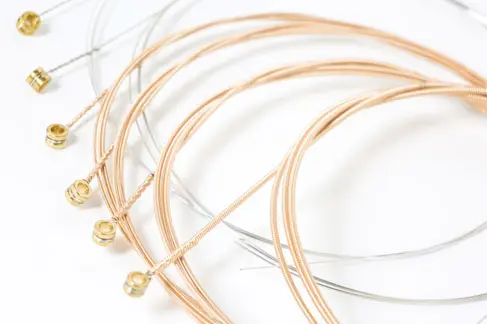 When looking at these strings, you will immediately notice that the higher strings become less complicated.
For example, the high E string and the B string will primarily be just wire. A metal core wraps the strings, and with it, the strings are thicker and more resonant.
Nylon
Once again, for guitars using nylon strings, utilizing steel strings will most likely cause structural damage in the neck and body areas. When I'm playing on nylon strings, the first thing I notice is how smooth they feel. Then, I started on steel strings. I observed that the lower the string, the more you can feel the coiled metal.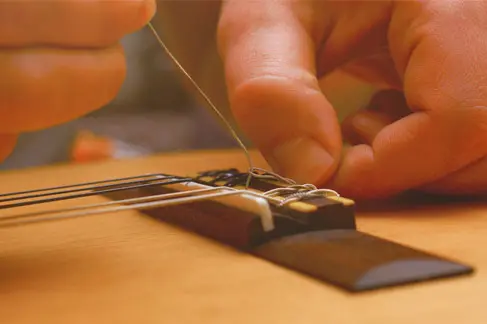 With nylon strings, the strings almost feel plastic-like and feel great on your fingers. These also have a deeper tonality than steel strings, which means that there's no better option for folk music.
If you want to play some soulful music by the fire, then nylon strings will have some of the smoothest sounds available on this type of instrument. Funnily enough, the D and E strings on nylon strings are sometimes wrapped in steel.
Body Type
While you may explore your local Guitar Center and think that every acoustic in their acoustic section is related, but there are quite a few varieties. One of my personal favorites is the 12-string acoustic, which has a very resonant sound that almost sounds like a harpsichord. Although when it comes to body type, here are a few to consider:
Dreadnought
If you like bluegrass, then most likely you've seen a dreadnought guitar. This type of guitar named after a battleship is more extensive than most other guitar types. The tail is vast, but you'll also notice that the neck is relatively wide as well.
Grand Concert
This particular body type is a variant of the concert guitar that can put out a high amount of volume that can fill a venue. If you like bright tones, this is a guitar to consider. Concert guitars also tend to run a bit on the smaller side.
Grand Auditorium
Also called the grand orchestra guitar, these instruments also have a loud volume output. The tones generated with this instrument are more in the midrange than the high-pitched sounds that come from concert guitars.
Jumbo
Anyone that remembers Johnny Cash remembers his jumbo guitar, which is an overlarge style of guitar that differentiates from the dreadnought in design. Because of the larger sound chamber, this is a guitar with a very resonant sound profile.
Finding a good acoustic can be a gratifying experience, and the products that we covered in this guide are all excellent instruments that sound excellent.
If I were to select the best acoustic guitar under $1000 out of the reviewed instruments, it would be the Martin D-10e. This guitar has a new beautiful design, a warm tonality, and some awe-inspiring volume thanks to its X-bracing.
I also thought the smooth and easy to play fretboard made slides and bends very easy.
This excellent guitar is also for beginner players; When you're learning to play, the guitar must be comfortable to play to work on finger skills. It's also great if you are a traveler looking for a sturdy guitar. It's exceptionally durable with an epic quality.
Whether it's plugged in or not, this acoustic-electric guitar has a fantastic sound quality. More options for you, right?
Last but not least, Martin D-10e features solid tonewoods. In other words, it'll be a perfect investment whether you're a beginner or a seasoned guitarist since its quality will improve over time.
Enjoy? Share with your friends!