When you buy through our links, we may earn an affiliate commission. Learn more »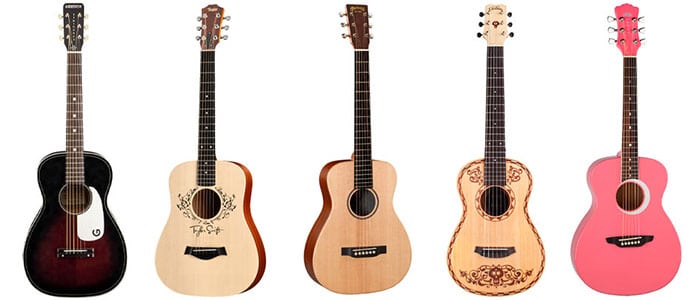 The guitar is the second most popular instrument, next to the piano. It's also fun to play, and if you want your child to learn, I'll help you by looking for the best acoustic guitar for kids.
As a kid, I've always avoided learning some new stuff, especially guitar. But now, as an adult, I've always regretted that decision. If I had started at an earlier age, I'd have a longer and better experience with the guitar.
Of course, it's never too late to learn even as an adult. You can learn a new instrument anytime you want, you just need to commit to it.
Let's start your little one's musical journey by taking a quick look at the best acoustic guitars for kids of 2021.
The only problem when kids are learning is that there's too much distraction. If you want your kids to learn, you'd need to really watch and guide them. At least 1-2 hours a day.
Trust me, they will definitely thank you later in life. It's not like anyone hates music right?
I've researched all the ideal guitar for children and ended up with these 10 best acoustic guitars for kids. They are all the appropriate size for ages 4-12. If you're looking for a travel guitar, some of these strumming instruments may also be applicable for you.
10 Best Acoustic Guitar for Kids
#1 Martin LX1 Little Martin Acoustic Guitar
A surprisingly affordable Martin Guitar. This series might be the smallest of Martin guitars, yet it still offers a big tone, great playability, and appealing quality.
It boasts a Solid Sitka Spruce top, and an HPL (high-pressure laminate) mahogany, and a textured finish. Since its a smaller size guitar, it doesn't produce a big projection, unlike dreadnought.
Technically, it's not really built for that. Even so, this guitar still has an astounding well-balanced and warm sound despite its size.
It's not just appealing and great sounding, the playability is also competent. It has a Rust Birch neck and Richlite fingerboard. The odd laminate neck sports a nice look and comfortable feel to players.
For a well-known brand, known because of its top-notch quality, the affordable LX1 is a win-win for you and for your kid. There's also an acoustic-electric version of this guitar, the LX1E.
You can read the full review of Martin LX1 Little Martin Acoustic Guitar here.
#2 Yamaha JR1 & JR2 Acoustic Guitar
These two guitars are based on Yamaha's popular FG series that's been around for more than 50 years. They may be small, but they still deliver a genuine acoustic sound. Ideal for kids, traveling, or even for adults with cute little hands.
They are both built with a laminated spruce top, nato neck, and rosewood fingerboard. Even though their top is laminated, they still offer bright sounding tunes. In addition, they both have a glossy natural finish but JR2 is also being offered in sunburst finish.
JR1 has meranti for its back and sides while JR2 has Mahogany (ultra-thin film). Meranti is cheaper but mahogany is much more durable, making it more fitting for kids or travel purposes.
You can read the full review of Yamaha JR1 & JR2 Acoustic Guitar here.
#3 Yamaha APXT2 Acoustic-Electric Guitar
Based on Yamaha's best-selling acoustic-electric guitar, APX500II. Being small is not a hindrance to this guitar if anything, it can actually go the distance. I mean that metaphorically, and literally. Simply because it's great for traveling and/or for your kids.
It sports a single cutaway with a laminated spruce top, meranti back and sides, and a unique oval soundhole. Meranti is identical to mahogany but cost-effective, so altogether it still produces those nice bright tones.
Having electronics won't be too complicated for kids either. It has ART-based pickup system and a Yamaha's proprietary tuner. With an accurate built-in tuner, your kid will have an easy time tuning the guitar. Furthermore, having only the master volume and tone control knob as electronics pictures simplicity which is perfect for kids!
You can read the full review of Yamaha APXT2 Acoustic-Electric Guitar here.
#4 Luna Aurora Borealis Acoustic Guitar
Luna guitars are focused on making comfortable instruments to engage minds, talent, and spirits. They have a great philosophy of, "while guitars may all be made of wood and metal, what makes Luna unique is its soul." I have a Luna ukulele so I can vouch for that!
It is being offered in four different finishes with glitters namely, black pearl, pink pearl, teal sparkle, and white sparkle. It has a moon crescent design by the sound hole and moon phase fret markers. With all those together, it is most definitely an eye-catching guitar, especially for kids!
Not just designed to look cool, but designed to be comfortable and sturdy as well. The neck has great playability that will interest your kid, and strong enough to survive if the kid throws a tantrum.
Of course, its tone quality is acceptable per se. Luna Aurora Borealis features a basswood body and mahogany neck. It has simple materials but still providing true and clear sound.
#5 Cordoba Disney Pixar Coco Inspired Classical Guitar
A wonderful guitar based on Disney/Pixar's film, "Coco". One of the best movies that circle around music! In my opinion at least. If you didn't cry, then you're probably a robot. Nah, just kidding! Anyways…
This beautiful classical guitar features a spruce top and mahogany back and sides. Even if it is a mini version, it still preserves the playability of a dreadnought and still generates a great projection and bright full tone.
It has a finish of Satin Polyurethane and a laser-etched design inspired by the Mexican heritage featured throughout the film.
Furthermore, it highlights nylon strings combined with slim C-shape neck making it totally comfortable for your kid. Nylon strings also produce a vibrant sound which is really excellent for kids!
If your kid loved the film, you should definitely get him/her this guitar. With this guitar, it's as if you or your kid is in the musical adventure with Coco!
#6 Gretsch G9500 Parlor Guitar
Gretsch has been around for 130 years or so, hence they have a reputation that you can't refute. They are popular not just because of the name but because of their high-end guitars. If you ask a professional about Gretsch, he'll probably say something regarding the "great Gretsch sound".
This wonderful guitar has a parlor style body making it suitable for kids. It's a much smaller guitar so it has a bit boxy sound but it has a huge projection.
In addition, this flat top guitar is made with agathis body and produces a warm and pleasing tone. Also, it has a rosewood fingerboard with C-shape neck making it easy for kids to hold. Finally, it has a mesmerizing unique look thanks to its semi-gloss and vintage sunburst finish.
#7 Taylor Swift Signature Baby Taylor
This particular guitar was inspired by Taylor Swift's memory of writing songs on the road. It's a compact guitar but with great tone and durability. So it's perfect for travel, adults with small hands, or kids.
Featuring a solid Sitka spruce top and Sapele back and sides, this attractive guitar generates a bold and full voice. Even if it's small, it has a bigger projection than most small guitars thanks to the arched back feature.
It also highlights it's matte finish having a rosette design with the word "Love" three times amongst the vine motif, just like Taylor Swift's own Baby Taylor.
Lastly, this beaut includes Taylor's Expression System 2 piezo. It has simple controls, master volume and tone control knob which shouldn't be too complicated for a beginner. It also has a tuner so it's gonna be a huge help for your kid to stay in tune.
If your daughter is a Taylor Swift fan or a "Swiftie" per se, she'll definitely love this guitar! Not just because of the looks but also the impressive sound quality it has.
#8 Taylor GS Mini Rosewood
Another superb Taylor guitar! This certain guitar is a little bit more expensive than the aforementioned, probably because of higher-end materials.
This superb guitar is a scaled-down design or has a grand symphony type of body. The mahogany top creates a well-balanced and clear sound. Combined with layered Sapele back and sides, the resonance and projection levels have gone up. Moreover, it has a varnish finish giving it a unique interesting aesthetics.
It has a low action for the strings. By definition, this would be perfect for kids because they don't need to put too much pressure when fretting. More than that, it holds patented Taylor neck that is surely easy-playing for beginners alike.
You can read the full review of Taylor GS Mini Rosewood here.
#9 Yamaha CGS102A Classical Guitar
One of the cheapest of this list. Of course, just because its cheap doesn't mean the materials are also "cheap".
Composed of a spruce top, meranti back and sides, and a natural finish. It may be a smaller version of the CG series, but it still offers a rich tone and great volume.
This classical guitar includes an "easy to hold" nato neck and rosewood fingerboard. It also has a low action, which means this is gonna be really easy to play especially to kids. In addition to that, CGS102A has nylon strings hence it is delicate primarily for those beginner's fingers.
An entry-level classical guitar that is advantageous for people on a budget.
#10 Martin Dreadnought Junior Acoustic Guitar
If you're looking for that big dreadnought sound in a more compact body, Martin DJr-e will be your closest bet.
It consists of Sitka spruce top and Sapele back and sides. Even though it's a small guitar, it still produces a rich sweet sound. It also features a satin finish, giving it a stunning traditional look.
The playability is of course, covered in the deal. The neck is made from select hardwood and richlite fretboard. It has a "dreadnought jr" neck so it'd be really easy to reach all the strings. It also has soft back edges making it comfortable for anyone.
This guitar happens to be an acoustic-electric featuring Fishman Sonitone electronics. It reproduces the acoustic sound you want and it's not complicated!
You can read the full review of Martin Dreadnought Junior here.
What to look for?
When buying a guitar for kids, there are some things you have to consider. There's the budget, sound quality, looks, and playability.
Budget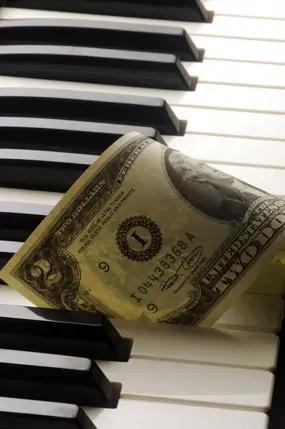 Let's start with the budget. If you're rich, I'm sure this is not a big deal for you. Otherwise, hear me out.
A budget of around $200 can get you anywhere. Since it has a smaller size, 3/4 to be specific, most guitars for kids are cheaper than the regular ones. With this kind of budget, you'll be able to get a guitar that has an awesome sound and cool looking.
Now, it's just a matter of quality. Since kids are easily distracted, you should get them a guitar that sounds awesome, not just a noise machine. Otherwise, it'll be just another "toy" in the corner, which is definitely something that we don't want to happen.
Comfort & Aesthetics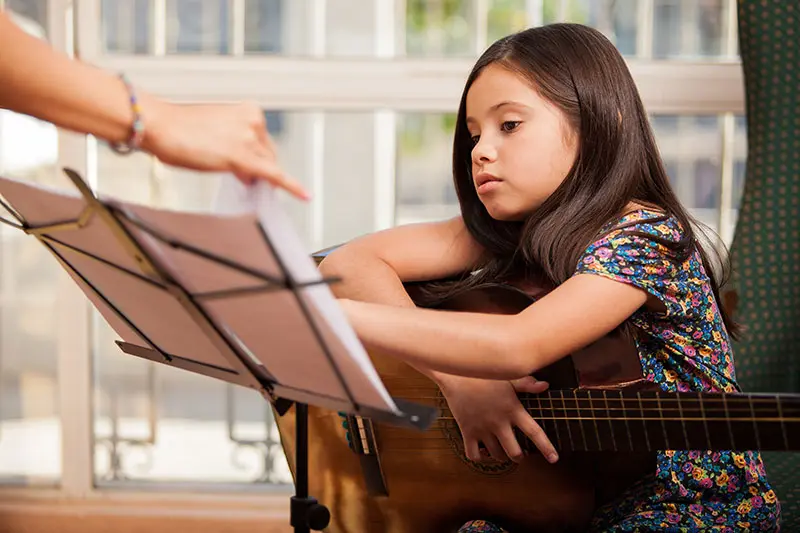 Most kids are materialistic, which is why looks do matter. Worry not for there are a lot of finishes to choose from. Say, for example, their favorite color is pink, you should get them a pink guitar that's also great sounding.
There are also design based on their favorite characters, or based on popular movies such as Disney's Coco.
If you can get them a guitar based on their likes, they'll probably never let go of it.
They can be easily discouraged as well. So, another thing to consider is how comfortable is it to play? Some factors for comfort are the neck width, guitar size and whether it has steel or nylon strings.
The guitar should have a slim neck so that the kids won't easily tire. Also, the guitar's size should be appropriate with their body size, otherwise, they won't really be able to play it.
Nylon Vs. Steel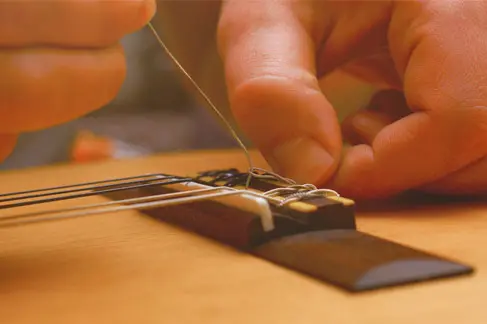 They have different sounds, one is mostly for classical and the latter is usually for acoustic songs. But, that doesn't mean that they're only applicable to certain genres especially when guitars are one of the best flexible instruments!
The ideal for kids is actually nylon because it's much softer for the hands. On the other hand, steel strings hurt, even for adult beginners. But if your kids really love guitar, I'm sure they wouldn't mind.
Technically, steel strings will only hurt at first. After a few weeks, they won't even feel that much pain. It's like a small sacrifice for a lifetime of happiness right?
Acoustic Vs. Electric
For kids or beginners in general, I suggest that you should go for an acoustic first. You should allow them to test the waters first before diving in deep.
Well, that and the fact that electronics will make their learning more complicated. It's better to take one step at a time.
However, if you're planning to upgrade later on, I think it's better to go with acoustic-electric. This way, you won't need to get another guitar and spend more than you should.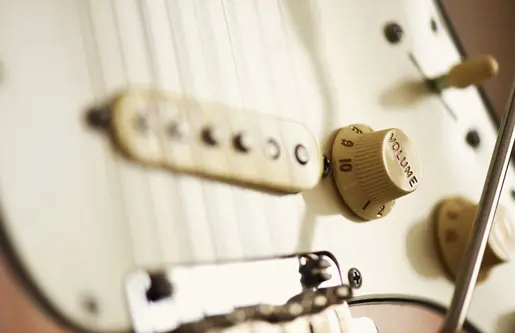 There are lots of guitar for kids out there but only a few are worth mentioning, including these top 10. They all have the quality, looks, and comfort that's appropriate for kids.
If I am being biased, I'd say the clear winner of this roundup is the Cordoba Coco guitar. Biased because I really loved the movie. But of course, this is not for me but rather for the aspiring young minds wanting to learn the guitar so we'll set that aside.
Of all the factors that I needed to consider, I'd say the best acoustic guitar for kids would be the Baby Taylor.
First of all, it looks really adorable, with or without the prints that is. Then, this iconic guitar has a bold tone and huge projection even though it's small. Most importantly, it is comfortable and durable, so if your kid has a short temper, you don't need to worry about the guitar getting wrecked.
You can also get a Baby Taylor without the Taylor Swift signature design, you can use this link.
I hope this guide was able to help you decide! Keep on strumming!
Enjoy? Share with your friends!