When you buy through our links, we may earn an affiliate commission. Learn more »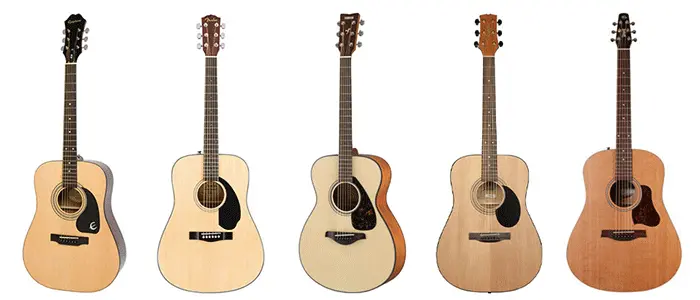 Are you one of those searching for the best acoustic guitar for beginners?
I was asking the same thing a year ago. And here are a few more questions that I had in mind.
"Amongst all the types, brand, which one should I choose?"
"What do I need to look for in a guitar?"
"How much should I spend?"
If you're an entry-level player, you'll quickly get lost in the sea of choices. Amazon alone has hundreds of starter acoustic guitars.
Lucky for you, I already have answers to those questions, and we'll get to them one by one on this epic buying guide.
Without further delay, here are the best acoustic guitars for beginners of 2021.
That's the short version of this buying guide. Feel free to click those links to read the full review of each entry-level acoustic guitar. Otherwise, let's take a quick look at these amazing products.
8 Best Acoustic Guitars For Beginners
#1 Yamaha FG800 – The Best of The Best
It's been 50 years since FG series of Yamaha has been released, and it's still one of the best acoustic guitar for beginners that's proven to be popular among guitarists around the globe. It's a high-quality guitar with excellent projection and a great aesthetic feature that doesn't need to break your wallet.
This traditional looking dreadnought is made of Solid Sitka Spruce top, Nato/Okume back and sides that produce a warm, mellow sound. It also features Chrome-cast tuners, has 20 frets, and smooth Rosewood bridge and fingerboard, which allows it to be really comfortable to play.
Most importantly, this guitar has a new developed scalloped bracing which generates a much louder and stronger sound.
Surprisingly, this affordable guitar gives you more than what you paid for. Comfortable to play, and with its advanced scalloped bracing, the sound quality is just outstanding.
#2 Yamaha Storia Series – Another Good Starter Guitar from Yamaha
Yamaha recently released a new series of guitar, namely the Storia series. They outdid themselves with this new series.
This series is particularly made with beginners in mind. It's not just aesthetically pleasing; it's also comfortable, sounds fantastic, and affordable!
It has three versions, white (I), natural (II), and chocolate-brown (III). They all have their distinct characteristics, and in the end, they're all awesome.
Storia features a solid body, which may be spruce or mahogany. Solid guitars are a significant investment since they are durable and they age well.
The neck features a nato, walnut fingerboard, rolled edges, and narrow neck. With these features, you can rest easy in practicing because it'll be a breeze when you play this guitar.
The concert-type guitar is small enough to carry around anywhere. It's also an acoustic-electric, so if you want to plug it in for practice that'll be no problem! You can also say that it's the best acoustic-electric guitar for beginners.
#3 Seagull S6 "The Original" Acoustic Guitar
This top-notch guitar is not like any other mass-produced guitars, in fact, it is hand-made in Northern America which is why its quality is certainly outstanding!
This Dreadnought can boast in terms of sound quality. Made with the best tonewoods, it highlights Solid Cedar top and Wild Cherry back and sides which then produce vibrant and bright sounds.
If you plan on becoming a fingerstyle player in the future, you will definitely love the feel of its Silverleaf Maple neck (and Rosewood fretboard). It also has a Semi-Gloss Finish which enhances its tonal quality and makes its classical look more attractive.
It may be a little over the budget range but with its quality, it is surely worth it. Consider it as an investment especially this guitar will be with you for years to come!
You can read the full review of Seagull S6 "The Original" Acoustic Guitar here.
#4 Jasmine S35 Entry-Level Acoustic Guitar
You'd think that this is a "rip-off" considering the price is so cheap but, it is actually one of the "few" cheapest acoustic guitars that happen to offer great quality.
Here's why it's one of the best beginner acoustic guitars:
Crafted with Laminated Spruce Top and Laminated Agathis back and sides, this guitar generates an exceptional tone. You may think, "Oh come on, it's laminated, it will totally have a bad sound".
In this case, that's actually not true! With the combination of its Natural Satin finish, the sound quality is surprisingly well-balanced. It also makes the guitar look more appealing and comfortable to play.
This dreadnought brags its advanced "X" bracing system. Compared to other X bracing out there, this one is "forward-shifted", which means the braces are much closer to the soundhole, hence creating a livelier and more open sound. It also has a slim Nato neck, which is a win-win for beginners.
With its affordable price, awesome quality, and stunning aesthetics, Jasmine S35 is considered to be one of the best guitars for beginners out there.
You can read the full review of Jasmine S35 Acoustic Guitar here.
#5 Best Beginner Acoustic Guitar from Fender: The FA-115
Fender may be more popular in terms of basses and electrics, but in the world of acoustics, they're also winning the race. This beautiful full-size dreadnought guitar gives off a full and vibrant tone.
Featuring a Laminated Spruce top, Laminated Basswood back and sides with X bracing that creates a bright and dynamic range. Finished with Satin to make it appear cooler and compensates for the sound quality given by the laminated tonewoods. It also features a Die-Cast Chrome tuning machines which keep the guitar in tune.
Other features worth mentioning is the rosewood bridge, and Synthetic Bone saddle and nut. You might be wondering why? Bone and Synthetic Bones are actually one of the best for nuts and saddles.
According to Reverb, plastics may be cheaper but it has a thinner sound. Bones, on the other hand, have superb quality, stable consistency and much easier to work with!
This product also includes beginner accessories such as strap, tuner, picks, etc. So, that's like, get the most of your money right?
There's another version of this which might interest you. The Fender FA-125CE. It's an acoustic-electric with a cutaway, also for an affordable price!
#6 Epiphone DR-100 Acoustic Guitar
Oh, the DR-100, the best seller of the Epiphone brand. Offered in 3 different finishes (Natural, Ebony, and Vintage Sunburst), this handsome-looking guitar can also brag about its sound quality.
Built with Select Spruce top and combined Mahogany back and sides, this dreadnought generates a clear, warm, and excellent tone. The Rosewood fingerboard and bridge is pretty convenient to hold. It also has a low action which is a win-win for beginners.
This impressive guitar holds up to its value. Well, actually you get more than what you paid for, considering its awesome quality—making it one of the best entry-level acoustic guitars.
You can read the full review of Epiphone DR-100 Acoustic Guitar here.
#7 Yamaha FS800 Acoustic Guitar
This is the smaller version (FS which stands for Folk-Small) of Yamaha FG800. So, if you have smaller hands, this is your best choice. Other than that, smaller guitars are easy to carry around when you're traveling hence, this would also be a great idea for someone who goes out a lot with their guitar.
This appealing concert guitar features Solid Sitka Spruce Top, Nato/Okume back and sides, Chrome cast tuners, and Rosewood bridge and fingerboard. Even though it's smaller, it still has an excellent projection thanks to the newly developed scalloped bracing.
It's definitely much cheaper than the original FG800, and not much of a downside either. The main and SUBTLE difference is that FS800 has a warmer and louder sound while the FG800 focuses more on bass and sustain.
With all that in mind, the only thing you need to take into account between these two is their sizes!
#8 Fender CD-60S Acoustic Guitar
Whatever playing style you have or will have, Fender CD-60S is definitely suitable for you. This classic dreadnought is one of the most popular acoustic guitars of Fender. Affordable, high quality, and looks amazing overall.
Here's why it's one of the best acoustic guitar for beginners:
Designed with Solid Spruce Top with Scalloped X bracing, it produces bright and dynamic range. It has Mahogany back and sides which balance its tone and delivers more volume and midrange.
The Mahogany neck and Rosewood fingerboard make it really comfortable to play. The edges of the fingerboard are rolled which compels it to be more appropriate for beginners.
You can seldom find a guitar like this, with a tempting price constructed with high-quality materials. Besides that, this beaut also improves as it age so you can think of it as an investment for your guitar journey.
You can read the full review of Fender CD-60S Acoustic Guitar here.
Budget
For beginners, it's best to not spend too much on your first guitar. BUT that doesn't mean that you should buy the cheapest one you can find. Sure you think you'd be able to save some money but, would you really?
If you buy a really cheap one, you'd be getting a really terrible sound since it'll be made from low-quality woods. It'll also have awful playability like the fretboard is really uncomfortable for your hand.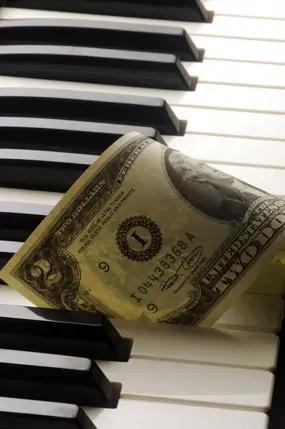 Because of these reasons, you'll probably be discouraged to play the guitar. If this happens, the guitar might just be left in the basement to collect dust, hence, a waste of money.
Since it's low quality, it will surely not last long and soon enough you'd have to buy a new one. Which means, instead of spending less, you will end up spending more.
According to JamPlay, the ideal budget for a beginner guitar is $300 – $500. With this kind of budget, you can already get an good sounding guitar with high-quality tonewoods, great comfort and maybe some reliable electronics if you decide to go acoustic electric.
Also, there are guitars in which their quality becomes better as time pass by so you'll really be getting what you paid for.
Other Things to Consider
Since you're looking for the best acoustic guitar for beginners, there are some things you need to look out other than the budget.
Sound quality and comfort are already given. You'd want a sound that's pleasing to the ears instead of being just noise and with an ease of playability when it comes to comfort.
Here are the other two things to look for specifically for beginners:
Low action. The space between the strings and the fretboard is the so-called, action. Since beginners aren't used to fretting (or hasn't developed finger strength for fretting), it is best to look for something with low action. This is because the lower the action, the lighter pressure you'd need in order to fret the string.
Size. As a beginner, you might wanna choose something that suits your size. For example, if you have small hands, you should get a 3/4 size guitar so that it'll be easier for you to fret the chords.
Although in the long run, size won't really matter. Even if you have small hands, you'll surely be able to play a large guitar.
The Yamaha FG800, indeed is one of the best acoustic guitar for beginners in this list. It's affordable, comfortable to play, sounds great, and looks astonishing. After all, it's made specifically for entry-level players like you and me.
Enjoy? Share with your friends!