When you buy through our links, we may earn an affiliate commission. Learn more »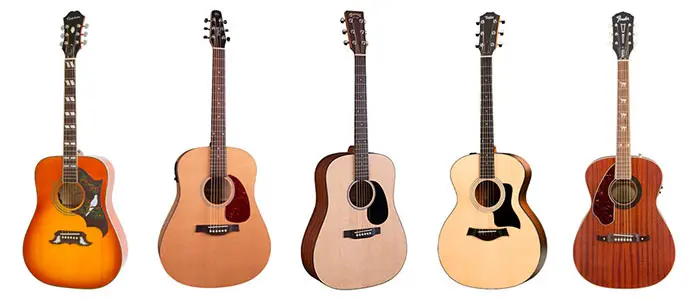 Are you looking for the best acoustic-electric guitar?
For starters, having a built-in pickup in your acoustic guitar is a nice feature. It's a must-have for live performances, be it a big concert or small gig, and as well as for recording music.
It gives you the freedom to move around while performing. Plus, the sound will be a whole lot better than using a standard microphone.
Whatever your reason is, this epic guide is for you.
So without further delay, let me give you the best acoustic-electric guitars of 2021.
That's the short version of this buying guide. Feel free to click those links to read the full review of each acoustic-electric guitar. Otherwise, let's take a quick look at these fantastic string instruments.
10 Best Acoustic-Electric Guitars
#1 Yamaha FGX800C Acoustic-Electric Guitar
Based on the popular FG800 of Yamaha, upgraded to an acoustic-electric with a cutaway. With its high-end specs and low-end price, this is the best choice for beginners who want to try acoustic-electric.
The combination of spruce top and nato back and sides produce a well-rounded sounded. In addition, the solid top and glossy finish makes a splendidly bold projection and gives it an astonishing look. This guitar is also a great investment considering that it ages really well. In other words, the longer you have it, the better quality it'll have.
Along with other FG guitars, it also has the newly developed scalloped bracing. With this kind of technology, the guitar can produce a louder and stronger sound particularly in low to mid-range tones.
Furthermore, the electronics incorporated to the FGX800C will keep you strumming. It has a piezo pickup and System66 analog preamp to guarantee an awesome performance.
With an entry-level budget, this guitar surprisingly offers an overall great quality. Definitely the best choice in experiencing that traditional acoustic-electric sound.
#2 Epiphone Hummingbird Pro Acoustic-Electric Guitar
Thanks to Keith Richards of The Rolling Stones, the "Hummingbird" has become a classic. Just like the previous hits of Rolling Stones such as Under My Thumb and Satisfaction, the hummingbird is usually used as a rhythm guitar due to its woody tone and smooth action characteristics.
Built with Solid Spruce top and Mahogany back and sides. The spruce and mahogany combination produces bold and well-balanced sounds.
Apart from giving off epic tunes, it has a comfortable touch as well. This is, of course, thanks to the mahogany neck and rosewood fingerboard. Having that SlimTaper "D" profile of the neck also allows it to be held smoothly.
Furthermore, Hummingbird Pro has an iconic look. If people see you with this guitar, they'd be all like, "Wow, just wow". It has Faded Cherry Burst finish and a tortoise pickguard incorporated with traditional Hummingbird artwork.
Amazingly, the pearled parallelogram inlays in the neck blend well with the design of the body. So, altogether, this guitar has a stunning design that will definitely suit you.
The last but not the least, electronics. This guitar has Shadow performer preamp and Shadow Nano Flex pickup system. This gives you the freedom to manipulate the master volume, treble EQ, and bass EQ. So, whatever size the stage you'll be playing, this guitar can totally stand its ground.
With epic sound quality, astonishing aesthetics, and reliable electronics, you'd be getting what you paid for, and more. Also, since it has a solid top, it'll age gracefully, so you don't need to worry about it depreciating with regards to quality.
#3 Fender Tim Armstrong Hellcat Acoustic-Electric Guitar
Designed based on the concert-style acoustic of Rancid's frontman, songwriter, and producer, Tim Armstrong! This guitar is perfect for pop, rock, folk, and more.
It's an all-mahogany guitar, with a solid top and laminated back and sides. Added with a natural finish, hellcat gives off a warm and sweet tone that's pleasing to listen to.
Compared to other Scalloped "X" bracing, this one has a thinner version allowing it to resonate freely providing a greater projection.
Composed of a maple neck with satin finish, 20-fret rosewood fingerboard, and "Hellcat" and double-skull inlays. Not only it is appealing but it is also comfortable to play.
Furthermore, the electronics are made with the famous Fishman Isys III pickup system. The system includes active preamp, tuner, volume and tone controls.
With that said, it has awesome tweaking capabilities, so you could totally play it depending on your preference.
#4 Fender CD-60SCE Acoustic-Electric Guitar
It may be a mid-level model for Classic Design series, but it still boasts an exceptional quality. It has an alluring aesthetics thanks to its gloss finish and grain patterns. And of course, the tonal quality and electronics won't come last.
Features a solid spruce top with scalloped "X"-bracing and mahogany back and sides, providing its vibrant tones. Incorporated with a Venetian cutaway so that you'll easily reach the higher notes.
In addition, it is easy-to-play, considering that the mahogany neck has rolled fingerboard edges. So, it's not just for advanced players, it's also a great choice for beginners!
The pickup/preamp is Fishman Classic Design. Producing a great projection without compromising its rich resonance. It also has a built-in tuner making it easy for you to be in tune at all times.
For an entry-level price guitar, this one has a lot of awesome features. It's like getting more than what you paid for.
#5 Epiphone Dove Pro Acoustic-Electric Guitar
A blast from the past! Introduced by Gibson and Epiphone factory way back in 1962, this guitar is one of the first acoustic guitars to be an icon for the rock and roll genre.
Producing warm and vibrant sounds thanks to Solid spruce top and maple back and sides. It also has astounding looks, with a finish of violin sunburst and combined with pearloid parallelogram inlays in the rosewood fingerboard. As beautiful as it looks and sounds, it's also comfortable to play, with its slimtaper "D" neck profile.
You can expect an excellent quality either unplugged or plugged. It has an awesome acoustic sound that you'd want when jamming in a campfire of sorts.
Moreover, it can go toe to toe with electric guitar and drums when plugged in, thanks to Fishman Sonicore. This kind of system allows you to adjust the bass, treble, and master volume, so you can get the perfect sound that you want.
#6 Ibanez AW54CEOPN Acoustic-Electric Guitar
Ibanez's series of Artwood was made to combine traditional and modern guitar. This certain dreadnought has that traditional acoustic sound and looks, but has modern capabilities such as pickups.
This beaut is an all-mahogany build, and because of that, it produces rich and full sounds. It has a rosewood fingerboard, added with a cutaway for ease of playability. Joined with Ibanez AEQ210TF preamp and onboard tuner, you can expect it to play beautifully when plugged in.
The special feature would be Ibanez Advantage bridge pins. Compared to the old-fashioned pins, these advantage pins have, as the name suggests, lots of advantages. For one thing, it's much easier to take out and put in, so it's a huge plus whenever you're changing strings. Most importantly, the shape of the pin allows the guitar to stay in tune.
#7 Takamine GN93CE Acoustic-Electric Guitar
A guitar with class regarding the looks and sound. That's the best brief intro for Takamine GN93CE.
This guitar has a rather odd combination, solid spruce top, rosewood sides and a beautiful three-piece rosewood/quilt maple back. But, with this "weird" combination, it produces amazing warm sounds. Also, the slim mahogany neck and rosewood fingerboard provide great comfort, especially for beginners.
It has intricate electronics which is rare in this price range. The Takamine TK-40D preamp system gives you full control of the sound with three-band EQ and gain controls, mid contour switch, notch filter, and EQ bypass switch.
Additionally, it comes with a built-in tuner, so you won't worry about getting out of tune again!
#8 Seagull S6 Classic M-450T Acoustic-Electric Guitar
The award-winning S6 of seagull has an acoustic-electric version thanks to M-450T. Now, you can enjoy your favorite S6 classic, while plugged in!
UPDATE: Unfortunately, Seagull S6 M-450T is currently unavailable. Luckily, the closest alternative Seagull S6 QIT is available.
Composed with select pressure-tested solid cedar paired with three-layer wild cherry back and sides. It has a semi-gloss, giving it an alluring look. With the tonewoods and finish, this guitar produces a bright and vibrant sound. Thanks to the thin and open-grain top, it also has a greater projection and better sustain.
The electronics added is B-Band M-450T, for awesome versatility. You can simply slide it based on your preference. The controls include bass, mid, treble, and presence.
With that said, this guitar while still being affordable, also has that premium feel. Attractive aesthetics, lively sounds, and sound flexibility.
#9 Martin DRS2 Acoustic-Electric Guitar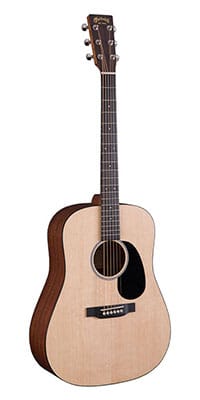 Ah, a Martin guitar, one of the best brands out there. This specific guitar, DRS2, happens to be one of the most affordable Martin guitars. So, for players looking for a mid-level luxury guitar, this is definitely for you.
UPDATE: Unfortunately, Martin DRS2 has been discontinued. Luckily, there's the new and updated Martin D-10e. It's a better version of DRS2, you should check it out!
It has an all-solid dreadnought body, Sitka Spruce top, and Sapele back and sides. Because it's all-solid, it's heavier than most guitars but the audio? Just wow! It produces rich bass, and when playing a chord, the middles and high notes blend well together. Overall, the tone and projection are just excellent!
This guitar has a totally comfortable neck, and with such a feature, it'll keep you going for hours! Built with 25.4″-Scale Modified Low Oval Select Hardwood Neck w/ Black Richlite Fingerboard.
Martin DRS2 has Fishman Sonitone for its Electronics. With this, you won't really need to worry about setting it up, you can simply plug and play! Making it really easy to use.
With astonishing looks, majestic tone, comfortable feel, epic electronics, and affordable price for a Martin guitar, what more could you be looking for? Right?
#10 Taylor 114e Acoustic-Electric Guitar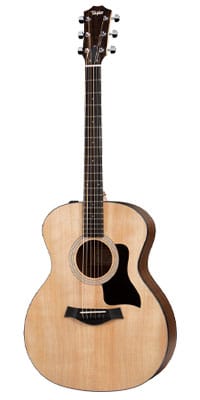 Taylor is one of the few brands that can compete with Martin. They are the top two of the guitar line, particularly acoustics, I reckon.
UPDATE: Unfortunately, Taylor 114e is currently unavailable. The closest alternative is Taylor 110e.
Taylor 114e is ideal for country music, but I disagree. It has an astonishing Grand Auditorium body which is also responsible for its versatility, so any genre would actually fit this wonderful guitar.
It features a solid Sitka Spruce top, layered Walnut back and sides, and finished with Matte Natural. This combination produces an awesome sustain, clear and well-balanced tone. The midrange notes are its best quality, but of course, combined with the high and low notes, the music you'll be creating is gonna be blissful.
The electronics, Expression System 2, included can get more of the guitar's dynamic range. Whether you play it unplugged or plugged, it will remain the same. By that, I mean you won't lose that classic acoustic sound.
What to look for?
There are many things to consider when buying a guitar. May it be acoustic, electric, or in this case, acoustic-electric. Technically, the factors are the same as the acoustic. There are just additional electronics, which is a big deal for an acoustic-electric guitar.
Budget
Let's start with the budget. There are a lot of guitars out there that will totally fit your budget. Though, how much should you really spend?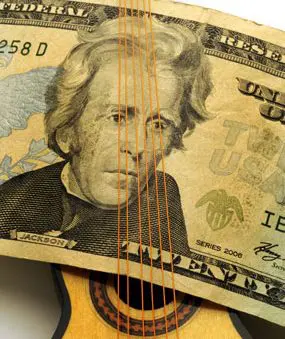 Budget is different for starting players and advanced players. If you're a beginner, I suggest that you should only spend around $200-$300. As a beginner, you shouldn't spend too much for you still have to test the waters.
This kind of budget should allow you to find a decent guitar that will accompany you throughout your musical journey.
Advanced players can spend a lot more. Considering that they already know their way around a guitar. Most premium guitars produce better sounds, aesthetics, and comfort. Definitely, because they are made with top-notch materials, made by experts, etc.
For acoustic-electric guitars though, you'd have to spend a little bit more compared to a normal acoustic guitar. Not just because of the additional electronics but because of some accessories you also need to buy. The most necessary is the amplifier and cables.
Body Style
There are many different body styles available for an acoustic guitar. The most common is the dreadnought which has powerful and driving sounds.
Concert and grand concert are smaller sizes but still brag good mid-range sounds. Next is the mid-sized acoustic guitars, auditorium and a grand auditorium which has a more balanced-tone.
There are also big guitars such as jumbo which obviously project a louder sound and deeper resonance than the rest.
For kids, travelers, or adults who have cute little hands, there are 3/4 size guitars or commonly known as travel or mini guitars. They may be small, but the sound that they produce is still reliable.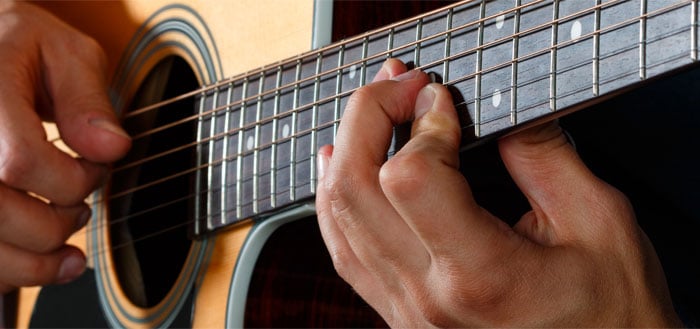 Cutaways allow you to reach higher notes. It subtly affects the totality of the sound but if it's an acoustic-electric, then that won't be much of a problem at all. If anything, a cutaway on an acoustic-electric will be a really big fat check that you should consider.
Tonewoods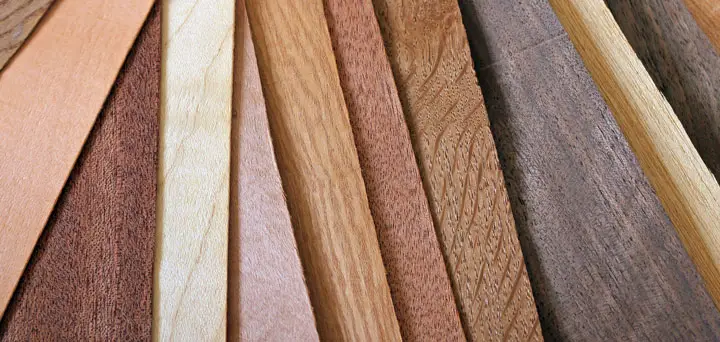 Tonewoods are the one responsible for the sound that your acoustic guitar produces. Even if they're the same sizes, if their tonewoods are different, the entirety of their sound would greatly vary.
Spruce is commonly used as a top and popular for its vibrant sound and great projection. Next in line is mahogany, mostly used for the back and sides of a guitar and delivers awesome midrange notes. Rosewood is mostly used as a neck, known for its deep midrange notes.
The tonewoods used for the body can either be laminated or solid. Laminated are much cheaper, so it's best for people just starting out. But if you want more awesome sound quality, solid is the choice. It may be more expensive, but the quality is just wow. Well, that and the fact that it ages well means you'll be getting more than what you paid for.
Types of Acoustic Pickups
There are three main acoustic pickups, namely piezo, magnetic, and transducer. You can't really say that one is better than the other since they all have their respective strengths and weaknesses.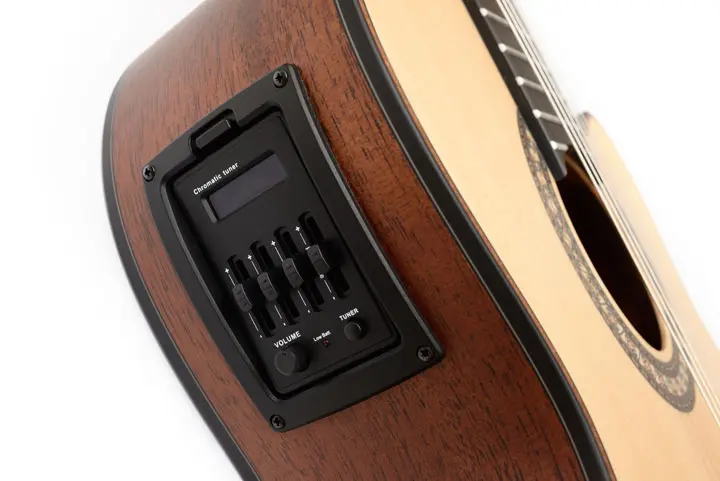 Let's start with piezo. This is probably the most inexpensive pickup out there, hence, it's also the most common type used in acoustic-electric guitars. Piezo pickups usually have a vibrant and powerful mid-range response.
Magnetic pickups are actually used on both acoustic and electric guitars. They are usually by the soundhole so that there won't be any permanent modification for the guitar. They have a more metallic sound than piezo or transducer. But high-quality magnetic pickups allow you to have that beautiful acoustic tone.
Passive Vs. Active Pickups
You're gonna have to choose whether to have passive or active pickups when, well, choosing a pickup system.
Basically, passive pickups transfer the signal from the strings and onto the amplifier or whatever you're using. It doesn't generate a strong signal, but there's a solution. You can boost the signal with the help of external technology, particularly a preamp.
Active pickups, on the other hand, uses a battery to boost the sound. It doesn't need an external tech to be powerful. Active pickups, per se, are strong enough. The only downside though is that you'll need the battery.
Advantages of Acoustic-Electric over Acoustic
Pros
Can be played plugged or unplugged;
You'd be able to move freely when playing on stage;
More sound options;
Bigger sound projection;
Almost identical prices with acoustic guitars;
Cons
More Expensive
May require more accessories
There are a lot of things to consider and a lot of guitars to choose from, but in this list, I'm contemplating between Martin's DRS2 and Taylor 114e.
They both have outstanding quality but if it were me, I'd have to go with Martin DRS2 for the best acoustic-electric guitar. I really love Martin's special feature for the neck, because it's really comfortable to play with. Moreover, its all-solid build gives it better quality than the aforementioned.
In the end, it still depends on your preference. They all have their own perks, but it's up to you which one of those you'd choose.
I hope that this guide was able to help you with your buying decision.
Enjoy? Share with your friends!